Hip hop is one of the strongest genres in the Mankato music scene. But why?
Beginning as an underground movement during the '70s in the Bronx, it's a genre that has infiltrated pop culture in fashion, dance and of course, music.
Hip hop has come a long way. It has featured some of the most notorious artists. It has paved the way for those who follow. It delves deeply into political commentary (from NWA to Childish Gambino) and produced some top party bangers (50 Cent's "In Da Club" to Cardi B's "I Like It Like That").
Mankato has also seen its fair share of hip hop influences. Every month, there's a hip hop show located right downtown at various locations, at the What's Up? Lounge and at Midtown Tavern.
The genre has seems crucial to the music scene in Mankato, and it's even made its way into the lives of youth with the hip hop coalition.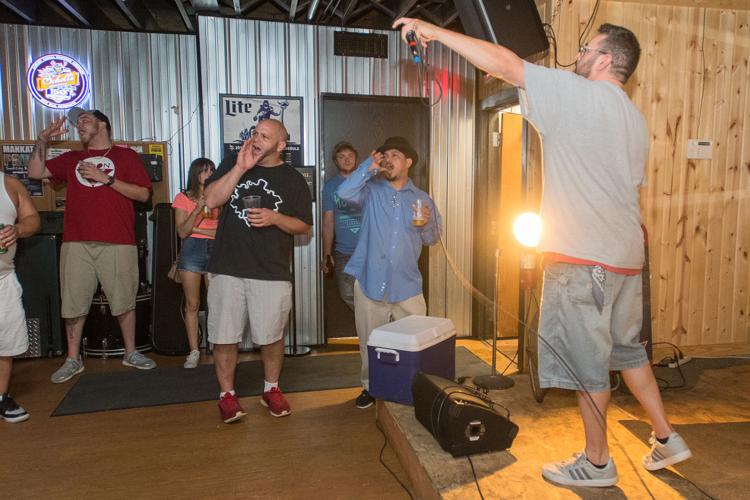 Professor Fresh (Alexander Trahms), !ntell!gent Des!gn (Robert Kolbe) and Fuzzy from FuzzTalkRadio — a few of the OGs in town — play an important role of that scene with booking shows and performing.
They've laid a foundation for others to build on in the hip hop scene, and they've fostered the talents of up and comers such as Ryan Rutjes and Andy Beltz from Modest Music L.L.C (and founders of Moonfest outdoor music festival). And the OGs? Well, they're ready to pass on the torch.
Straight Outta Mankato
Who says good music doesn't root from Mankato?
Fuzzy, founder of FuzzTalkRadio, created the internet radio station because, frankly, he was getting sick of losing his friends going to the Twin Cities to try to make it big.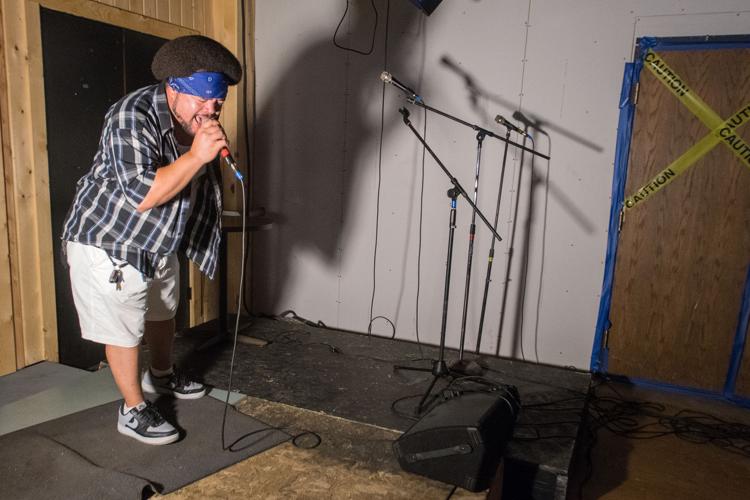 "They were just a small fish in a big pond," Fuzzy said. "I'd just say, 'Guys, we have a cool scene here.'"
Just look at Mankato's history in music: Green Day performed here in the '90s, NOFX, even Macklemore performed in 'Kato before hitting it big with "Thrift Shop."
Fuzzy has experienced the evolution of the music scene. He credits the talented musicians, including hip hop artists, for the success of his online radio station (fuzztalkradio.com), which began in 2008.
"It wouldn't be able to exist without the artists — at all," Fuzzy said. "The music scene in Mankato has always been really strong, no matter what anyone tells you."
Although Fuzzy is not a performer, he has been one of the catalysts in the thriving local scene. Fuzzy promotes shows, any way possible — fliers, making websites, social media, networking, etc. — since graduating high school in 2001 with another Mankato native, Alexander Trahms (Professor Fresh).
Trahms recalls when he first started hip hop in Mankato in 2001, he was one of the only artists in town. Back then, artists at concerts were familiar faces. But now?
"There's tons of rappers in town that I don't know, which is great because who wants to live in a vacuum?" Trahms said.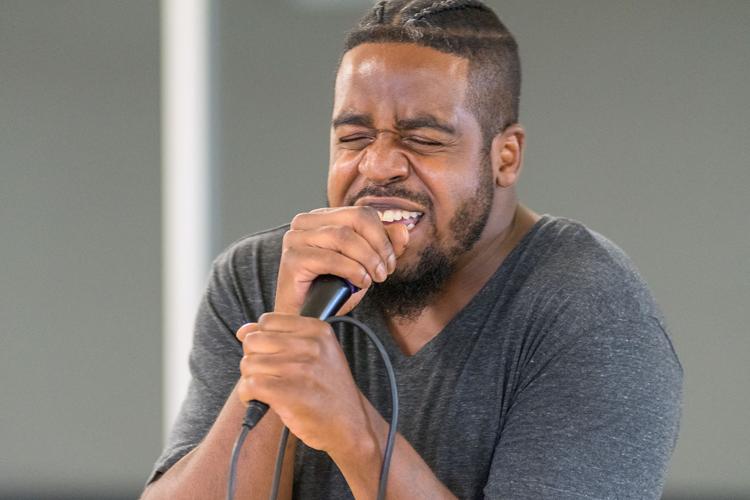 Seventeen years later, neither Trahms or Fuzzy know why hip hop is so prominent in Mankato. Maybe it's the entertainment component, perhaps it's the feasibility of creating new content with hop hop or the solo aspect of the genre.
One thing is for sure — the number of rappers in Mankato, including performers from out of town and local artists, is substantial. In other words, Mankato is a music hub.
In their tenure, they continue to contribute in the music community. Trahms released his latest album, "GLD JKT" this month and plans to continue making music in Mankato.
"I think that Mankato will always be a destination for rap as long as there's a venue that will allow it," Trahms said. "The scene has ebbs and flows but it's mostly good, so rock'n'roll."
Fuzzy plans to continue FuzzTalkRadio, but will be putting Just Smoke Day, an annual show that doubles as FuzzTalkRadio's anniversary and Fuzzy's birthday, on hold for now.
"I've been doing it for eight years and it's my birthday weekend, I haven't hung out with my real family for my birthday," Fuzzy said. "Maybe I'll just go camping on Labor Day?"
And he's ready to pass down the torch to two capable young men from Modest Music.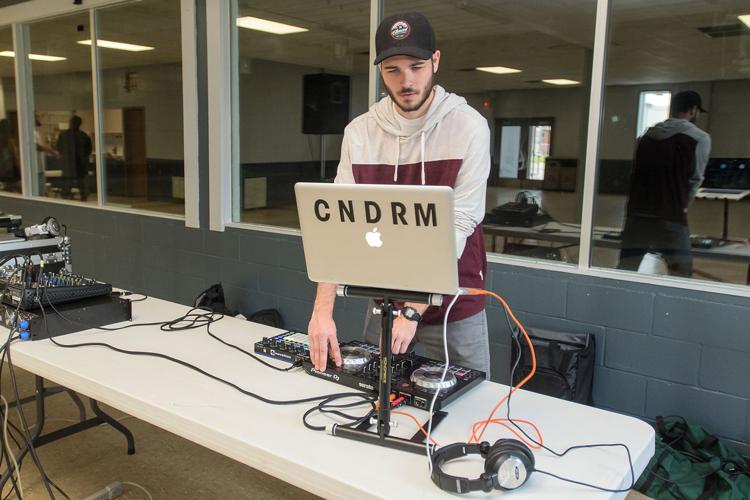 Minnesota Love
Andy Beltz and Ryan Rutjes, co-founders of the record studio Modest Music L.L.C, celebrated its second MoonFest in Kasota. The two are also known for their group RxB.
The duo met five years ago and quickly came to realize that music was more than just a pastime. Instead, they thought, it could benefit the community at large.
"When we first started talking about doing this, it was using events and music as a way to generate money to give back to the community," Rutjes said. "Music is powerful — not just on an emotional level or, you know, relatable, but also on a financial level."
Further down the road, Modest Music wants to use profits from merch and shows to give back.
"Right now, we're just donating from our events," Rutjes said. MoonFest held a raffle where 100 percent of the proceeds went directly to the local Boy Scouts Chapter and The Reach (a homeless youth outreach by Lutheran Social Service).
MoonFest was an attempt, too, to bring the community together and introduce inclusivity to all artists at shows.
"Hip hop is beyond important — we have started to create something that is a community bond and it grows," Beltz said. "The more people we get to keep coming out to these shows, the more strength there is in the numbers."
Beltz remembers his first show in Sleepy Eye in 2012.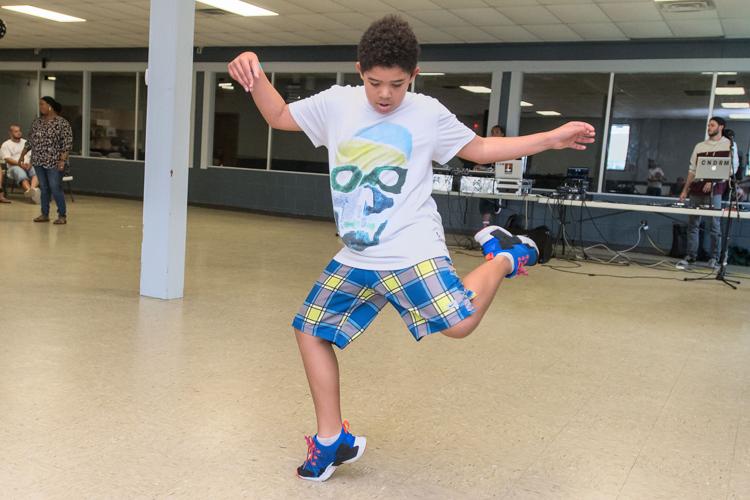 "It was terrible," Beltz said. "I learned a lot though, and I didn't quit."
With just a few "show ready" raps, Robert Kolbe (!ntell!gent Des!gn) took Beltz underneath his wing.
"He introduced me to people, like whenever an outside musician would come in, he'd say 'That's the guy to talk to if you're trying to get to that city,'" Beltz said. "I've always looked up to him for that, ever since I gained the concept of wanting to throw shows myself."
Can I Kick It? Yes, you can
Robert Kolbe began working his way around the Mankato hip hop scene in 2003, though he started listening to the genre way before then.
"Basically, I started listen to it as a kid," said Kolbe, whose influences include classics such as Notorious B.I.G. and Tupac.
When he moved to Mankato for school, he began to perform at open mic nights and other all ages shows. It wasn't until his first CD album release that he began to set up shows.
Fuzzy has credited Kolbe for his tireless work of putting out shows consistently, networking with local musicians and other regional rappers to bring them to Mankato.
After being in the music scene for 15 years, Kolbe has realized the impact that youth get from hip hop.
"Every so often, there'll be some kids that start off getting involved and going to an all ages event," Kolbe said. "They check it out, and then eventually, years later, they actually have started to rap, too."
One individual in particular was a kid at a skate park, where an all ages show was being performed.
"He'd come to his shows and his mom would bring him and now 10 years later, he's getting into rap music himself," Kolbe said. "That's pretty neat, and that's the best part about it."
Kolbe noticed that more often than not, kids interested in the genre are interested in more than passively listening to the music.
"They wanted to be involved, too," Kolbe said.
He hopes to start doing all-ages shows, at least 18-plus, for college students to attend, as he recognized the interest. But getting more people involved in hip hop comes down to one thing — community.
"It brings people together really and it builds a sense of unity between people that come out to a show," Kolbe said. "It's just more of a community gathering than it is a concert."
Rebirth of Slick
The Minnesota Hip Hop Coalition, based out of Minneapolis, has had a Mankato presence since last October. The all ages show, MN Revival Sessions, features suitable music for families, dance and food.
So far, MN-HHC in Mankato has had two events, but Bethany Truman, representative for organization in Mankato, is hopeful for the impact it'll bring to the community.
MN-HHC, by the way, was founded in 2001 and uses hip hop as a means for positive change in the lives of young people. As stated on its website, here's their mission:
"The Minnesota Hip Hop Coalition (MN-HHC) is dedicated to the preservation of our states Hiphop Kulture. Our goal is to facilitate critical thinking in order to foster social change and unity by empowering communities through the use of Edu-tainment, leadership, mentoring, as well as media and technology, as to preserve the Hiphop Kulture for future generations."
The state wide organization has won awards such as Minnesota State Proclamation in 2014 and the Minneapolis PeaceMaker Award in 2015. And now, they hope to bring all-ages shows and a nurturing environment to the younger generation.
Truman decided to get involved with MN-HHC specifically because of the impact that hip hop has on kids — it provides a healthy outlet to express emotions.
"For me the turning point that I needed to get involved was when everything in Charlottesville happened, that was a turning point in my life," Truman said. "Here I am, 31 years old, seeing this, and I'm having a real hard time processing it, especially being a mother — I know how to have good coping skills, but what about the 11-year-olds?"
MN Revival Sessions allows kids of all ages to dance, DJ or rap, in a safe environment and gives them another way to process traumatic events — whether nationally, or personally — in a nonviolent way.
Kable Reid, MN-HHC State Director and a national committee member for the US-HHC, has actively worked in the nonviolent movement in hip hop culture and created "Turn The Volume Up On Peace Week" in 2009. Reid, who has delved into the culture since he was 9, strives to make hip hop a constructive and encouraging environment.
"Hip hop culture really has affected everyday living throughout Minnesota due to its ability to penetrate all communities through our use of hip hop products and services," Reid said. "Which is most often consumed through entertainment mediums such as music, movies, fashion, language and events which is what actually makes up a local Hip Hop Culture throughout Minnesota."
Presently, hip hop is easily accessible with technology rapidly changing and readily available. There was a time though — in the '90s — where it was more difficult to reach the genre.
"(Technology) expanded the reach of hip hop culture dramatically because now people want to be more exposed to what is so special about the culture that creates so many outlets to create and self express," Reid said. "It is that very self expression through hip hop culture in Minnesota that has had a broad impact on everything here from arts and entertainment, local media such as radio and TV, academics and even politics."
That freedom of expression is vital for youth, Truman said, and especially in Mankato. By and large, the effect of hip hop culture is state wide.
"The Minnesota Hip Hop Coalition will always work to create (an) even greater space for hip hop culture to continue to influence and generate peace, love, unity and safely having fun," Reid said.