It began three years ago at the home of Brian Frink, a board member of Twin Rivers Council for the Arts. Initially, Starving Artist served as a "thank you" event for past donors of Twin Rivers.
As with most good ideas, the Starving Artist event morphed over the years, Twin Rivers Executive Director Noelle Lawton said.
"We (wondered) 'What can we do at the event that would really shine the light on the wonderful artists that have stuck with Twin Rivers all these years — the ups and downs — and the affiliates to be apart of?'"
With the success of its first year at Frink's home, where Lawton recalls the celebration bellowing out throughout his beautiful home and the integration of artists and participants, Twin Rivers decided to expand the event.
"It's really something that brings down the walls and barriers of artists and also for people who wanted to support artists," she said. "We wanted artists to attend fundraiser events that impact their life directly."
Starving Artist features dance, theater, visual arts and musicians under the same roof. This year, the event takes place at Chesley Skatepark, both inside and outside.
"The idea of the skateboard culture, it really encompasses everything — music and clothing, art — this whole philosophy of counter culture." Lawton said. "Artists in general really represent that."
Many functions will happen at the same time, such as the painting of one of the bowls at the skate park, led by Michael Cimino, who's determined to finish it by the end of the night.
"It seems like a lot — more power to him!" Lawton laughed.
Artist Rachel James is bringing a mobile printing press and participants at the fundraiser can make their own prints.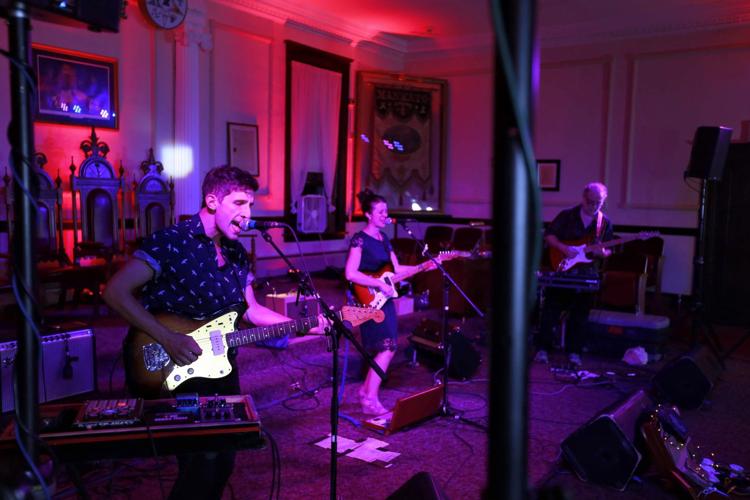 Other acts include five- to 10-minute short plays, live music performed by Lauren Senden and Good Night Gold Dust, the Mankato Children's Chorus, special performances by Wóȟpe Fire Bellydance and more.
A silent auction is available for participants, too, with 11 packages, including original work painted onto skateboard decks by local artists, a birthday party at Chesley Skatepark and a nearly $800 gift certificate package to many local boutiques.
Food will be available for purchase at Lola's food truck and a cash bar provided by Massad's.
It might seem like a lot going on but Lawton describes it as "an ordered chaos."
There'll also be a program that can be picked up right at the fundraiser to check out when other events are happening at a specified time (Twin Rivers is also borrowing the boisterous voices of the Mankato Derby Girls to yell out when an event is happening).
Just a teaser — a special appearance by an artist will be at Starving Artist, followed by a big announcement by Twin Rivers. 
The purpose of Starving Artist mostly relies on the funds it'll be receiving from ticket holders, which is something that Twin Rivers needs in order to keep running and supporting artists. On the other hand, however, it serves an opportunity for community members to interact with the different artists with a hands-on-experience.
Whether or not you want to start belly dancing with the troupes...
"That kind of depends how much you have to drink," Lawton laughed. "We welcome people to have fun and get their hands dirty."
As far as the name goes, which was initially a play on words of feeding people throughout the night, Twin Rivers looks to change it in the future.
"I'll be honest, I don't even know that term fits anymore, or if it fits with the arts community looks like," Lawton said. "We're so full and abundant right now, our arts community is really flourishing and we really want to highlight that and not our deficits — but that'll be to come — we really feel it's important representing the art community in greater Mankato."