ST. PAUL — A Mankato-area resident made a statewide impact Tuesday at a rally to support caregiver pay increases.
Quinn Metcalf, a client with MRCI, designed a rainbow-like button that served as the official button advocates and caregivers wore Tuesday at the Disability Services Day at the Capitol.
"I guess I'm famous," Metcalf said with a laugh.
She designed the button concept earlier this year using watercolor markers. Though she has difficulty seeing — she's legally blind — she said she got real close to the paper to shade in her sunset-inspired design. The rainbow concept reminded her of a sunset, which she's enjoyed watching since she was little.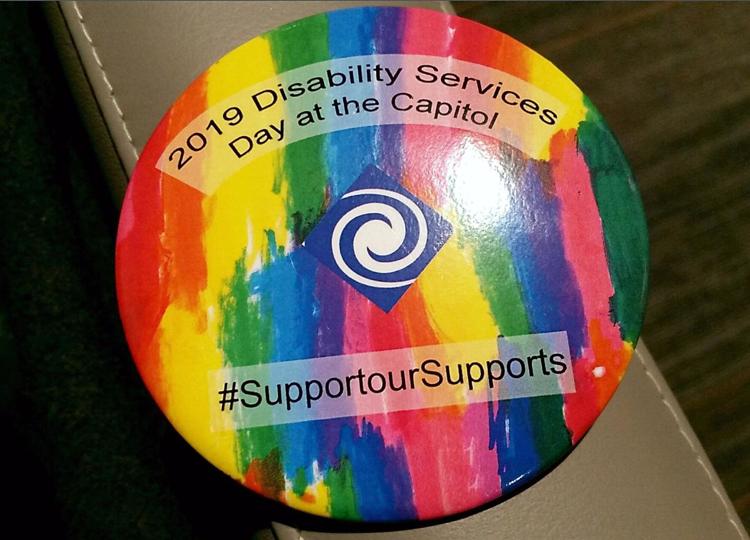 "I like doing colors," she said.
Metcalf is a newer client at MRCI, according to program manager Cathy Groebner. Her work was chosen by the Association of Residential Resources in Minnesota (ARRM), which represents more than 200 companies that support people with disabilities.
The button is part of this year's campaign to push for raises for caregivers who work with the elderly and people with disabilities across the state. 
Minnesota caregivers make $11.50 to $12.22 an hour on average, according to the Government Accountability Office. But rural caregivers typically make less than similar workers in the metro area. And longtime caregivers say the pay hasn't increased substantially in more than 20 years.
Metcalf, who is undergoing job training at MRCI, was pleased to advocate for the people who work with her in St. Paul, though she and others admitted it was a little overwhelming to be around hundreds of disability advocates.
Still, Metcalf said she was happy to share her artistry with the state.
"I'm going to love to talk about it," Metcalf said.