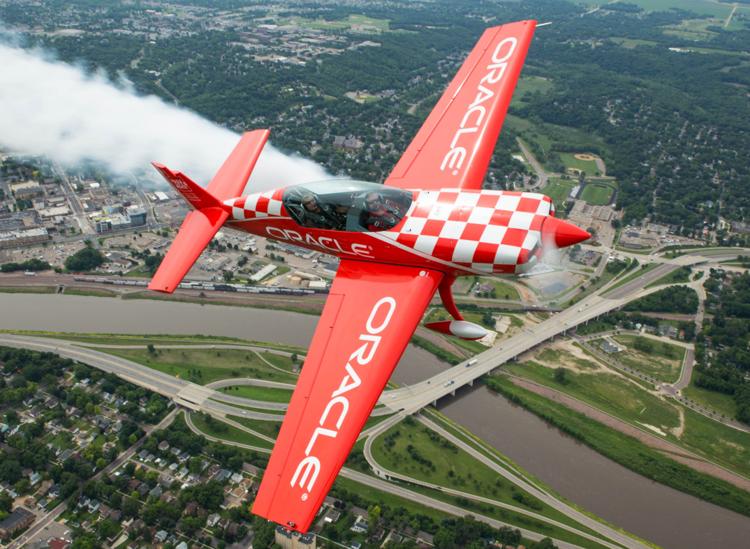 Oracle flight rekindles joy of flying
I worked my way through high school refueling and cleaning airplanes at a small airport near my southern Wisconsin hometown. Thanks to that I was able to learn how to fly and did so regularly, shooting photos of farms and just enjoying being in the air.
The airport I worked at was a mere 39 miles from the annual Experimental Aircraft Association's airshow in Oshkosh, so it wasn't uncommon to see planes of all shapes and sizes land at our small airport. It was an experience I am grateful for and one that fostered in me a love of flying. 
My flying days are gone, since replaced by photography and sailing, but in no way forgotten. I was reminded today of how much fun flying can be during a ride in Sean D. Tucker's Oracle Extra 300 aerobatic plane over Mankato. Certainly the Extra has much more power and capability than anything I ever flew (and so does her pilot!), but the feeling of effortlessly gliding through the sky remained.
After a few minutes of taking pictures over downtown Mankato, Tucker expertly flew me through some of the loops and spins he does during a show like this weekend's Minnesota Air Spectacular, only much slower. Much to my surprise and delight, I got to take the controls for a few of them. Tucker's hand was never far from the control column to be sure, but the feeling of guiding a high-performance airplane through loops and rolls is hard to beat.
Each time an airshow comes to Mankato, I'm reminded of how much I miss flying. Thanks to Sean D. Tucker and Team Oracle, I got to relive that joy for a short time, and gain even more respect for what pilots such as Tucker can do with an airplane.