Karlee Holets explores body image, gender, femininity
---
For Le Sueur native Karlee Holets, form has always played an important part in her work as an artist, even in her early years.
"I have always been interested in the arts," Holets said. "As a child, I loved to draw people. My mom always made sure that I had a black ballpoint pen and lined paper for sketching. Sketching on lined paper provided a grid to draw more proportionally. I did not like to use crayons or markers or coloring books. I think that is because I have always been more interested in form rather than color."
Her focus was in the details, which continues to influence her pieces as a ceramic figurative sculptor as an adult.
"I would draw every detail of the human figure, including men's chest hair or wrinkles on the face," she said. "I still do not like to use color in my work even when I challenge myself to use glazes. I love the raw color and purity of clay."
Holets, 32, works as the Gifts in the Gallery coordinator and the volunteer coordinator at Artistry, a nonprofit art center that offers art classes, visual arts, theater and outreach programs in Bloomington.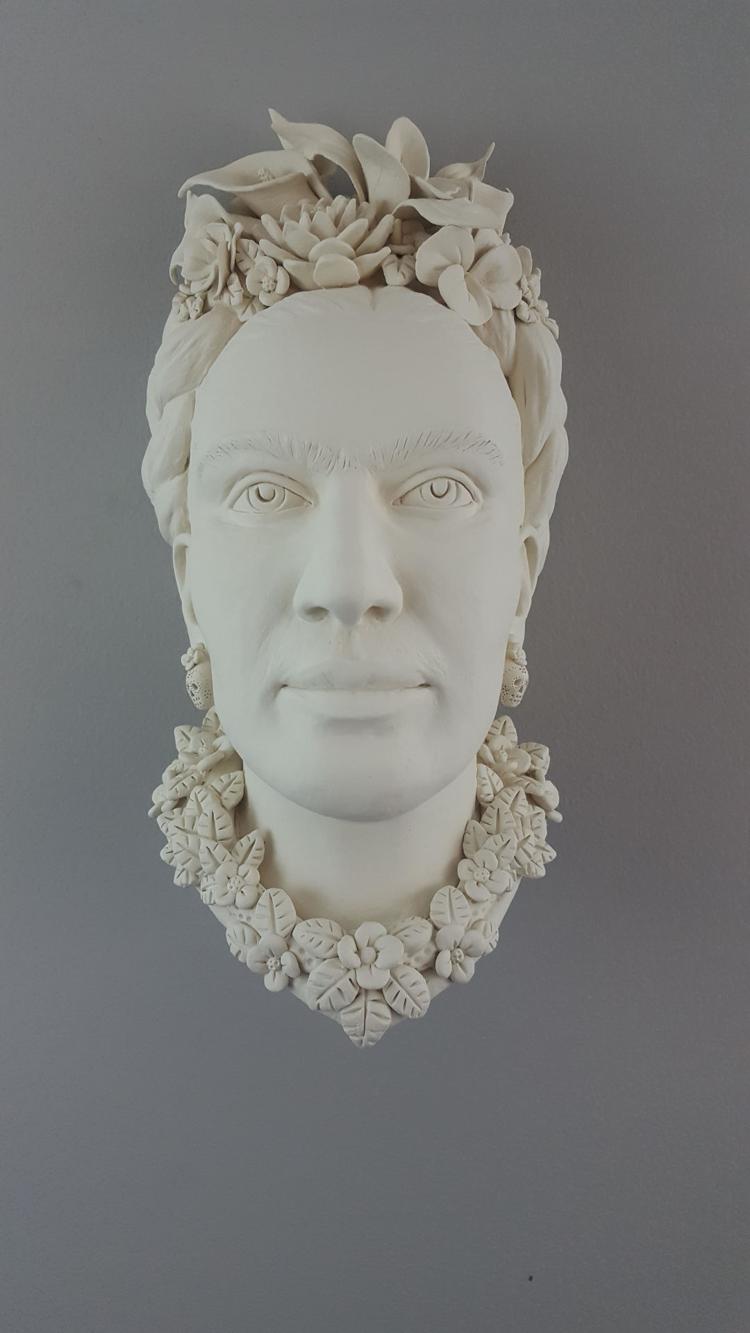 When she isn't working at Artistry, she is in her clay studio. Despite doing what she loves now, it wasn't always an easy decision. While a student at Winona State University, Holets initially started off studying psychology and even considered art therapy.
"I knew I wanted to do something in the arts, I just did not know what," she said. "And of course, the fear of being an artist is a real thing. People will always question you and say things like 'How are you going to do something like that?' or 'You will have a very hard life being an artist because there is no money in it.' Of course, job security is important to us all and being an artist can be unstable"
She also acknowledged the notion that while being an artist would be fulfilling, it would require a lot of work.
"Artists are their worst critics and often question everything they do. It is difficult to be original."
Before college, she had more experience in drawing and painting than in ceramics, but that quickly changed after taking a 3D class working in clay.
"I felt like I could really focus more on form," she said. "It was more challenging, yet I understood it so much more. Most importantly, I found my own voice while working in clay."
After college, Holets studied at Georgia State University in Atlanta as a post-baccalaureate student, where she was able to build her techniques in clay sculpting and armatures.
Her work in painting, drawing, ceramics and printmaking tends to feature similar themes.
"Body image, gender, femininity, and human emotion are all topics that I explore in my work," she said.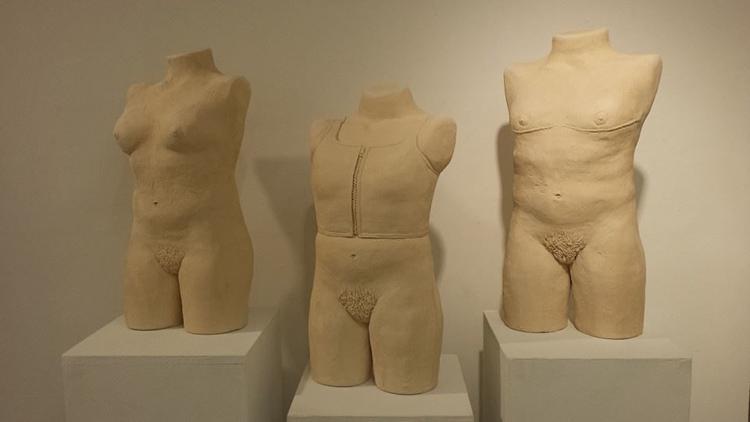 One of her first projects at Winona State focused on gender.
"I have a family member that I am very close to that is transgender, and I thought this was a topic that was very important," Holets said. "I found it as an opportunity to educate people and myself. It angered me that people that knew about my family member's gender would ask me questions that I felt were invasive and inappropriate. Mostly, they would ask about their body."
After receiving her family member's permission, Holets decided to create a sculpture addressing the social issue.
"We talked a lot about their experience and their process going through the physical changes, as well as society's response to their changes," Holets said. "After talking and thinking about it, I felt that I wanted to just put it out in the open and answer the question that everyone always wanted to know - what does a transgender body look like. I felt indifferent to this project - I was split with the feeling that this was not my personal story to share and also that it was a story that needed to me shared with people who just do not understand or were judgmental towards the topic."
Her project included three figures that looked like faceless mannequins.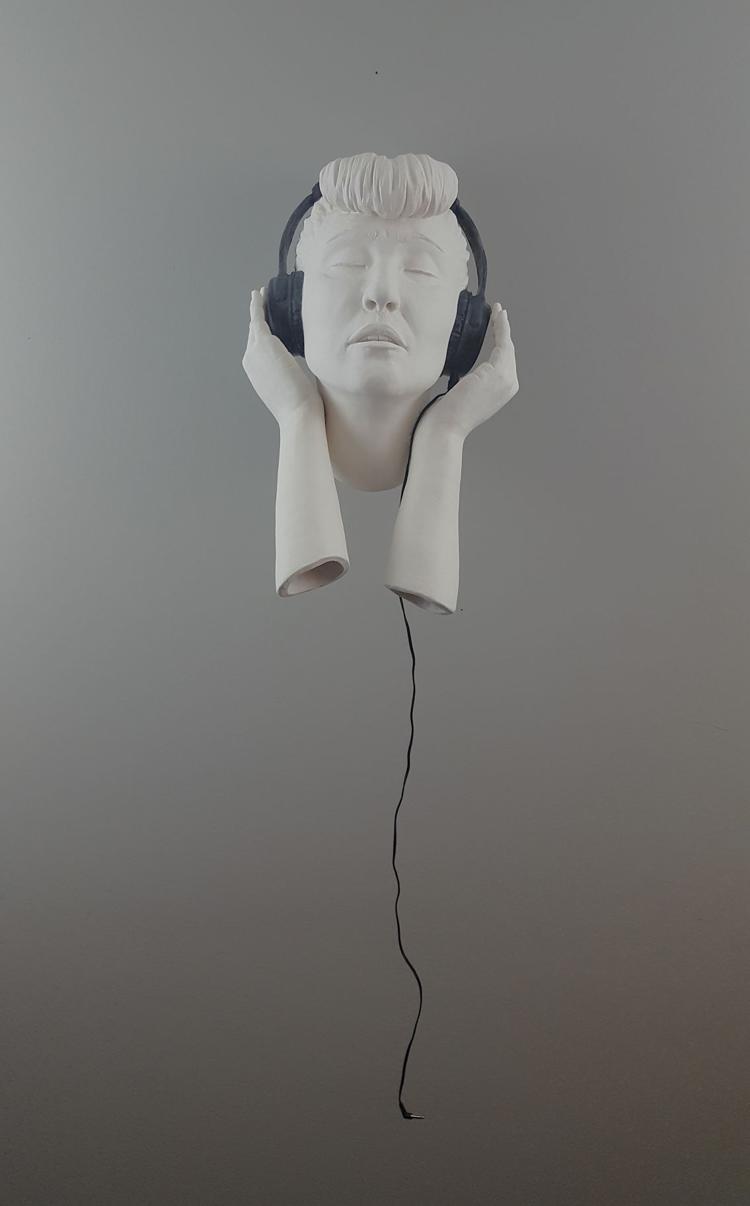 "When you see mannequins in stores, they often have the 'perfect body.' They hold the standard of beauty," she said. "Each sculpture displayed a different physical stage of a person going from female to male. The first is of the nude female body, second is of the body with a binder, a very tight top that holds the breast flat, and the third is after top surgery and with hormone therapy with changes in the genitalia."
She spends the majority of her talents working with clay, gaining inspiration from other contemporary artists and sculptors such as Tip Toland and Beth Cavanar.
"They are incredible sculptors that both use human emotion in their work but in different ways," she said. "Tip Toland is a hyperrealist ceramic sculptor. She explores topics such as aging and culture in her work. She did an incredible series on albino children in Tanzania. Beth Cavanar discussed human psychology through animal form.
I tend to look at a lot of other ceramic artists to see what they are doing today."
Her work, however, still takes on its own process.
"I often use a white house paint after I fire my sculptures. The color of the raw clay is my favorite stage; however, after a sculpture is bisque fired, it turns an ugly salmon pink and it loses its beautiful clay color. So, I often use paint to bring back that softness. I do not like to fire my sculptures more than once as it can chance it breaking."