Mankato resident Kevin White is an emerging mural artist and musician breaking into the art scene in southern Minnesota. The 28-year-old's musical upbringing is deeply rooted within his family.
"My dad had been playing guitar for so long, and I ended up playing in a band with him growing up as a drummer," said White, who works as an independent contractor in carpentry and construction.
While in high school, he participated in symphonic and concert band as a traditional-style percussionist before taking up the drum set.
"A lot of it was at schooling, but then for drum set, guitar and piano, that has just only continued down the line," he said. "It is almost self-taught for some of the instruments such as guitar. I took piano lessons at a really young age, so it's always been around in my world, music — and my dad was a big influence in that."
Earlier this year, White was awarded a grant from the Prairie Lakes Regional Arts Council, which he credits to helping him take the steps needed for him to immerse himself into the music world.
"I played a lot of live music growing up with my dad and with my high school band. I got comfortable on stage as a percussionist, and that sort of fell away from me, and I wanted to reintroduce it."
Although he has been using editing software for video and audio, White said he has been collecting music over the years without having it do much, except sit on his computer.
"Over the years I have been shy with the music I record in my free time," he said. "I wasn't posting it anywhere, so I knew that I wanted to pursue music and to start to share it as an entity, maybe with a band name or as a solo project of sorts."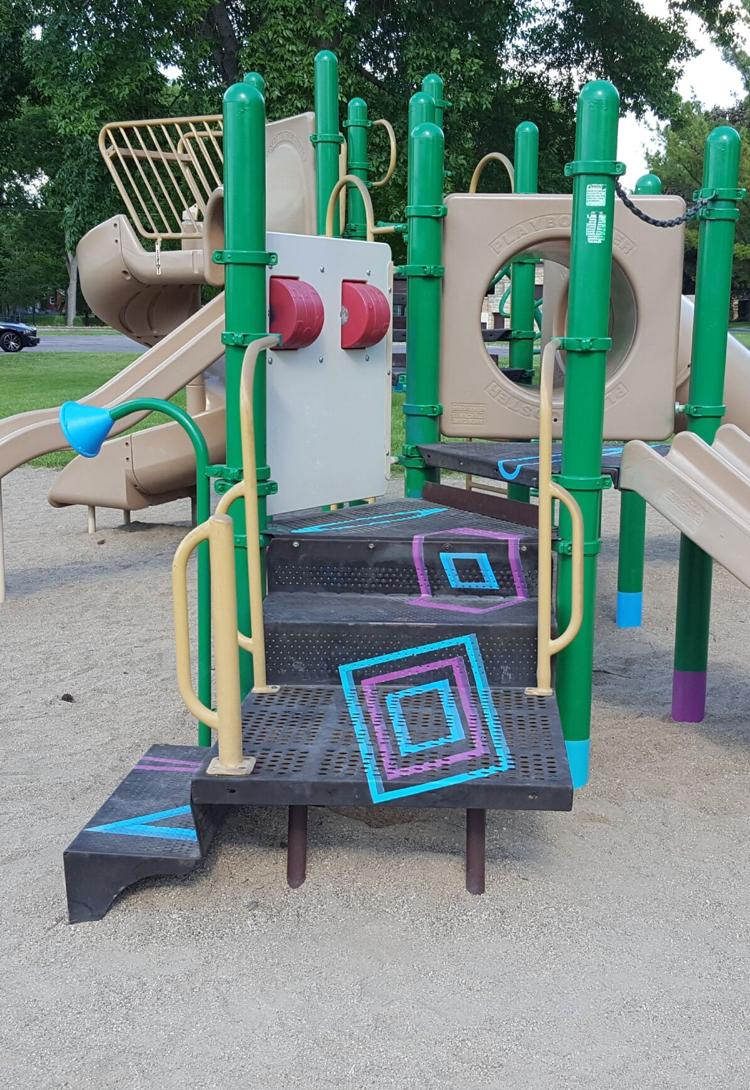 With the help of the grant, which provided him with a loop station, White would like to release his music to the public. He was previously scheduled to perform his music live at the 410 Project, but the appearance was postponed due to the COVID-19 pandemic. He is now working on a plan to release an EP.
"I have a new capability to make music much more efficiently and to take the step of posting it online, and making a name for the music, and establishing myself as a musician. Something I have always dreamed of doing, but I just never took the steps, kind of out of shyness."
Along with his work as a musician, White has been exploring the world of mural art. Last summer he completed a geometric, anamorphic mural at Wheeler Park in North Mankato, which features three-dimensional effects on top of multi-colored layers, as well as some repeating patterns.
"It was also — being on a playground — somewhat fitting, putting on the simplest of shapes and geometric forms to work with children," he said. "Everybody understands them — triangles, circles, squares — and to put them on very nontraditional surfaces, such as a playground, I knew it would be a challenge."
As a newcomer, White said he is excited to develop his skills as a muralist and musician.
"Working as a contractor has always taught me how to work job to job and learn on the fly, to ultimately put myself out there."