Jenny Haugen stays busy with gigs, education
Jenny Haugen's career in music is limitless. It ranges from being an adjunct music professor and voice instructor at Martin Luther College in New Ulm, a voice instructor at Mankato's Bethany Lutheran College, a private voice instructor at Jenny Haugen Voice Studio and soprano soloist.
"Music, singing specifically, has everything that I love intertwined within it: melody, harmony, poetry, drama, complex human emotions, playfulness, physical connection to the body, and the science and health of how a voice works and what keeps it working," Haugen said. "It's fascinating to me, and I can't believe this is what I get to do with my time every day."
Haugen received a Bachelor of Arts degree in music from Bethany Lutheran College in 2005 and also took voice-specific courses at Minnesota State University.
"After I graduated, I traveled to Greve-in-Chianti, Italy, for The Daniel Ferro Vocal Program where I was able to continue learning and singing."
Following the program, she participated in a summer voice program in Minneapolis called The Wesley Balk Opera/Music-Theater Institute.
"This program is what officially 'turned my head' to singing," Haugen said. "Instead of looking at singing as a static art form with set yeses or noes, I was shown how one can be playful and dig into the meaning of each role or song, no matter the genre. It was so exciting, fresh and fun to play with classical music, and the result was better than before."
Haugen then received a Master of Music in vocal performance from Boston Conservatory in 2010.
"The genres that I focused on were within the classical area— art songs from various eras, opera, operetta and oratorio."
She has since spent most of her time teaching students one-on-one.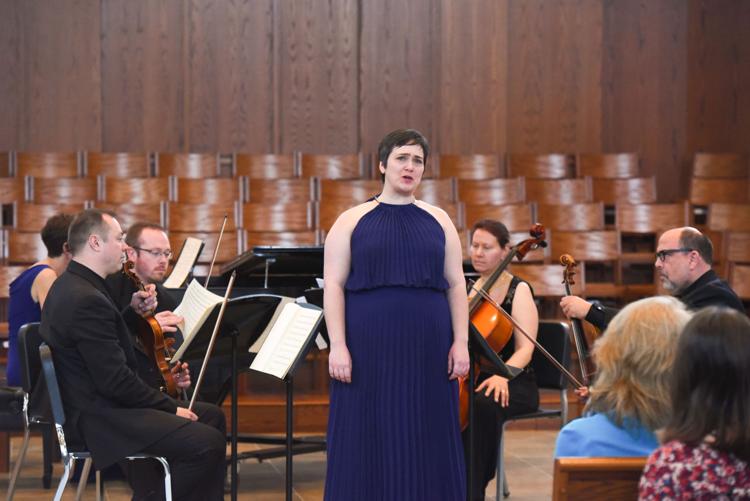 "The level of students that I teach varies since the majority of my students are not pursuing music degrees but are looking to improve their skills," she said. "Because of the fact that each student coming in has different talents and backgrounds, it makes my teaching day constantly varied. My day could be filled with ear training, breathing exercises with a straw, teaching how to sing in French or Russian, interpreting a poem and a student beginning the learning of how to read music."
As a performer, Haugen said her preferred genres are classical art song, opera, oratorio, jazz, and musical theater. She also gravitates toward songs "that have surprising harmonies, complex but beautiful melodies, and text that is chock-full of emotion and meaning."
"In addition, if the meaning and emotion isn't obvious at first read, it receives extra points." Haugen said. "A beautiful song sung well is good, but a beautiful song sung with a backstory, personality and unfettered emotion is endlessly better."
As a member of the Blue River Combo, jazz and musical theater have become newer performing genres for Haugen. She is also working on a communication and connection themed-recital as part of a grant from the Prairie Lakes Regional Arts Council, featuring voice and piano, tentatively scheduled for February 2021 in New Ulm and Mankato.
"The idea of communication and connection came out of the gravitational pull of songs that sounded like an intimate letter or a prayer or a passionate monologue," she said. "These points of view are most interesting because it's where we hear what a person is really feeling and thinking."