GEAR SWITCH
Whether you're a seasoned bike hobbyist or just feel like you need to get away from all stress, turmoil and viruses in the world, hopping on a bike might be just the cure for what ails 'ya.
Luckily, southern Minnesota's got plenty of places to satisfy your needs (provided you've already strapped on your bike helmet, of course; we wouldn't want you to be unsafe!)
If you're living in the Mankato area, you no doubt know about the Red Jacket and Sakatah Singing Hills Trail. But if you're willing to leave the immediate area, you'll find there's a world of exploring to do — and a lot of it within an hour or two from Mankato.
Click in. We're taking off.
Casey Jones
Before you ask, yes, the Casey Jones Trail is named after the famous railroader who died in a railroad accident in Mississippi in 1900. But you'll find no danger here, only tall pines, scenic views and wooded ravines.
The trail consists of three segments, the longest of which is 13 miles that sits on a former railroad line. Some of the trail is paved and some of it isn't, which just adds to the feel of being whisked away to another time. The trail runs by Lake Shetek in southwestern Minnesota and surrounding sloughs.
Blazing Star
The Blazing Star trail may not be a big deal yet, but this trail, which runs for six miles between Albert Lea and Myre-Big Island State Park, is an up-and-comer.
When it's done it will connect Albert Lea and Austin's city trail system. It offers great views of Albert Lea and Goose lakes, and includes both paved and unpaved sections.
According to the Minnesota Department of Natural Resources, the Blazing Star trail runs through some of the best bird-watching territory in southern Minnesota.
Shooting Star
This trail features 20 miles of paved bikeway between LeRoy and Rose Creek, and runs through Lake Louise State Park.
The highlight of this trail is the abundance of wildflowers. Among the varieties you'll see are: prairie smoke, rattlesnake master and wild indigo, sunflowers, asters, goldenrods, and blazing stars.
According to the DNR, "The trail passes by several additional interpretive/recreational opportunities, including Rustic Retreat Wildlife Management Area, Shooting Star Prairie Scientific and Natural Area, Taopi Prairie Interpretive Area, and Mower County Natural and Scenic Area."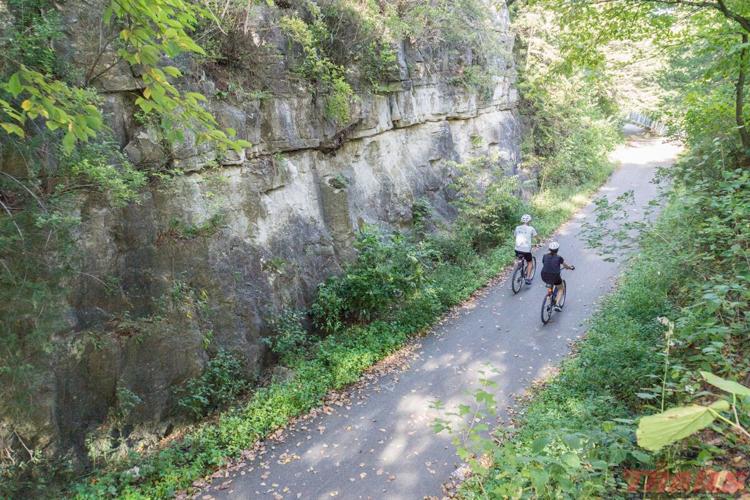 Douglas
This 12-mile trail begins near Rochester and cuts through acres of agricultural land.
Douglas Trail has two separate "treadways," as they're called: one for biking and hiking, and another for horseback riding and cross-country skiing.
The trail goes through the town of Douglas, and ends at Pine Island.
Glacial Lakes
Biking this 22-mile trail, you'll be able to visit the towns of Willmar, Spicer, New London and Hawick. (When you're in Spicer, stop at Little Melvin's on Green Lake for a cold brew and tasty burger.)
This trail is known for its wildlife. Along the way you'll spot deer, fox, various birds, reptiles and butterflies.
Root River and Harmony-Preston Valley
The 42-mile Root River and Harmony-Preston Valley State Trail system — one of the state's most popular — begins in Fountain and connects a series of quaint Minnesota towns, including Lanesboro. 
This trail includes stunning views over river bluffs and ravines. If you love exploring the state on two wheels, this one should be on your bucket list.
Great River Ridge
Great River Ridge boasts 13 miles (soon to be 15) of paved trail. Like Root River, it's got some stunning river bluff views.
This trail also has a parallel treadway that is used for horseback riding and snowmobiling in the winter.
Goodhue Pioneer
This trail is a work in progress but, when it's complete, it'll be a path more than 40 miles in length connecting a series of towns in southeast Minnesota.
A companion treadway for horseback and carriage riding connects with an equestrian trail system near Hay Creek.