The Coffee Hag owner, Jenn Melby-Kelley, has owned The Hag since 2007
Anyone who has ever visited or lived in the area likely knows one of Mankato's staple hangouts — The Coffee Hag.
Right in the heart of Old Town, the hot spot is known for its inclusivity, diversity and a delicious cup of Joe. Jenn Melby-Kelley has owned the business for 13 years. And like many business owners, she has experienced the tribulations of running a small business during a worldwide pandemic.
Melby-Kelley, also Mankato's Ward 4 councilwoman, opened The Hag temporarily mid-June and closed down the shop just a few short weeks after because of the growing number of COVID-19 cases. The decision, she said, came to protect the employees. The coffee shop reopened again in mid-July.
MANKATO MAGAZINE : The Coffee Hag has been a Mankato staple for its inclusivity, speciality coffee, live music and quick bites. You've also owned the business since 2007. How did you come around to acquiring The Coffee Hag?
JENN MELBY-KELLEY: In 2007 I was living in Minneapolis. I came home a lot and I would always stop at The Hag. I worked there as a barista for six years from 1994-2000. I came by one Saturday and one of my favorite baristas told me that The Hag was going to close. "You should buy it!" she said. I harrumphed, "Ha! I could never do that."
Well, the next day I got a call from the original owners. We met the next day. I asked, "Why should I buy it?" Lisa Coons and Patti Ruskey looked at each other and Lisa stood up and responded, "Because you deserve it."
That was a Tuesday …The following Saturday I opened the doors as the new owner.
MM: After 13 years of operating the shop, it had been closed down (like other restaurants) due to the ongoing pandemic. What had that experience been for you, as an owner, and for your staff?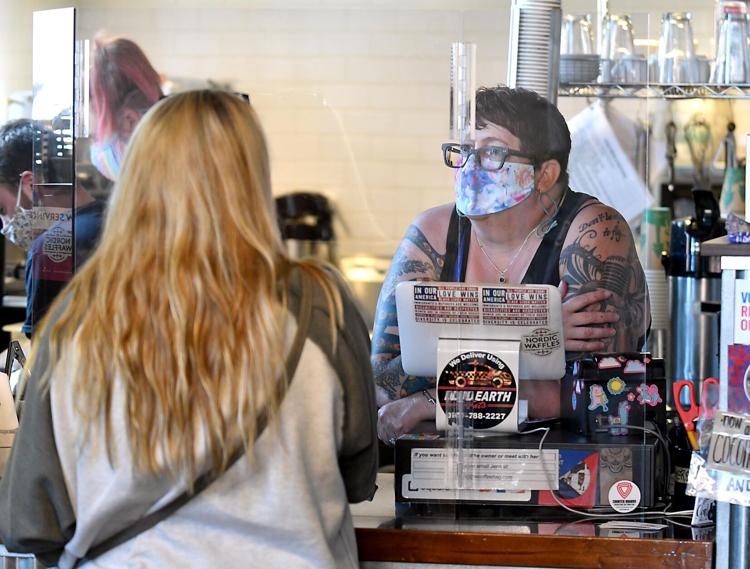 JMK: Unprecedented. Terrifying. Unknown. We closed the doors at 1 p.m. on March 16, 2020. We all felt it was the right thing. We all care about each other and our community and we wanted everyone to be safe. We weren't sure what was going to happen. We just knew we wanted to keep The Hag.
MM: The Coffee Hag opened its doors back up June 11 and closed temporarily June 26. What was the deciding factor to shut down for a couple of weeks and how did that impact The Coffee Hag?
JMK: We saw the uptick in COVID-19 cases hit Mankato. It happened so fast. To be honest, I didn't agree with opening up yet. I felt it was too soon. But we wanted to be open for our community. And we were all needing some kind of "normalcy." But after all the positive cases popped up, I called each Hagster and told them why we felt we should close. I then asked them if they would all go get tested and we could reassess after that. They all said they would absolutely go get tested. We want to be as proactive as we can be.
MM: In 2016, you ran for City Council. You've been an advocate and voice for diversity and small businesses, and most recently, advocated for the mask ordinance. What made you want to run for council four years ago?
JMK: I had been approached often by people that wanted me to run for years. I wasn't ready. Then one day I was walking our dog, Patterson, and someone stopped me and said, "I think you should really run for City Council."
I talked with my wife and close friends and family and we all felt it was a good idea. So I ran. I turned in my application the last day it was due, I think like 15 minutes before it closed. It was surreal.
MM: April 20 you had posted a video on the frustration with the Small Business Association. It was shared nearly 300 times and received an outpouring of support in the comments. What had that felt like?
JMK: I posted a video talking about frustrations I was having with the PPP (Paycheck Protection Program) and how the small businesses weren't getting the funding. By this time I had applied and reapplied and waited and got nothing. I saw big businesses getting millions of dollars, and I was angry for all the small businesses that really, truly needed the money just to keep going. Seeing that it was getting viewed and other people could understand ... helped me to keep pushing. I wanted people to really understand that we were all in trouble … especially small businesses … especially the restaurant industry.
MM: What is something important that people should know about small business that might not always be super obvious?
JMK: It's a lot harder than you might think. The hardest part for me … is me. I can get in my own way. Don't do it by yourself! Ask others in your industry if you can't figure something out. You will be surprised what most people are willing to share. If you don't understand payroll taxes … find someone who does!
MM: What is something that some people would be surprised to learn about you?
JMK: I am the lead singer/songwriter of the Sister Gin.
MM: For people who have just arrived in Mankato or are just passing by, what is the best drink/food you would recommend to them from your shop?
JMK: Cashew egg salad sandwich, black and blue muffin, and I love a cold press with vanilla and half-and-half.
MM: The Coffee Hag is full of local, bright and eccentric art. Can you tell us a story about one of them?
JMK: I can't think of a specific artist … There have been so many. We just want to showcase the amazing local artists here in Mankato … and there are many!
MM: Out of all of your accomplishments — business owner, advocate and City Council member — what are you the most proud of?
JMK: The Coffee Hag. It is an extension of who I am. Who we all are. We have had some extraordinary experiences and we are looking forward to many more!
MM: Is there anything else you'd like to add?
JMK: Just … be kind to each other. The world is hard enough as it is. Love each other for exactly who they are. We need some healing. The Hag will be here for you, too.
Compiled by Diana Rojo-Garcia