Mankato Magazine: Tell us how you got into the photography business?
Brittany Nash: I have loved photography for the longest time. I received a journalism scholarship for college and became a layout editor and photojournalist. After college, when I had my first son, photography was the way I captured his every moment. I would share the images on social media just to keep my family updated. I started to get so many requests to take photos of other people's kids with my point and shoot that my husband purchased me my first DSLR for my birthday in late 2009. I took a few months and created a business plan and get my business license and I was in business!
I fell in love with the process of not only capturing moments and the celebrated milestones for people and their love, but also the business aspects of it too. I am just as excited about researching, networking and marketing my business as I am out on location with my camera. This is what led me to launch my business consulting and photography brand in the last year and a half.
MM: Part of your specialty is something called "homebound" photography. Tell us about that and why you've pursued that as a niche.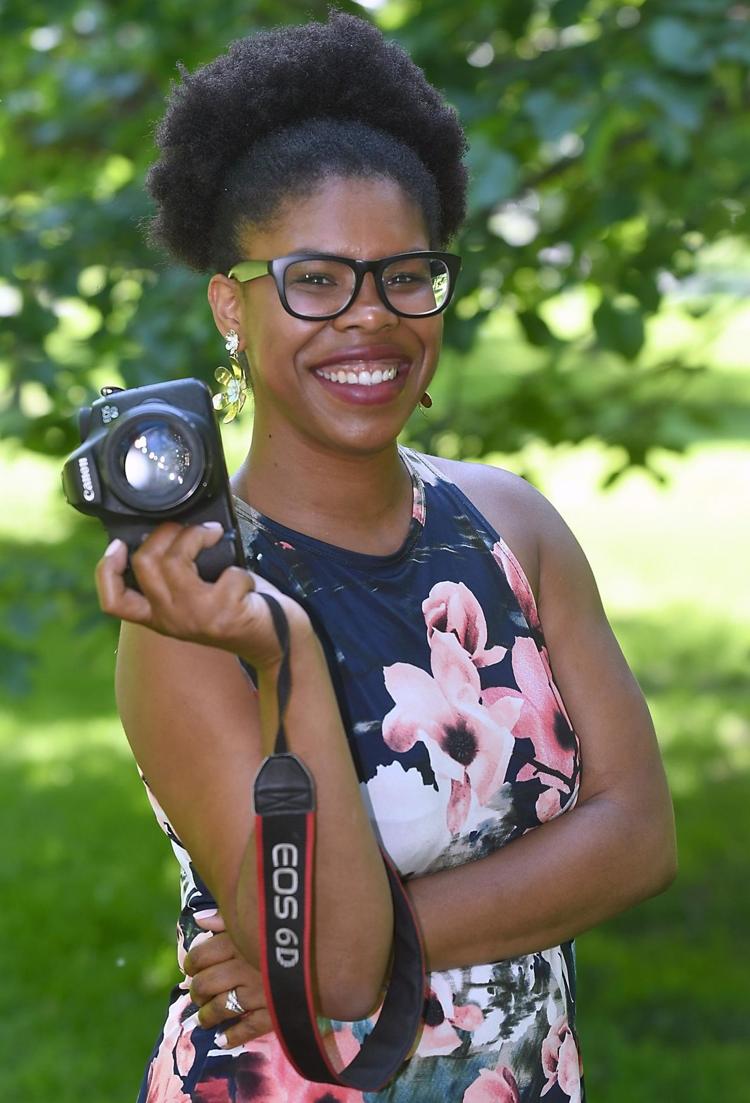 BN: In 2015 our youngest son was born a month early due to my developing HELLP syndrome. It was one of the scariest situations I have ever endured in my life. After being told I may die and that our son may die, I was left shaken. It made me examine the moments I loved capturing the most and those images were of my own children at home. Home is such a sacred place for me and it played a big role in helping me heal from a traumatic birth. I started sharing some of the images here and there on social media,. While the concept was pretty nontraditional, I realized people loved the images.
But the gem about these sessions is that they take place in a space that is completely yours. Your HOME. A place that is an extension of the identity of the people who reside in it. It's a place that brings you to peace but gives you moments that fill you with every emotion under the sun. These moments should be captured memorialized also.
MM: How competitive is the professional photography market in southern Minnesota?
BN: To me, it's not that competitive. But this may be because I realized that every client isn't my ideal client and I understand that clients all place a different value on photography and the different types of photography available to them. I see other photographers as another option for clients who are looking for a photography experience that I don't provide. I'm not trying "outlook" other photographers or do what they do and I enjoy helping other photographers to establish and understand how to run a successful photography business.
MM: How do you go about putting your own personal flavor into photo shoots with anxious high school students or demanding brides?
BN: Honestly, whether it is a family with a bunch of kids or high school senior or a bride and groom, it's about understanding what matters to them. I remind them this moment is not just about the "perfect" image and more about living in the moment and celebrating it.
I truly feel like if I don't understand who people are and what motivates them; it's very hard to capture them authentically. So my sessions with seniors is a conversation where I have my camera in hand and we pause to take photos as the conversation ebbs and flows. This is really important for seniors as I don't ask them to be someone they are not.
For my bride and grooms, they aren't that demanding. I put a lot of focus on them being in the moment. I do a lot of observing and documenting how they interact with each other and their guests. Also, emotion is a pretty important component that I use to tell their wedding story.
MM: You were raised by adoptive parents in a living situation that ended poorly. How has that experience shaped your outlook on life and how has it impacted who you are?
BN: "Ended poorly" is the nice way to put it. To state it more directly I was abused and I am still learning how come to terms with how that has impacted my life in very significant ways, a lot of which I detail in my blog called "The Daily Adoptee" (www.brittanynash.com/the-daily-adoptee).
2018 was a year where I found that my adoption trauma was deeper than I perceived. The day after my 32nd birthday, I started writing to help me come to terms with the gravity of what I endured as a child and young adult. While it is therapeutic, it has allowed me to find deep honesty of who I am as a person and what influenced that. It has become even more valuable two months later I was diagnosed with a mental disorder due to the trauma I faced as a child.
Being adopted is a heavy and confusing experience even in adulthood. Adding the trauma of being abused holds an added sucker punch. No one really wants to hear that your adoption didn't have a "fairytale happy ending" as the narrative of adoption suggests. Adding in the fact that I am a transracial adoptee (meaning I was adopted into a family that wasn't the same culture as I was, i.e. white family) makes it extremely messy and really uncomfortable for other people to talk about. White people hold the rights to my identity and black people think my life was better off because I was "raised white." I often think that adopted children are the forgotten children of the world as we are the very evidence of society's cruelty and ignorance in the pursuit of power and wealth.
But it has made me a practical but a compassionate person who has a pretty deep critical thinking bone and voice to speak up when needed or asked. I am pretty sure this comes from always having to fight to be heard in a world where no one claims you but has more rights to your identity and existence than you personally do. I have had to "forge my own way" pretty much my whole life and it's given me an added layer of confidence and determination that I have come to love.
MM: You've been an outspoken advocate for racial and social justice. Having lived in Mankato for a number of years, what grade would you give the Mankato area in terms of dealing with issues of diversity, and what areas are ripe for improvement?
BN: I would give it a C-. This area loves pseudo-diversity/inclusion efforts and lacks the drive to do racial justice work that changes the lives of people of different cultures and gives them access to wealth which gives them more power to overcome the barriers and circumstances of racism. Very often racism is the white elephant in the room.
I say this without malice because, if we start looking at the statistics, there's no denying that white privilege is protected in Mankato. With the demographic break down of the city of Mankato is 89% white, 4% Black/African American, 3.5% Hispanic/Latinx and 3% Asian, you can't convince me that 89% really cares about the success and failure to thrive of the other 10.5% of the population who identifies with a specific cultural group/race. (areavibes.com/mankato-mn/livability/).
The trickle-down effect is vicious when it comes to other cultures thriving in the greater Mankato area. No matter how the cookie crumbles on the outside looking in, its non-welcoming from the cultural aspect. Being on the inside living it is even worse. We can tell you the barriers we face and we can tell you the changes we can implement to ensure that this area is more welcoming, diverse and inclusive, but this area is committed to not allowing minorities to hold leadership positions that impact the community as a whole, even in the initiatives that affect our cultural communities the most.
If not for the efforts of many people of culture who are leaders the score would be lower. There's Bukata Hayes and his work with The Greater Mankato Diversity Council. Ayan Musse and the work she does for the Council, but also the work she does in the area schools as a social worker and she advocates for many causes in our community. Destiny Owens also works with the Mankato school district and created B.E.A.M (Black Excellence Around Mankato).
There are so many others who bring a deep well of knowledge and expertise. I have a list of them on my FB page (see link) https://m.facebook.com/story.php?story_fbid=758550472495&id=88400033) . I could tell you what all of them do, but I would encourage you to reach out to them take them out for coffee or lunch to hear about the work they are doing. Support their efforts.
MM: You attended Bethany Lutheran College; tell us a little bit about that experience, including how well BLC prepared you for the real world.
BN: It was interesting. Bethany is where I actually got my feet wet in working in social justice and advocacy. I worked for the Diversity Center (now defunct) under the guidance of both Bukata Hayes and Thomas Flunker. I would say my time at BLC helped shape my view on racial inequalities and the reality of how the consequences of barriers and inequalities play out in real time and how complex they are. While the diversity work may not have compared to what was going on at the other larger four-year colleges in the area, the ratio of white students vs minority students better reflected the demographics of the greater Mankato area.
Despite this, it provided a familiar space to launch me into adulthood. I learned very important lessons in advocacy and servant leadership. To understand how this is important you have to understand, statistically, very few women and men of culture have graduated from BLC's 4-year program. But if you look at those who have, we are rocking our success. We took our degrees and have started our own businesses, become advocates for our communities and much, much more.
MM: You've got three young children — How are you able to find time for anything else?
BN: Funny this question came up because I addressed this topic in my latest blog post for The Daily Adoptee. Tilted "My Motherhood is My Own," I talk about how being a mother is just a fraction of who I am and by prioritizing and understanding that life is about balance (and I don't mean the 50/50 kind), I have created an environment that helps me thrive. If I am thriving, the fruits of my tree, my children, then too will thrive.
MM: What's on the "Recently Watched" tab on your Netflix account?
BN: Thor Ragnarok. I am a huge Marvel fan!
MM: Tell us something that would surprise us about you.
BN: My music choices, depending on what mood I'm in I could be dancing in my kitchen to Ariana, belting out Kane Brown or Jimmie Allen lyrics with my window down, having an emotional moment with Evanescence, rapping with 6lack, being woke with Tobe Nwigwe, caught in a vibe with DVSN, falling deeply in love with Dan + Shay, getting a little ratchet with Nicki Minaj, making boss moves with Beyonce. You never know what's going to be playing off of my Spotify playlists and I LOVE making playlists.