Chemical analysis of pottery from neolithic northern China, undertaken by a team of international researchers, reveal folks were using fruit in beer as long as 9,000 years ago. This would be news to some friends who figure it goes back only as far as those Lienenkugel's split Berry Weiss pitchers popular in nineties college bars. Last time Berry Weiss won Gold at Great American Beer Festival, the category was Vegetable Beer. The contemporary heading, Fruit and Field Beer, is easier on the ear.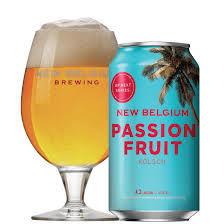 As a practical matter, the tag "fruit beer" may hide more than it reveals. Fruit has, in recent history, traditionally been added to certain styles like wheats and lambics. Technically speaking (per Brewers Association guidelines) fruited brews break down into Belgian-Style Fruit Beer, Wheat-Style Fruit Beer, and American-Style Fruit Beer. As the latter won't color within the lines, fruit IPA has become a thing. Its gaudy cousin, milkshake IPA, generally features fruit. Fruited sours have been steadily advancing. We see fruited kolsch, Mexican lager, blonde ale, etc. In a Super Bowl add a few seasons ago, Bud took a swipe at fruity-beer sniffing hipsters. Imagine my amusement when I asked a guy stocking shelves if he had Naturdays in sixers and the reply came, "No! Our supplier can't even keep up with twelvies, and I wish they couldn't because I'm tired of crawling up the ladder to fetch it for people."
I stared. First up the pallet racking, then at him. But it wasn't over. (Oh yeah, Naturdays is Anheuser-Busch's college beer label, Natural Light, with raspberry and lemonade introduced. It's crept into craft dialogue under Fruit and Field.)
Up in the checkout lane, a nice lady looked at my twelvie of Naturdays (the things I'll do for the cause) and sundry single cans, and advised, "Get a twenty-four …"
"Huh?"
"Might as well," she added in earnest, "everyone does ... the second time." I stared some more.
I'd just been hard-sold twice on a two-four of strawberry-lemonade lager! By folksy sorts! I didn't tune in for many Super Bowl ads this season but would have heard of any involving the quaffing of the odd raspberry lemonade infused article. I have no elevated insight into the phenomena some call stigma, but process of elimination implies commoners are to snicker at hipsters for some ingredient ... other than fruit?
Tastes vary so much on base style and fruit type, I'll just note a couple unusual candidates. Mural by New Belgium: thought I'd hate it. It's cerveza with agave, hibiscus, watermelon, and lime. It comes in waves. It felt like gose on the finish — salt? Unlikely home run in my estimation. New Belgium's Passion Fruit Kolsch was also intriguing — solidly Kolsch-first, the fruit seemed green to me. I slate both for street tacos. Not so much Distihl's Hawaii Five Ale Blonde.
I haven't returned for that two-four, having two young kids and daily beer releases to track. Full disclosure: more than one was consumed in the making of this story.