There's a song I love by The Be Good Tanyas in which the chorus repeats, "Keep it light enough to travel." Now, I may be a sucker for the nomadic spirit, but I think there's something to this mandate.
I'm lucky to have traveled a lot, but I never improve at one of the most fundamental concepts: packing light. Remember, I'm only a wannabe minimalist. But in June 2017, my partner and I walked the Camino de Santiago across northern Spain with only what we carried on our backs. The Camino took us 33 days from the small town of St. Jean Pied de Port in the French Pyrenees to Cape Finisterre on the Atlantic Ocean's "Coast of Death," by way of Santiago de Compostela, the pilgrimage's traditional conclusion. At the end of the journey, we got married just outside of Finisterre. At just over 500 miles of walking to make it to the altar, we joke that it is perhaps the longest wedding aisle in history.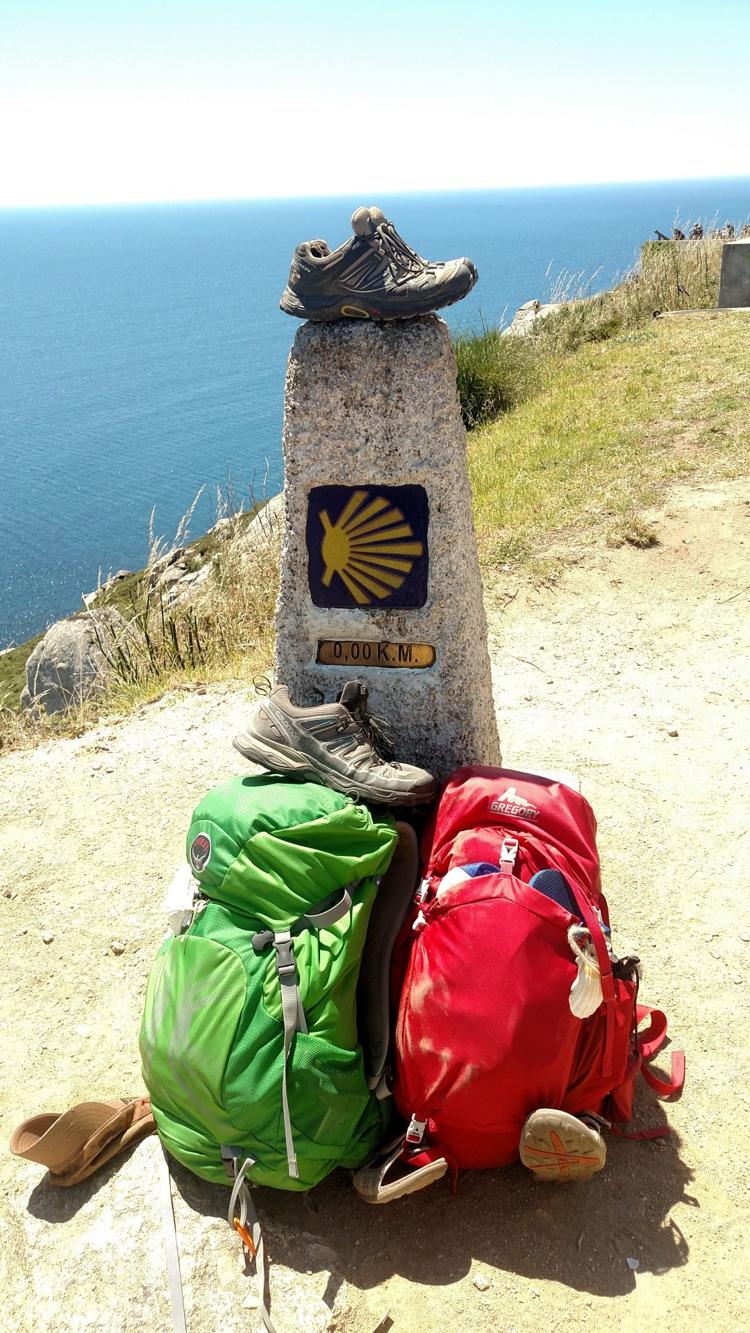 I cannot say enough good things about this experience and how it taught me to live with less. WAY less. My pack weighed about 15 pounds, depending on the day. But that 15 pounds included everything, from sleeping sack to outerwear to toiletries to shoes to snacks. We had very little by way of clothing. Two pairs of socks, three pairs of underwear, four tops, a raincoat, a dress, and two pairs of pants carried me across Spain. Yes, we washed our clothes a lot (mostly by hand). And while there were moments when I desperately wanted for something, I also learned to make do with what I had and found incredible freedom in my "lacking" wardrobe. There were no choices. On the Camino, the arrows only point west, toward Santiago. There are few decisions to be made about where to go or what to wear on "The Way." It may seem this would make for tedium, but in fact, the simplicity led to increased joy. It was no Walden, but it did the trick.
The style takeaway is that what I want and need in my life is a collection of highly versatile, highly functional pieces that are durable and easy to style in different ways, plus a few fun extras. "Style" can be found so much in the way you wear what you already have. Because, synchronously, one of the most profound lessons I learned is that on the Camino (and subsequently, in life) the moment you get what you need, you likely won't need it anymore.
Case in point: there was a particularly long, arduous, hot stretch of the Spanish meseta that took a toll on my feet. While I was lucky to avoid the dreaded blisters many walkers endured, my very swollen and painful feet were too hot in my boots. Walking became unbearable. So at the nearest town I bought a cheap pair of hiking sandals. I would change into them about halfway through the day when the sun reached its peak and my feet began swelled. The next day, I was excited to use my sandals when my feet reached their point of no return in my boots … and it never happened. I wore the sandals occasionally for a change of pace, but it seemed that in having procured them, I no longer really needed them.
This happened over and over. Need ibuprofen for a headache? Poof, the pain vanished upon purchase! Need a fleece because of chillier-than-expected temps? Bam! A heat wave ensued. In fact, we still often ask ourselves when buying things now, is this a "Camino moment?" Meaning, if we just sit this purchase out another day or week, will we still "need" it? Are we simply being impatient in trying to solve our problems? Might they go away on their own?
Not everyone needs to walk 500 miles to lighten up. But I must say, I highly recommend it. Even if you aren't a minimalist, or striving to be one, you can learn a lot about your limits, your desires, your creativity, and your needs by keeping it light enough to travel. Plus, you may find (as we did, daily) that having both hands free and a lighter load allows you to enjoy a sunrise espresso and a croissant along the way.