MSU student guided newspaper through budget woes, virus
Everyone was expecting 2020 to pan out differently than it has so far. Madison Diemert, editor-in-chief at Minnesota State University's student newspaper, The Reporter, knows a little bit about the difficulties thus far.
Between juggling a full load of classes during her final year at MSU, she and the team at The Reporter have been working endlessly to raise cash for the newspaper's budget. From spaghetti feeds to bussing tables at Pizza Ranch to talking with local media sources such as KEYC and KTOE — they hoped to bring awareness to the important institution that is The Reporter.
With the virus pandemic of 2020, things have been left unanswered for The Reporter, but Diemert has hope.
Mankato Magazine: This is your senior year at MSU and you've done an awesome job as editor-in-chief at The Reporter. It kind of came to a halt abruptly due to the coronavirus. So first and foremost, how are you? How was your spring break?
Madison Diemert: Thanks! It was a huge surprise to find out that classes would be held completely online, because that meant no more published issues (of The Reporter) for the rest of the school year. The Reporter has been a big part of my life for the last three years and it was disheartening to know we wouldn't be able to carry on with business as usual. I'm taking it day-by-day, though, and keeping up with all my friends and coworkers! That's what really has been keeping me going while in quarantine. My spring break was awesome, actually! My boyfriend and I scheduled a trip to Texas to visit his family and we went before everything got really bad. The end was a bit rough though, with all the news coming in about the university closing and the coronavirus pandemic.
MM: Now that we've made sure you're OK — you've been making some strides keeping The Reporter afloat and talking with all sorts of people to get the message out. How had that been going?
MD: We were doing a great job — we had two fundraisers, one of which President Davenport attended to show his support, and we still have our crowdfunding page up online. We currently have raised $3,714 from the crowdfunding page and more with our fundraisers. It's definitely not going to fix the issue of funding, but it's a start. We recently learned that we will most likely be getting a huge cut for next year's funding, as well. It's disheartening, but I know we have supporters out there and if we work hard enough, we can keep The Reporter alive! We are also having our budget hearing April 1 through telecommunication. I hope things turn out for us.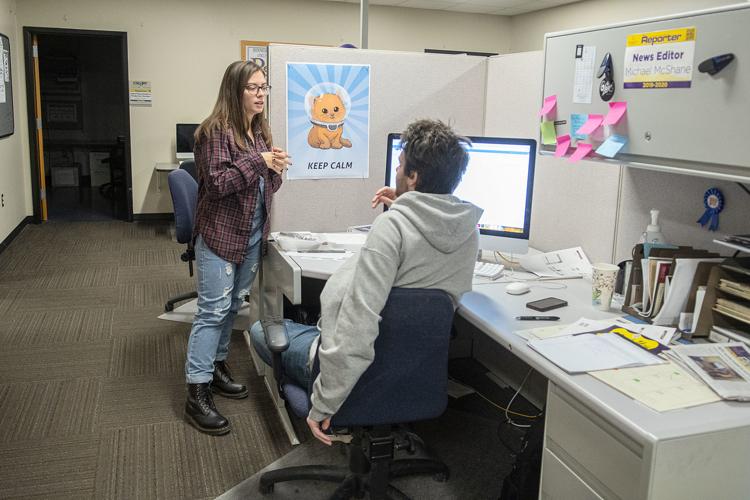 MM: MSU's classes have gone online — basically everything on campus has closed. How has that affected The Reporter and its staff (including yourself?)
MD: Well, a lot of us don't have jobs anymore because of the pandemic. We don't have the need for all of our editors, writers or photographers and it's so incredibly sad that we can't continue to give them an educational experience in journalism — or a way to pay the bills. I personally will still be doing as much as I can as the editor-in-chief, but there's a lot less for me to do now that our physical issues are cut. I'm mostly worried about keeping us going into the next year, and making sure we get (next year's editor chosen) before the school year is over.
MM: You've been working at The Reporter since your sophomore year. What has been your experience thus far? What are some things that you've learned that will help you in the future?
MD: It's been wonderful to work at The Reporter. I couldn't imagine spending my time anywhere else, and I don't think I'd want to. I've made so many friends and lasting connections and I feel very whole knowing I still have a support group there — even if we're all cooped up in our homes. Working at the Reporter has helped me make (some) of my journalistic dreams come true, and I've learned more there than I have in any classroom. One of the things I'm most thankful for are the leadership opportunities I held/hold. I can never thank my news editor enough for asking me to take the position when she graduated. That opened up so many doors for me. I had never considered myself a leader before The Reporter, but I do now. I'm much more confident in my work and I've learned to handle all sorts of situations. It's something I'll be able to build off of for the rest of my life and I am so grateful for that.
MM: What is something most people wouldn't know about working at The Reporter (or any newspaper) that would surprise some?
MD: Many of us have 12+ hour work days. For myself, I had to be on campus Monday and Wednesday anywhere from 10 a.m. to 2 a.m. Sometimes I'd go into the office later in the day, sometimes I got out early (midnight is considered early for us) but it was usually well over 12 hours. And those are just for our production days. Many long hours have been put into The Reporter and all other existing newspapers. When I first started working there, I really assumed it'd be a 9-5 job, just like anywhere else. But no!
MM: Since MSU has unfortunately canceled spring '20 commencement, how will you be celebrating your graduation?
MD: I haven't exactly decided yet, but I think if anything I'll throw a big graduation party with my family and maybe one here in Mankato with my friends.
MM: Speaking of graduation, what are your plans post MSU?
MD: I'm currently applying to grad schools all over the U.S.. I hope to go to graduate school to receive my MFA in creative writing, as I want to be a professor. Weird, I know. But I hope while pursuing my MFA I am able to continue down the path of journalism, as that is a passion of mine as well.
MM: At the time of this Q&A, most of us are social distancing. What have you been doing to keep busy?
MD: I've been painting and watching a lot of YouTube and "SpongeBob." Painting is something that eases my anxiety and I like to listen to people talking in the background. "SpongeBob" also makes me feel very nostalgic. I've also been FaceTiming my nieces and my sisters a lot, and calling my grandparents to keep in touch with them. I still feel very connected to those around me and very thankful for the internet.
MM: Tell us something that people might find surprising about you.
MD: I love writing and making music — I can play eight instruments! I'm currently trying to improve on the violin and electric guitar.
MM: You're an English major. Oxford comma or nah?
MD: This is a very controversial issue, but no!
MM: Anything else you'd like to add?
MD: I want to thank anyone who has taken the time to pick up an issue of The Reporter. It means so much to us that we have people who support us and are standing by us during this hard time. And thank you to anyone who has donated or supported us by coming to our fundraisers or offering their help in other ways, like buying advertising. And a special thanks to those at the Free Press, KEYC, KTOE and more who are helping us get the word out there. You rock!
— Compiled by Diana Rojo-Garcia