Before Natasha O'Hara and brothers Christopher and Patrick Person opened Dino's Pizzeria in North Mankato, they visited dozens of pizzerias in cities known for their pizza. O'Hara grew up around the best pizzerias in her native Chicago, and the Persons traveled to New York.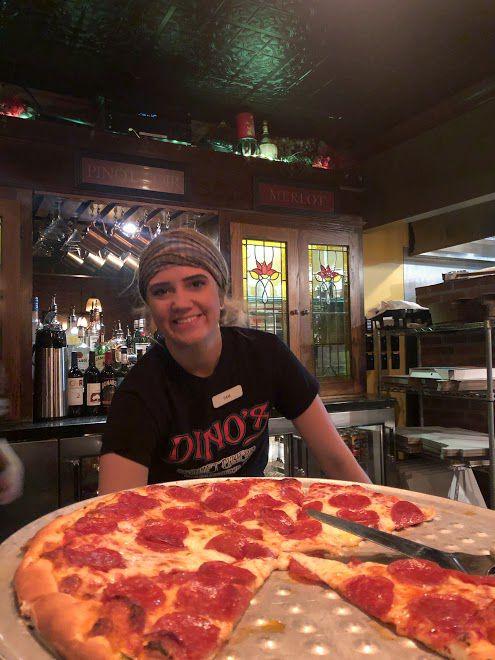 "In four days, we ordered 30 different pizzas," Christopher Person said. "There was a particular place in Brooklyn that hit the sweet spot. We actually went back there two or three times. We knew that was the pizza we wanted."
O'Hara first met the Persons when they hired her as a server and later a manager at Tav on the Ave – one of several local restaurants they own – when she moved to Mankato to attend Minnesota State University during the late 1990s. At that time, she lived in an apartment above what would later become Dino's.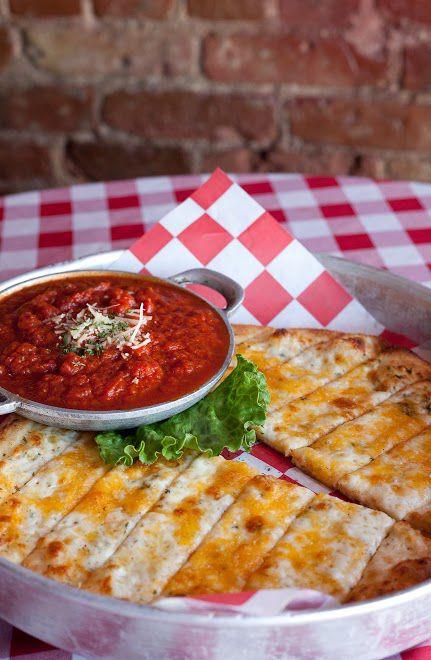 "We always thought it would make a great pizzeria," O'Hara said. 
After graduation, she moved back to Chicago for a few years but returned to Mankato in 2003 and took a job at the now defunct Sugar Room, a jazz club in downtown Mankato. She ran into the Persons every now and then around town or at the YMCA. On one of those occasions in spring 2005, the brothers approached her with an offer. 
"One day Pat came up to me and said, 'We want to open up a pizzeria on Belgrade,'" O'Hara said, thinking they were going to offer her a managerial position. 
But instead they asked her to be a partner and began construction to refurbish the same building O'Hara had lived in, with that Brooklyn-based pizzeria as an inspiration.
"We like the way people did hand-stretched dough and tossed it in the air," O'Hara said. "That's why our pizza dough is hand tossed. We liked certain sauces that weren't as pasty and cheese that wasn't too salty. The great thing about it is we all enjoyed the same flavors."
They connected with one of the 'dough gurus' from General Mills, who was familiar with the Brooklyn pizzeria they visited and helped them perfect their dough recipe using specific water temperatures.
"Within one afternoon we got the dough recipe the way it needed to be," Christopher Persons said. "We put it in the cooler to rest and usually it's the next day you use it – that's when you create your crust, which is also kind of an art." 
O'Hara said their most popular pizzas have been on the menu since they opened in 2006. The Dino is a red sauce pizza with Italian sausage, pepperoni and Canadian bacon. The Foghorn Leghorn has an alfredo sauce with grilled chicken, and the Italian Daydream combines pepperoni, Italian sausage, black olives, green peppers and mushrooms with a red sauce. 
One of their seasonal options – offered in March – is the Reuben pizza, made with sauerkraut, thousand island dressing and slow-cooked meat. O'Hara said it's grown in popularity, and customers routinely call them every year before March to make sure it's going to be on the menu again.
In observance of Lent, they developed a seafood pizza, pasta and a dip made from crab, lobster and shrimp. Other specialty toppings include gouda and blue cheese, fresh basil and pickles, which is a topping on their bacon cheeseburger pizza.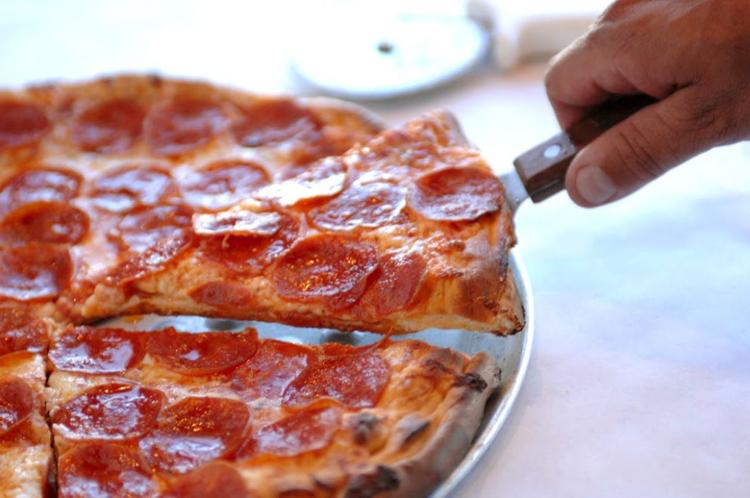 "The Belgrade pizza is one of my absolute favorites," O'Hara said. "It's got pepperoni, sausage and meatballs. The First-Class pizza is also great. It's a garlic and olive oil crust with five cheeses, basil and tomatoes. 
While pizza is the best seller, Christopher Persons said all of their menu items, from the pizza and pasta to salads and sandwiches, are made from scratch using fresh ingredients. 
"Sometimes it takes a little more time and it costs a little bit more, but these things are important," he said.