By Mankato Magazine
Remember those commercials for Dos Equis beer, the ones that featured "the most interesting man in the world"? At the end of every commercial, after a lengthy and humorous list of the guy's "accomplishments" is read over footage of him looking debonair and suave, he'd say, "Stay thirsty my friends."
Well, if there were a competition for "most interesting man in Mankato," Greg Wilkins would definitely be in the running. Wilkins works at Minnesota State University and is an artist who regularly shows his work at galleries around the country. His other experiences have added up to a life filled with variety, which we asked him about:
Mankato Magazine: We understand you've had quite a varied work history. Can you briefly tell us where around the world you've worked and what you did there?
Greg Wilkins: I have worked on over one-third of planet Earth with indigenous people. Collaborating with elders and NGOs, I listen to how my talents and skill sets might be of use to find creative solutions and opportunities within the communities I have been invited to live and serve. Areas of particular interest have been: rainforest and cloud forest reforestation, HIV/AIDS education, landmine proliferation, human sex trafficking, teaching English, clean water and water rights, art/craft as income and empowerment, and refugee rights.
MM: When did you first know you wanted to be an artist?
GW: I never knew I wanted to be an artist. It has always been a part of me. It's like asking, "When did you know you wanted to walk?" We all have a creative spirit. The real question is, "When was your creative self nourished, embraced, and celebrated?"
Alan Ashley-Pitt stated, "Creativity in living is not without its attendant difficulties, for peculiarity breeds contempt." Communities honor and celebrate athleticism; creatives are often times cast out as other and expendable. An example is in education. What area gets the budget cut first, athletics or the fine and performing arts? When we put on a pedestal one or the other, it becomes evident what a community honors. We are all creative; we are all athletes. It's about discovering strength within and embracing the many talents we bestow.
MM: Your current job puts you in daily contact with college students. What about this work appealed to you and why did you come to Mankato after such an amazing work history?
GW: I left home when I was 16. My town was suffocating, and I needed to find a place where I could thrive. Life is about living, and I felt I was surviving. Leaving home was a difficult decision, and it had significant impact on my development.
At 18, I attended Warren Wilson College in Swannanoa, North Carolina. It is one of nine institutions of higher learning where undergraduates are required to work to support their education. Warren Wilson has a curricular foundation of academics, work and service. This experience woke within me a sense of responsibility as an engaged member of a community to help shape the world around me.
I graduated with a triple major in intercultural studies, history, and political science. This led me to work at the Smithsonian Institution during the NEA Cultural Wars in Washington, D.C., LGBTQ activism with ACT-UP (AIDS Coalition to Unleash Power) during the HIV/AIDS pandemic, volunteerism with Whitman Walker Health and Elizabeth Taylor Medical Center, interning with the Human Rights Campaign, as well as philanthropy and education with the Shakespeare Theatre under the direction of Michael Kahn. These experiences were transformative.
Two years later, I attended graduate school at Miami University in Oxford, Ohio. The mascot at the time was an American-Indian moniker, the Miami Redskins. As a white man who grew up in a multicultural and multinational family, I was appalled and offended. I was invited by Miami elders in Oklahoma to visit and see what life was like on the reservation. Returning to Ohio, I organized a grassroots campaign with other undergraduate activists to end the moniker. It was met with opposition and anger from alumni and the university administration. We were told by the university that the mascot was steeped in tradition, and I replied, "Your tradition is steeped in hate and must end."
I spoke in front of Armstrong Student Union, and conservative media broadcasted and published my words. I received death threats at my residence hall and had to be escorted back and forth to my classes by plain clothes police. I considered leaving higher education because I did not feel supported and safe.
In the summer of 1993, I received an invitation to teach at the University of California, Berkeley. I discovered student activism at Berkeley was the foundation of the student rights movement in the 1960s. Energized, I returned to Miami of Ohio to continue to fight for social justice. Long story short, Miami University changed its mascot in 1997 to Miami RedHawks.
What does any of this have to do with the initial question? These experiences taught me that education is a lifelong experience. Finding the power within to be courageous — strength in the face of pain and grief — shapes a better tomorrow for all people despite the naysayers that surround you. Education should be stimulating and not regulating, while the power of one, and the many, can be transformative. Live as if you were to die tomorrow; learn as if you were to live forever.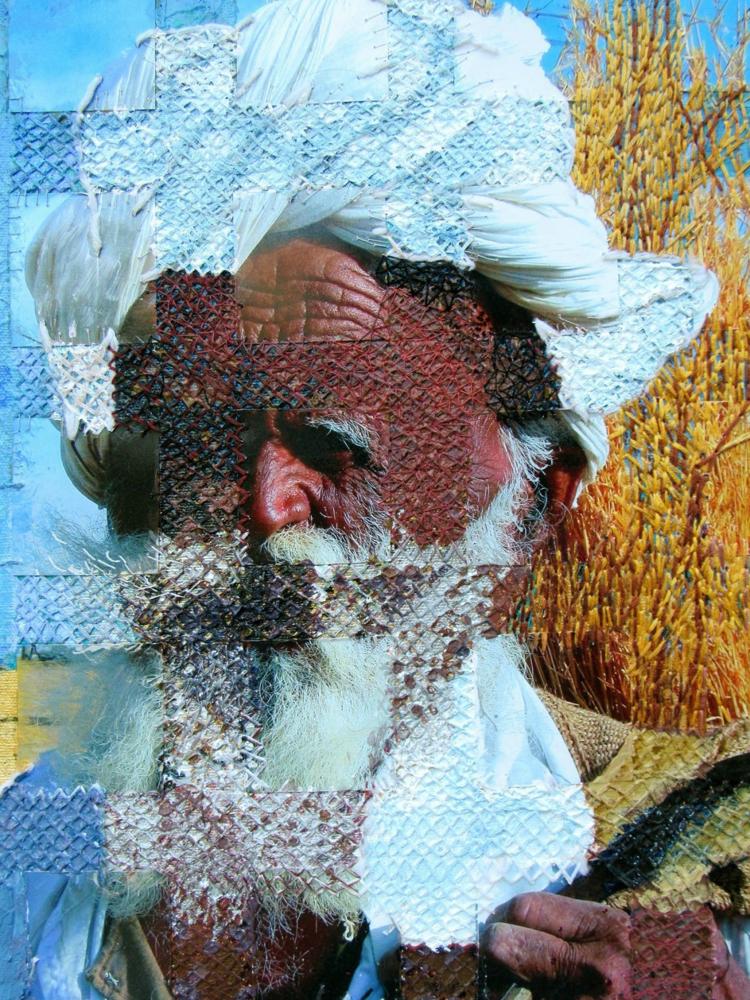 MM: What are you currently working on artistically?
GW: I am currently working on a series called "Color of Water."
The act of sewing is stitched throughout my work. Historically, sewing has been labeled as "women's work." As a man, I encourage the viewer to question privilege, what is "valued" work and how does it fit in a global context?
In my "Color of Water" series, I explore water's power and the sovereignty of women in community. Water is life. Women create life. And yet, we devalue water and women. They are the core to humanity's existence. Without them, we are all at risk.
Through reconstruction and imagination, I reinterpret my creative process by building layers of paint, embroidery thread, graphite, ink, et al. The enhanced elements transform into something new, a revelation of the original. Just as "women's work" has lost cultural currency, the power and importance of water as a resource is often discounted and undervalued.
The average person on the street believes water is clear. It is how most have come to know it — from their faucet or on the supermarket shelf. Water in its many forms comes in a variety of colors, oftentimes reflecting the area from which it came. For example, in central Florida the lake water is the color of tea because cypress trees surround the lakes and "bleed" into the water. At my home here, we have a water well that is rich in iron and is observable by its trace elements.
"Color of Water" honors the natural way water cleanses itself as it moves from the ground, lakes, oceans, plants and sky. As it travels underground, it is filtered by natural ecosystems, particularly in wetlands. My pieces move via brush stroke and stitch work, like water moves through the elements. It is layered, like watersheds are layered with earth, roots, rocks, etc. It is vibrant and active, like water that moves through the earth and dances through its filtration process.
We are water. Our destinations are intertwined.
MM: Tell us about the installation piece of yours in Old Town.
GW: Local artists were invited to submit artist proposals to create work within Old Town Mankato focused on the alleyway off Riverfront Drive. Mankato's City Center received a $10,000 Artists on Main Street grant via the Preservation Alliance of Minnesota in partnership with Springboard for the Arts and with assistance from the Bush Foundation to support this initiative. I received additional financial sponsorship from Prairie Lakes Regional Arts Council with an appropriation from the Minnesota State Legislature with money from the state's general fund as well as support from Frost Enterprises to make this project possible.
My proposal was to create a work of art at Frost Plaza that would include an original piece of poetry written in English and translated into Dakota that would honor the original inhabitants of Mankato. The piece would be forged and cut into steel that would include original art in collaboration with Dakota youth, elders, and other Mankato creatives. The final piece would honor Dakota and non-Dakota communities through the preservation and sharing of Dakota culture, history, and traditions.
I was blessed (to) work with Dakota youth and elders on this project, particularly: Dave Brave Heart, Glenn Wasicuna, Gwen Westerman, and Gerald Veaux. It is important to note that this project received generous support of time, talent, and resources of other Mankato creatives, namely: Dustin Swiers as project lead and Mark Hall, Stained Glass Expert. Special thanks to Julie Dempster with CNC Design, Doug Zrust with CNC Plasma Fabrication, Marty Walgenbach with Guaranteed Electric, graphic designer Austin Hossenbroek, Frost Enterprises as the host for work of art, and Minnesota Makers & Artists Guild.
MM: You've also been an outspoken advocate on LGBTQ issues. How well do you think Mankato is doing in terms of being a safe place for LGBTQ people?
GW: 2019 marked the 50th anniversary of the Stonewall Uprising in New York City and reverberated across the globe and throughout the United States as a half century of LGBTQIA+ liberation. In that same regard, Mankato has come a long way with regards to LGBTQ visibility over the decades. The work is not yet over; there is much still to do to create a welcoming and safe place for all people, abilities, nationalities, and identities. The work of Mankato modern, Queer pioneers such as Jim Chalgrin and Jessica Flatequal created a legacy of support and recognition on the campus of Minnesota State Mankato and the greater community. Courageous visibility and resilience in the face of adversity has impacted our lives.
MM: Tell us something about you that would surprise people.
GW: I sang back-up for Dionne Warwick with Burt Bacharach at the piano for the 25th Annual Kennedy Center Honors celebrating Elizabeth Taylor, James Earl Jones, James Levine, Paul Simon and Chita Rivera.
I was part of the 1988 and 1996 Olympics. In 1988, I helped manage the U.S. Equestrian Team, and in 1996, I was the assistant director of the Olympic Village at South Florida World Soccer Village.
I was the personal assistant for (actor) Joel Grey during his 2002 South Florida Winter Tour.
I lobbied the U.S. White House and Congress to pass the Ryan White CARE Act.