With thousands of students heading back to school the traditional way this month, we thought it'd be good to remind you that not every diploma journey ends with a smiling teen in a cap and gown ...
---
Story by Grace Brandt | Photos by Pat Christman
---
In schools across America, students are told the same template for success: graduate high school, earn a four-year degree and find a well-paying job. But while this model is the standard for the majority of high school students, it doesn't work for everyone.
About 6.1 percent of students dropped out of high school without earning their diploma, according to the U.S. Department of Education's 2018 report on high school dropout rates. But just because these students didn't take the normal route doesn't mean they can't still find academic success. Mankato's Adult Basic Education services help people study to pass the General Education Development exams and earn their high school certification.
Lonnie Jaeger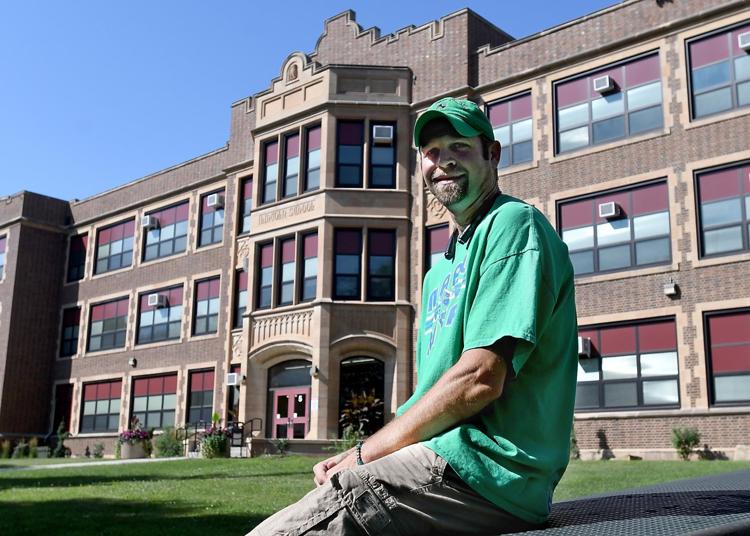 For Minnesota Lake resident Lonnie Jaeger, dropping out of high school was something he kind of "faded into."
Jaeger, 40, grew up in Glencoe, but always loved being out on his grandparents' 400-acre farm outside of Mapleton. Around his sophomore year of high school, he began running with "the wrong crowd," and eventually after 10th grade, he dropped out of class completely to move in with his grandparents.
"Between wanting to be down there on the farm and hanging with the wrong crowd, I just faded away from school," Jaeger said.
Besides helping his grandfather on the farm, Jaeger started working for a landscaping company for a few years, then moved on to carpentry work in Mapleton. Along the way, his grandparents encouraged him to pursue a GED so that he could go on to more schooling, and he did start taking classes to prepare for the test. But Jaeger said he was still involved with the wrong crowd and never found the motivation to keep pursuing it.
Things changed, though, when Jaeger "got into a bunch of trouble" and ended up in drug court. There, he was encouraged to once more pursue his GED.
"At first, I was very upset with that," he said. "I thought, 'That shouldn't be a recommendation.' I didn't care for school. In my head, I was like, 'I can't do this. I'm not smart enough to do this.'"
But Jaeger was determined to turn his life around, and he started taking classes through Lincoln Community Education Center in Mankato. It was a slow process; he had three children, plus his full-time job, which meant he wasn't always able to attend classes. Instead, he did much of his studying and preparing online, with his Mankato teachers pointing him to resources he could use on his own schedule.
When Jaeger was able to make it to class, he said his teachers were instrumental in helping him truly understand the material.
"The staff here was amazing," he said. "If I had any struggles or if I needed anything, they were there to help me, even talk about other things. Before class started, I could talk to them. They'd ask, 'How's it going? How's your day? How is it going at home?' They were just so comforting."
Jaeger began working toward his GED in January 2017 and completed his last test in June 2018, taking about a year and a half to complete the program.
"If I'd have come more, it would have been sooner. But I just worked at my pace, and it worked out," he said.
Jaeger said at first, he didn't plan to attend this year's graduation ceremony, but he ended up coming with his kids and the rest of his family.
"When I got my GED, I came in here and put the cap and gown on and took some pictures and stuff, and at first I was like, 'OK, that's good enough for me,'" he said. "I wasn't going to (attend the celebration).
"As it got closer, and I got the email about graduation coming up, something inside me was like … It was a tickle feeling, like, 'I want to do this. This is important.' I just felt that it was really important because of what I went through and the people here. It made me feel good that I got my GED, and I could actually go up on stage and actually do it. As the time came, it just felt right. All my family members were here. My kids were here. It felt really good."
Jaeger said he isn't sure what's next now that he has his GED, but he knows his options are plentiful.
"There's more job options out there now that I have my GED," he said. "I'm so happy I came here, and the people who helped me here, it's so amazing. I never thought I'd get it in my life. I never did. And here I am today, and I got my GED, and I'm so happy. My family is so proud of me, and it's just a great feeling to have."
Pedro Ledesma
When Pedro Ledesma, 49, was attending high school in southern Texas, he had two goals: become a U.S. Marine and then a state trooper.
But life didn't turn out the way Ledesma had planned. Instead, he dropped out of high school and attended a vocational school to become a diesel mechanic. After earning his certification, he did "almost everything out there except diesel work," from construction to farming to fencing. Eventually, he moved up to Minnesota to give himself the space for a fresh start.
Ledesma settled in Courtland, raising his family and starting a job at the Taylor Corporation. From there, he moved on to Westman Freightliners (now Harrison Truck Centers), to use his diesel skills. He stayed there for about 10 years but then decided he wanted to find something new. The only thing holding him back was his lack of a GED.
"I said, 'You know, I'm going to go back to school and finish what I've always wanted—getting a diploma,'" he said.
Ledesma enrolled at Lincoln Community Center and started taking classes, but he said it was difficult to find time since he worked so much. In the beginning, he talked to his superiors about blocking off time to attend the center's Tuesday and Thursday classes, and he was able to complete three of the four necessary tests within the first year, leaving only math to finish.
"Then I stopped because of work," he said. "It was just too demanding. I didn't have the time to come in."
But Ledesma was determined to finish that last test — so determined he quit his job and found another one that offered more flexible hours.
"I talked to my boss at the time and said, 'I'm going back to school. I'm going to finish that math test,'" he said. "I stood firm on what I said I was going to do. I came to class. I studied. I bought books on math, even if they were a fifth-grade level."
Overall, it took Ledesma three years to complete the four tests. He gives a lot of the credit to the teachers at Lincoln.
"It's good to know that there's people out there who are willing to help," he said. "They can only do so much, but that encouragement just gets you a long way. It's never too late. You just have to be willing to do it and put in the time. There's people out there who are willing to help (you) fulfill your dream of getting your GED and seeing a brighter future."
Ledesma said he originally didn't plan on inviting his family to attend this year's graduation ceremony but decided to at the last minute. He was one of four speakers, and he said his speech was about how he was able to get his life back on track despite what had happened earlier.
"The only regret I've ever had in my life was not finishing school," he said. "It felt really good to get back on track and finish it. I may not ever be a state trooper or a Marine, but it feels good getting that piece of paper."
Ledesma said he isn't sure what he wants to do next, but he does know he wants to continue on with his education. He's looking at possible two-year schools and hoping to choose one soon. He also would be interested in working at the local police department in some capacity.
"Even now, I still can't believe it," he said. "It's something that I always regretted, and now it's been done. I'm looking forward to what's up ahead. (My kids) were really proud of me. It was nice to hear them say, 'Hey Dad, you did it. Congratulations!'"
Robert Cowell
When Robert Cowell, 40, was a senior at Janesville High School, he was called into the office and informed he couldn't graduate. Cowell had moved around several times in the last few years with his family, and during the shuffle, he ended up one credit short of what he needed to earn his diploma.
"They pulled me into the office to say I needed to do summer school or come back the next year," Cowell recalled. "And I was like, 'Nope, I'm not. I'm going to work.'"
So Cowell dropped out of high school to start work at Brown Printing in Waseca before bouncing around to other jobs. He never needed higher education where he worked, so he didn't see the point of finishing his diploma.
He also started experimenting with drugs and alcohol, which eventually landed him in drug court. As he got to know the counselors there, they encouraged him to become a licensed alcohol and drug counselor, or LADC, as well because he showed empathy and listening skills. He appreciated how much they had helped him and was interested in helping others the same way—but to start training to become a LADC, he needed his diploma.
So Cowell enrolled at Lincoln Community Center and began working toward his GED. He managed to complete the program in only seven months, partly because he was dedicated to always attending class.
"Every time I need to be there, I was there," he said. "(My teachers) were like, 'You're really dedicated to this.' I'm like, 'Yes, I want this. I want to go to college and get a degree.' I wanted to have a successful future. With me now having that GED, I feel like I can do stuff like that. I'm really excited that I was able to go get it. It's really nice to have these programs here to help people achieve what they want to achieve in life."
Cowell breezed through the math section but said it took him three tries to pass language arts — but he did. He graduated in August 2018 and was one of the speakers at this year's graduation ceremony.
"My topic was, 'Have you ever wanted to change and thought it was impossible?'" he said. "I could relate to it because during my addiction, I wanted to change so much and I could not change, until I got into family drug court (and) was actually willing to make the changes. Now the lifestyle I live is way better than what I had before."
Cowell said he is still interested in becoming an LADC, but he's waiting until his daughter is a little older so that it won't be as difficult for her when they're apart. But even though he has to wait to fulfill that dream, he said he's still optimistic about where his life is headed.
"I'm still kind of like, 'Wow, really? I really got this?'" he said. "In a way, I'm still excited about it, especially when I fill out applications and can actually put down, 'completed school.' I keep completing things and moving forward."
---
Helping adults earn their GED
According to Angie Blackstad, diploma program supervisor for Mankato Public Schools' Adult Basic Education Department, her department offers several programs, from English language learner classes to employment preparations. However, ABE's high school completion programs are by far the most utilized. The department serves more than 850 students annually, with 65 earning their high school equivalency last year.
Mankato ABE employs 40 staff members, who teach at the Lincoln Community Center, Blue Earth County Jail and Brown County Jail. Lincoln Community Center also serves as an official GED testing site, where people from across Minnesota can come to take their exams. Students don't need to take every exam at once and can go to any site to take any exam.
There are three ways for people to earn high school equivalency: passing the official GED exam, a high school credit recovery program or earning a Minnesota state diploma (which has only been offered since 2014). Of these three, the GED exam is consistently the most popular; only eight students in Mankato opted to recover high school credits last year to earn their diploma instead of taking the GED exam.
Blackstad said Mankato GED classes follow the district school year, with classes offered both in the morning and in the evening in hopes of fitting into students' work schedules. During the school year, free day care is also provided to students who qualify for "full time" status by attending enough classes.
Classes aren't mandatory, and students can drop in whenever they feel the need. There are also online options for students to study at home.
"It's all up to them how much they want to participate and to attend and to work toward their own goals," Blackstad said. "You come in and get as much assistance as you need."
Blackstad said in recent years, not as many people have approached her about earning their GED because unemployment is so low and many jobs are available. But Blackstad stresses how helpful a GED can be for future goals.
"You're just opening up so many more doors and so many more opportunities to choose something that you like," she said. "A GED is your very first stepping stone. What are you going to use that diploma as a ticket for?"
Once students earn their GEDs, Blackstad and her colleagues can help them find the next step, offering resources and guidance if students want to pursue more job training, earn a two-year degree or enroll in a four-year program.
"Some people don't realize that they're even capable of the next step," she said. "We're really good at pumping people up. It's a very safe space… It's a place to grow and see other people like you in the world who don't fit into that typical, traditional box. Everyone's individual. They all have different backgrounds, different skills, a past that has made them who they are today. I have seen the most dedicated people in my life working here."
For Blackstad, the highlight of the program is always graduation night. Every May, Mankato ABE hosts a graduation ceremony and invites students who earned their high school diplomas throughout the previous school year. The event includes gowns, caps, a color guard and a speech from the Mankato Area Public Schools superintendent. This year, about 20 students participated.
"It's the real deal," Blackstad said. "It's wonderful. The best part of it is the student speakers, (hearing) their struggles and then what they're going to use their diplomas for and how much it really means to them and their families."