Those who changed, who took a different path
Change is inevitable and nothing in our lives is linear.
Though most of us spend hundreds of thousands of dollars going to school for the career we thought we wanted, we sometimes figure out that that ain't it, fam. Careers can hold such an intense identity of oneself that, after investing so much time, money and, for some, tears, it's terrifying to think of venturing onto a different path.
These individuals took that other path, some pursuing dreams from the get-go and others finding themselves along the way.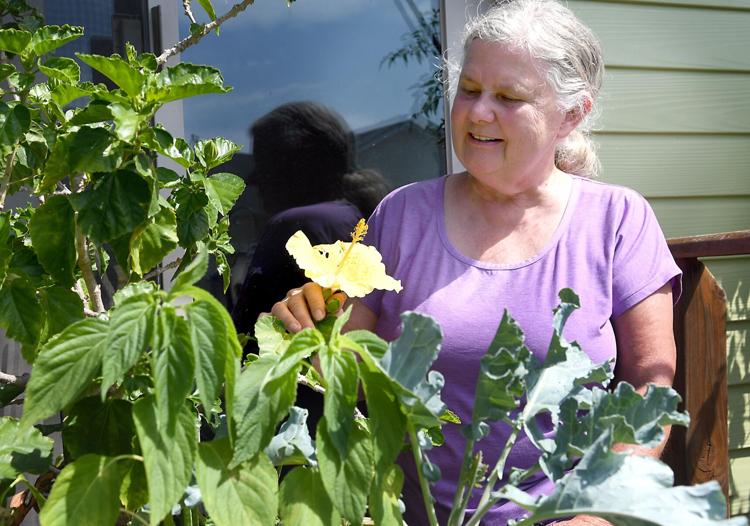 'Nothing is wasted changing careers'
Many mentors had come through Rebecca Sullivan's life. She remembers one in particular, a teacher, who had let her experiment in the lab after classes.
"I did some really crazy experiments," Sullivan laughed. "And she just encouraged me."
There are teachers, Sullivan said, that allow students to explore and push their boundaries.
"It opens a lot of doors."
Sullivan knew she wanted to become a teacher, especially in the sciences. She graduated college in 1974 and majored in chemistry, minored in physics, biology, math and also a secondary education degree.
"I wanted to be able to teach in a small town where, in that time, it was expected to teach all of the sciences," she said.
And for a year and a half, Sullivan left the U.S. and taught school in New Guinea after hearing the country needed volunteers there.
"I thought, 'That sounds cool,' and I didn't have any commitments, so I applied and was accepted."
She taught science and math — 40 kids in a class and all day.
"But the kids were so much more dedicated than they are here because, if they didn't behave, you didn't make the cut," Sullivan said. Kids who didn't do well would be sent to work with their families on farms.
"There was a really strong motivation to do a good job," she said.
That time in New Guinea had been memorable. Then she came back to the United States to the Twin Cities suburbs where she was a substitute teacher for six months. Then, in 1976, she started working at 3M as a chemist.
"The funny thing about that was there were not many women in professional positions (at 3M)," she said. "You had women who were working as techs, but not many women who were working with degree positions."
At that point in her life, Sullivan decided to venture off into a different career because … well, quite frankly, she could.
"Not that I didn't love teaching. It was just that I was young and I could try it," she said. Teaching had been a passion, especially teaching psychics, she said, because students would be much more engaged.
Having been at 3M as a chemist, Sullivan was offered a department chair job. She declined the offer.
"I considered myself way too young to be dealing with men in the 40s and 50s," she said. "I just didn't feel ready. Let's just say that male world can be really nasty."
Plus, Sullivan had wanted to start a family with her husband. The job had too many risks, including working with carcinogens. The place she found herself to be the happiest is where she could rip apart masks and create a better design — not sit in a manager's chair.
"It was never about not liking it," she said.
But, let's backtrack a little. Sullivan's family had been lifelong Lutheran missionaries. They spent time in West Africa and South Africa.
"They always had a missionary passion," she said.
It was a time she couldn't forget — and Sullivan also (pre-pandemic) would organize various mission trips back to South Africa over the years. However, during her time in Africa, she had witnessed massacres that were taking place in Nigeria.
"That has become quite a journey for me to deal with — the trauma and PTSD."
It wasn't until much later in life when she began to recall everything that had happened.
"I shut all that out for many years, and when my children were in high school, I started to remember all of that," she said.
Through therapy, she began to talk about her experiences. It was her therapist who had suggested 'Have you ever considered becoming a pastor?'
"And I said, 'You're crazy!'" Sullivan laughed. "But the more I thought about it, I was doing a lot of writing that was very spiritual and faith focused that I was sharing along the way. Eventually, I decided that I should be a pastor."
Between a 3M chemist and becoming a pastor, Sullivan was a stay-at-home mom but had been volunteering in every aspect of the church, from vacation Bible school to choir. In fact, she first thought about becoming a church musician. Instead, she went to her pastor and said she wanted to become a pastor.
"He said 'You're not ready yet,'" Sullivan said. He suggested that she go to seminary. There'd be a point, the pastor said, that if God's plan had been to have her become a pastor, she wouldn't be able to avoid it.
So she did. She went to seminary school. At the same time, her husband (Paul Sullivan, whom she met working at 3M, and taught automotive engineering technology at MSU from 1997- 2010) also had gone back to school to get his master's. The two moved to Mankato when he accepted the MSU position as she was finishing up her last year of seminary.
Sullivan can't forget the time during her last semester when she repeatedly was asking herself how she was going to give the sermon. When she told her pastor that, he said, 'You're ready.'
"There's a lot of crossover being a teacher and a pastor as well," she said. "You don't throw those skills away because you switched careers."
Sullivan had been a pastor in North Mankato and at Bethany Lutheran Church in Judson, which had been a part-time job initially.
"That's where God was leading me," she said. Since the death of her husband in 2012, Sullivan has been "quasi-retired" but still leading mission trips and substituting for pastors as she is needed.
Having gone through so many careers, Sullivan encourages people to listen to their heart because "nothing is wasted changing careers."
"Give yourself permission to be venturesome," she said.
EMT turned artist, to almost EMT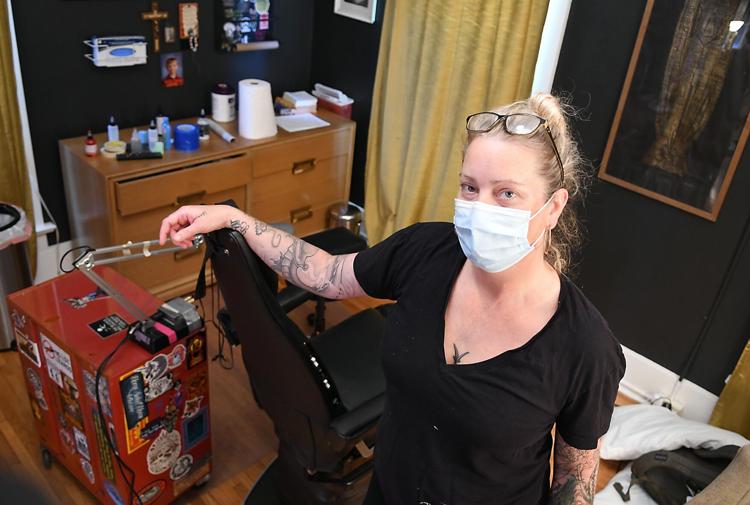 Everything was shutting down in March in an effort to curb the COVID-19 spread.
Megan Hoogland, tattoo artist and owner of Mecca, went into panic mode.
"I didn't know how long we were going to be shut down or how long this is going to last," she said. "I never even considered that I might never be working."
Hoogland has tattooed for more than 20 years. She'd established herself in the community, first working at Cactus Tattoo, running a small operation from home, and then eventually renting space next to Blue Bricks, opening Mecca.
The shop had been shut down for 2 1/2 months before reopening their doors to the public on June 1.
The uncertainty of the future had deeply concerned Hoogland, not just for the artists at Mecca but also herself. Hoogland is one of the rare people who found her passion early on. It was one of her friends who had turned her on to the industry.
"They told me that I should ask for an apprenticeship at a shop that had just opened up," Hoogland said. "It wasn't even my idea."
Her friend encouraged her, knowing Hoogland's skill in the arts. But that wasn't her first choice. She went to school for her emergency medical technician certification. Tattooing hadn't been on Hoogland's mind.
"It was funny, though, because I was always super worried about what my career was going to be. I just couldn't figure it out."
EMT was something she pursued, following her mom who was a nurse.
"And my dad was an accountant, and I didn't want anything to do with that," Hoogland laughed.
But as soon as Hoogland received her certification, she went straight to the tattooing business. It's a business in which she has grown — specializing in black and white tattoos with a yearlong waiting list. She was named Best Tattoo Artist in City Pages in 2011. She'd taken a chance and done well.
The pandemic, however, had Hoogland toying with the idea of going back to school and getting recertified as an EMT.
"When we were shut down, that was a big wake-up call," she said. "But I think it's a wake-up call to get everything in my life in order in case this does happen again and not be so stressful."
That first week, without a shop to operate (though she had been active responding to all the emails the shop received), she took down miles of wallpaper and rearranged her finances.
"It was a good two weeks of just, like pure depression, just shocked," she said. And within those first couple of weeks, she began to research. She was searching for something that was an essential job.
"Because tattooing is the most nonessential job you could possibly have right now," she said. EMT was one of her first options, especially since she already had experience.
However, the career change didn't happen. The shop reopened. But it left Hoogland thinking of the "what-ifs" of her career.
"I'm trying to look ahead to the future and have something set up just in case," she said.
Twenty years ago, she'd made the artistic choice.
"Twenty years later, I didn't have any skills to back me up when I wasn't able to work," she said, though she never regrets pursuing the industry. "I think it's a pretty solid idea to have a good side hustle."
ESL teacher to water treatment operator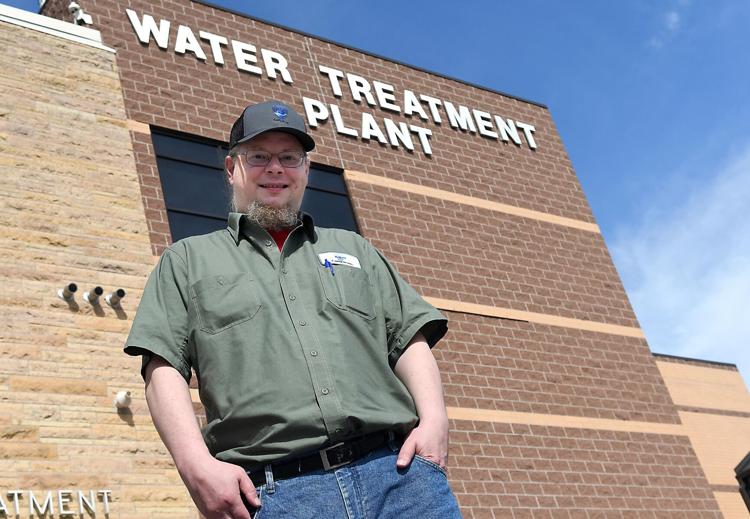 It hadn't been the first time Ryan Scheil left the country — but it was his first time in South Korea.
Scheil, a Gustavus alum with an English and philosophy major, had seen an ad while living in Portland, Oregon, for those who wanted to teach English as a second language overseas. He responded and landed a job in South Korea.
Before that Scheil had been working at a factory in which he was excelling. So much so, in fact, the company had offered him a supervisor position. But that'd mean salaried (no overtime) and a suit. That wasn't Scheil. The ad, though?
"It was mostly an adventure at that point," Scheil said. "Holy buckets, what an opportunity for adventure. I get to go to Asia and live there and work."
He was just in his mid-20s in the early 2000s. One of his first experiences was landing at the airport near Seoul. The school said there'd be someone holding up a sign with his name.
"And there was not," he said.
He headed to the information desk and eventually someone picked him up. They took a taxi to the town he'd be acquainted with for nearly a decade, Gangneung. But first, the person who had picked him up said she needed to stop at her parents first. "It'll only be a minute," she said.
"It was not a couple minutes. She was gone for half an hour," Scheil said.
He waited on the corner of a busy street in Seoul; he didn't speak Korean and was unsure of what was going to happen. Understandably, he began to get nervous. But South Koreans, as Scheil learned over time, are incredibly sincere and nice. At least four people came up to Scheil to, seemingly, ask if he was OK. "It was very touching," Scheil recalled.
Eventually, his traveling companion had to come out — turns out she had an argument with her parents. They got the last bus to Gangneung, and it was nearly midnight.
Scheil then began his ESL career at the small private kindergarten and elementary school in South Korea. It was on contract — they'd pay to fly him out every year (he'd come back to the U.S. once a year during breaks). And for years, Scheil found himself in South Korea teaching children how to speak English.
In his kindergarten class, there were three students. It was a full submersion class in which its students were required to speak English. None of his students knew English when they'd come in, and they'd leave at the end of the year with the vocabulary.
At the end of the first year, he realized he wanted to teach at a higher grade level. He also learned to love the culture and had great friends he had made over the course of the year.
"I told (the owner of the school) I would come back if I could be an elementary school teacher, not kindergarten," Scheil said. "And she agreed."
Coming back the second year, he'd do the same thing — teach kids who spoke no English — and by the end of the year they had a good handle on the language. Scheil's contract had been renewed for years — he worked at that school from 2002 until 2010. It was then that Scheil decided to move up in the educational system and was a professor at a university in South Korea. He taught American culture for two years — a job he loved.
"I was teaching mostly freshmen, and it really felt like all the freshmen were just really tall children," he said. His class discussed American culture, food, history and music — all still taught them English.
However, Scheil was let go. In South Korea, he said, everything is ranked — schools, students, everything — and new management came to his university. The first thing they required is that all professors have a master's, which Scheil didn't have.
Soon after, Scheil found another job at a liberal arts university — this time in Japan. He spent two semesters there until he decided it wasn't the right fit. South Korea had been an inexpensive place to live.
"Japan, on the other hand, is a completely different story." He moved back to the U.S. in 2015. Scheil had planned on going to MSU to get a master's.
"(MSU) wanted me to submit a recently written research paper and so I started writing the paper," Scheil said. "And I realized how much work it was. … I thought, I just hated doing it. It's not like teaching."
So he took some time off until eventually he found his new profession — water treatment operator. It was actually a friend who suggested the position to him. Scheil went to school in St. Cloud and took the two-year program in water and technology. He has been working at Mankato's Water Treatment plant since 2017. He holds a Class C license and has continuous education to bring Mankato clean and healthy water. He finds things that are wrong at the plant and writes up reports to fix them.
"I do things like selecting wells, which well we're reporting on and the various wells that run at different depths in the city of Mankato," he said. He also watches to make sure the plant is functioning. He monitors everything at the plant during his shift.
"I spend most of my time sitting in front of a computer terminal, looking at numbers, watching stats and trends and make sure everything is on track," he said. "If something's off, we make adjustments."
It's a job that is essential to all citizens in the city of Mankato.
Though the path hadn't been something Scheil initially thought of when he was in Portland in his mid-20s, he has found a career with a "maintained sense of satisfaction."
The potential to grow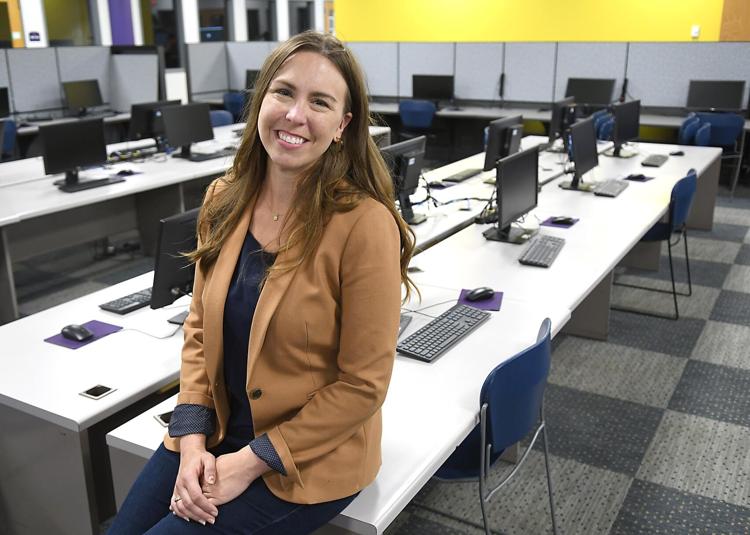 Amy Linde was always interested in history. Growing up, she had lived on a family farm.
"My great-grandfather had actually settled and built the house," she said. She decided to research her family connections. Even in high school, her senior project focused on the Salem Witch Trials.
"I'm kind of an old soul. It's what my dad says."
She went off to school at St. Cloud University, though she wasn't exactly certain what she wanted to study.
"There wasn't a ton of guidance, not that it's a bad thing," she said. She explored perhaps becoming a teacher or studying special education. She even pondered graphic design.
Through the guidance of the professors at SCSU, she double majored in anthropology emphasizing in archaeology and travel and tourism.
"I kind of wanted a culture piece and explore different cultures and different experiences," she said. Linde graduated in 2005 and ended up working in retail and eventually landed a job with her friend.
"A good friend of mine — we happened to be in the same program — we got recommended to this one small company," Linde said. They invited the pair to work at Two Pines Resource Group, in which they would work full time as archaeologists. Some might find it surprising that most archaeologists' work is private. Many times they are called in during construction to determine historical significance of a site. It involves a lot of digging, Linde said, usually looking for artifacts.
"It's a lot of physical work." And it's not like imagining Indiana Jones digging up treasures.
Linde worked out of the Twin Cities and they'd be on the road for 10 days, 10 hours a day.
"We'd be back for four days."
She had worked in the archaeology field for three seasons — or about two years. And though she loved the work and considered herself blessed to have any role in archaeology, she said advancing in the career is narrow. Unless, of course, the individual wants to go back to school and get a doctoral degree. Plus, it really was a lot of physical work and time on the road.
"I had met my future husband at the time, and I didn't want to be living on the road if I had a family," Linde said. "I loved it and the experience, but I thought I needed to explore something different."
So she had quit her job and moved to Mankato with her husband. She worked at a coffee shop for awhile. Later, she decided to throw her resume at job openings and found a position at Greater Mankato Growth as an administration assistant.
"I could see potential and room to grow there," Linde said. She began at the nonprofit March of 2008. Eventually, she began asking to do more things at GMG.
"I started asking for the work that I liked and within a couple years I was marketing coordinator," she said. Linde had worked at GMG Growth for nearly nine years. Now she's taken a position as director of strategic communications in the IT Department at MSU. She's also working on receiving her MBA in business at St. Cloud University.
The transition for Linde had been mostly seamless and followed her passion in creativity. The people around her had also been a big influence on transitioning careers.
"If you want to explore a different career, that's really scary, but talk with people," she said. She had people like Jonathan Zierdt at GMG to rely on to express the career change. Zierdt, a former CEO at GMG, died of cancer in 2019.
"He believed in everything I did," Linde said.
Networking and talking with close friends had been key.
"Everyone was willing to have coffee with me. … They'll give you feedback about yourself and the skills and interest that you might not see."