Needs are ever growing in a community, especially in a pandemic; volunteers help fill those needs
They're the people who take their time and talents to make a community better: volunteers.
Mankato has hundreds of volunteers and organizations that need to continue lifting spirits and communities up. Drivers, stockers and donors of produce at ECHO Food Shelf. Dog walkers, foster families and cleaners at BENCHS. Packers and deliverers at Feeding Our Community Partners.
The list goes on and on (check out getconnected.mankatounitedway.org for more volunteer opportunities). Volunteers help keep the mission of organizations alive and continue to make a difference in the community.
Here are just a few of the thousands of extraordinary community members who have gone above and beyond to do just that.
'It's just a piece of who I am'
It started off simple enough — babysitting for her friend's kids when they couldn't find a sitter, coaching the Peppers, taking time at church and helping out at vacation Bible school.
But Sara Stow, of North Mankato, hadn't really ever thought of it as volunteering.
"I just love to help people," she said. It's been a piece of her life as long as she can remember beginning by watching her parents help out at the local church as much as possible. Watching them, she dedicated a lot of her time in church and other parts of the community.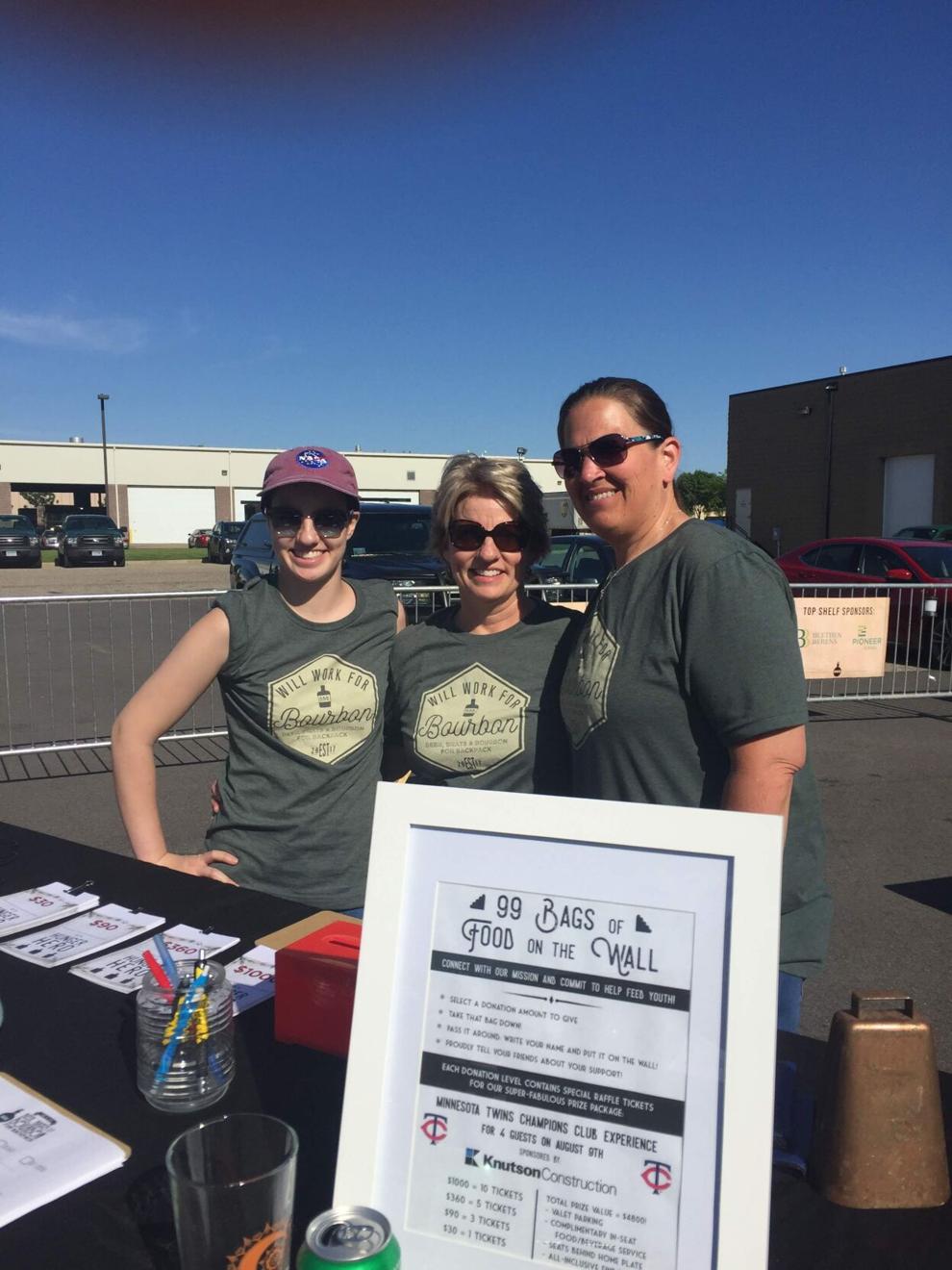 "I just like to be that person that builds them up as much as I can," she said. "I think that's why I became a teacher — help kids be the best they can be, whatever that looks like."
Stow, a global studies teacher for 17 years at Dakota Meadows, has helped further the success of students through her dedication at Feeding Our Community Partners' BackPack Food Program.
The program has helped hundreds of children in the community by ensuring they have food during the weekends. Bags of nutritious food are given to teachers who can then discretely place them into the students' backpacks on Fridays. During the COVID-19 pandemic, the program then delivered boxes of food to the children's homes monthly, something Stow took part in.
She became passionate about the program after having spent an evening with the teachers association and volunteering after school three years ago.
"The people that work there are super passionate," Stow said.
And they know that for kids to succeed in school, they have to be fed. At the frontlines, Stow has personally seen the difference in kids' performance. If kids are hungry, Stow said, they can't focus on learning.
In addition, she believes the program gives them a sense of being cared for.
"I think giving kids any tool to be successful is great," she said. "And this is a big one."
Stow takes up any and all opportunities to help at the facility. Most recently she helped pack boxes for the latest Beer, Brats and Bourbon. Throughout the year, she can be seen at packing sessions. One year, she celebrated her birthday by hosting a packing session. Instead of gifts, Stow said, she asked her friends and party-goers to donate to the program. She was hopeful they could see the impact and importance of the program and maybe, she said, develop a passion for it, too.
Spreading that passion is also what she does with her kids every year while she coordinates a team for Climb 2 Feed Kids stair-climbing fundraising event.
"(Students) are able to participate in something fun and also doing community service," she said. "I think one of the biggest pieces for me is to watch other people learn how easy it is to give and how fun it is to give."
One of her students even continued volunteering at Climb 2 Feed Kids throughout high school and made her own team. "That was really cool," she said.
Stow has continued to volunteer at BackPack through the pandemic. "I am healthy, and I was able to. It's just that important."
Kids are still hungry and they're at home, Stow said."I think it was my way to feel a part of their life."
Volunteering — or just helping others — is Stow's essence.
"It's just a piece of who I am. I just know that I have the time and the means to help," she said. "I think my faith is a big part of why I volunteer. We're supposed to love one another, and this is a really easy way to love one another."
Community involvement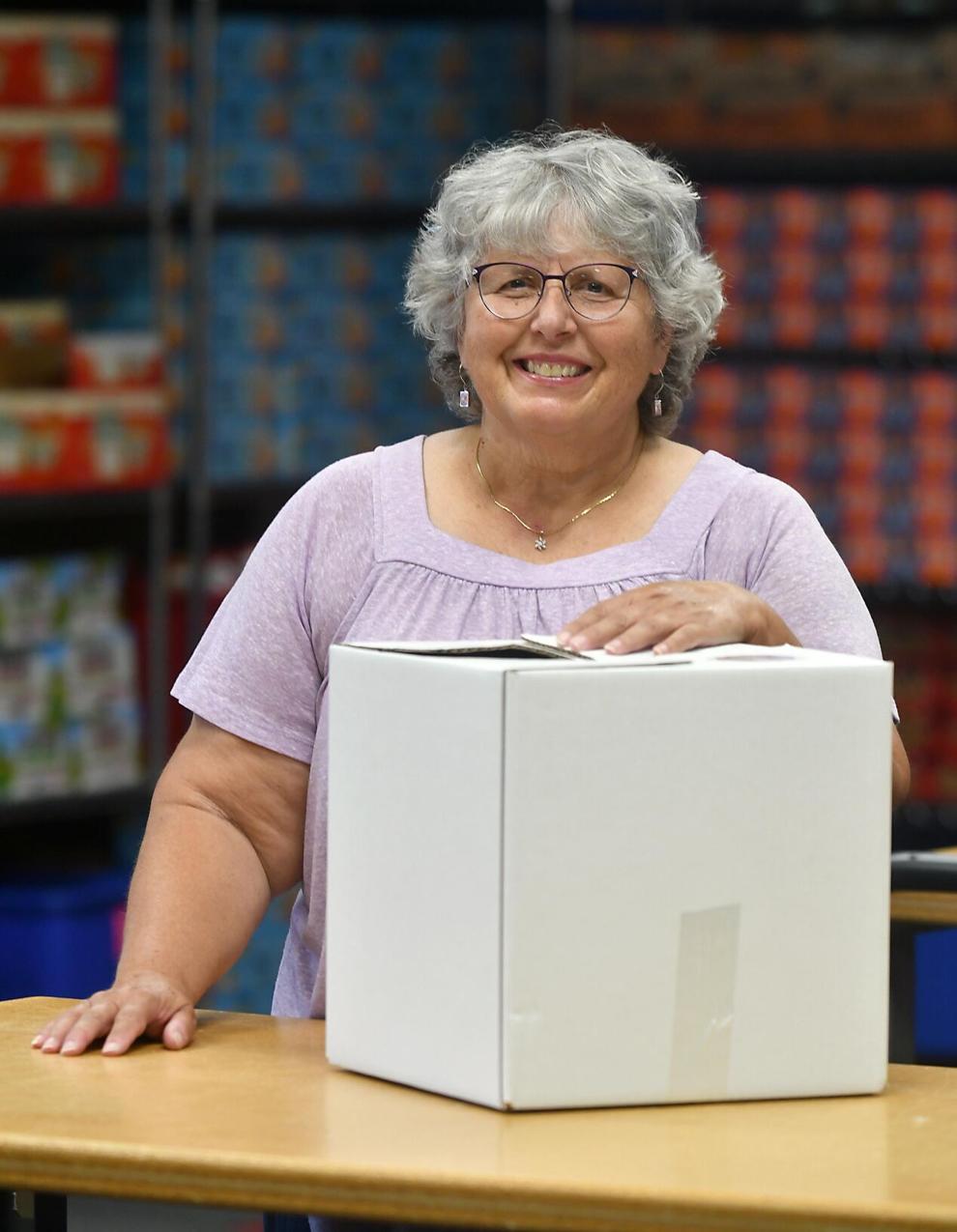 Barb Goelz, of North Mankato, had worked at Midwest Electric Products for 33 years. And for many of those years, Goelz had read The Free Press, especially one of the sections that lists volunteer opportunities.
"I saw that, and thought, if I ever retire, I want to do something like that," Goelz said. "And then, in one of those columns, the hospital jumped out at me."
In 2008, Goelz retired and soon after began volunteering at the hospital. "I've been doing that ever since."
With COVID, the hospital hasn't called on their volunteers to ensure the safety of everyone. Every Tuesday afternoon since 2009, Goelz could be found escorting patients or running errands for those at the hospital. The volunteering opportunity, she said, was a way to keep her busy.
"It was something that made me get up and leave the house," she said. "Instead of just sitting there and doing nothing."
Since the pandemic, she's missed her Tuesday afternoons at the hospital.
"I miss going in there and seeing the familiar faces or escorting the new family out of the hospital and seeing the new babies," she said.
However, Goelz has remained busy at the BackPack Program where she has volunteered for seven years. She has done weekly distributions at three different schools — most recently at Roosevelt. Every Thursday, Goelz would go to the schools to bring the packages to teachers. Her weekly visits, seeing the kids' reactions, is one of Goelz's favorite moments.
"You get into the school and realize you're seeing all these kids excited when you walk by," she said.
Even during winter, and the ongoing pandemic, she has continued to do deliveries for students once a month.
"I've been enjoying that, just driving around and roping off the boxes. Then ringing the doorbell and seeing kids come to the door."
The time commitments aren't much, Goelz said. Maybe an hour in the afternoon at the hospital or a couple of hours a week at BackPack — those hours, and smiles, add up. And for Goelz, having worked at a factory for more than 30 years, she didn't always feel appreciated.
Walking through the hospital, there'd be families or nurses and doctors that would thank her.
"I felt needed and I felt appreciated," she said. "People were thanking me for doing something that I was enjoying." Volunteering at BackPack, she said, everyone is appreciative of all of the volunteers' work.
Giving her time has another perk, Goelz said: finding herself to be a little more outgoing than she originally thought.
"My whole adult life in work, I was always the behind-the-scenes person," she said. But now? She directs traffic, helps do training or just talks to other volunteers. "I always thought I was more of a shy person and all of a sudden, I'm realizing, 'Oh, I don't think I am that.'"
Volunteering is a big part of who Goelz is and, of course, it's important because there's always a need in the community.
"I don't do it because I'm going to get paid or anything," she said. "It's that part of me that I needed — I needed to go out in the community and do things like that."
She suggests that anyone interested in volunteering to just do it.
"Don't be afraid to try it because sometimes it's not a very big commitment to do something."
Busy bee
Mary Mertesdorf is a natural caregiver — she was a teacher at Headstart for years and later in life a caregiver for her husband who died in December 2016.
It was around this time that Mertesdorf began to visit the VINE Adult Community Center. Initially, it was to go to the fitness center.
"I just found out there were so many things," she said. One of the first things she decided to do was join VINE's choir — Divine Singers. "I have always enjoyed singing, especially in choir."
The choir would practice every Monday and would then perform at different nursing homes in the area.
"I really enjoyed going out to the people that we went to see, just to enjoy their happiness," she said. "We all miss it a great deal."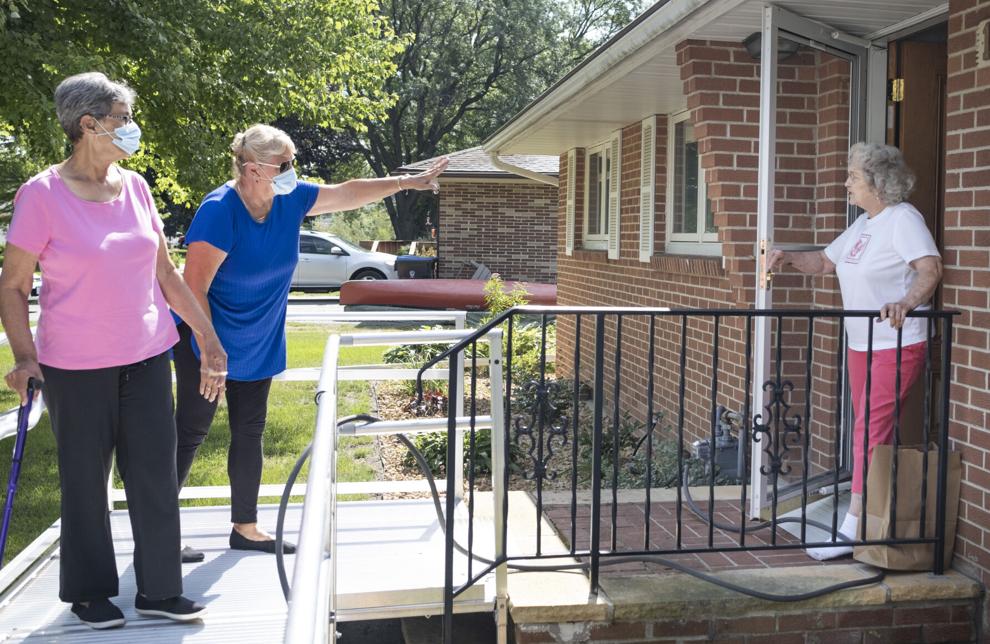 Throughout COVID-19, the choir hasn't been practicing or heading to nursing homes; however, Mertesdorf has continued to meet with her VINE Caring Connections friend, Paula. The program sets up volunteers with an elder in the community to meet up at least once a month for one-on-one visits.
Mertesdorf had been in a grief support group, led by Sister Joyce Kolbet. She asked Mertesdorf if she'd be interested in joining the Caring Connections. Now, a couple of years later, Mertesdorf and Paula have become good friends. They get lunch together, they've thrift shopped together, gone to the bookstore or just sit together for a chat and a cup of coffee. And before the pandemic, they'd do chair yoga together.
"We check on each other to see how we're doing," Mertesdorf said. She and Paula had even gone together to deliver meals for Meals on Wheels, another program Mertesdorf volunteers at. She actually began volunteering for the meal-delivery program when she decided to ride along with her friend just for the company.
"I said, 'You know, I think I enjoy doing this,'" she said. And now she does, every other Friday. She's enjoyed meeting (at a distance during the pandemic) those she delivers to.
"They'll be sitting right there waiting for us to come by, and they enjoy having somebody come and ask how their day is going," Mertesdorf said.
However, it's not just a meal drop-off — though, of course, that's part of it.
"It's also a safety check for them," she said. For example, if someone doesn't answer their phone or the door, they can call on somebody to go and check on them.
Mertesdorf, while starting at Meals on Wheels, also found another program she wanted to support, a literacy class for elders whose first language is not English. Having a background in teaching, Mertesdorf took that up, too. During the pandemic, the classes have stopped for now. However, she remembers her students from all over the world — France, Germany, Somalia, Latin America. Eventually, the students became friends despite the language barrier.
"There is a Hispanic lady and a Somali lady, and they were trying to teach other their languages," she said. Other students would come in before classes to have coffee together. "That would make my morning," she said.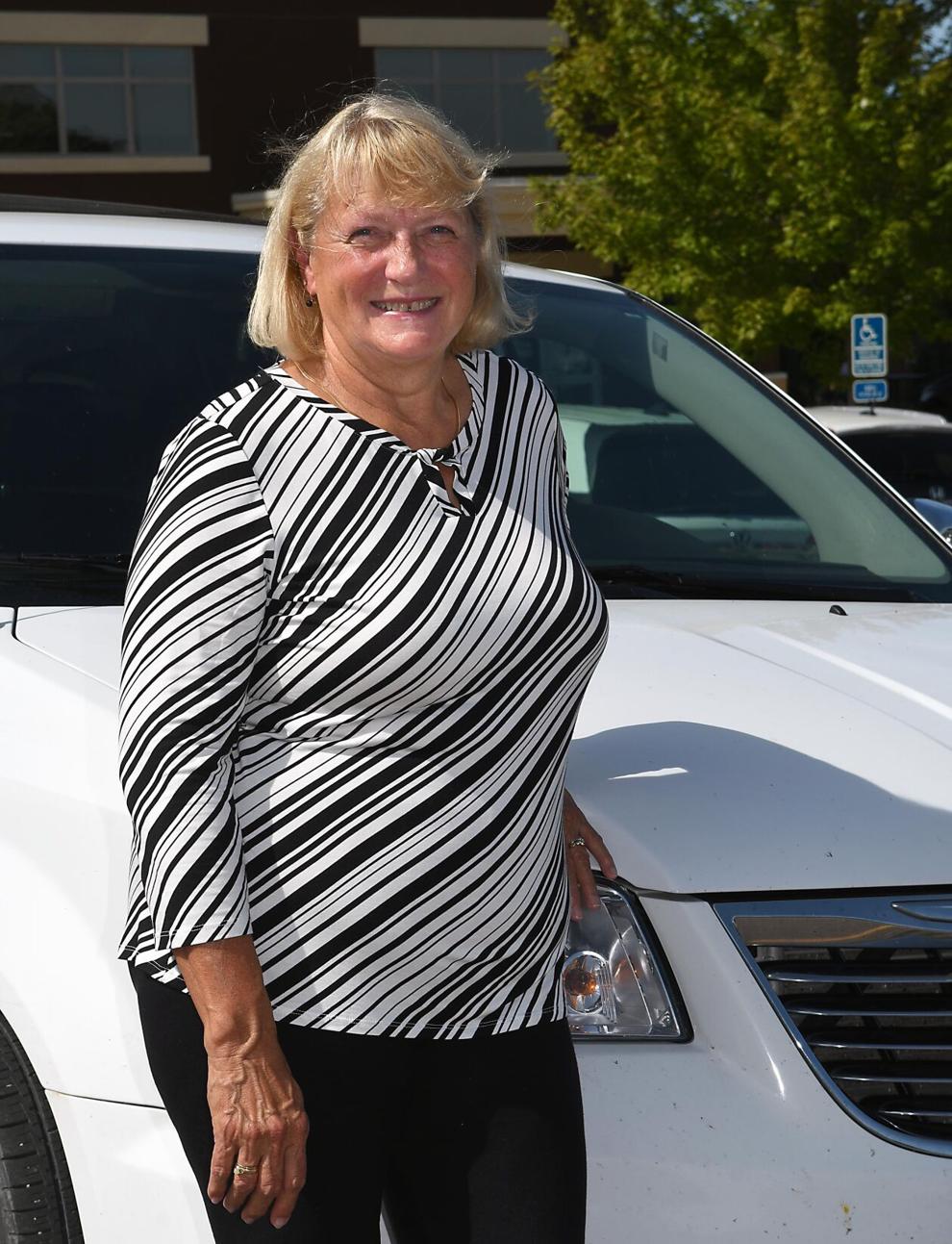 Mertesdorf said the most challenging aspect of volunteering for her is trying to not overextend herself. She honestly just wants to do as much as she can because everything — especially at VINE — is interesting.
"When I first started this, my mother was still living, and she said, 'You know, you've got to be very busy,'" Mertsedorf said. And all she could think of when her mother said that was "that's the pot calling the kettle black." Mertsedorf's mom volunteered at Meals on Wheels and helped at MRCI, where she was the treasurer on the board just a few years before she died. She was 91.
"I remember my mother volunteering like this. I think I grew up watching her volunteer," she said. "It's just giving to other people, getting outside of yourself and doing for others is so important."
Community builders
It's a hustle and bustle atmosphere every morning at Holy Grounds as they open up its doors. The smell of coffee wafting through the air, chattering among breakfast-goers and volunteers, dishes clinking — a community.
The ministry's origins are simple: a gathering to get to know Centenary Methodist Church's immediate neighbors, the website said. Since then, the ministry has grown over the years to serve full breakfast six to seven days.
Though Holy Grounds had to close throughout the pandemic, it's back with safety protocols in place to keep breakfast-goers and volunteers safe. Food is packaged in the kitchen as other volunteers run out the food and drinks. Currently Holy Grounds serves breakfast from 9-10 a.m. Monday, Wednesday, Friday and Saturdays and thrives with its dedicated volunteers.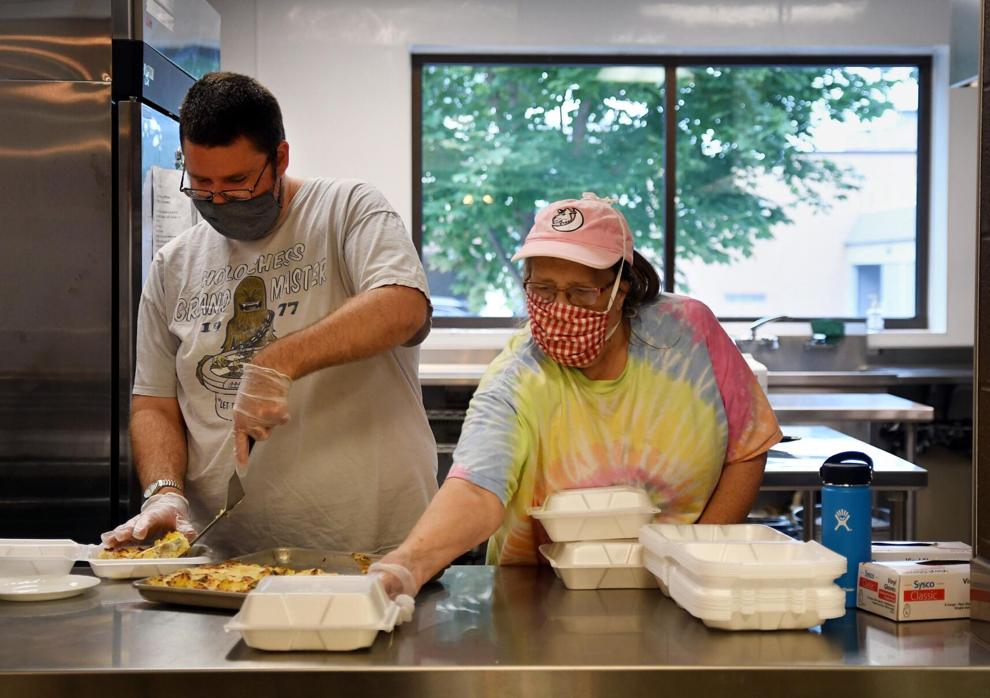 Kevin Bigbee, head chef at Holy Grounds, comes in every day they're open to cook. He's been volunteering for three years. Over the years, Bigbee said, he'd feel the liveliness when breakfast-goers would be inside the church for breakfast.
"When we were inside here you get to talk to people more," he said. But now everyone's outside, though the community still builds.
And all the jobs — putting food on the tray, moving it back and forth from the kitchen or setting up beverages — are isolated as all volunteers wear their masks.
"It's very simple," said Mary Beth Nygaard, another longtime volunteer. "It's different now because people can't come in here — and it's not a community together — but it's absolutely worth it."
It comes down to the bottom line: human rights. "Everyone has to be able to eat," Nygaard said.
It's an adjustment for everyone, Audrey Gatchell said. She usually washes the dishes and began volunteering after hearing her pastor talk about the program.
"I've been coming ever since, basically one day a week or more," she said. "People are nice. I like the people. It was hard when we weren't coming in for a while."
Mankato East High School senior Julie Lin began volunteering at Holy Grounds in July. She's there every morning Holy Grounds is open to package food. Volunteering is something she had begun a passion for in seventh grade. Lin also volunteers at the ECHO Food Shelf, the Children's Museum (the museum closed due to COVID-19) and Meals on Wheels.
Holy Grounds had been one of the organizations that opened up again and Lin decided to try it out. "I thought it was a good opportunity to find another place that I can build with the community," she said. Volunteering in general is important, Lin said, but especially those around her age.
"You get a different perspective in the community," she said. "I think it's good to think about how the world doesn't revolve around one thing."
Nora Henry does a little bit of everything at Holy Grounds in the last year and a half. Henry said that Holy Grounds is a place where the community builds. She had to take a small break amid pandemic, but since Holy Grounds had set a routine, she has been a regular ever since.
"Initially I was doing this because I know I have been blessed — I've been privileged in my life," she said. "And you know, it's a good thing to give back to people that had never had as much as I did, but the truth is, I get as much out of this as anybody else."
Her personal philosophy, she said, is that as humans we're all here to try to make life better for one another much like volunteering at Holy Grounds. And during the pandemic, it has been even more important.
"For those who can (volunteer), it is our duty to step up and make sure that our vulnerable population is looked after," she said. In a time when it's scary and unknown, the tendency might be to withdraw into your own and I think we have to be very careful not to do that — not let the fear overcome us."