Seven groomed miles of cross-country skiing await you at Ney Nature Center, just two miles outside of Henderson.
Atop the Minnesota River Valley bluffs and only a couple of miles west of Highway 169 on Highway 19, the center's 446-acre site continues to grow in stature. Just 30 miles north of Mankato, the Ney Nature Center offers some of the finest cross-country skiing in the region.
Recently designated as a part of the state's Regional Park System, the Ney's prairie presence just outside of the Twin Cities area also means it's a short trip for metropolitan outdoor enthusiasts. And with seven miles of groomed trails, the Ney Nature Center continues to gain in popularity.
"It (earning Regional Park System status) should help the park grow, not in acreage, but in stature," said Emily Dufford, new programs and marketing coordinator at the Ney.
Dufford started her tenure there in September during the middle of the COVID-19 pandemic and emphasized the Ney's programming remains in a cautionary state. But the open space the center's grounds provides continued to attract hikers during the fall and will likely remain a popular destination for skiing and snowshoeing.
"The Ney Nature Center is the best place to ski within 45 miles of Mankato," says Deane Peterson, of St. Peter. He and wife Diane typically hit the Ney's groomed trails four to six times a year, Peterson said.
Lisa Jamison, who coaches the Belle Plaine High School Nordic ski team, often utilizes the Ney's groomed trails for practice.
"The Ney Center is a great natural snow facility that is perfect for teaching beginning skiers classic technique," Jamison said. "They have several groomed short loops to practice skills without having to ski far out if the skier is still building up their stamina."
But the Ney's trails also cater to the more experienced skiers, she added. And the center rents equipment as well, a big plus, she said.
"For the experienced who would like to get out and ski many miles, there are several big loops where a skier could ski many miles," Jamison said. "The bigger loops do have terrain changes that also allow for the skiers to learn and practice ski technique up and down the smaller hills."
And an important part of the cross-country skiing experience there is simply being out in nature, she said.
"The Nature Center is a nice quiet place to ski and to enjoy nature in winter," Jamison said. "The view of the sunset over the river is also unbeatable in January."
Mick McGuire, of New Prague, agrees.
"It's a very nice single-track and varied trail," McGuire said, who is also the center's board treasurer. "There's something for everyone with the diverse scenery."
McGuire also complimented the Le Sueur County Snowmobile Trails Association which negotiated an agreement with the Ney Nature Center, grooming the trails in a trade to access and connect metropolitan snowmobile trails along the Minnesota River Valley region.
"They do a tremendous job grooming trails out there," McGuire said.
While a knee surgery has limited his skiing the past couple of years, he's expressed pride in the development of the Ney's programs and says this "hidden jewel" continues to be discovered by first-timers.
"It's sort of an awareness thing," McGuire said. "And this year's really been a plus with COVID as a lot of people came out to the center. People I talked to who came out for the first time really enjoyed what they've found. It's been kind of a nice thing. It's a hidden jewel."
********
That jewel, the Ney Nature Center, "is dedicated to the preservation of the natural state of its surroundings, restoring and preserving the buildings of historical significance, and engaging the greater community in connecting with the natural world..." states the center's website.
The original acreage was bequeathed by Ruby Ney in 1990 to Le Sueur County, while nephew Don Ney added 80 acres a year later to total 446 acres of park land. The Ney family's ties to the east Henderson farm site dates to the 1850s, land originally inhabited by the Sisseton Sioux.
Don Ney began efforts in 1991 to officially establish the Ney Nature Center, including a 10-acre prairie restoration project as you enter the park land from Highway 19. It remains part of the Le Sueur County Parks Department and receives annual funding from the county. That commitment from the county has grown through the years. But the Ney's ongoing success is often tied to its establishment as a membership organization, according to Ney Nature Center Executive Director Becky Pollack.
Pollack's ties to the Ney Nature Center run deep. She and classmates at Minnesota New Country School in Henderson participated in the discovery of deformed frogs within a pond on the center's grounds in 1995. Now dubbed "Frog Pond," it's a popular spot for area students to journey through the Ney Nature Center trails, searching for wildlife and the spring ritual of finding new, and normal, frog populations.
Youth programming remains part of the heart and soul of the Ney Nature Center's mission, as it "...manages and protects the Ney Wildlife Preserve through education and interaction with the natural world."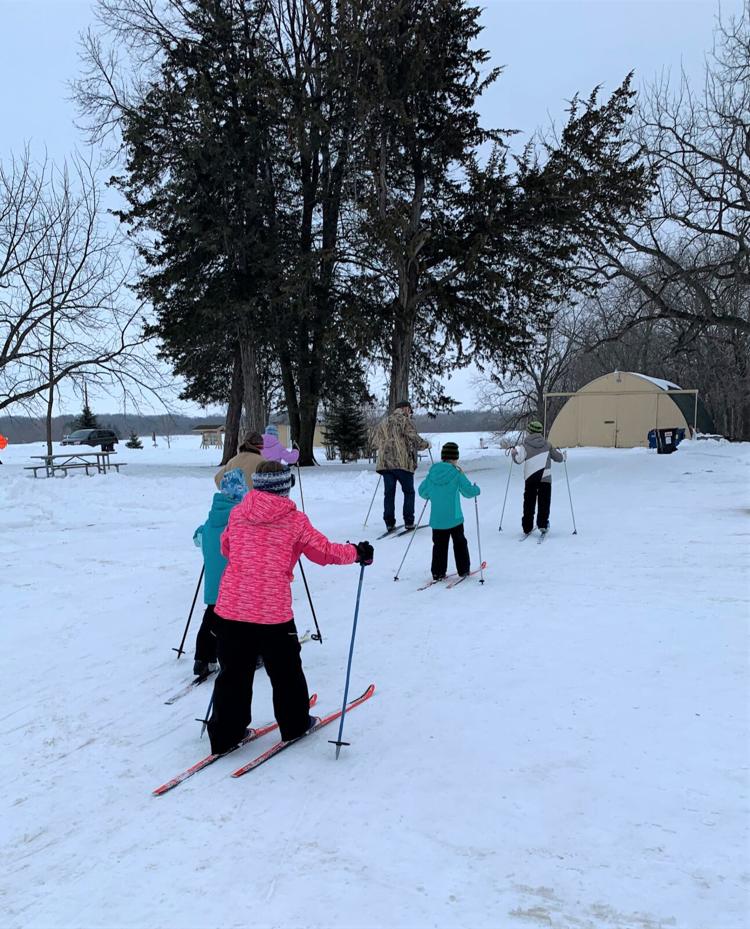 Even though some traditional Ney Nature Center activities such as maple syruping, geocaching, orienteering, mountain biking and naturalist programming have taken a step back due to the pandemic, as has the annual fundraising event, outdoor participants often do self-guided walks.
While much of the Ney's December programming remained virtual, it held true to that mission, Dufford said. But there's also been growth in adult participation and programming.
There was both "Backyard Birding" virtual programming for youth and the popular "Lifelong Learner Series" on Dec. 8 and 17, respectively. The 23rd annual Christmas Bird Count was held Dec. 19 and the annual winter solstice hike on Dec. 21.
To kick off anticipated 2020 programming at the Ney, the After-School Birding Club for youth, ages 12 to 18, is set for three consecutive weekends on Jan. 11, 18 and 25. And there's a planned "Youth Learning Series: Tracking" tentatively scheduled for Jan. 12.
Much of the Ney Nature Center's 2020 schedule of activities and programming, however, remains tentative as staff awaits new state COVID guidelines and protocols, according to Dufford.
********
While early fall snows didn't allow outdoor enthusiasts a job start on the cross-country skiing season, a pleasant autumn did see increased numbers of hikers as well, said Doug Thomas, of Henderson, also on the Ney Nature Center board of directors.
"The trails were perfect for hiking," said Thomas, a regular walker at the Ney, who noticed increased traffic there all fall. "With the coronavirus, that's what people are doing — getting outside."
Dufford admits she hasn't really seen "normal" since joining the Ney Nature Center in September.
"It's really been an interesting time," Dufford said, adding that there can also be new opportunities. "I don't know what normal looks like, but it's kind of nice to be able to have a fresh look."
Youth and adult programming has often moved to a virtual state, although COVID protocols still allow for some outdoor activities there. But the Ney's office area, which doubles as an indoor educational setting, has been limited to staff.
"We've been physically distanced here at the office," Dufford said. "We're mostly just working through the (COVID) guidelines." And as those guidelines and recommendations from the Gov. Tim Walz administration have shifted, Ney Nature Center staff members have adjusted.
"We don't know what the (next) guidelines will be," she said. "But the point of everything here is to be outside and the point of our programming is to be outside."
Dufford said the center's policies for cross-country skiing and snowshoeing rentals continues to be shaped by staff. But she's thinking that interested outdoor enthusiasts will likely call into the Ney Nature Center to schedule activities.
"We're hoping to have people sign up for a time to pick up their snowshoes or skis," she said so Ney Center staff can stagger the distribution of equipment and limit the number of individuals on the trails.
Still, Dufford longs for a pandemic-free chance for the Ney's overall range of activities and programming.
"Yes, it has been disappointing to a degree," Dufford said. "But we'll be ready for a new year."