Just after sunrise on Saturday, May 21, 2011, a group of city workers lugged a sculpture off of a city truck and put it onto a pedestal in downtown Mankato.
And while they may not have known it then, in that moment, a revolution began.
OK … Maybe "revolution" is a strong term. But understand this: The placement of that first sculpture was, shall we say, the first domino, a tipping point, the touchstone moment. After that single act, so many positive things happened in Mankato that took the city from a place where art lives to a place that lives for art. (Or at least is trying to.)
First it was sculptures. Then it was signal boxes. Then a mural gets painted in lower North Mankato. Then a guy drops a handful of pianos around town so anyone can play. Then more sculptures come. Then the flood wall gets painted. A small, scrappy art gallery becomes ground zero for a bold, grassroots art movement. A brass bull shows up in front of a pizza parlor. An eye-catching figure is installed in front of a campus-area coffee shop.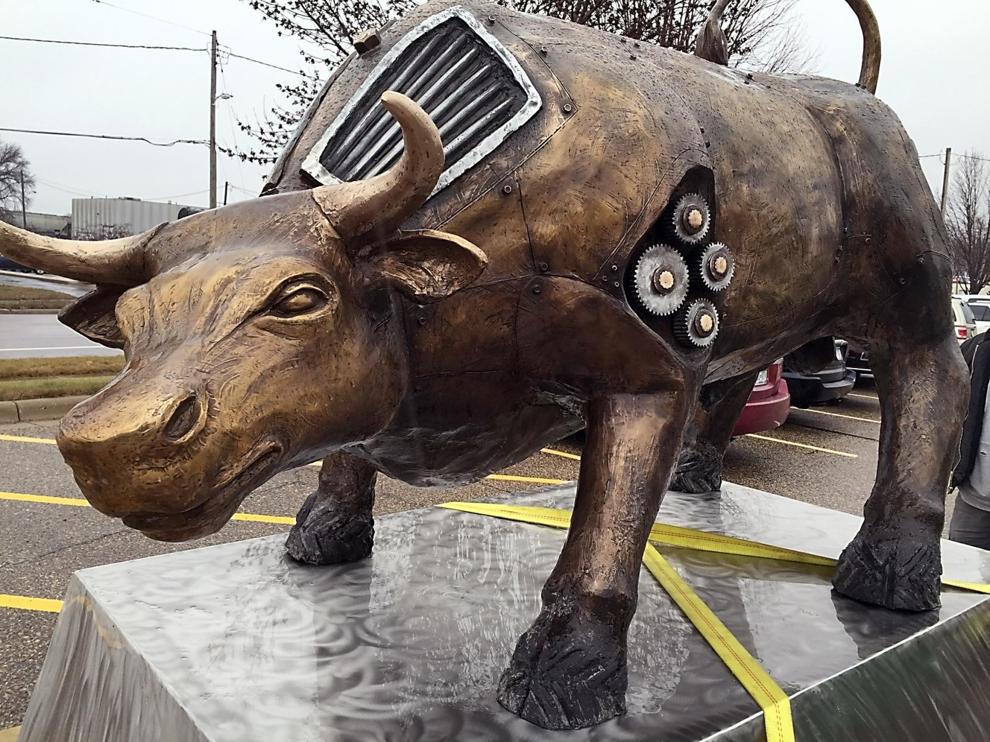 All over town, it seems, public art is becoming the rule, rather than the exception. And how amazing is that?
"Twenty years ago, what was around as far as public art? It was very limited," local artist Michael Cimino says. "There was just sort of a shift. People want more. … There's something about public art that shows your city is moving, there's a care and investment just in what we're seeing."
Mankato is ahead of the curve here. And it wasn't by accident.
TWIN RIVERS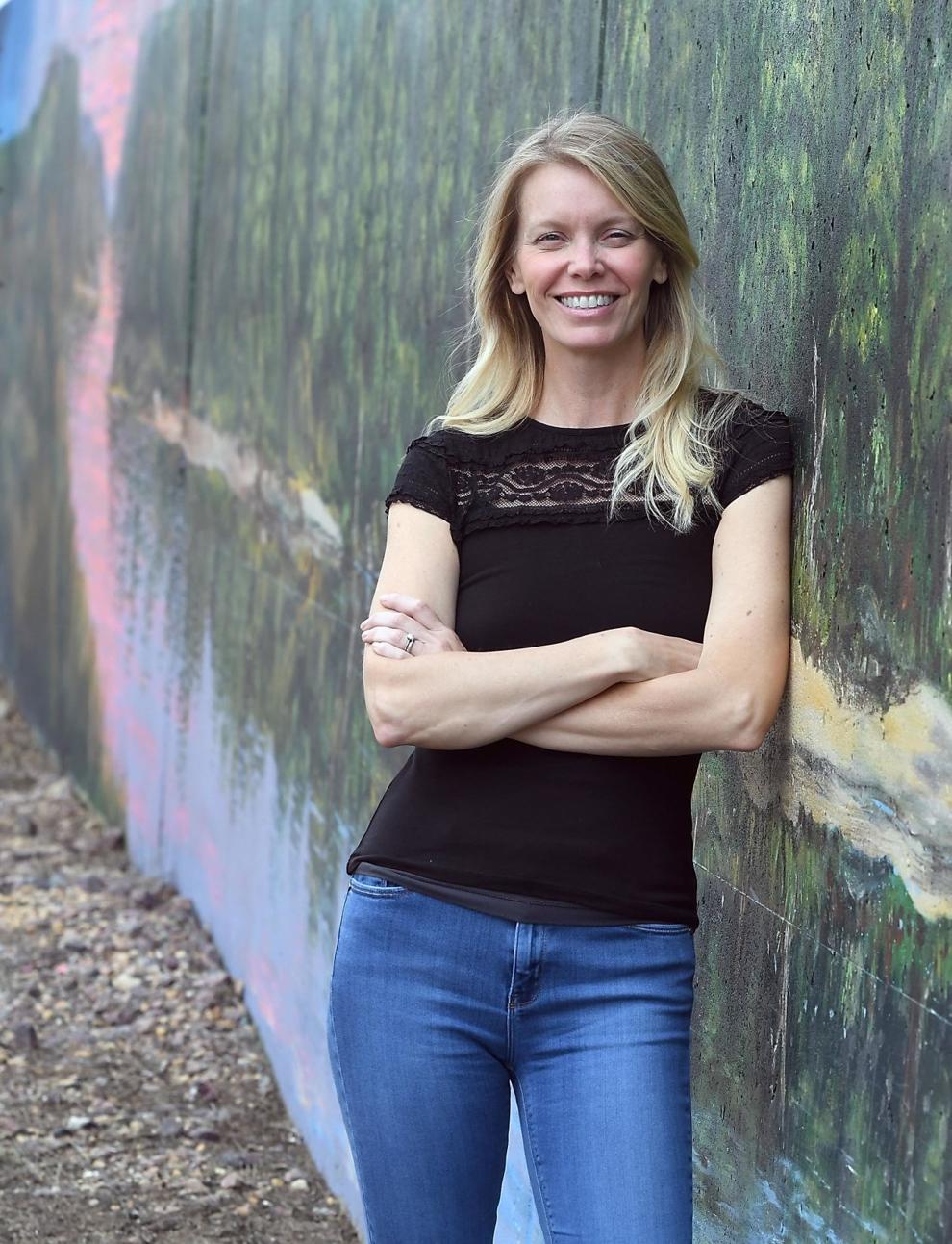 Noelle Lawton, Twin Rivers' Executive Director, moved back to the Mankato area from Chicago in 2009. She'd worked with Merely Players for a while, but ended up managing the CityArt Walking Sculpture Tour after attending her husband's work party.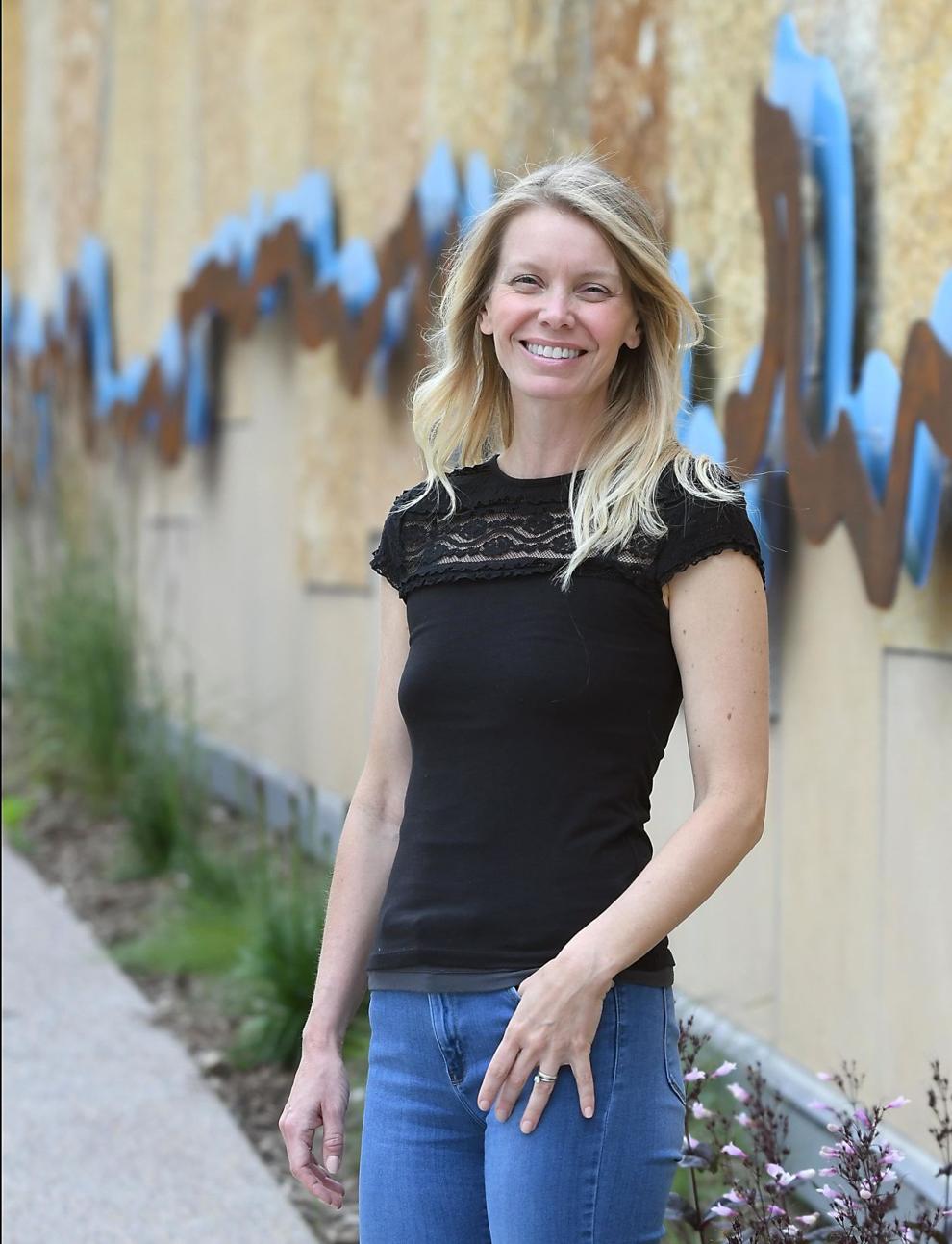 Tami Paulsen, one of the original promoters of the sculpture walk, was looking for someone to take it over.
"She was nervous, and I was like, 'Well, I'll do it,'" Lawton said. "I am not a visual artist, but I'm a really organized person. So they hired me on as an independent contractor."
That job, she said, sort of morphed into a full-time position with Greater Mankato Growth, which has a business unit called City Center Partnership that encompasses CityArt. Then, when Lawton accepted the job at Twin Rivers, the management of the sculpture walk followed her.
While it may seem strange now, there was a time when not everyone associated with the sculpture walk was on board with what it has become.
"Initially, some thought maybe the sculptures should be enclosed for fear of vandalism," Lawton said. "Some said it was a big waste of money."
The sculpture walk's budget is made up of direct cash of $8,000 from Mankato and $3,500 from North Mankato, and then in-kind support from both cities on things like installation, forklift use, moving of bases, things like that.
Despite early doubts from some, the sculpture walk — and a companion project that turns traffic signal boxes into street canvases — has done nothing but grow and flourish. Yes, there have been a few hiccups, such as vandalism and flat-out theft of sculptures. But for the most part, people have done nothing to the art but gaze at it.
Actually, any questions of appropriate spending have been replaced by calls to push the artistic envelope a little.
"It has been amazing to see the turnaround from people saying 'This is a waste of time' to saying 'Wow, what can we do now?'"
The sculptures have become a tourist draw. Lawton says that, when visitors come to town, it's an easy and fun first stop.
"One of the first things we do is say 'You gotta see the sculpture walk,'" she said. "It's new every year so people look forward to it. We get so many great comments, and they're all positive."
A big part of the sculpture walk is getting sponsors. Generally, sponsorships are sold for either $1,000 or $2,000. The number of sculptures on the walk depends on how many sponsors they get.
While they can't accurately say how many people actively view the sculptures, Lawton says they always run out of the 10,000 brochures they print, and word of mouth tells them the program's reach is substantial. And in 2012, the Minnesota State Fair named the program one of its "Best of Minnesota" honorees.
MURALS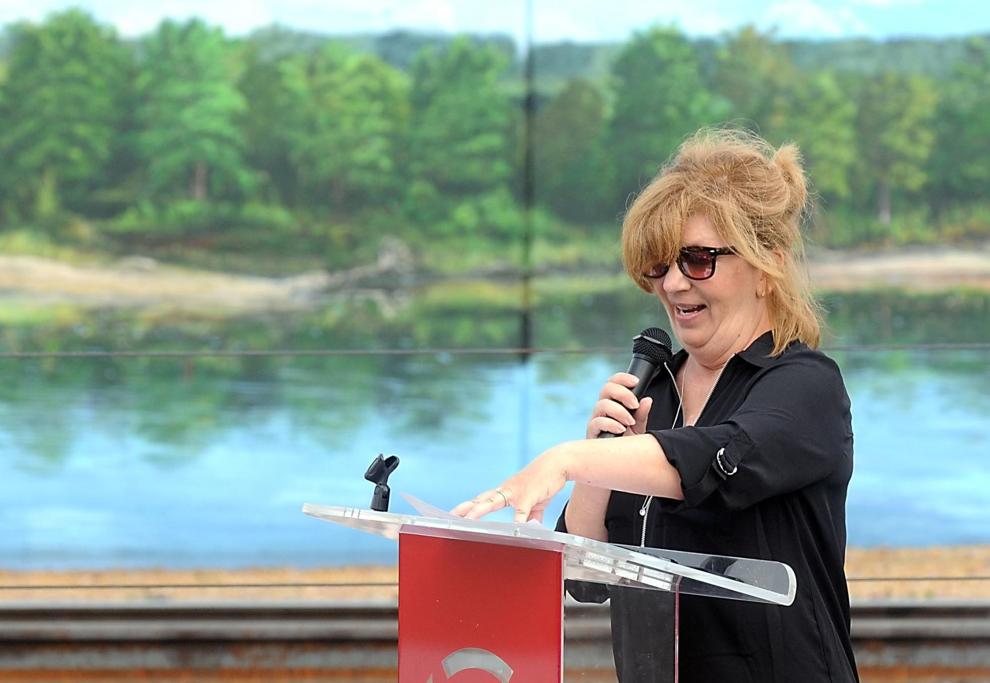 Perhaps even more visible than the sculptures are the community's murals. And no mural is more visible, or more newsmaking, than the flood wall mural.
In concept, the idea of a wall that mimicked what was on the other side may have seemed simple or pedestrian. But that outlook fails to take into account the growing disdain the community has for the wall. Yes, the wall has kept the flood waters at bay and probably saved the community millions of dollars. At the same time, though, it has caused the community to be separated from the natural resource that brought settlers here in the first place.
For that reason, people have embraced the image on the wall.
When it was painted, however, creative minds — all with the best of intentions — didn't exactly agree artistically with each other and, before it was over, some artists' work was painted over by others.
Cooler heads prevailed, however, and today the flood wall mural stands proudly as both a protection against Mother Nature's power, and a pleasant piece of public art.
One of the artists whose contributions to the mural were, uh, incorporated into another artist's vision, is Cimino. At the time, he held no hard feelings about what happened, and today remains a steadfast proponent of public art. He'd like to see more of it.
"You make a conscious effort to go to a museum, and that's fine. But to be able to drive by (pieces of public art), whether you like them or not, it gives people something to stop and think about, and whether they appreciate it or not, that's not my concern," Cimino said. "We have a community of really solid, ambitious artists."
He recognizes that his work isn't for everyone. You can see Cimino's work on display on South Riverfront Drive. The mural near the Children's Museum of Southern Minnesota, the pink and blue triangular shapes, is his creation.
"There's still definitely naysayers. One of my all time favorites, the one on South Riverfront, there's a facebook page called Mankato Memories where someone posted a picture of it and said, 'I hate it, it should have been a mini version of the Vietnam Vet Memorial," he said, laughing. "All these people are genuinely against it, and that's good, that is healthy, I have no problem with people being against what is put up. But as far as people being against public art in general, I don't think that's the case."
Actually, the opposite appears to be true.
Cimino says he thought the public's desire for the work he does would wane, but it hasn't.
"When I did the South Riverfront Drive mural, I was like, 'That's it, no one's ever going to ask me to do another one,'" he said. "But it keeps coming up. It's not just the city, not just grants. It's Dain Fisher wanting a Food Truck Hub mural, it's Bellissimo wanting a mural, and others. … There just seems to be interest in it. People are finding value in it one way or another."
Megan Flanagan, director of Greater Mankato Growth's City Center Partnership, said the sculpture walk and murals and public art in general are things the city can use to sell and promote itself. It's another tool that can be used to foster tourism.
"I've heard a business owner tell me that when they bring people in town for hiring, they tell them about the sculpture walk and all the public art here," she said. "When this stuff is happening, it helps create a sense of pride and place; it's something to be proud of as a community."
Mankato is doing whatever it takes to establish a reputation among artists as a place that appreciates the work — and men and women who create it.
"We do have a reputation among the artists as being extremely welcoming to them," Flanagan said. "For the sculpture walk, we invite the artists in for installation weekend, put them up in a hotel, throw a reception for them on Friday at Twin Rivers, Raw Fusion donates tickets to us so they'll go to that. Then, the next morning, they help with the sculpture install, someone drives around with coffee and doughnuts, then we serve them dinner that night."
Flangan says about half the artists chosen for the sculpture walk come for the party.