Can you imagine the Govenaires, Patrick's on Third or St. Peter without John Mayer?
Neither can we
John Mayer walks across the field like he owns it.
"Drum Major Mayer, is your corps ready?" the announcer asks him.
And for most drum corps, the response from the drum major would be an immediate "Yes!" followed by some kind of salute. But the Govenaires of St. Peter aren't your regular drum corps, and Mayer isn't your regular drum major.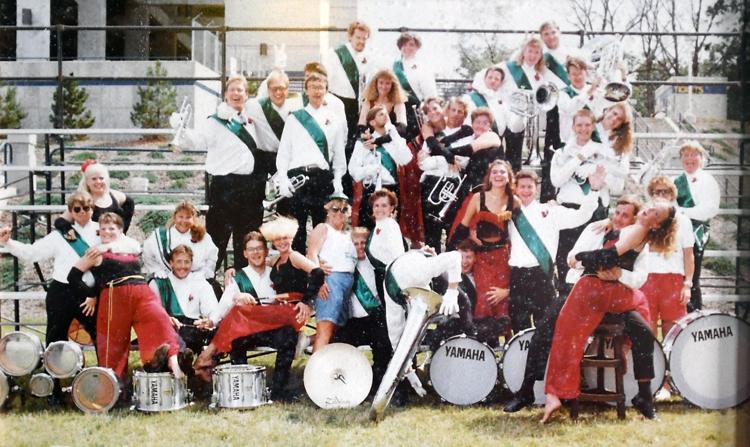 Dressed in a sharply pressed Govenaires uniform, dark sunglasses and scores of swagger and attitude, Mayer waits to deliver his answer. He walks back and forth a little, looks around at the drumline, the hornline and the color guard. He checks out the pit crew. He's ostensibly looking to see if lines measure up or if the corps members have their game faces on.
And when he's ready, he clenches his fists in a show of strength, and the Govenaires, ready to perform, deliver a guttural growl back at him. Then he turns, nods, salutes and the Govenaires' drumline kicks in. Seconds later, the hornline follows. Color guard members dart back and forth waving flags and jumping in unison, and finally, Mayer speaks his signature opening lines.
"Ladies and gentlemen, the men and women you see before you comprise the oldest competing drum and bugle corps in the world," Mayer tells the thousands of drum and bugle corps fans in attendance. "We come from beautiful city of St. Peter, and we are the Govenaires!"
But … that line … the one about being "the oldest competing drum and bugle corps in the United States." Well, is it true?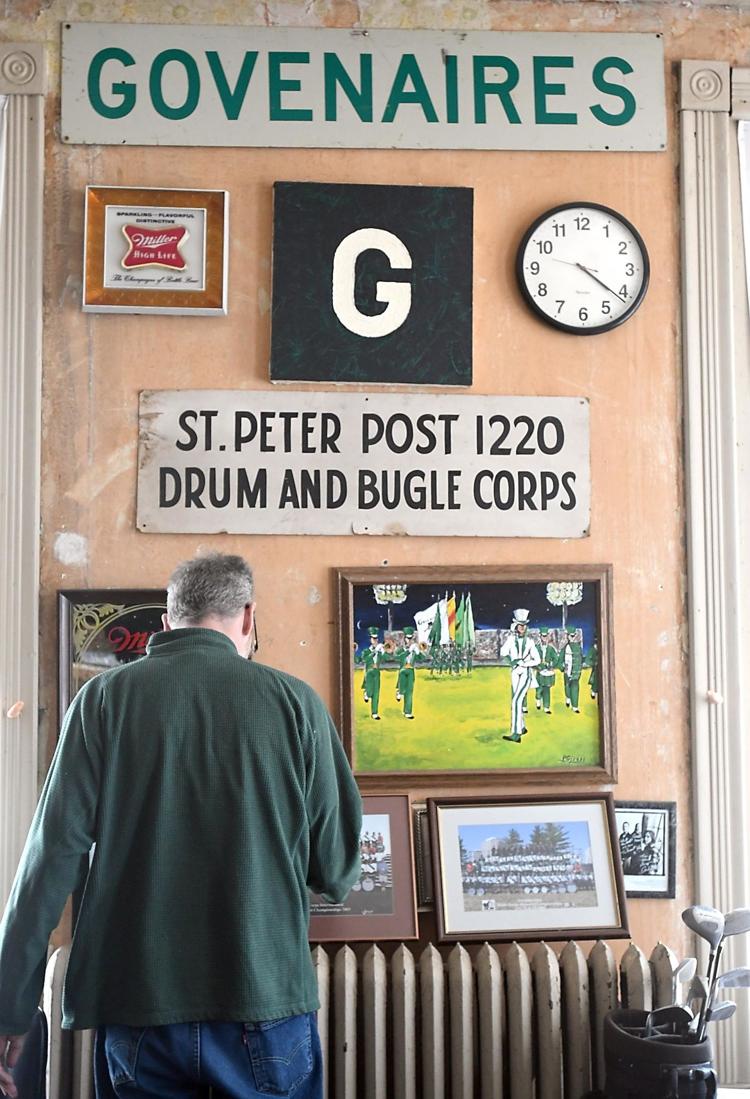 "We don't have any evidence to the contrary," Mayer says, with his usual mirth.
For Mayer, it doesn't matter if it's actually true. What matters more is that it's fun. It makes you think. It's something you remember. And for a corps that will never be the biggest or flashiest or the most well funded, sometimes a note of irreverence goes a long way.
Mayer is a big part of that irreverence. It was his idea to take the staid and serious nature of the drum major and turn it on its head. He came up with that "oldest drum corps" catch phrase. He decided to wear sunglasses and have some fun with the mystique. He's way more interested in pleasing the paying crowd members than he is with earning points with the judges. But make no mistake: Mayer in no way takes drum corps lightly. Quite the opposite, actually.
Drum corps runs through his blood. His family has been involved in it since the 1950s. The bar he runs in St. Peter, Patrick's on Third, has walls that are covered with framed photographs of Govenaires groups from yesteryear. The upper level of that building is basically a storage facility and historical repository for the group. It's a place where old photographs and uniforms have gone to live out the sunsets of their lives, where trophies that document the Govenaires' success populate unusual places, and where drum corps members sleep when they need a place to stay in the summer when their competitive season gets up and running.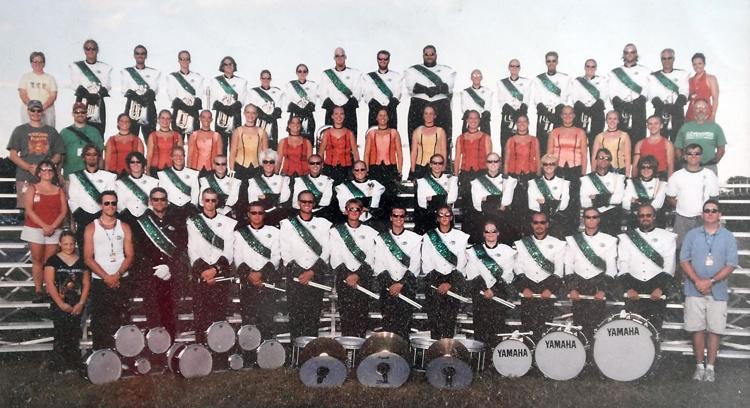 Patrick's has become a St. Peter institution, just like the Govenaires. And right now, the thought of either of them existing without Mayer seems absurd.
When asked about his on-the-field vibe, Mayer's answer says a lot about his personality: "I like to cater to the people that paid to see you (the fans) instead of the six people that didn't (the judges)."
THE CORPS
The Govenaires Drum and Bugle Corps, as a competitive organization, dates back to 1927. It competes in the Drum Corps Associates (DCA) circuit, and captured the Class A Championship in 2006, 2009, 2011, and 2015. (Not familiar with competitive drum corps? Check out Thunder of Drums this year at Minnesota State University's Blakeslee Stadium.)
The Govenaires were founded in 1927, but back then the group was called the St. Peter Legion Corps. It changed its name in 1944 to the St. Peter Drum and Bugle Corps, then changed it again in 1961 to the Vikings Drum and Bugle Corps. Not wanting to be associated with Minnesota's new NFL team, the Govenaires changed its name soon thereafter to the Govenaires, in honor, the organization's website says, "of the four Minnesota Governors who hailed from St. Peter."
(It should be noted that, although Mayer claims the Govenaires are the nation's longest-running drum corps, the Racine Scouts also claim to have been established in 1927. No word on whether these two storied groups have had — or plan to have — a bugle battle.)
Mayer, meanwhile, might has well bleed green and black.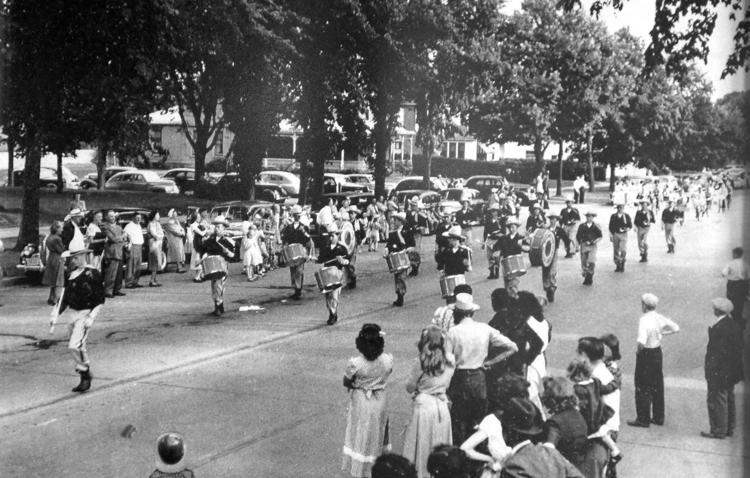 "There was never a time in my life that drum corps wasn't a part of it," he said.
Mayer's father joined the Govenaires in 1957 and played baritone through the 1990s. His mother was also a part of the group. In fact, Mrs. Mayer was a bit of a pioneer.
For many years, drum corps was for males only; its roots go back to WWI when they served as a communication tool during military actions and, thus, no women were a part of them. (Drum and bugle corps, which descended from drum and fife corps, were replaced by radio communication, but their popularity endured and they were often used for civic or community events. Rivalries eventually sprung, and that's how the competition aspect was born.)
Mrs. Mayer was a member of the Govenaires when Mayer was a child. And he remembers the first time he marched with the Govenaires: a parade in Shakopee, which they were late for, so the entire family jumped in with the rest of the corps midway through.
"We marched as an entire family for two years," he said.
Mayer played cymbals at first, then graduated to tenor drums, snare drum and, of course, drum major.
But it hasn't always been smooth sailing.
"The corps almost folded in 1990," he said. That year they only had four hornline members, seven drumline members and four color guard members. He recalls wondering if they'd make it through those lean years.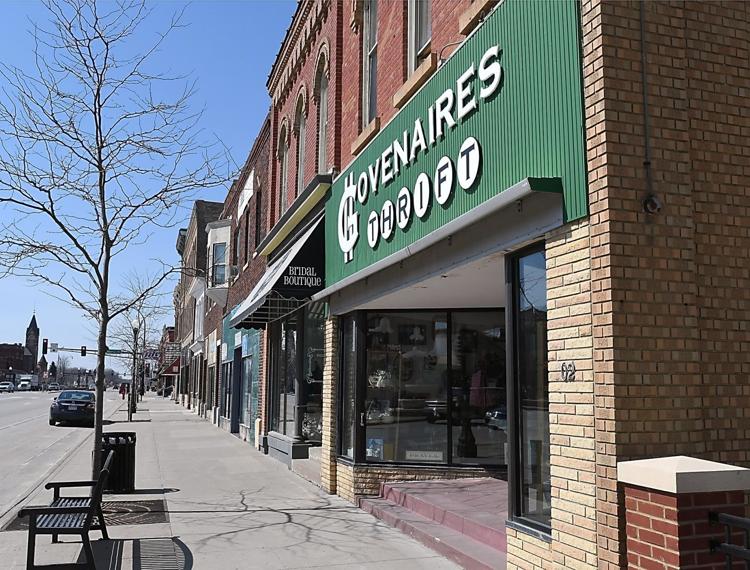 "We did shows just to survive," he said.
But then, things got better. More members joined. They purchased pit equipment (vibraphones and drums set up in front of the performance field area). And then, during a fundraising pitch in 1995 to a group in Fairmont, someone asked if they were a 501(c)3 nonprofit.
"They said, 'Yes, we'll give you the money. You're a 501(c)3, right?"
Mayer paused.
"...Yep," he said.
"Then on the way home, we tried to figure out what that was and how to do it," he said.
That weird number is a government code denoting a nonprofit group, and having that distinction allows it to raise money as such, which is an easier sell. And it worked.
With more money coming in — not a lot, but enough to grow — positive changes happened for the Govenaires. They bought a bus, a truck to haul all their equipment, better instruments, more frontline pit equipment, etc.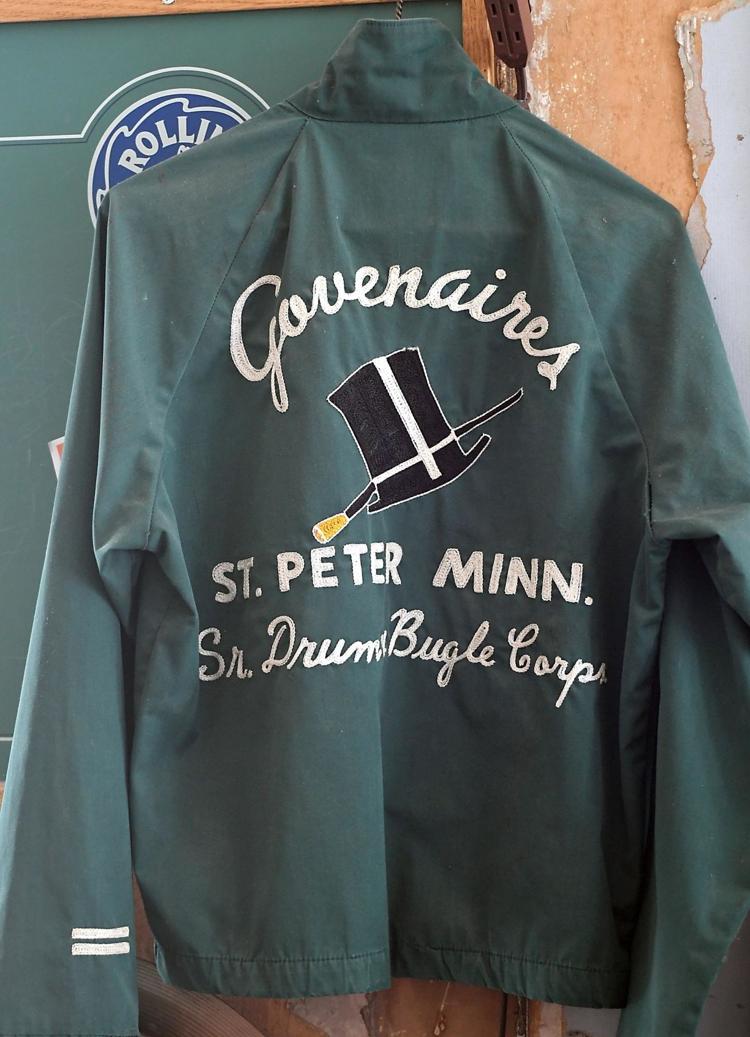 But as the corps got better, Mayer noticed an area of the show that could use some improving.
"There was a gap at the beginning of the show," he said. "And that's when I came up with the opening."
It has stuck as the corps' trademark.
For the record, Mayer's tenure with the Govenaires includes five world championships, an induction into the World Drum Corps Hall of Fame, and eight awards for best drum major. He also spent two years with the Madison Scouts on tenor drums.
THE BAR
Patrick's on Third is, of course, home base for the corps. Whether patrons like it or not, the place is adorned with Govenaires memorabilia. Patrons must like it; Patrick's remains one of the most popular lunch, happy hour and nightlife spots in town.
Mayer says he owns the place with longtime friend Tim Bartelt (AKA the man only known as "Minnow"), but it used to be owned by his parents.
The way Patrick's cam into the Mayer family was a surprise to Mayer. He said he came home after winning a Drum Corps International (DCI) championship with the Madison Scouts in 1988 to find his parents had bought the place. He worked for parents for a few years, and then took over the family business, so to speak.
Patrick's is a friendly place with a killer patty melt, voluminous beer selection and a great variety of Irish whiskey.
It's also the kind of place where people just love to gather.
Last spring, a group of folks who love the musical "Jesus Christ Superstar" threw together a grassroots, come-as-you-are, folksy singalong that packed the joint for several performances. (In fact, during that inaugural run, Mayer and the Govenaires hornline made a cameo, adding some brass oomph to the performance.)
THE STORE
One of the latest and most visible endeavors the Govenaires have embarked upon is the Thrift store on Minnesota Avenue in St. Peter, aptly called Govenaires Thrift. The store will raise money for future Govenaires seasons, including the 2018 season, the title of which is "A Woman's World."
Mayer owned the building for year. After selling slot machines for a while out of it, he rented it to a group that ran a thrift store. And when they decided to fold, Mayer offered to take over the store's contents and run it under the Governaires' name. The store, which is run by one paid staff member and volunteers, is doing OK, he said.
For now, Mayer — who is entering his 39th year as a "Govie" — remains a part of the drum major unit, and will be leading the corps this summer. But next summer? That remains to be seen.
As the organization is hashing out what direction it wants to go, Mayer wonders if the time may come soon for him to make room for another drum major, and he wonders if the organization is looking to move away from its irreverent reputation.
But even if his particular brand of drum majoring gets written out of the Govenaires ethos, new developments in Govenaires land may keep him and his swagger around for awhile.
They've added another corps to the mix, one that will be used to march in area parades and Pridefests and other special occasions. As the Govenaires moves to become more serious, they also realize people love their irreverent vibe, and that in itself is a great public relations tool.
Mayer wonders if this new corps, which is called Govenaires International, may be where he fits in best. In Govenaires International — where there will be no frontline pit, where they'll be free to be spontaneous and irreverent — Mayer can probably say whatever he wants about what year the corps was founded.