For Kevin Langton, a mere 26.2 miles isn't enough. He prefers something a little longer … like 100 miles
Kevin Langton has run marathons. The usual, 26-mile ones.
His first was the Mankato Marathon. Yet, as much as he enjoys the race, pavement running isn't really his style. Nothing against it, he insists, he just prefers a different form of locomotion: ultramarathons.
An ultramarathon isn't so much a race as it is a 100-mile long act of willpower within a 38-hour time span. And the thing is, ultramarathoners don't always finish the race — more on that later.
Imagine it, you train for months only to have an injury, one measly misstep on a scraggly root or craggy rock, prevent you from finishing. It happens all the time in ultramarathons. It's happened to Langton more than once.
Is the challenge what attracts people to subject themselves to this grueling task in the first place? It's as good of a guess as any.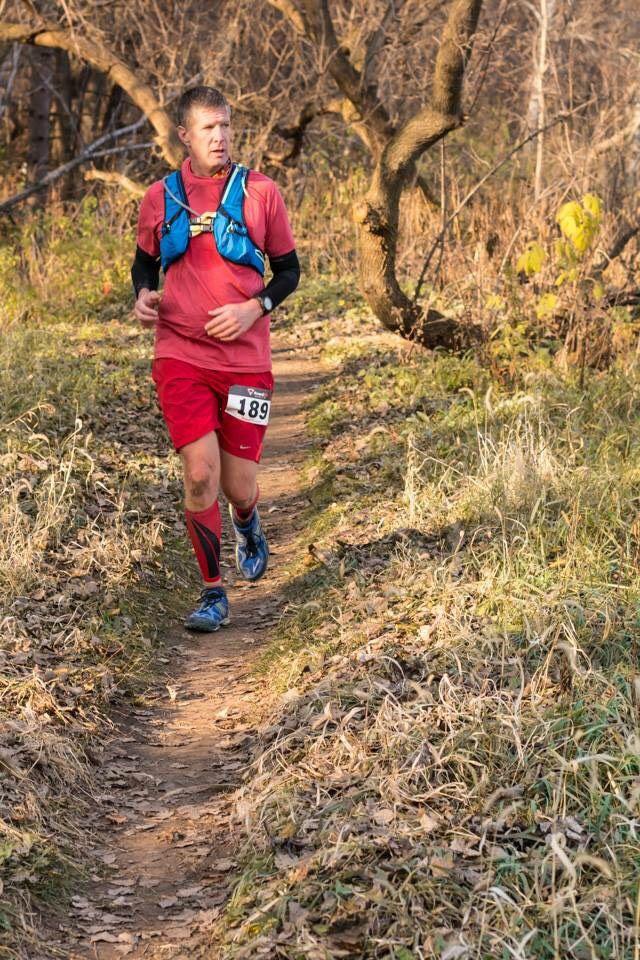 "We're all a little bit crazy," said Kurt Keiser, owner of the River Valley Running store Langton manages, and an ultramarathoner himself. "There's got to be a little crazy in you to run 50 or 100 miles, but it's all about the challenge."
When asked the "why" question, Langton doesn't immediately bring up the challenge. It's part of it, but it starts more simple for the Mankato man.
"Roads hurt," he said. "Pavement is hard."
Ah yes, and running 100 miles on a trail through the woods is easier? No, just different. More scenic. Not forgiving, but certainly more distance to make up for a poor stretch.
"In a road marathon I might have a bad spot of running and it's probably going to wreck my race because it's going to throw me five minutes off," Langton said. "In a long race I expect to have a lot of those bad moments, and figure out how to get through them."
Or not get through them, while knowing you did everything you could to try. You rely on yourself out there, along with the kindness of family, friends and strangers who will probably become friends soon enough.
Family and friends, like Langton's wife, Lisa, make up what's called a runner's "crew," the people ready to meet the ultramarathoner at each checkpoint with refreshments, a quick bite for fuel, and encouragement.
The most competitive runners might not stop for more than a couple dozen seconds during the race. The people who just want to finish, like Langton, aren't stopping for extended periods either.
"You can stop but usually because there's a time cut off it's going to be a short nap," he said. "I might sit down and put my head in my hands for five, 10 minutes — something like that can do wonders."
Some stops are planned, others are not. You might be lucky enough to come upon a fellow runner frying bacon before they set off once more. Take Langton's word for it, the smell of that bacon will be mesmerizing after you've been running through the night.
Being deprived on your own out there has a way of making you appreciate it more. You learn a lot about yourself during an ultramarathon, including how to be grateful, Langton said.
Not grateful for grand gestures, but for that strip of bacon, or a soft breeze when you're overheating. It's the little things that help you power through the times your body is pleading with you to quit.
Superior experience
Among the 5Ks, ultramarathons and the umpteen races in between that Langton's run in his life, the Superior Trail 100 is the most important to him. He says it helps define him.
Watching him talk about it, you can just about see his mind running north to the starting line at Gooseberry State Park ahead of the finish line 100 miles down the Superior Hiking Trail at Lutsen.
He talks without a hint of jest about what a beautiful thing it is to run for two straight days through the woods.
"I know that sounds stupid maybe to most normal people, but at night you just want to go to sleep, even if it's a bed of lichen on the ground," he said. "What's cool is you get that first light and all your body cycles just change and start to be like 'OK, I can accept this again.' It's a total resurrection kind of a thing."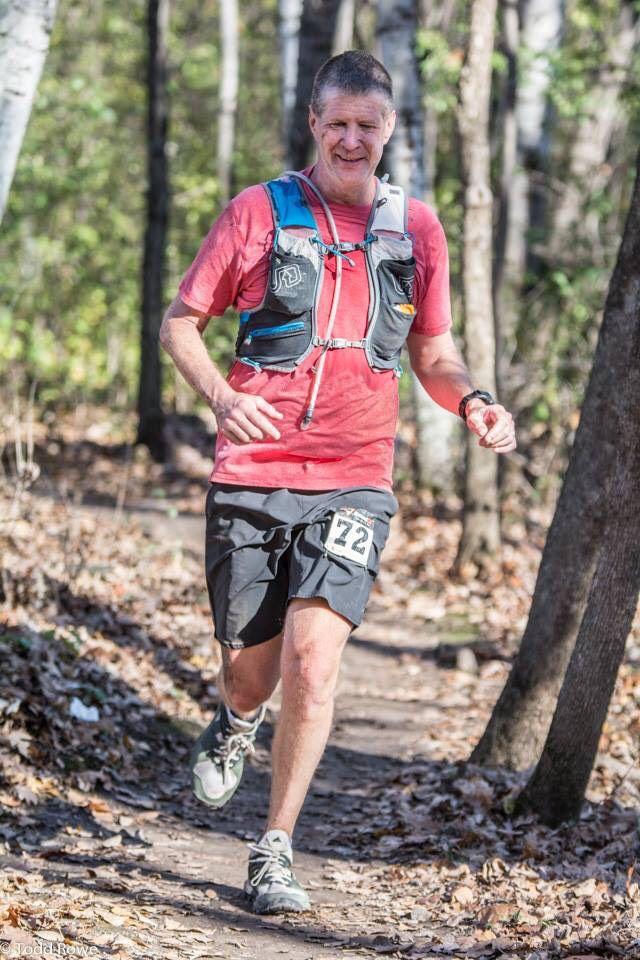 A second wind, a new life, all made possible through running. It's like a mini-metaphor for Langton's life.
The 47-year-old is a recovering alcoholic and drug addict, clean for the last 11 or so years. He says he was born an addict, just waiting to find substances to satiate his desire for more. He never discriminated, indulging in whatever substances he could say "yes" or "more" to, from beer to pot to heroin.
"Once I found them, I was off to the races," he said.
In some cases, literally.
"I even ran a 5K during my last drunk," he said of a race in St. Clair in 2006. "I remember very little of that 5K, but I've got the T-shirt."
He wanted to die that weekend.
"I couldn't imagine how to stay sober, and I couldn't imagine continuing to live the way I was," he said.
Running became a big piece of his recovery, a way to connect to the spiritual life. He's a big advocate of finding the spiritual through the physical. Running became his way of praying. It became his meditation.
Running also provided him with a community of healthy, clean friends and a new obsession. You see, Langton doesn't just run. He works it, writes about it, blogs it, podcasts it, photographs it, lives it.
A cynic might say he swapped one addiction out for a newer, albeit more healthy one. He thinks it's a simplistic argument.
"I prefer to think of it like this: When I was using, I was piling mask after mask on me," he said. "I didn't want to see who I really was. I didn't want to look at that."
To run, for him, is to be unmasked.
"Maybe part of recovery is taking those masks off," he said. "In a long run you have no choice but to face who you are."
He writes about these masks in his book, "Superior: 100 Mile Endurance Run, One of America's Oldest, Toughest, and Gnarliest Ultramarathons." The book is part nonfiction novel, part memoir. He weaves his past as an addict, his spiritual experiences in running and the stories of other competitors into a cohesive narrative including the history of the race itself.
One ultramarathoner featured in the book, TJ Jeannette, met Langton when seeking advice on how to help a friend struggling with substance abuse. Jeannette remembers Langton, a stranger at the time, jumping at the chance to help.
Helping others in recovery is important to Langton, right up there with running. He's drawn to other addicts and alcoholics in the same way he's drawn to other runners. So it seems natural he combined the two passions when he was executive director of Southern Minnesota Recovery Connection, a peer-based recovery support organization. His work included organizing relay teams for people in recovery during the Mankato Marathon.
"We were trying to battle the stigma that we addicts, alcoholics are just people who live under a bridge, to put it out there that we can live healthy lives," he said.
Jeannette said this willingness to help and ability to open up about his past struggles makes Langton a popular figure in the ultramarathoning subculture.
"If you run into an aid station with Kevin, it's like entering a club with a rockstar," he said. "The whole place lights up and everyone there knows him."
It's easy to see why people would react this way. People feel like they know him because he tells you what he's thinking, even if what he's thinking doesn't make him look great. In a social-media age where manicured, online personas may or may not fit the reality, having someone be so open about their faults must have a refreshing effect.
"You can be an open person and not worry about being judged for your stupid little idiosyncrasies," Jeannette said of being around Langton. "Because he's got them too."
Idiosyncrasies like a mind that jumps around. He can seem all over the place at times, while still remaining thoughtful. These quirks suit him well for the trail running community, Keiser said.
"It's a different crowd," he said. "It's a little more eccentric crowd, becoming more mainstream, but it has a character about it."
Certainly not all, but a disproportionate amount of the ultramarathoners Langton encounters have overcome similar struggles.
"I joke that you could probably start a race with the serenity prayer, which is how an AA meeting starts," he said.
You can see why Langton feels like he's found such a strong community in ultramarathoning. And then ultramarathoning is just one subculture of the larger running community. Langton loves seeing new runners come into River Valley Running full of excitement about training for their first marathon. It's like a welcome into a new family, a family that's treated Langton so well, finish or not.
Langton hoped to finish his fourth Superior Trail 100, and eighth 100-miler overall in September. He knew his body wasn't in top form leading up to it. An IT band issue, when connective tissue rubs up against the thigh bone, and plantar fasciitis stymied his preparation.
As it turned out, he finished 96 miles of the 100 before missing the cutoff time at the last aid station. Coming so close must be deflating, but he said he doesn't beat himself up about it as much as others might. He gets disappointed, but said he still had a blast.
Running, to him, is about so much more.