'DIVERSITY IS GOOD'
Dan Griep discovered a passion for trees during 30 years of service for the city of Le Sueur. It hasn't stopped since retirement, with the growth of an apple orchard on his rural Cleveland property.
The former forester for the Le Sueur Parks Department, Griep has added some plum and pears trees too, and he's developing a vineyard. But it was his work with Le Sueur-Henderson second graders, planting an Arbor Day tree in Legion Park, during which this passion blossomed.
"It's funny how passions grow into something more," he said.
While serving in his parks department role, Griep also spearheaded the planting of hundreds of trees on Le Sueur's boulevards and public spaces. Those trees are now part of his legacy.
"I see everyone of those trees and still get a smile on my face."
But he credits Darla Frost of Le Sueur for getting the city's Tree City USA certification started, now having grown for 30 years. And it was Frost, according to Griep, who also helped launch the community's Arbor Day events.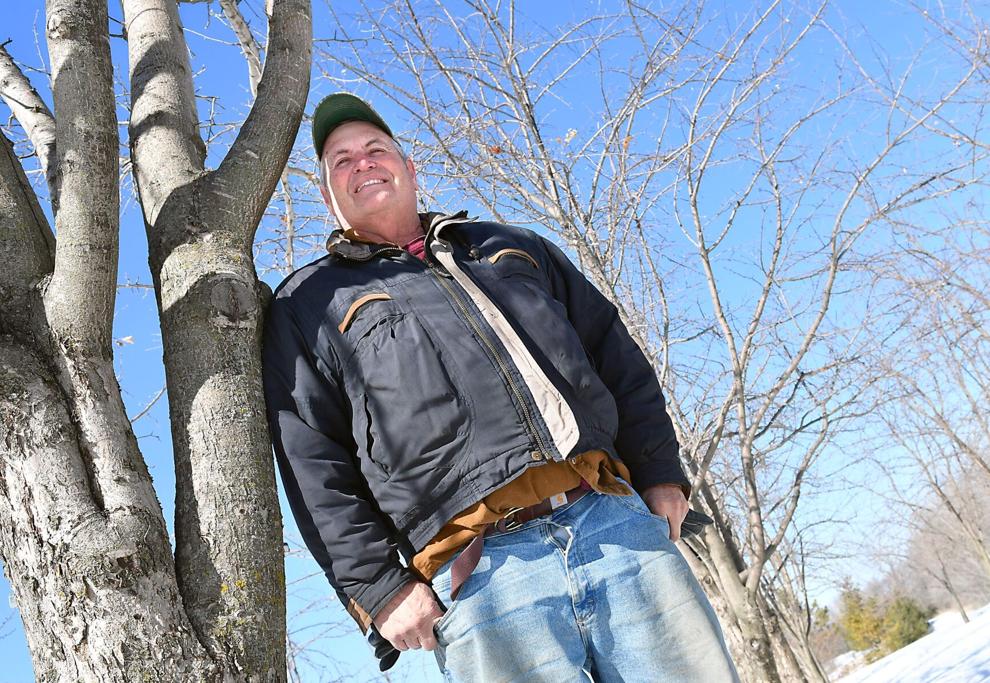 At past Arbor Day events, Griep might send home a Black Hills spruce seedling with students, encouraging them to plant it at home or even at a grandparent's place. If properly cared for, the evergreen tree might grow to as high as 60 feet with a width up to 25 feet.
Griep said the past Arbor Day events were held with little city investment. Instead, he and others would go door to door to raise some funds. He also credited Chuck and Judy Frauendienst of Modern Woodmen Insurance in Le Sueur for their cooperation and donations.
The pandemic halted last year's Arbor Day festivities and likely will do so again this spring. But Judy Frauendienst has called the annual plantings a highlight for her and her husband. She called it "a real-life experience" of both giving back and sending the students off with a spruce seedling.
But for Griep and others who have played a role in maintaining and expanding tree plantings in public spaces, it was more than a passion.
"It takes a lifetime to grow a tree," Griep says he'd tell those students.
******
Justin Lundborg serves as the city of Mankato's natural services specialist, overseeing the community's tree planting and maintenance program. That amounts to some 16,000 trees on public spaces, he said, which includes boulevards, parks and other city properties.
Lundborg said the basic city strategy is to plant two trees for every one that dies, is cut down or removed. He adds that after past issues with too many similar trees — such as those hit by Dutch elm disease — arborists now advocate a variety of different species.
Dutch elm disease was first discovered in Minnesota in 1961 in St. Paul, according to University of Minnesota researchers. The disease, caused by fungi often spread by elm bark beetles, devastated the state's elms during the 1960s and '70s.
"We stress diversity in the city," Lundborg said. "Too much of any species can cause problems. There's probably 15 different species we're planting."
After the Dutch elm issues, and the more recent emerald ash borer tree damage, the city's maintenance program and awareness have improved, Lundborg said. It's also resulted in the planting of more maples, he added. Now one of Lundborg's favorites is the Kentucky coffee tree.
"We've come a long way," he said.
The city's participation in Tree City USA also continues and "it kind of highlights what you're doing in the city," Lundborg said. "But because of COVID, the Arbor Day events have really been impacted."
Urban forestry is changing. "Diversity is the biggest thing, even with climate change," Lundborg said.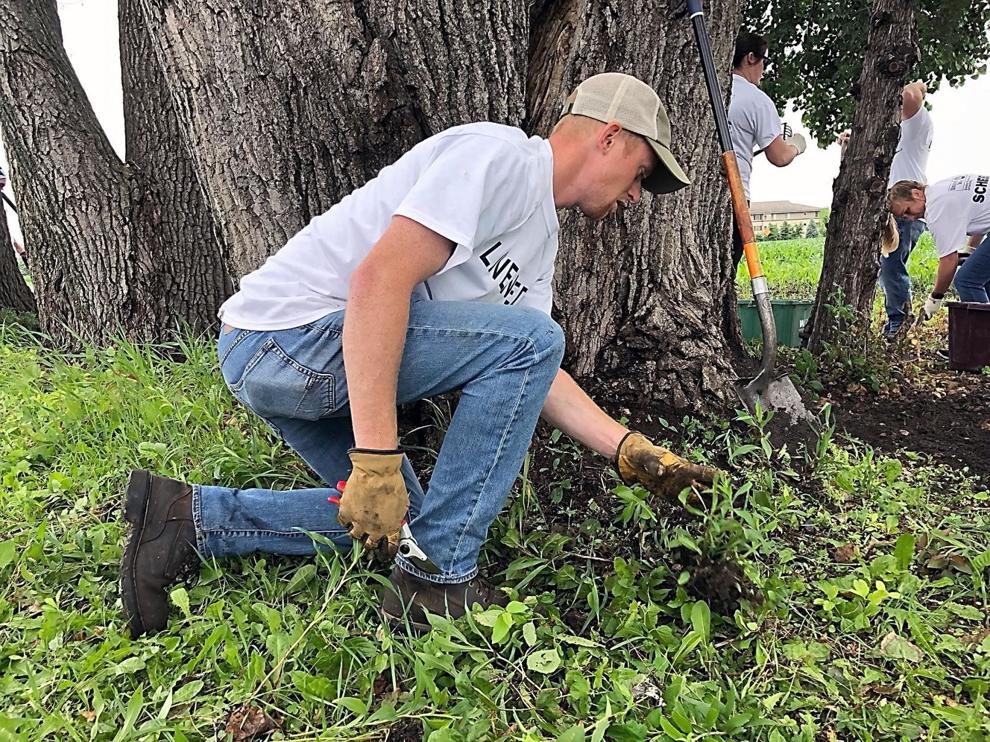 The warming temperatures mean more "Zone 5 trees" will likely be planted around Mankato in the coming years.
"We're preparing for the climate change and planting a lot."
He recommends the Rasmussen Woods nature area and Sibley Park for those enjoying the city's diversity of trees.
******
"The best time to plant a tree was 20 years ago. The second best time is now." — Scott Moeller, Linnaeus Arboretum director, quoting an old Chinese proverb.
The arboretum at Gustavus was established in 1973 "to be a unique arboretum that not only contained a collection of numerous tree species and horticultural gardens but includes examples of all three of Minnesota's natural biomes: tallgrass prairie, deciduous woods and coniferous forest," Moeller said in an email.
"I think that is what so many people enjoy about the arboretum, the combination of both 'tame' and 'wild.'"
The 1998 tornado that struck St. Peter caused extensive damage to the Linnaeus Arboretum Interpretive Center building, but Moeller said young trees fared well. It was the larger, mature trees on the main Gustavus campus that sustained the worst damage.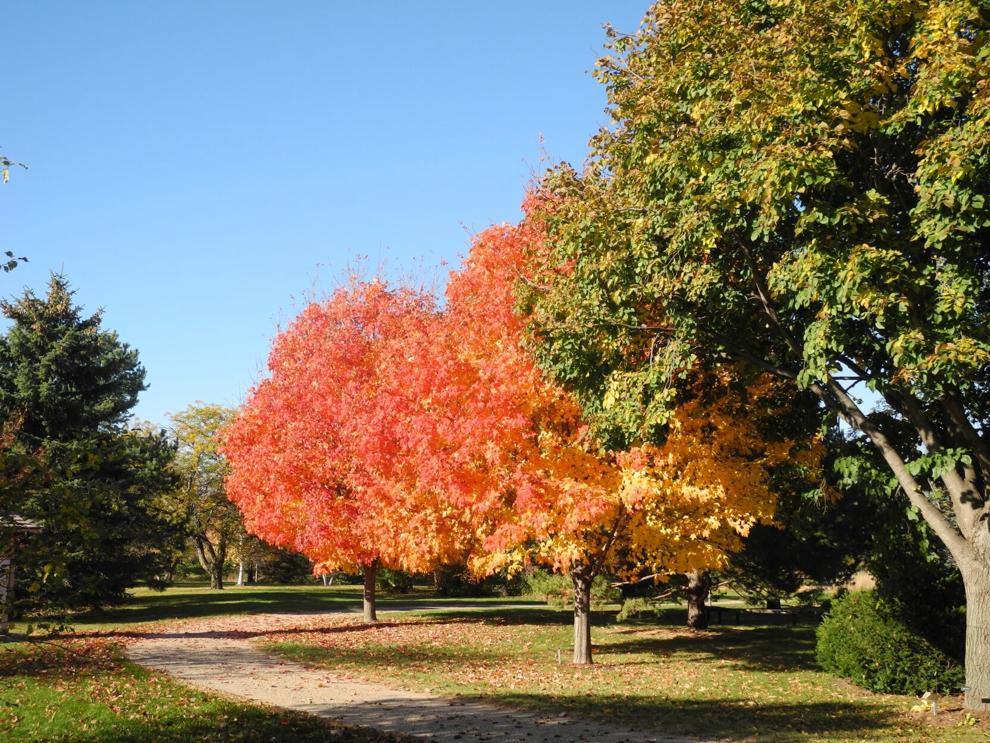 "Maintaining our tree collection and our woodlands is a very important job that seems to be getting more and more challenging every year due to increased pressure from invasive species and diseases," Moeller said. "Our Presidents' Oak Grove was under attack a few years ago from the oak wilt fungus."
Moeller said maintenance and restoration included removing the infected trees and severing the root connections to other trees, the main way the fungus spreads, then closely monitoring the health of the trees.
"The most important thing with oak trees is to avoid pruning them when the oak wilt fungus is most likely to be in the air," he said. "If people want to prune oaks, they should either do so in early spring (February through March) or late fall."
Moeller said they are also dealing with the emerald ash borer and battling invasive tree and shrub species. With a diversity of trees, he believes the arboretum can keep ahead of widespread problems.
"The main lesson with most of our tree issues is 'diversity is good.' We are learning the best defense against a plant, fungus or insect is a diverse stand of trees and a diverse understory of plants."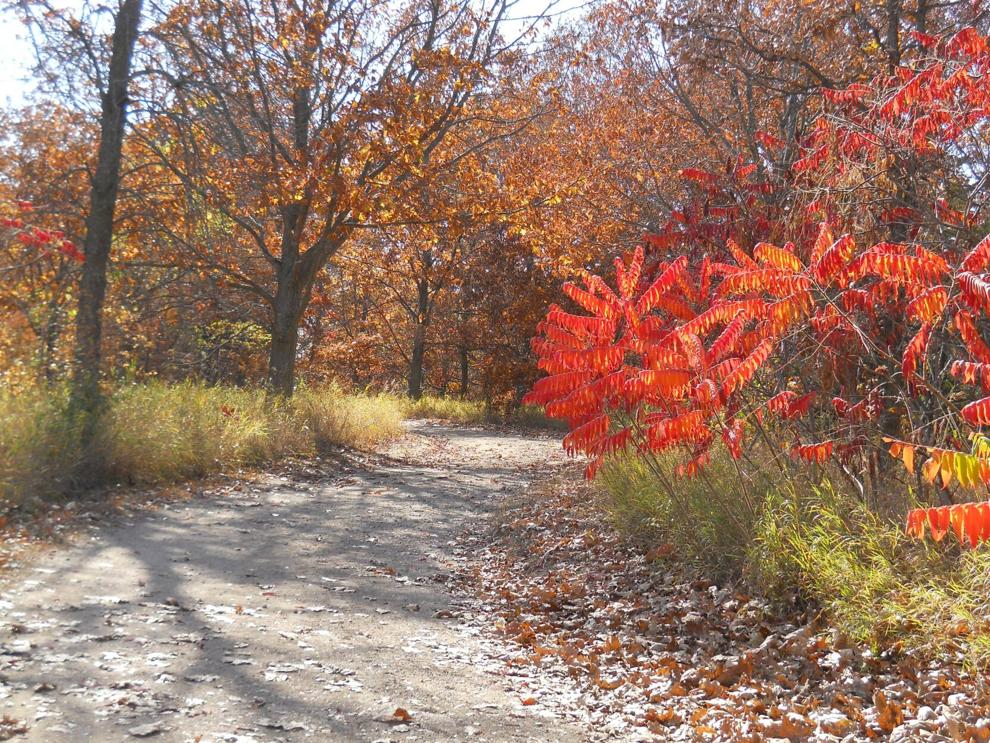 Moeller said Arbor and Earth Day observances are, as of now, up in the air because of COVID.
He added that recent years have included a "Discover the Outdoors Day" at the arboretum during which Gustavus students would assist staff and St. Peter volunteers to "help share the importance of trees and other parts of nature."
But on the positive side, the pandemic has brought more visitors to the arboretum, Moeller said.
"It has been so wonderful to see so many folks from the Mankato and surrounding area making use of the arboretum as a place of solace and refuge during the COVID pandemic," Moeller said. "It's been great to have so many comments from people who appreciate that the space is here for them in these challenging times."
Growth of Tree City USA, Arbor Day
"Trees provide the very necessities of life itself. They clean our air, protect our drinking water, create healthy communities, and feed the human soul." — The Arbor Day Foundation
The Tree City USA program originated in 1976. It followed the U.S. designation of Arbor Day by then President Richard Nixon in 1970.
To become a participating Tree City USA community, four standards must be met. A tree board or parks department must be designated to handle tree care decisions, delegating duties to a professional forester, arborist, city department or citizen-led board.
A public tree care ordinance then forms the foundation of a city's ongoing program. For ongoing commitment, a community forestry program must include an annual budget of at least $2 per capita. And finally, an Arbor Day observance and proclamation must be planned.
There are now more than 3,400 Tree City USA communities, including 109 in Minnesota through 2020. Regionally, the cities of Mankato (23 years), St. Peter (26), Le Sueur (30), New Ulm (17), Fairmont (29) and Sleepy Eye (38) are participants.
Arbor Day internationally was first noted in 1872, spearheaded by journalist Julius Sterling Morton, with the first celebration in his Nebraska City, Nebraska, hometown. Morton later became President Grover Cleveland's secretary of agriculture.
The Arbor Day Foundation, founded in 1972, has now steered away from Morton, "a vocal anti-abolitionist who held deeply flawed beliefs regarding race and slavery," according to a June 2020 news release.
"In the past we have attributed the spirit of Arbor Day to Morton, but it truthfully belongs to the Nebraskans who have embraced the tree planting tradition for generations and people around the world who know that a greener world is healthier, more beautiful, and more equitable," the Arbor Day Foundation release states.
"By shedding light on and learning from past mistakes, we aim to build a legacy that is proactively reflective of our values and inclusive of all those who have contributed to the tree planting movement."