SCC's president, finally on steady ground, is guiding the college to new heights
---
Story by Robb Murray | Photos by Pat Christman
---
It's a big day at South Central College. There aren't a lot students around, but the student lounge is packed with people … and money.
Rugged men in blue jeans and company-logo polos mingle with college administrators. Company executives are here to see the results of their generosity. Boxes with turkey and roast beef sandwiches wait along the wall next to tubs of chilled soda and bottled water. There is a classic podium with a microphone, an easel with what looks to be a construction project, and in a few moments, there will be a speech to thank the companies that have contributed roughly $200,000 to an expansion and upgrade to SCC's welding lab.
But first, the schmoozing.
Presiding over this event is SCC President Annette Parker. And while pointing this out may drift us toward cliche, it bears noting there was a time when this scene may have seemed impossible to her, when uttering the phrase "President Parker" would have seemed as impossible as a trip to Mars. But there she is, giving out her trademark firm handshake, smiling bright, explaining the project, thanking people. She's the center of attention. This is her show.
Parker defies many stereotypes in her current occupation. She's a female president of a college; most college presidents are men. She's a female president of a technical college; technical education remains a male-dominated field. She's a black female president of a technical college; that is a rarity, indeed.
So as she works the room, shaking the hands of area business leaders, thanking them for coming today and appreciating their generous donations to the welding lab, it's impossible to not marvel at how far she's come — from the desegregation of her first-grade class where kids were bussed across town, to listening and being inspired by Dr. Martin Luther King Jr. on the radio, to eschewing college at first because she had poor grades and couldn't afford it anyway, to driving a forklift for General Motors, to enrolling in a community college to avoid layoffs, to excelling in college, then industry, then being nominated to apply for a college presidency in a very white community, then being greeted with controversy and distrust, and then finally moving beyond it and into days of six-figure donations and rising retention rates.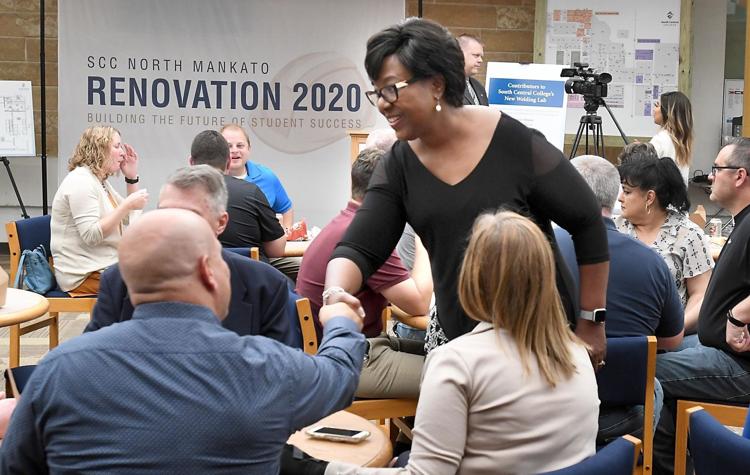 It's been a long and impressive journey for President Parker.
'I have a dream …'
Parker was born and raised in Jackson, Michigan, not far from the Ohio border and about 30 miles south of Lansing. When Parker was in first grade, the country's racial discord — and its attempts to address the worst of the divide — came to her school. Parker was among the first of three children to be "desegregated."
"It was traumatic to be bussed, and to be bussed to a different community," she said. "This was the '60s. … We used to listen to Dr. King on the radio every night, and to me he was like peace in a noisy world."
In a speech she gave the year she was recognized by the Mankato YWCA as a Woman of Distinction, Parker said: "I remember missing the bus one day and I had to walk, as my mother did not yet have a car. A little white girl came to her front door and called me the N-word. When her mother came, I thought certain she would be in trouble, but her mother repeated the phrase and closed their front door. … As I reached my teenage years, I grew even more angry about racial tensions. As many other young African-American students protested, I rebelled in high school."
She attended Parkside High School (same as former Minnesota Vikings defensive coordinator Tony Dungy) where she was a stellar hitter on the softball team but a very average to below-average student academically. At that time, the only class she loved was art.
"I was pretty good at still-life art," she said. "I'd get lost in my drawings."
Because of her grades, and because she didn't think her family could afford to send her to college, Parker opted instead to enter the workforce. And that choice couldn't have come at a better time.
Time to work
When Parker graduated from high school, General Motors was ramping up production at its Michigan plants. To meet consumer demand, they needed workers right away, so they added roughly 5,000 employees.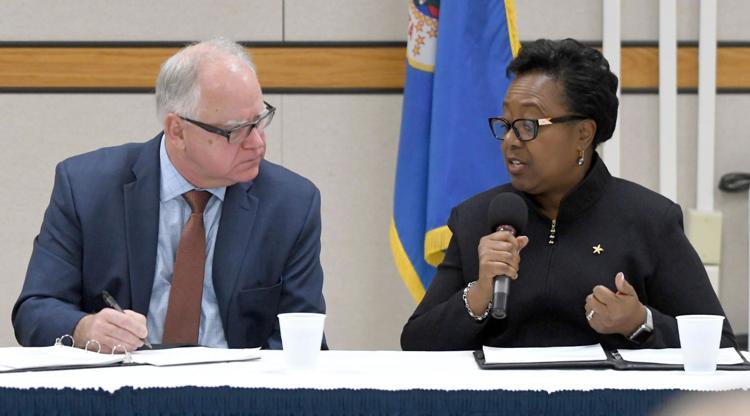 Parker got in line one day to apply for a job at GM and was hired a few weeks later.
"Me and my husband were hired at around the same time. They were bringing in new employees at a rate of 100 per hour. When we were there, things were just booming!" she said. "We were working overtime, seven days a week, celebrating building their millionth car."
Parker started out at GM driving a forklift, then moved to the production line. It was a physically demanding job, but she said she enjoyed building cars.
But even as bright as the situation seemed for GM when she started, the writing was on the wall about the company's future: It wasn't going to be as bright as it was the day they hired her.
"I saw the changes going on, and we were getting laid off intermittently," she said. "So we decided we needed to do something."
That "something" ended up being one of the pivotal moments in her life: She chose to go back to school.
LCC: #GoStars!
One of the great things about working for GM, she said, was the fact they offered a tuition-assistance program. In other words, GM paid for her to get an education that would allow her to leave GM.
She chose to study drafting at Lansing Community College (a community and technical college), an area of study that spoke to her love of drawing and which was at least partially encouraged by her parents; her mom was a graphic designer and dad a machine tool technician.
(Marketing Director Shelly Megaw said that background manifests itself at SCC today: "Sometimes we have a hard time keeping her out of the machine tool technology lab!")
Parker had figured a degree in drafting might allow her to get a different, more skilled and perhaps more lucrative position at GM, but it didn't work out that way. She said the administrators at LCC understood the value of having a female of color on staff who excelled in one of their technical programs. So they offered her a job — two jobs, actually — and she took one.
"At LCC, they wanted me to be somebody that would inspire other girls or other minorities," she said. "I was the first female to be hired as a faculty, first to be hired as an administrator, first person of color hired. … My classes were mostly young white males. I felt like they were coming in from surrounding areas in to Lansing, and that it was a good experience for them to have interactions with me. The problem we have is we don't know each other. I took really good care of my kids — they loved me and I loved them."
Being the first woman in a faculty position, especially the first woman of color, came with some pushback from both students and faculty. They'd test her knowledge about her discipline, a challenge she said she encouraged and invited. Eventually, the pushback subsided when no one questioned her competency.
"Over time I became dean of faculty that were my instructors," she said. "They were so proud of me. They saw me come in as this pretty rough auto worker, and then watched my success."
She broke ground in one other area, too. She'd learned about the SkillsUSA competition happening on other technical college campuses (at the time it was actually called Vocational Industrial Clubs of America Inc.) and she wanted to bring it to LCC. So they wrote up a constitution, got the approval of the Student Senate, became a recognized student organization, established themselves as officers and began competing.
Parker would become the first female to compete nationally in a competition to measure skills in automated manufacturing technology. She's got the silver medal she won in her SCC office to prove it.
Minnesota bound
After seeing much success at LCC and earning a bachelor's degree from Ferris State University, Parker transitioned into administrative roles. Ironically, one of the projects she worked on was helping develop a new campus for General Motors.
She had actually just finished her doctorate at Western Kentucky University when she learned from a search firm that she'd been nominated to succeed former SCC President Keith Stover. She actually interviewed for two jobs in the MnSCU system and was offered her choice of the Albert Lea technical college presidency or SCC.
Her arrival in Mankato was met with some resistance.
■ A group of faculty was unhappy with her management style and decisions she'd made as president and accused her of directing contract services to businesses or firms with whom she had personal relationships. They also claimed Parker was hired to help facilitate a master strategic plan being developed by a consulting firm with whom she'd worked for or with while in Kentucky. Parker said the claims were false, though a Free Press analysis at the time did find inconsistencies and irregularities in how contracts were awarded.
■ The group accused her of plagiarism in her Western Kentucky University dissertation. WKU investigated and cleared her of wrongdoing.
■ She was also criticized for largely replacing the SCC leadership team with her own, but college presidents are typically given latitude to assemble a cabinet of their choosing.
■ In a particularly dark chapter of this row, one of the websites launched to document faculty grievances posted a short video that included what appeared to be surreptitiously recorded comments by Parker — comments for which the context was left out.
■ She was criticized for eliminating too many classes, though a Free Press analysis of those cuts showed 81 percent of the classes eliminated had five or fewer students enrolled.
One of the blogs that was documenting the issues for the faculty hasn't been updated for several years. Another has been pulled down. The Kickstarter remains viewable, but is seemingly inactive and hasn't collected funds for several years. Why was money being raised?
It was a difficult first year for Parker. It was also a difficult one for SCC: Enrollment dipped 12.5% after that year, a dip Parker attributes to the bad publicity generated by the faculty.
Still, Parker admits she could have handled some aspects of that period in a better way. She said she could have been a better listener and believes she's gotten better at that aspect of leadership. She's firm on one thing, though. She believes the complaints about her personal leadership style were not valid.
"The people that were upset still don't know me," she said. "I think if they knew me as a person, if we could start over, if there was some disagreement about a decision I made that upset them and we could talk about it, it might be different."
She thought about leaving but ultimately stayed, she said, because the support she got from most of the faculty and staff far outweighed the grievances.
Big dreams, bigger donations
When asked what her biggest success at SCC is, Parker doesn't hesitate: Becoming one of America's "Achieving the Dream" schools.
ATD is a national program to help community colleges close achievement gaps and help students finish the degree programs they started. It addresses access, retention and other issues. There are 277 ATD community colleges in the nation.
But Parker also is proud of the partnerships developed between SCC and southern Minnesota industries.
Let's get back to that welding lab upgrade. That particular project was made possible by a big donation from Jones Metal, a company that needs trained welders.
The college also has received a recent gift of more than $100,000 from Crystal Valley for the college's Agribusiness Experiential Learning Lab. And last May, the Mankato Clinic donated $350,000 to upgrade nursing labs. That donation piggybacked on more than $9 million in sorely needed campus upgrades, which she also counts as a major achievement.
"This building hasn't had a significant advancement in years," she said. "We can and will do more."
She hopes the donations and upgrades continue. The students deserve top-quality facilities, and the faculty can better serve the students if the tools they're given are modern and up to industry standards, she said.
"We want to be recognized for being an institution that has closed the achievement gap, closed retention rates, continue to be seen as a contributor to our communities from a civic and economic standpoint," Parker said. "I think we can and we will do some amazing work in those arenas in the next couple of years … But that's not me. It's the talent in this building — and there's some amazing talent in this building — and I'm excited about the work that we've agreed to do together."