GO GREEN!
Sustainability comes through networks and collaboration within a community to create a strong bond for a central mission: to save the Earth. And our community — through organizations, individuals and nonprofits — has shown up to try to do its part.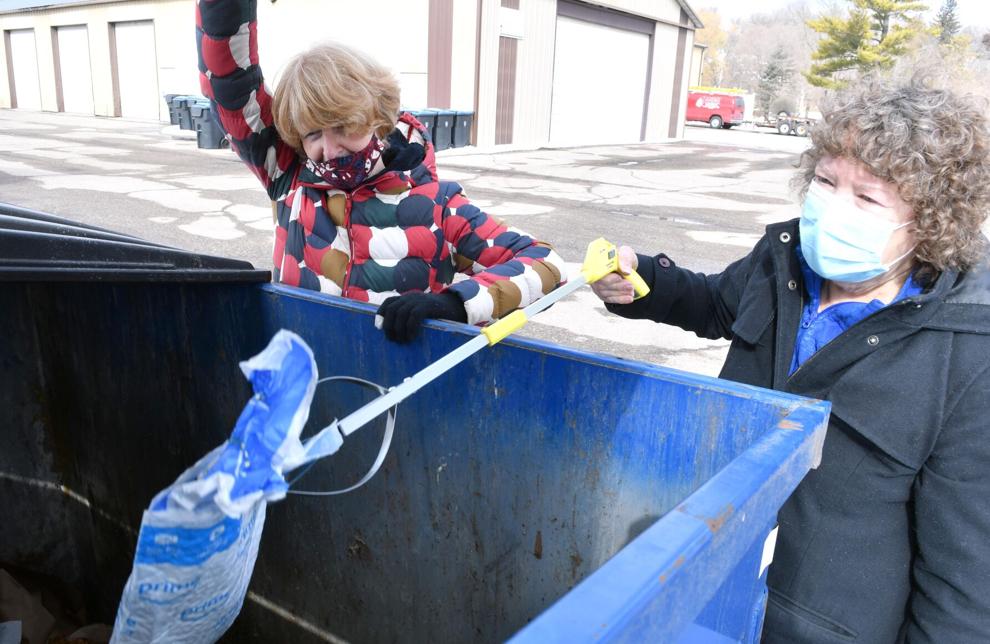 Mankato Zero Waste
Mankato Zero Waste keeps growing in numbers and passion.
The trio who spearheaded the composting collection sites — Betty Winkworth, Jane Dow and Katy Wortel — have long been environmentally minded.
Winkworth's passion stems from girlhood as a Girl Scout, remembering the talks they'd have about the lands. And Dow's passion comes from always wanting to address climate change — realizing the threat becomes more and more alarming as time passes. Wortel, formerly a familiar grower at the farmers' market and outspoken environmental activist, also served as a county commissioner.
"The three of us, we wanted to decrease waste in the city and in our lives," Winkworth said. "We looked around at what needed to be doing."
Through much research, including taking field trips to Duluth's compost site and checking out the Twin Cities' efforts in sustainability, the trio knew composting was the right choice for the Mankato and nearby communities.
Compost, Dow said, is an important part of addressing climate change outside of oceans.
"Soil is the greatest carbon sink, second to oceans," Dow said. "Anything that we can do to increase plant growth and composting and fertility of the soil — to have thicker plants and vegetation to absorb more carbon dioxide — I'm in on that."
Full Circle had a composting facility in Good Thunder. The school district signed up to compost with the facility to compost the leftover food from cafeterias.
"We were familiar with it, and we thought, 'Gee, if the kids are doing this, this is a natural for us to try and get it residential,'" Dow said.
So in 2015, the trio began collecting compost — the pilot program — across the street from the Children's Museum of Southern Minnesota. They began with carts for compost being available from 9 in the morning until noon. Armed with information at the compost center in Mankato, the three staffed the sites to fully explain composting, educate and answer questions.
"We had a great time through wind and rain and snow, but we were there for a year," Winkworth laughed.
Then the trio went off to the city of Mankato to present the data they'd collected. The program started with 25 individuals, each charged $25 per household. The numbers then grew to 80 and were then presented as an option to the city to become a free service.
"They thought that would be worth doing," Winkworth said.
And so did the residents participating in the program. The number of participants grew exponentially — the program now has 900 households composting in three cities: Mankato, North Mankato and Lake Crystal.
The widely accepted fact of climate change is mainly responsible for the growth in numbers. But more evidence over the years has come through.
"I think that once that starts happening when people realize we got a serious problem here, they are looking for any way that they as an individual can make any difference," Winkworth said. Education and awareness are the keys, she said. "Once you start it, you won't be able to throw an orange peel again into the trash."
During the pandemic, trash and refuse doubled as people work and learn from home. That includes more single-use items or plastics.
"The value of having compost (and) compostable products in your compost, that's so much better than making all this plastic stuff which we're trying to reduce," Dow said. "(Plastic's) contaminating our environment and killing our wildlife and causing health problems for us and polluting our atmosphere."
Making as small of a change as buying products that use compostable packaging makes a big difference, they said.
Compostable items include foods, bones, paper egg cartons, pizza boxes, coffee grounds, paper plates and cups, and more. (Check out the full list of compostables at mankatozerowaste.com and learn how to sign up at mankatozerowaste.com/sign-up.)
Not only does composting help the environment, but it helps your pocketbook, too. Putting all the compostables in, well, the compost, reduces waste sent to the landfill. Less trash equals a smaller curbie.
Most importantly, composting helps humans become healthy by cleaning up the air, water and producing nutritious foods, Dow said.
"It's just an important picture in our stewardship of the environment at this point," Dow said. Little changes add up — everyone can do something, such as composting, to be a part of the change.
"Give yourself the opportunity to try it," Winkworth said.
"If you do little things like that, like composting, that's your one thing and it's easy to do," Dow said. "And maybe try not to use plastic."
'Scrap happens'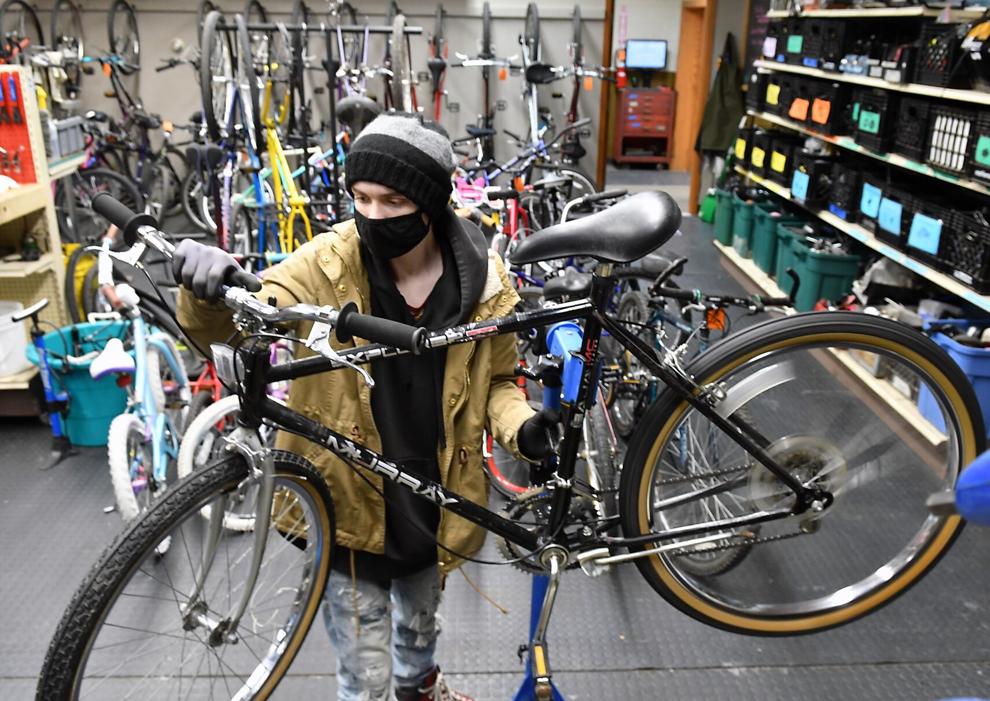 Key City Bike's shop manager, Brian Gosewisch, first became aware of the organization through bike polo in the early 2010s.
The organization became a go-to to find parts for the bicycle and a place to work on it too.
"So I started coming around and seeing how things worked," Gosewisch said. "Eventually, I worked and started volunteering at the place."
It was a place to try something different, he said. And throughout the years, Gosewisch learned bit by bit the mechanics of bicycles to then help others do the same.
The nonprofit prides itself on keeping bicycles out of landfills. It collects donated bikes, provides a workspace to fix them and expands the ever-growing bike culture found in Mankato.
Key City Bike in 2020 — when bikes were as hot of a commodity as toilet paper — reclaimed 382 bicycles. That means 382 bikes saved from landfills.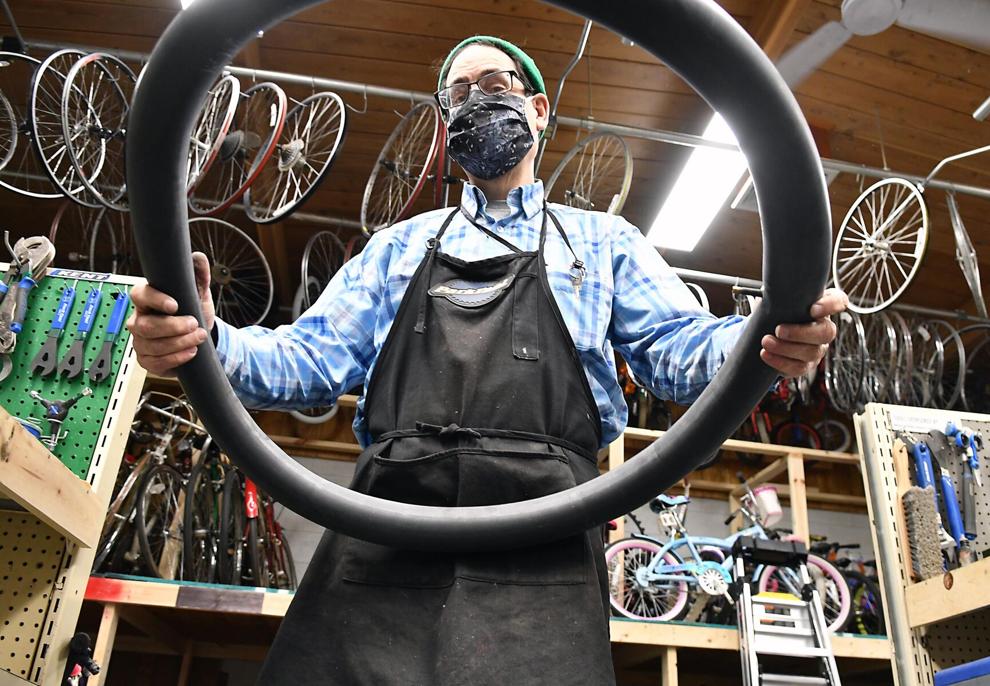 "(The number of bikes) could have been sold, bikes earned through our Earn-a-Bike program, or it could have been bikes given away through either kid or adult donations," Gosewisch said.
Mainly, he said, bikes are donated to underserved residents and they encourage anyone to go through the Earn-a-Bike program.
The program allows anyone to volunteer hours in exchange for credits to be used at Key City Bike to purchase a new or refurbished bike or parts. Volunteers earn those credits by "scrapping, sorting parts, cleaning, repairing bikes and other supportive activities."
"The way we have the program set up, somebody can come in and literally put in 15 hours and earn a bike," Gosewisch said.
Though not everyone finishes the program, it's still an opportunity for those interested to learn about bicycle maintenance, repair and safety; save bikes from being trashed; encourages sustainable transportation; and provide bikes to those with "limited means for transportation, recreation and a healthy lifestyle."
Expanding knowledge in learning how to fix a bike, rather than to throw it away, is key to sustainability in the community and it's one of Key City Bike's goals.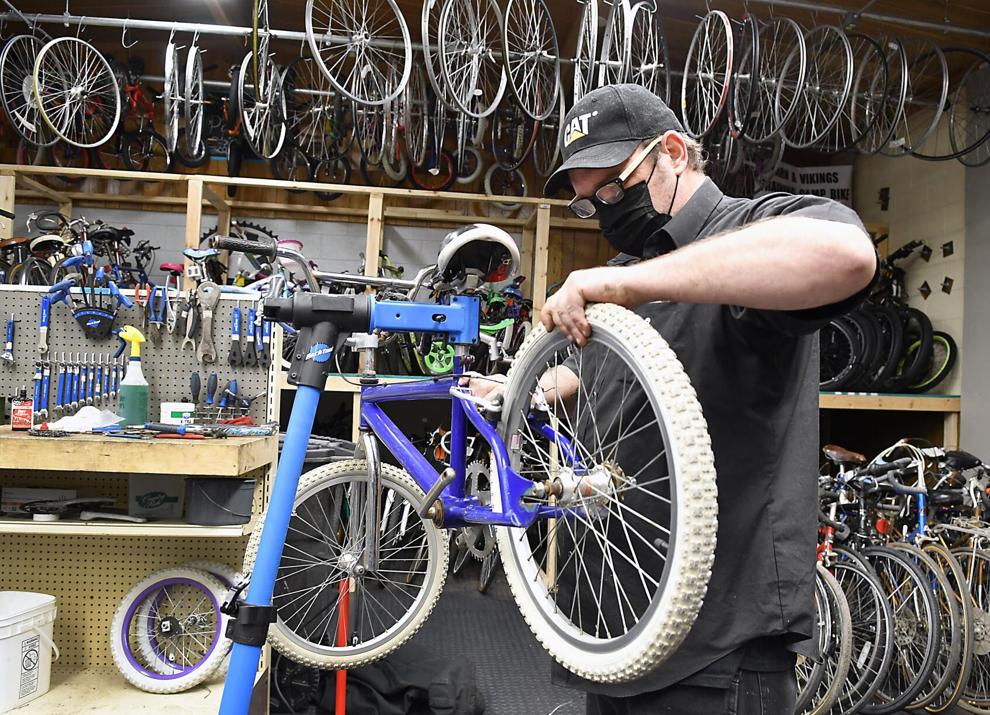 The shop includes walls of parts, refurbished bikes and three workstations with tools to use (during COVID to promote social distancing). Having a basic understanding of how to use basic tools is good, but Gosewisch says people can come in with no prior bike knowledge to work on their bikes with resources at hand.
"We're trying to be more of a resource — a community space of sorts — where people can come in and work on their stuff and learn how to work on their own stuff," Gosewisch said. "A lot of it has to be having that drive to learn and try."
Key City Bike accepts any bike donations. Bikes then get worked on, and those that can't be repaired get broken down.
"We have a saying, 'Scrap happens,' where we can't save every bike but we try to get them back in the community as best as we can," Gosewisch said.
Materials such as rubber get recycled, which Key City Bike pays to do, or scrap metal, which they get some payment for, hopefully offsetting the cost of the rubber recycling.
"That's one of those things, that a lot of people will just throw away a bike," he said. "We'll actually take the effort to go through it and reuse what we can and then recycle what we can."
Blue Earth Project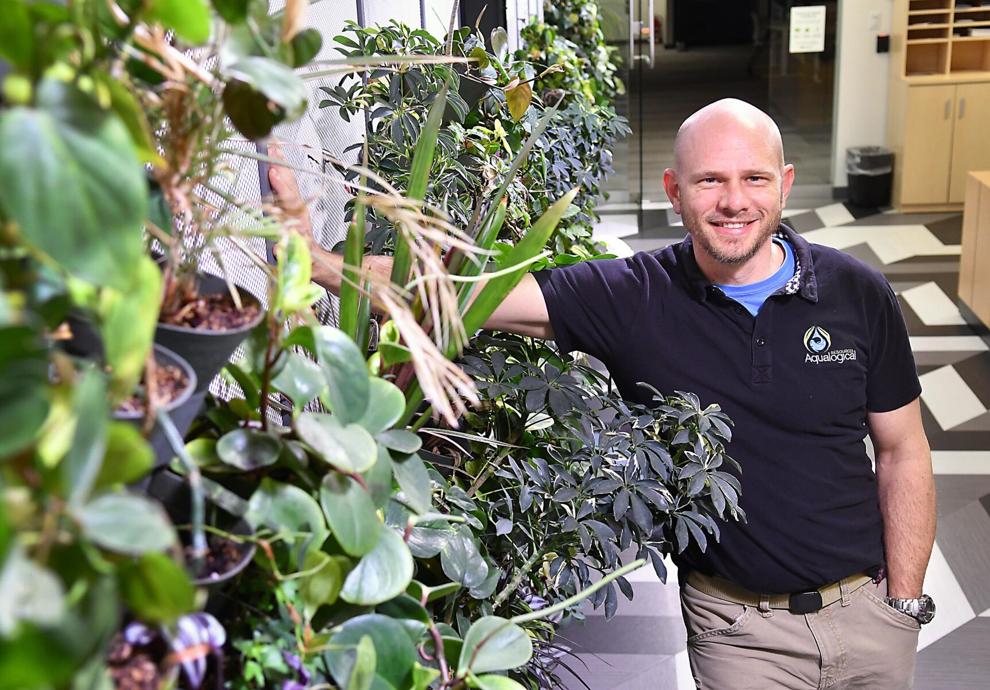 Did you know that Blue Earth County is the single greatest contributor to the Gulf of Mexico dead zone? And did you know that in 2016, southern Minnesota lakes were considered "irreversibly un-swimmable"?
Needless to say, the state of the waters in our region faces massive problems. The Blue Earth Project sets out to become part of that change.
BEP, a nonprofit organization since 2019, founded by Paul Ebbenga, strives to localize solutions to a global problem by its "innovative programming, community activation and bold leadership."
Its projects lead the Mankato area with programs such as Adopt-a-River; an Eco Market; energy consulting and street cleanups.
One of their projects includes its latest led by board members Bennett Coughlan in solar solutions and Seth Yocum in aqualogical solutions and owner of Aqualocial Resources. They have plans for a pontoon that uses an aquaponic system to clean water.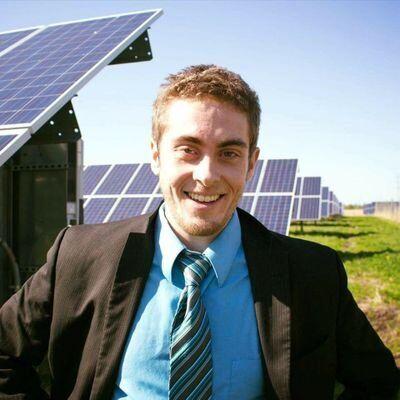 "It's kind of like a flagship — prototype project — that we're hoping to get a lot of really cool data to talk about what kind of effect these sorts of things could have," Coughlan said. He hopes the project will perhaps encourage residents to add things such as dock gardens to help reduce the amount of farm runoff chemicals and fertilizers into lakes and waters in southern Minnesota. The pontoon, with the aquaponic system on top, takes water from dirty sources and then cleans the water with plants and returns it cleaner than it was. The system namely is a way to remove nitrogen in the form of nitrate, a water pollutant.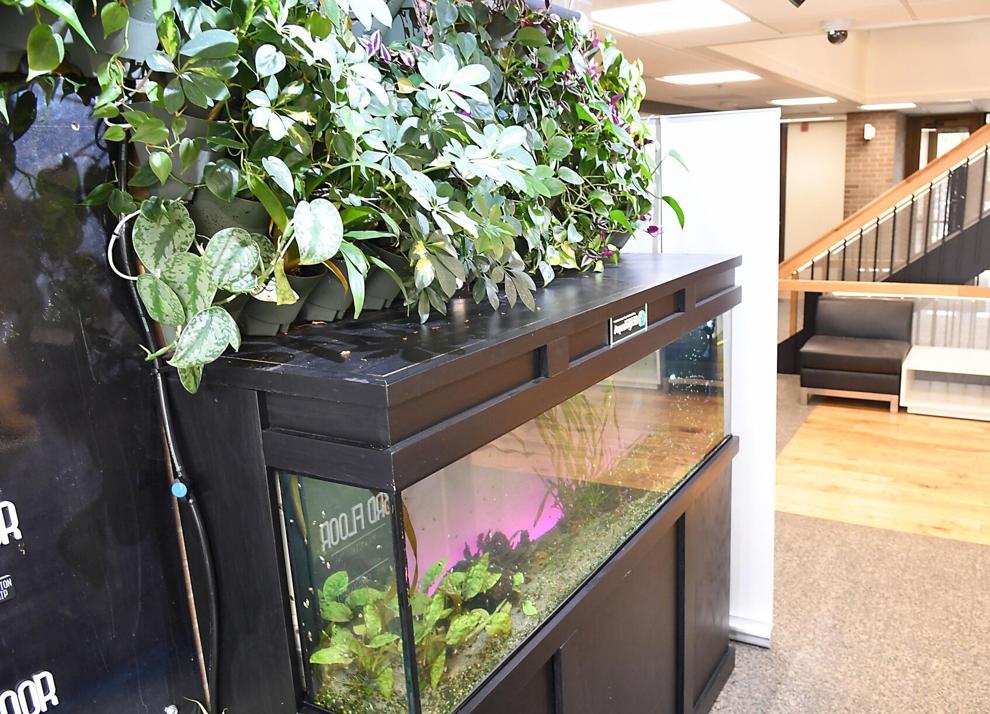 Nitrogen is occurring all around us, Yocum said, but rarely does it happen in nature — even though plants and vegetation require it.
"Nitrogen is actually 70% to 74% of the atmosphere, but only 1% of that actually makes it into the ground and into our soil," Yocum said.
Before 1918, the biggest creator of nitrogen was lighting until Fritz Haber, a chemist, invented the Haber method that creates ammoniacal nitrogen put into farmland.
"The plants have all this nitrogen available and as the rain falls through, well that nitrogen gets pulled out of the soil, into the tiles and down into the lakes, rivers and streams. So we use the plants to strip the nitrogen, same with phosphorus," Yocum said.
The idea of the pontoon as a portable cleaner sprouted a few years ago, Yocum said. He has custom-designed ponds, aquariums, aquaponic and other aquatic systems since 1997. In aquariums or ponds, water needs to be changed, taken out and thrown away.
"I started to try to manage that water as a resource because it's so full of this water-soluble nitrogen," Yocum said. In a bag of fertilizer, you find the N-P-K ratio — nitrogen, phosphorus and potassium. "That's what you're going for. Well, that nitrogen and phosphorus are this readily available nutrient that we have as wastewater in ponds and aquariums through natural accumulations."
And a step further, Yocum said, is doing aquaponics.
"Which is where you grow either food, or, I do a lot of houseplants to figure out how plants clean the water," Yocum said. "You can remove the nitrogen with the plants. Then it's this closed-loop system — the fish produce nitrogen, the plants take the nitrogen, and nitrogen says low."
So if he was using this for his business, why not lakes?
"Any water that has nitrogen and phosphorus, if given the right system, either onshore or on the water, we're going to be able to clean it just by growing plants," Yocum said.
Currently, the duo acquired a portion of a pontoon donated to them by Kamp Dels and is waiting to be worked on during these months.
Coughlan's job is to figure out how to power the pumps.
"That's where the solar comes in because it's not really super viable to run a big extension cord through the water out to this thing from the land," Coughlan said. "We need to figure out how to power these things really anywhere you could plop this thing in — anywhere there's a nutrient source and start cleaning the water."
Solar and batteries become essential to the project. Solar panels create energy through the energy of the sun, which provides good electricity, not to mention is sustainable. Solar energy sequesters carbon and CO2 entering the atmosphere.
"Solar is probably the biggest thing any homeowner can do at home to do something good for the environment," Coughlan said. "It's hundreds of tons of CO2 that doesn't get released into the atmosphere depending on the size of someone's electrical consumption — 150 trees' worth."
And it's a 100% renewable energy source. Just imagine, Coughlan said, that if the 39,000 population in Mankato were taxed to use solar energy, it would keep $50 million a year in Mankato.
"Which is like 10 times the Vikings training camp numbers," Coughlan said. "It's this ridiculous amount of economic development that renewables could offer our area."
The pontoon doesn't have a determined area where it'll be tested quite yet, but the two are ready for its construction, which shouldn't take more than two weeks by their estimate.
"This is just a proof of concept in the natural environment, and also to create awareness and get all this information out there and get everyone on board," Yocum said. "This is the kind of stuff that we should integrate into every home, every building, every river, every stream, every outlet from the tiles of the fields."
Wooden Spoon
In late February, the Wooden Spoon received 135 boxes of green beans that were destined for the Walmart distribution center but didn't make it — that's 5,400 pounds' worth of green beans, each box weighing in at 40 pounds saved from landfills. And all of went back into the community.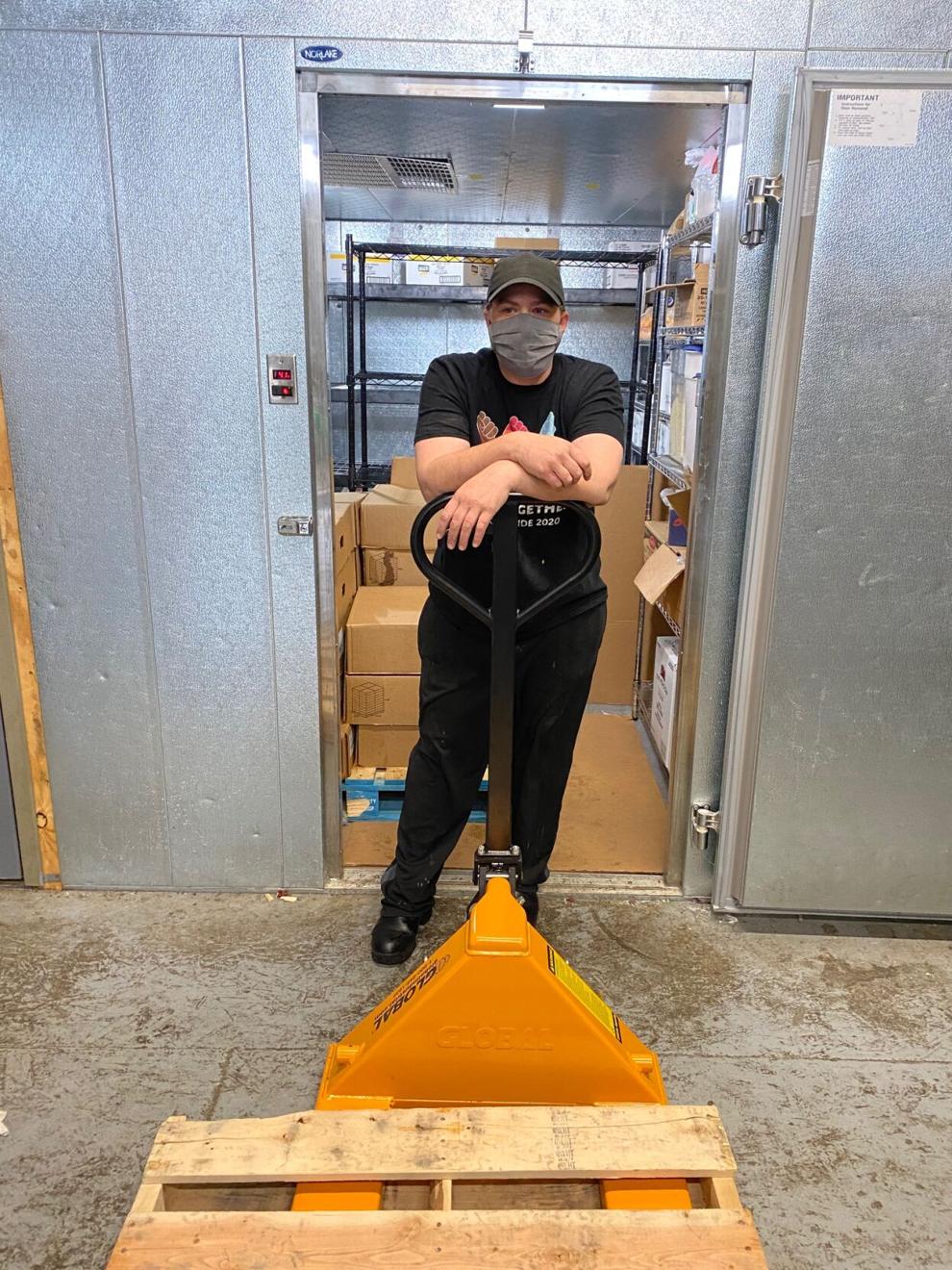 "The green beans really tested us because we're a small operation and it's our team that's unloading it," said Natasha Frost, president and owner of Wooden Spoon.
The team unloaded the boxes off the truck onto a pallet, then to their garage and up onto a platform. "We have been quite literally feeling it — I had to take a lot of Advil," she said.
A Herculean effort — all in the name of saving food and reducing food insecurity in our community.
The small business in Old Town Mankato received a $75,000 grant from the Minnesota Pollution Control Agency. The grant helps the South Central Minnesota Food Recovery Project to assist restaurants and businesses in donating excess food. The grant also allowed the establishment to purchase and add a freezer and refrigerator to hold the excess food and develop an application by Foxio. The app is under the development stage gathering data to best serve the community.
"We had local restaurants talk about what they need and then nonprofits that serve low income, and BIPOC community members told us what they needed," Frost said. "We're able to use that data to help drive what the app is going to be."
The project came to fruition two years ago in May.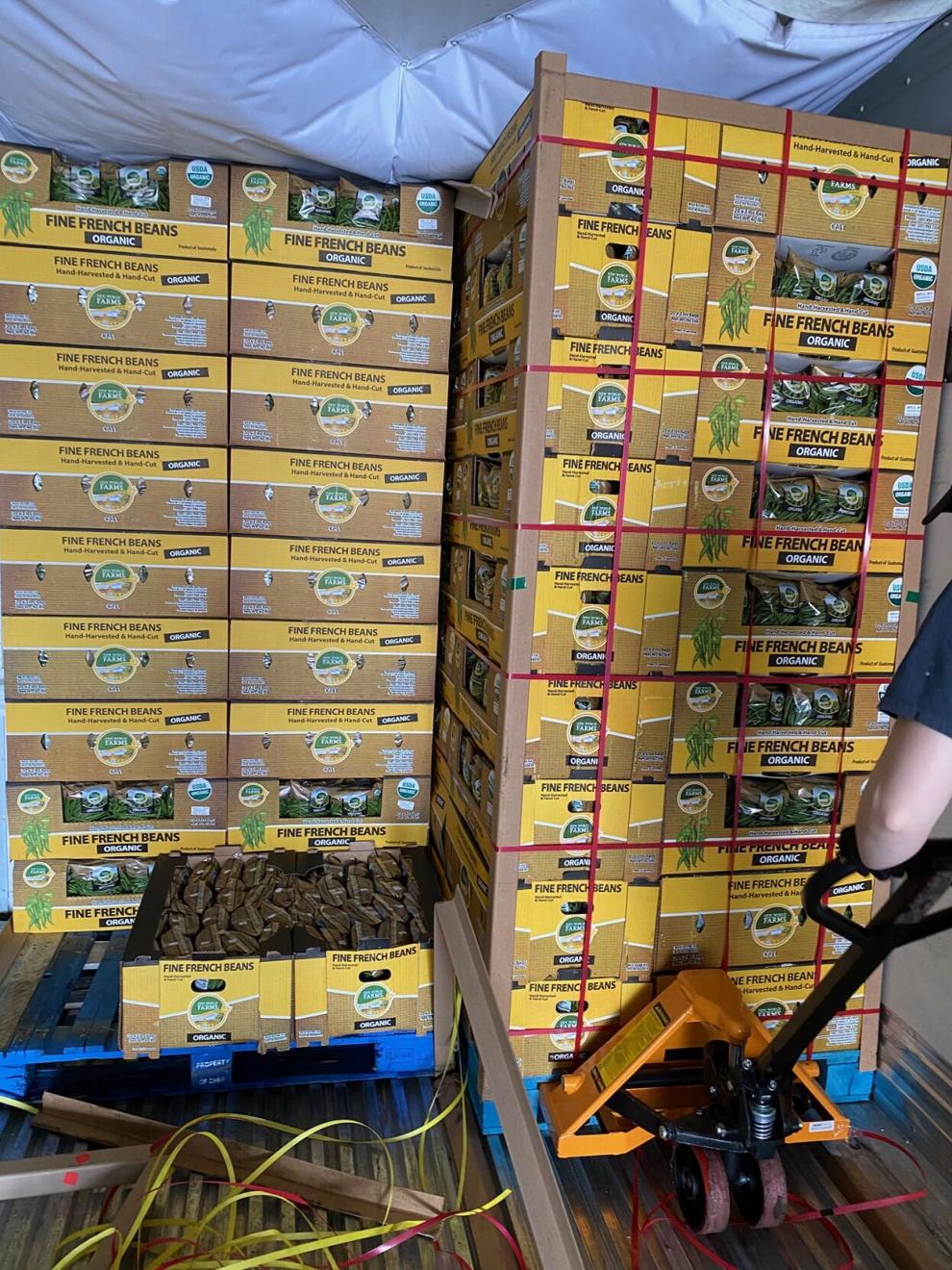 "It formed into a kind of formal coalition that came together and it's under the grant," Frost said. "Which goes to show that sometimes when you have grant opportunities, you can really firm up partnerships through that formal process."
The community had been recovering and donating food before Wooden Spoon got involved, such as through ECHO Food Shelf, Feeding Our Community Parents, Minnesota State University's Campus Kitchen and others. With the conversations between those organizations and Wooden Spoon, the plan was formed for SCMFRP.
This year alone up to the end of February, SCMFRP received 1,480 pounds of bananas, 36 pounds of pears, 24 cases of apples, 52 boxes of pineapple; 5,400 pounds of green beans and 1,908 pounds of raw chicken.
Sustainability in the community comes down to the relationships built to work together for a better future. And this community is ready for it, Frost said.
"This project could not have happened without everyone who's involved. Wooden Spoon is the vessel that is like the receiver of the grant," she said.
"The web of partners is the reason there's even a project to work on in the first place. ... This is nothing without everyone that's involved. This is not a Natasha project; it's not a Wooden Spoon project. It is a community project. That's the biggest piece."