Mankato is blessed with tons of great theater options
When it comes to theatrical productions, Mankato has a long and rich history on the stage. From strong theater programs for the next generation of entertainers to not one but two community theater troupes, there's something for every theater lover's taste in the local area. Read on to learn about just how vibrant and diverse the Mankato theater scene truly is.
MSU
No look into the local theater scene would be complete without referencing Minnesota State University's Department of Theater and Dance, which has been going strong since 1950. Community legend Ted Paul was the first theater department chair, serving in the position for 30 years, and current chair Paul Hustoles took over in 1985.
Hustoles said he continued Paul's philosophy of staging theater "that people want to see."
"In academia, that's not always the case," Hustoles said. "You do shows that will teach the students and/or audiences. It's all about teaching rather than entertaining. What I love about MSU is that we do both. We're very eclectic about what we do, for our audience and students."
Thanks to the university's several stages, the department is able to produce many types of plays, ranging from main-stage musicals to smaller, more "avant-garde" plays during the Studio Season. Hustoles said that a typical season usually includes two big musicals, a classical piece that's at least 100 years old and "yesterday's Broadways," which are old-fashioned plays such as last year's "Arsenic and Old Lace." In fact, a typical season features 17-18 different productions — more than almost any other college or university in the country, he said.
"This year, we were on the way to 18," he said, adding that the season had to be cut short because of the COVID-19 outbreak. "A normal college will do 4-6 (plays) a year, and we do 17. That's very unusual."
The department offers five majors, one minor and two master's programs, with more than 200 theater and dance majors and minors today (including grad students).
"That's why we do so many plays," Hustoles said. "We're opening shows all the time, so we keep the students very busy, and that's why they love it here."
About 40,000 people attend shows at MSU every year, making the university's theatrical box office one of the top in the country for university theatrical programs, he said. While the quality of MSU's productions is a big draw, he pointed out it couldn't happen without a large number of area art lovers.
"(The Mankato community) understands the importance of the arts, as contributing to quality of life."
Bethany Lutheran College
At Bethany Lutheran College students have found creative ways to stage theatrical productions since the 1940s — even if those productions didn't really include a theater.
Peter Bloedel, chair of Bethany's Theatre Department, said the college didn't have a fine arts building until the late 1980s, but that just meant that theater students performed on a stage constructed in Bethany's gymnasium until the S.C. Ylvisaker Fine Arts Center was completed in 1989.
Now the department produces four main-stage shows a year, along with student-directed shows and the college's annual showcase, "Theatre Physics." That fall show is a "Vaudeville-style study of experimental theater," where students have about 2 1/2 weeks to create skits.
"We make a show out of nothing," said Bloedel, who produces the event. "Some of the admissions folks call it "Saturday Night Live" meets the circus."
Bloedel said the department tries to stage two musicals a year, often older shows in the public domain.
"We feel as though we can take any of those shows and put our spin on them. We take pride in creativity and giving something a new voice."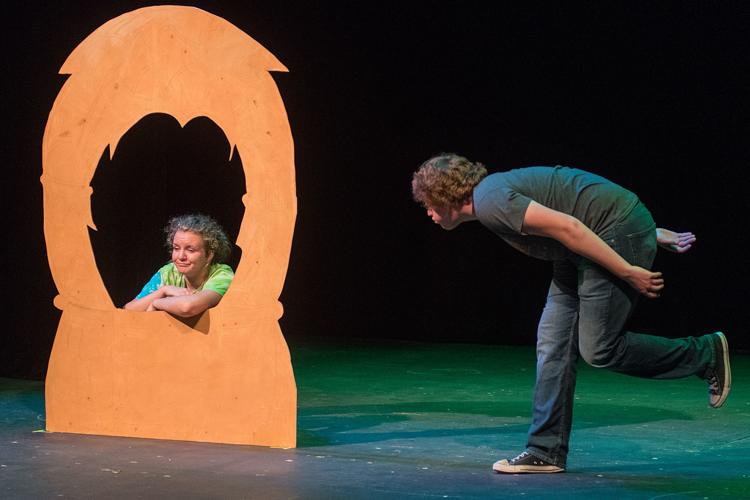 Another important tradition at Bethany, he said, is adapting stories into productions, such as last year's staging of "The Legend of Sleepy Hollow." Faculty members and students have a chance to collaborate to create original scripts.
"What we've learned is that, if we're doing our own adaption, we can do stories that people know and then make them great for the stage."
Bloedel said about 30 students are pursuing a theater major or minor at this time, but far more students are involved when it comes to stage productions. When Bethany produced "Annie, Get Your Gun" in February about a fifth of the campus was involved, from actors to musicians to stagehands.
Acknowledging the many theatrical offerings in Mankato, Bloedel said every group is unique, which is one reason the community has such a strong theatrical presence.
"I think that Mankato has always been really receptive to plays, to theater and to seeing new and cool ways to do things," he said. "There's a lot of creativity around here, and there's a lot of different options. We all have something really different to offer."
Merely Players
Mankato's original community acting troupe, the Merely Players, has been a Mankato staple since 1982. The troupe has produced more than 100 shows and impacted more than 30,000 volunteers and theater patrons.
The troupe was originally formed by Mankato educator Gretchen Etzell, who directed "Oklahoma!" at the request of Mankato's Community Education program. When more than 170 people showed up to auditions, it became apparent there was a hunger for community theater. Thus, the official Merely Players (named after a line in Shakespeare's "As You Like It") group was formed.
Soon afterward, Merely Players moved into the Lincoln Community Center in Mankato, where they've been for the past 30 years (give or take a few special productions elsewhere). Along the way, the troupe eventually picked up Travis Carpenter as its artistic director, and he served until last year, when longtime volunteer Maggie Maes stepped into the role until a permanent replacement could be found. They're still looking.
Maes said one of the reasons Merely Players has become such an enduring presence in the community is because it offers a place for everyone.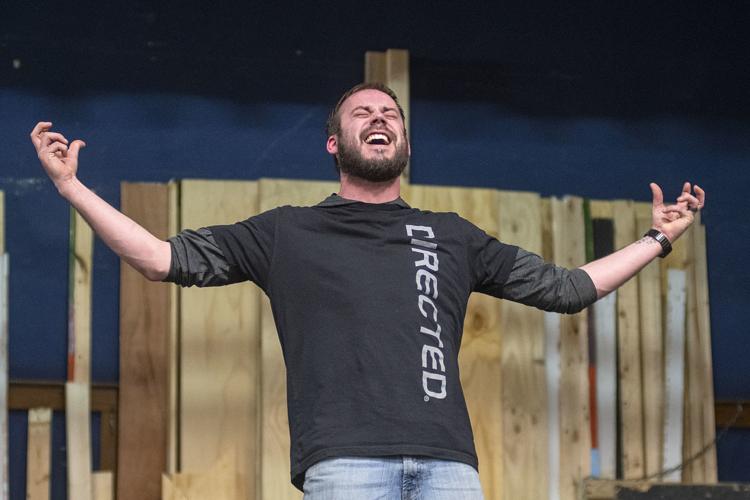 "The name 'community theater' means bringing everyone involved into it," she said. "We have the old, the young, high school students, sometimes elementary school students. There's a place for everyone. That's the fun part, and that's why we've survived so long in the community."
Merely Players stands out in the local community because it's able to offer more realistic characters, Maes said, because they have a wider talent pool to draw from — and still offer high production values onstage.
"Back in the day, community theater used to have bad scenery, awful props, homemade costumes," Maes said. "Over the years, people have realized that community theater definitely does not mean bad theater. It also means high-quality theater."
Minnesota Shorts
Since 2009, the Minnesota Shorts Play Festival has offered bite-size plays in rapid succession for two special evenings every September. The festival crams seven plays — no longer than 10 minutes each — from seven different authors and with seven distinct casts and directors into one madcap evening. (That's 14 plays, directors and casts if you attend both nights because there are no repeats.)
Festival founder Greg Abbott said he came up with the idea for a short play festival after entering one of his shows in the (now defunct) Northfield Arts Guild's Very Short Play Festival.
"I thought if Northfield could pull it off, Mankato could," he said.
Abbott said the first year was slow, both in terms of submitted material (about 70 scripts) and audience members. But by 2010, the festival attracted more than 100 people to each of its performances. Since then, Abbott said, it "grew and grew and grew." In 2018, he received about 500 scripts.
There have been changes throughout the last 10 years. The festival bounced back and forth between the Lincoln Community Center and Mankato West High School, and Abbott now works with Merely Players to find directors and casts.
Last year, Abbott decided to focus on only Minnesotan and Midwestern writers. Now, the festival has seven spots for Minnesotan writers and seven spots for Midwestern writers. The "Midwest" area is limited to seven states, and Abbott received about 200 plays for 2019's show. Last year's selections came from Illinois, Wisconsin, Ohio and, of course, Minnesota. One was even from Mankato.
Abbott is making yet another change for this year's festival: one-minute skits. This year's festival will include six 10-minute plays and then seven one-minute plays "just to shake things up a little," he said. (That means 14 one-minute plays and a dozen 10-minute plays throughout the two performances.)
While the festival was slow to take off, it's now a cherished part of the Mankato community. Abbott estimated that about 120-150 people attend the festival each night.
"The (people) who have gone to it, I see them back every year. They love it. It's just a fun time. It's very different. And that's what sets it apart. People in this town aren't afraid to try something different."
Mankato Playhouse
Mankato received its newest theatrical group in 2019, when husband-wife team David and Lori Holmes started the Mankato Playhouse through their new nonprofit organization, Davori Productions. Both of them had been heavily involved in theater before moving to Mankato, and then they were involved with Merely Players before deciding to start their own production company— but with a twist. All of the Mankato Playhouse's productions are dinner theaters.
"When we came out here, we saw a huge opportunity for another theater company," David Holmes said. "Everybody that we know drives to Chanhassen (for the Chanhassen Dinner Theater). We wanted to do Chanhassen-quality shows here in Mankato and have a dinner theater here in Mankato."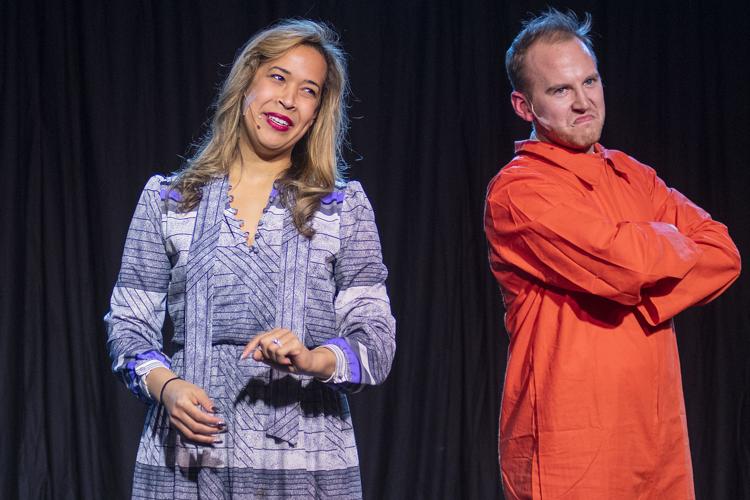 Mankato Playhouse's first season opened last fall and included "Jesus Christ Superstar," "Miracle on 34th Street" and "I Love You, You're Perfect, Now Change." Productions are staged at the Mankato Event Center in downtown Mankato Place. Catering for the meals come from local businesses such as Absolute Custom Catering. Audience members are able to choose between vegetarian, chicken and beef, and dinner is plated, not buffet, for an extra touch.
The Playhouse's first season was "very good," David Holmes said, with several sold-out performances and an average of 130 people in every audience.
"For only having three shows under our belt, we're in a pretty good position," he said. "One of the highlights is we aren't seeing the same people coming in to see our shows; we have different people coming to see our shows each time."
Another big part of the Playhouse is its workshops for area kids. These seven-week workshops are open to kids in sixth to 12th grade, with lessons on everything from dancing to singing to auditioning, as well as the chance to learn behind-the-scenes aspects of theater from industry experts. At the end of the workshop, they put on a full musical, such as "Guys and Dolls, Jr." in October 2019.
"Our Broadway Teen workshops have been a huge success," he said, adding that about 35 kids have participated in the two workshops so far. "The kids absolutely love being part of the theater."
Exit, stage retirement: Hustoles goes out on top
After 35 years behind the curtain at MSU, Paul Hustoles is retiring at the end of the 2019-2020 school year — leaving the Mankato theater scene a little bit dimmer.
Hustoles grew up in Michigan and said he knew since he was 5 years old that he wanted to be involved in theater but not as an actor.
"I always wanted to direct," he said, adding that he directed his first play in third grade.
Hustoles earned his bachelor's of fine arts degree in directing (a new program at the time) from Wayne State University in Michigan, then got a master's degree as well before moving on to Texas to finish his doctorate.
Hustoles came to MSU in 1985, attracted in part because of the area's strong love for theater. He said he planned to stay only three years, but he couldn't tear himself away.
"Within weeks, I knew Mankato was extraordinary," he said. "We love it here. I don't call it Mankato. I call it heaven."
During his time at MSU, Hustoles has increased the number of theater majors offered by the department, added more faculty members, rewritten the curriculum for the master of fine arts degree and worked to bring the university's dance program into the theater department (hence the name Department of Theatre and Dance). He also raised $3.8 million to construct the Andreas Theatre.
Hustoles looks at himself as more of a producer than a director, meaning he coordinates the university's entire season and lines up all the elements that come together onstage. He estimated he has produced at least 600 shows. But he's also directed at least 200 shows, too, including this year's "Shakespeare in Love" and "Newsies." Some of his favorite shows he's directed include "Ragtime" and "The Curious Incident of the Dog in the Nighttime."
Hustoles said he's been toying with retirement for a few years, especially because his wife has already retired and the two of them want to be able to travel together. MSU President Richard Davenport convinced him to stay and oversee the university's sesquicentennial celebration, so he decided to retire this year instead. By the time he retires, he'll have 35 years under his belt at MSU, surpassing his mentor Ted Paul's 30-year streak.
"I had this feeling that he was smiling down from heaven," he said.
Unfortunately, the nationwide COVID-19 outbreak meant that Hustoles had to cancel several of the shows he had planned for his last season, several of which he was going to direct himself. The end-of-the-season showstopper was planned to be "Mama Mia!" with Hustoles at the helm, but he said the department will still bring the show to Mankato — they'll just stage it in April 2021 instead. And in case anyone is worried, he'll still be directing.
"I'm going to miss (my students), but I'll be able to come back and direct them one last time."