Remembering LGBT Center's leader, Jessica Flatequal
---
Story by Diana Rojo-Garcia | Photos by Pat Christman
---
The living room in Maria Bevacqua's home fills with brilliant light, seemingly putting a spotlight on Sebastian, her 1-year-old Shih Tzu and 6-year- old cat, Jackson, as they rustled around on the ground.
Jackson, in fact, was a gift given to Bevacqua by her wife, Jessica Flatequal. Sebastian had also recently been adopted from BENCHS.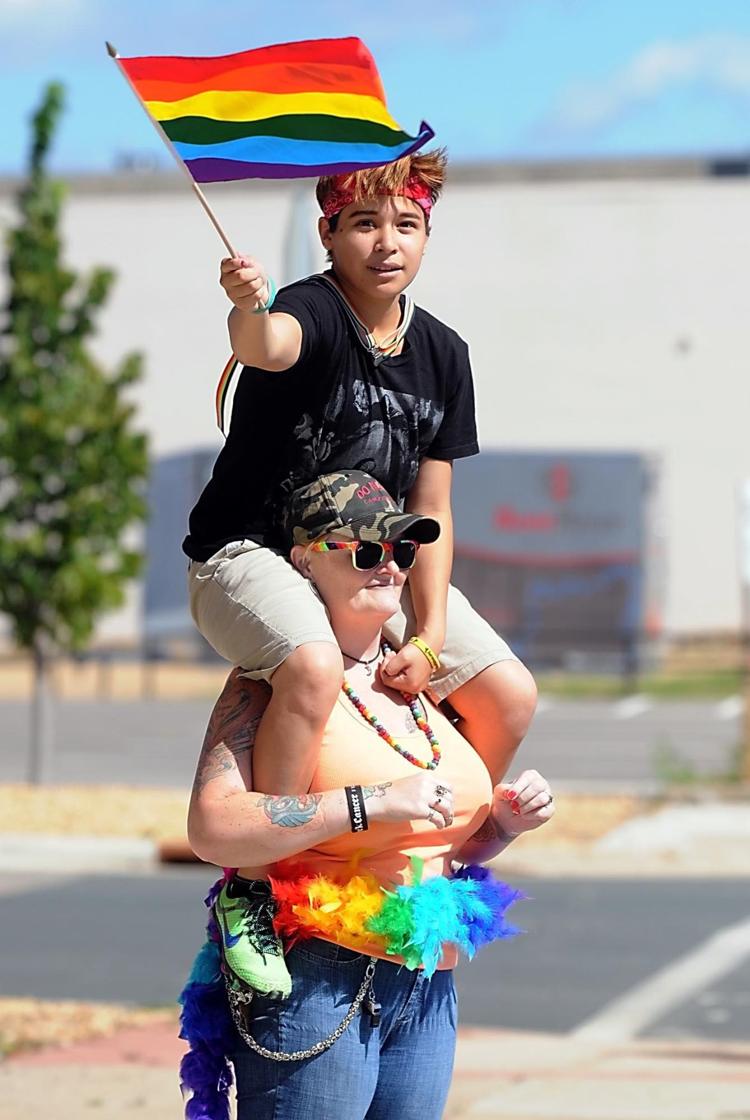 Among the energy of the rescued pets, the walls are adorned with Flatequal's art — as vibrant, distinct and powerful as Flatequal.
Flatequal had quick-whip intelligence, creativity and passion for social justice, Bevacqua said. She was a person with good instincts and a great troubleshooter in any aspect of her life — a natural and dynamic leader.
"Everyone has kind of a 'work persona,' a 'home persona' and maybe more personas than that. But Jessica? There was a really good integration of her various roles that she played," Bevacqua said. "And so she didn't really ever stop being one thing when she had to be another thing. That is probably something people could emulate."
Flatequal died of liver disease in early April at age 46. "A loss" is an understatement for the iconic leader in Mankato as a strong face for the LGBTQ community. A celebration of life took place a few days later at the Mankato Civic Center's Grand Hall, full with live music and food and great friends met along the way in her journey.
Though this will be the first year without Flatequal at the South Central Minnesota Pride festival in Mankato, her presence will not be unfelt. Her efforts to bring forth a safe space for the LGBTQ community, its allies and community members are apparent in the long-awaited festival.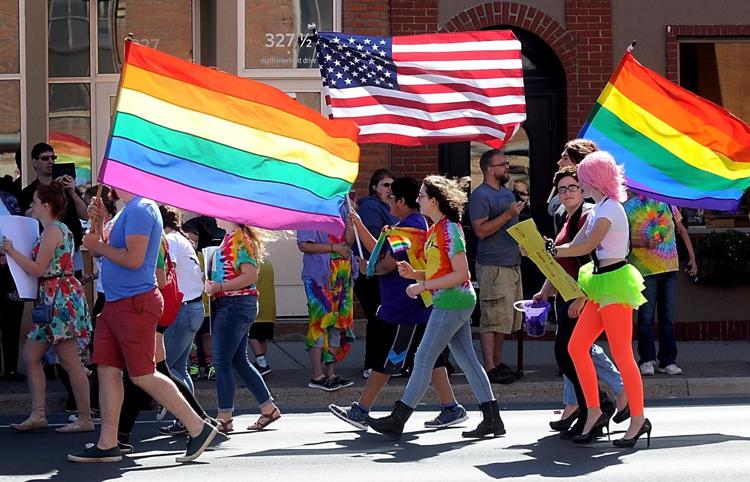 She and Bevacqua became involved with the organization in 2004, a few years after it had begun in 2002. The same year, Flatequal had been hired as the first director of the LGBTQ center at MSU.
In fewer than two decades, the festival grew from a small event with few vendors and attendees to a festival with more than 3,000 attendees and more than 60 vendors last year. Flatequal and Bevacqua, along with the other volunteers in the organization, took on the work to make the festival what it is now.
The first couple of years came with challenges, such as people who were afraid of being outed by going to the festival and pride didn't have the support from the entire community.
"It was a small but dedicated team who started the first festivals, and then it progressively got larger with more involvement of people on the committee with more and growing support within the community," Bevacqua said. "The university, churches, community organizations, schools and so on. And that took work. A real concerted effort that Jessica was proud to lead, and as a lifelong resident of Mankato, she was in a good position to know how to do that."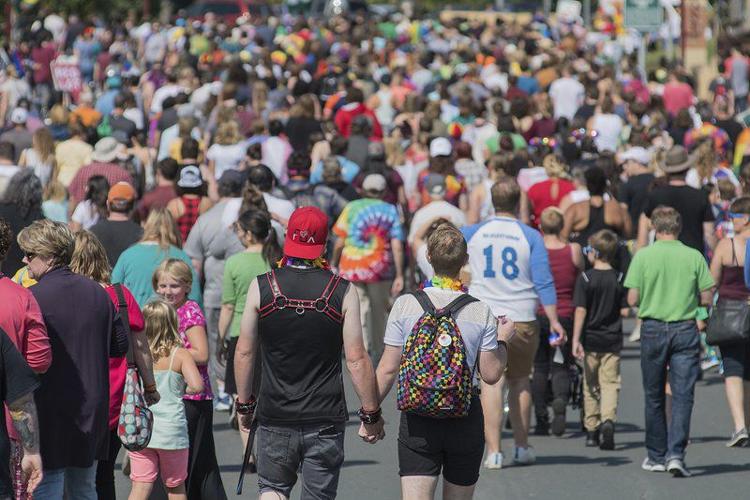 And what was a small dedicated group of volunteers in SCMN Pride grew into a bigger committee of roughly 10 people who volunteered their time and talents in between their day jobs, much like Flatequal, who was a consistent force in the organization.
"Jessica felt like that was never her option to kind of transition off of the committee," Bevacqua said. "Part of it was as kind of an offshoot of her work with the LGBT Center on campus. And part of it was the dedication to have a vibrant, visible and affirming pride festival in Mankato, her hometown. So she did that work."
A big part of her work was to incorporate the organization as a nonprofit with the state of Minnesota and with the IRS. The organization has never had an employee.
"The entire committee is volunteer. Jessica, the entire time that she served in the executive director role, did so as a volunteer in her spare time," Bevacqua said. "The board is entirely volunteer. You can't underestimate the importance of that because that's all the time that's valuable: time, energy, skills, brainpower, physical labor and so on."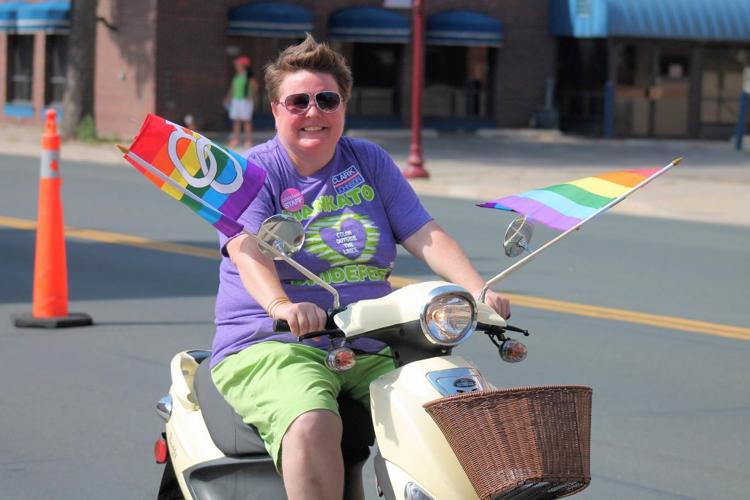 Similarly, the interim executive director of SCMN Pride, Jeni Kolstad, has been involved in the committee for a decade, working hand in hand with Flatequal. Kolstad mentioned they'd often call each other their "right-hand ladies."
Each year, the organization dedicates Pride to a person. This year Flatequal will be honored and celebrated. The T-shirt designs feature a bowtie, Flatequal's signature fashion choice, and also features the word "unite" written in her handwriting. The theme was in the works before Flatequal's death, but Kolstad believes that, now more than ever, it's time to unite and be strong.
"We're there for each other. We want to keep this thing we call Pride in Mankato moving forward. It's a huge loss, but we do need to keep it going for everybody that is looking for us for that support," Kolstad said.
Honoring Flatequal this year is a way to keep that Pride movement going, especially with the diligent and incessant work Flatequal put into her social work with Pride and the LGBT Center at MSU.
"We will be honoring her as someone who was super integral in getting this going," she said.
Kolstad said she hopes the future of Pride will be a vibrant one, even if that task seems difficult without the vivacious and fearless woman who led the charge for so many years.
"It's such a huge loss to lose someone like Jessica because she's very much a public figure. She's very inspiring," Kolstad said. "Jessica would want us to keep going."
When Kolstad had met with Flatequal in the hospital a few weeks before her death, Flatequal insisted on Pride continuing.
"She's just like, 'Jeni, you have to keep this thing going. There is no other option. We have to keep having Pride,'" Kolstad recalled.
As challenging as it can be with planning purposes and with high emotions within the committee and community, Kolstad believes they're doing the right thing by continuing with the festival and in Flatequal's honor. This year serves as a transitional period for the organization, but the festival, like every year, will continue, she said.
"She would be so mad if we stopped," Kolstad said. She hopes people will come to the festival to celebrate in Flatequal's spirit.
Because Pride is vital in the community. Where at once LGBT in Mankato might have not been received well because some saw the area as conservative, Flatequal didn't accept that as the end of the story.
"She was absolutely instrumental in bringing people together and provided firm, but gentle, education to invite everyone along a journey of compassion and understanding," Bevacqua said. "She invested her time, talent and energy in making it the kind of community that we can all benefit from now."
Flatequal's presence will be felt at Pride this year. Her work persists with her spirit with those who believed in her mission.
"We're going to have to hope that we have the gusto that it will take to continue in her absence, and doing this is important," Bevacqua said. "While sometimes Jessica seemed larger than life, this organization is determined to continue that work and be stronger and better for her influence."
---
Jim Chalgren, 1951-2000: Southern MN LGBT pioneer
While Southern Minnesota Pride's annual festival has become a bustling, positive event every September, there was a time when acceptance was still the first order of business. And one of the Mankato area's first warriors on that front was Jim Chalgren, the man who helped then-Mankato State University in 1977 open just the second center of its kind in the country focused on LGBT issues. It was the first in Minnesota.
Chalgren founded the center which, at that time, was known as the Alternative Lifestyles office. He transferred from Prescott College in Arizona to MSU where he earned his bachelor's degree in sociology. He then pursued and earned his master's in counseling and student personnel at MSU.
Chalgren also served as the director of the center until he was too sick to continue the position. In 2004, Jessica Flatequal was named as the director of the LGBT Center at MSU. In 2008, MSU named the LGBT Center "Jim Chalgren LGBT Resource Center" in honor of Chalgren.
Later, in 2013, the LGBT Issues Committee of the Interfaculty Organization created an annual award in remembrance of Chalgren. The award, known as the James Eric Chalgren Award for Outstanding Contributions to the Advancement of Lesbian, Gay, Bisexual and Transgender Issues, recognizes any MnSCU facutly member who has improved the lives of LGBT members in the school system.
He was a strong activist in the LGBT community, having co-founded The Aliveness Project in 1985, which is a program of those afflicted with HIV/AIDS. Chalgren also penned poems and articles to "The GLC Voice," "Gaze" and "Lavender Magazine." He also wrote "Small Town Gay: Mankato Poems."
On what would have been Chalgren's 68th birthday, the LGBT Center shared one of his poems via Facebook "Alternative Lifestyles."
man to man

woman to woman

men loving men

women loving women

roses

picnics

walks along the beach

to know oneself

to accept oneself

to affirm oneself

and others

hand in hand

heart to heart