When Katy Wortel thinks about her decades of environmental activism, which include six years as a Blue Earth County commissioner, she initially seems preoccupied with regrets. She knows many people came to dislike her.
Wortel was shocked to win the county board's District 3 seat in 2002. She ran as an ardent environmentalist who made a modest living farming pumpkins and gourds on Pohl Road, where she and her husband own 12 acres and have lived in a brown brick colonial home for about 40 years.
The county board was neglecting negative outcomes of agricultural land use to soil, water and air quality, she felt. She saw a lack of commitment to being responsible stewards of nature.
"I had some notoriety, good and bad, so I ran and I surprised myself and everyone else in town that I won," she said. "It was the most surprise election, I think, that we've ever had in this area."
Since she was in elementary school, Wortel, now 72, has been argumentative. An independent spirit led her to frequent spats with her parents. Fueled by her autonomy, she didn't fear unpopular stances.
Fittingly, she was alone in her first instance of volunteering to better the environment.
Before households had recycling bins, she said, people would bring glass, metal and plastic to the Hy-Vee store in downtown Mankato. A frequent recycler herself, Wortel noticed how cluttered the public bin became.
She decided one day to clean it up, sort items into their proper categories and remove any garbage. Her effort lasted a few years until the increased volume of recyclables made the work overly tedious.
Her public activism began in the 1980s when the company operating the local Wilmarth coal power plant proposed that it be converted to a waste-burning facility serving the Twin Cities.
She formed a coalition of concerned citizens who opposed it, arguing that the cities needed to do more to reduce and reuse waste before the Mankato plant agreed to burn it and risk pollution.
The effort didn't stop the conversion. To this day the Wilmarth plant, now operated by Xcel Energy, burns waste at temperatures which the county says are high enough to destroy or remove nearly all pollutants while producing electricity.
Despite the outcome, Wortel was emboldened. She came to serve on a Minnesota Pollution Control Agency task force monitoring garbage incinerators.
Throughout the 1990s and early 2000s she founded environmental advocacy groups such as Mankato Area Environmentalists and the Southcentral Minnesota Clean Energy Council, for which she is now a representative.
Wortel carried strong convictions into her tenure as a county commissioner, often struggling to make compromises that conflicted with her values, she said.
"I like to argue and take the sometimes unpopular position, which may, by the way, have been the right position," she said. "But I never was a person of much finesse."
Her independent mindset prevented some accomplishments that might have been viewed as "baby steps" toward substantive change, she said. But it also motivated her to keep pursuing larger goals.
The conflict she regrets most from her term is backlash against her aims to move the area toward more sustainable farming practices. Wortel is blunt: "I did a really poor job at that. I was a little farmer, and the big farmers don't really look at a little farmer as a farmer."
For that reason she doubts whether she was the right person to forge ahead against predominantly male farmers who abide by what she calls an "entrenched" agricultural system.
But the facts of the system, she says, remain grim. A trend toward large-scale monocropping of corn and soybeans has depleted soil health and eroded the market for smaller properties that seek to rotate crops and encourage plant diversity, Wortel said.
"Farmers are taking more out of the soil than they're putting back in," she said.
"And some of them, I think, probably understand that even," she added. "It's just that they're caught in this system. And so then it's back to: How can we change the whole system and get farmers uncaught in it? And that's where we maybe could have worked together and not had the butting of heads so much."
Wortel won reelection to the county board in 2004 and served until 2008, when conservative businessman Mark Piepho unseated her with a better-funded campaign.
After decades of striving to uproot or reform flawed systems, Wortel understands the plight of younger activists who protest the robust fossil fuel industry. That detrimental, human-caused climate change is now a widely accepted reality is evidence of their progress, she thinks.
Unless they're an "expert in human psychology," she said half-jokingly, any advocate may have to live with the contempt of those who resist change.
Wortel only now sees why the disparity between her own righteous cause and that of farmers — feeding their own and many other families — ended in discord. Differing root motivations led to hostile disagreements.
Making a difference, she has learned, seems inevitably to lead to making enemies.
"Sometimes when you're working for change it doesn't matter how good you are," Wortel said. "A change-maker is always given a rough time, really."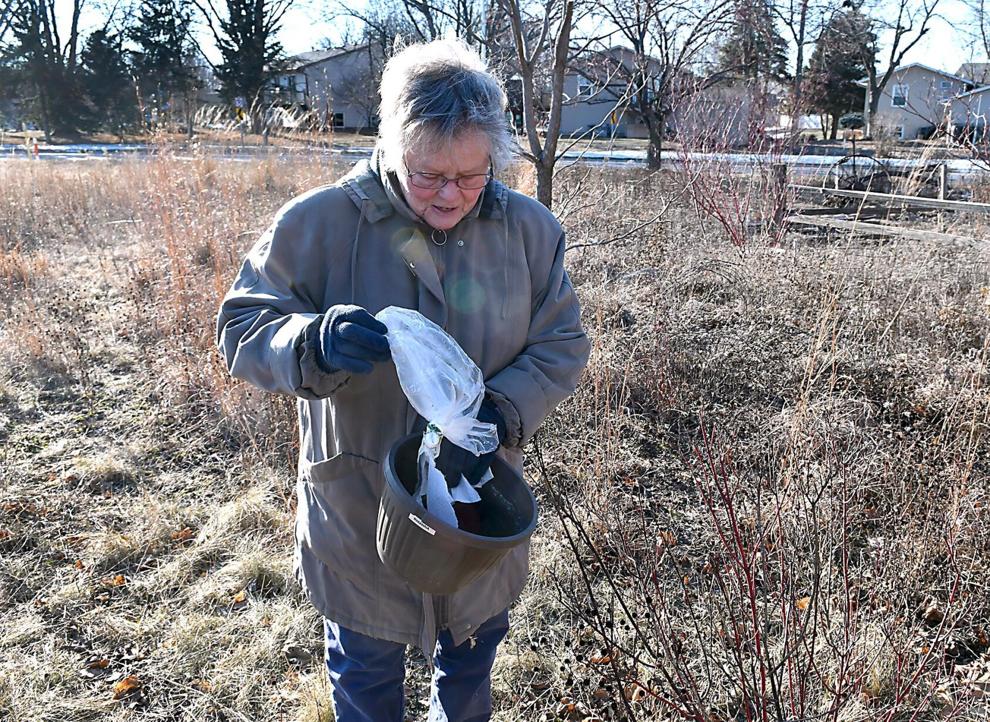 She sees room, however, for respect and empathy for one's ideological opponents. In her case she said it should have entailed more acknowledgment of farmers' stress about how to earn money.
As she recedes into retirement and works with a lower profile on environmental causes, Wortel sees that on the whole she made positive change.
And she hasn't lost faith in the power of small gestures that may improve the environment and bring more people to the work.
Her pandemic project was to clear common buckthorn, an invasive species, from the tract of woods behind her home. In her side yard she is growing a garden for pollinators and a swath of prairie plants. With the new year she hopes to create a pond in the place of her former pumpkin patch to reduce the surrounding area's water runoff into the Minnesota River.
She avidly composts her food waste. She bought an electric car, a Nissan Leaf. She continues to reduce waste and recycle; on a walk around her property, she stopped several times to pick up plastic bags strewn about by a previous day's strong winds.
Perhaps as important as fighting the well-funded forces that drive climate change, she knows, is combating the hopelessness induced by a realization that it's likely too late to avoid serious consequences.
Her advice is to take the next step, the one you know to be moral, even when future measures are unclear.
Of the planet's irreversible warming, she concedes, "We're all gonna maybe have broken spirits for a while. But we need to heal and keep going."
"It's not time to give up yet," she added with a forced cheer. She paused. "If ever."