MANKATO — A sleep-deprived Jenny Barnes surveyed a crowd of gleeful bikers Sunday morning near the Rapidan Dam.
Most of the nearby riders held in their hands one of the nearly 1,300 slices of pie responsible for the all-nighter she pulled ahead of the Mankato River Ramble.
"I took out the last (pies) about 5 in the morning on Saturday," Barnes said. "I stayed up all night. It's just — you just don't go to bed until they're all done."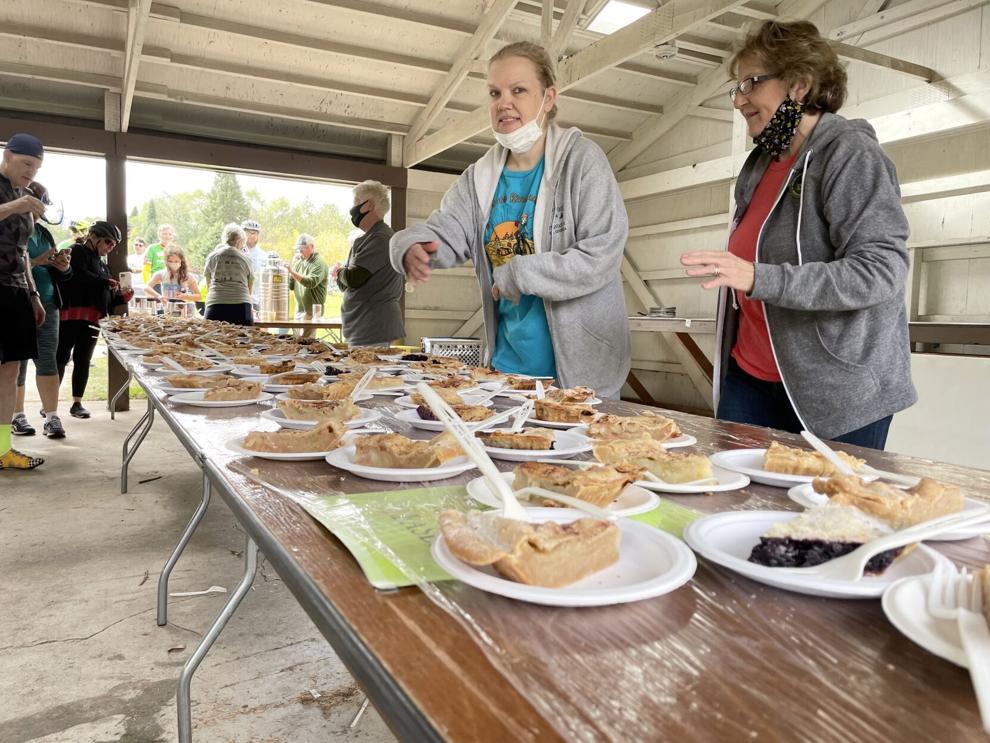 During the last few outings of the annual fall bicycle ride, Barnes has baked 150 pies for the event's 26-mile route. The baking process spans 18 hours, she said.
As the event's most popular route, the Pie Run inspired three women to make "We bike for pie" T-shirts and wear them Sunday. As they approached Barnes just before noon, however, the popularity had backfired: All the complementary pie was gone.
"All you gotta do is make it here, but there's no pie," said Annette Allen, a Mankato resident who made the shirts for the group's first Ramble. They chose to buy pies at the Dam Store, anyway.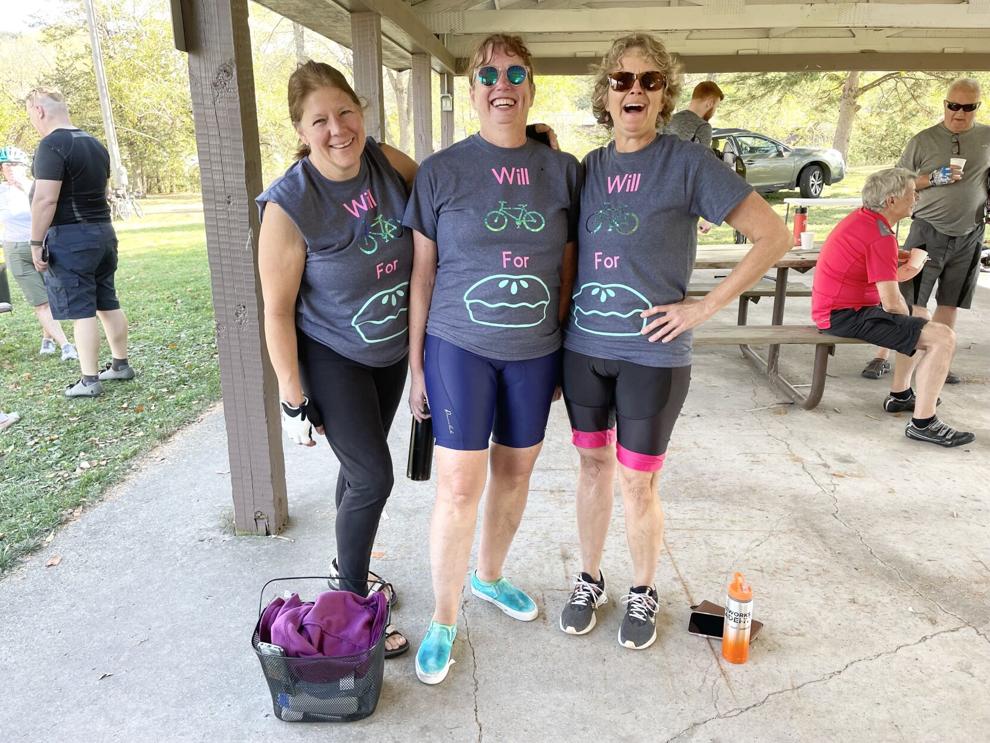 Nearly 2,000 bikers braved strong winds for a sunny day of riding in the Ramble, a fundraiser for the local Greater Mankato Bike and Walk Advocates.
Much of the character was stripped from last year's ride in attempts to adapt it to a virtual format, said Ted Duepner, a staffer with the event co-organizer Bicycle Alliance of Minnesota.
Rest stops near local waterfalls and the Rapidan Dam, which offer live music, snacks and grassy areas for stretching tight muscles, give the event a social aspect that can't be replicated in solo or small-group rides.
"I have not been here since day one, but this might have been one of our biggest ever," he said. "And I think that's because people are looking for that (social aspect). They missed out on that piece of it."
The Ramble draws riders from across the state, Midwest and even nation — one group present on Sunday came from Virginia Beach — to the rolling hills of the Minnesota River Valley.
Jou Xiong, her husband and their two children drove four hours from central Wisconsin for their first experience of the event. The couple's 7-year-old son, Theodore, sat on a blue bike nearby while Xiong talked, having made it to the halfway point of the Pie Run.
Their 3-year-old daughter, Cora, was along for the ride but not pedaling.
Jacob Stedman, Xiong's husband, was pedaling for his daughter as she trailed his bike in a small trailer. It's an extra 40 pounds he's fine with carting.
"We do a lot of bike rides together, and we just haul her with us, because she just can't — not quite the age to keep up with us yet," Xiong said.
Some people bring pets along, as well. One woman carried a little terrier in a small backpack, its shaggy head sticking out of the top between two zippers.
Sam and Greg Ingraham, of Minneapolis, didn't want to leave their rescued Cavalier King Charles Spaniel home alone for half the day while they rode their first Ramble. They got Charlie recently, and he still experiences separation anxiety.
So the couple bought the Tail Wagon, a trailer that hitched to the back of Greg's bike, and wheeled Charlie along. He looked out from the mesh covering with wide eyes Sunday as he waited to move.
"We're just sort of getting him used to being alone. We were gonna be gone for 7 to 8 hours. And also, I can get more of a workout," Greg said after riding 12 miles, mostly uphill, to Rapidan Dam with Charlie in a trailer behind him.
The Ramble serves as the convivial, accessible event it is now because of the efforts Mankato residents Lee Ganske, Tom Engstrom, Richard Keir and others made 11 years ago.
Keir, 85, said Mankato was "ground zero" for bikes when he moved here about 25 years ago. The Red Jacket Trail — a local staple at the center of the Ramble — was being built at the time despite backlash from landowners whose property was condemned to acquire the necessary land.
Keir remembers being floored when passing drivers cursed at him to get off the road while he biked along the side.
He thought of starting a bike shop when he arrived, but shouted expletives from car windows paired with rough, hilly roads made him question bicycling's potential in the area.
But aggrieved landowners were paid settlements, and the city has become increasingly biker-conscious since the 1990s, Keir said.
Before the inaugural event in 2010, Keir waited nervously, wondering whether anyone would show. About 1,200 did, shocking him and other organizers.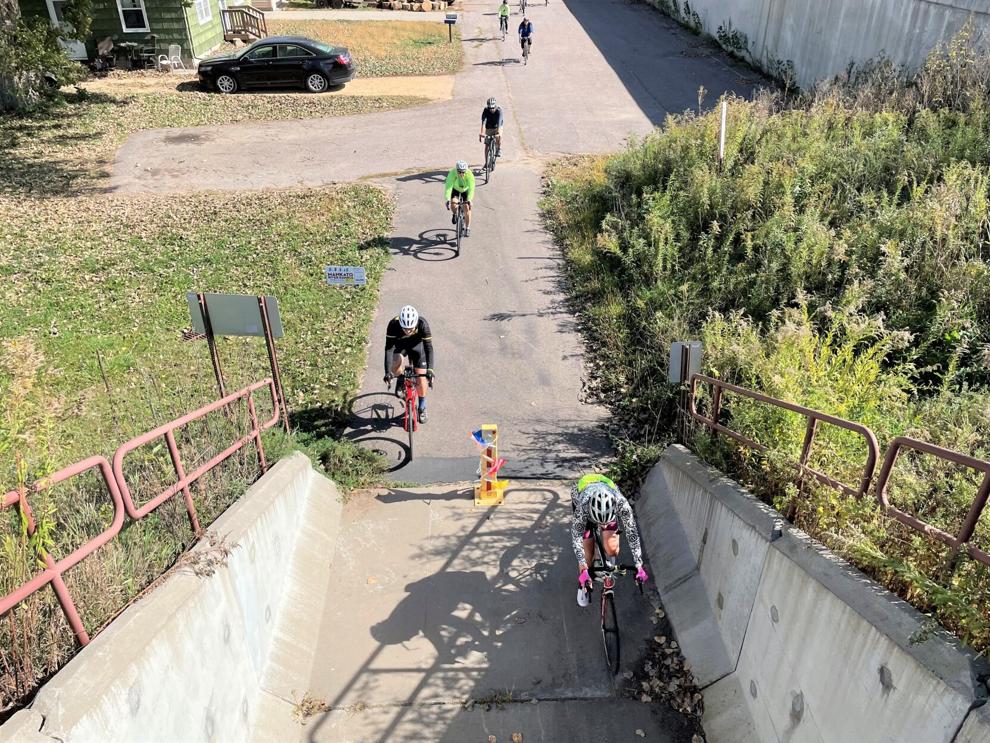 The goal since then has been to increase the proportion of local riders involved, said Ganske, who has lived in Mankato for more than two decades. About two-thirds of attendees each year are from outside of the Mankato area.
The aim is pursued in part by allowing children to ride free of charge, which Ganske said would not be possible without dozens of small and large local sponsors of the event, primarily River's Edge Hospital and Clinic and The Orthopaedic and Fracture Clinic.
Engstrom hopes showing younger generations a new way to exercise and commute serves two purposes: improving health and mitigating climate change.
Though persuading young children to travel and exercise by bike is easier than changing the minds of middle-aged people, he and Ganske said they want the fundraiser's effect to disrupt the habits of older participants.
"We do hope that, for some of these people, the act of getting the bike out of the garage, dusting it off and participating might help turn them into more everyday riders," said Ganske, a year-round bike commuter.
"I don't think we're interested in having an event where people get out their bike once a year to ride the River Ramble. We're interested in more biking generally — for recreation, but also for commuting and getting to school."