Despite the light rain Sunday afternoon, spectators at the 47th annual Mahkato Wacipi — held this weekend at Land of Memories Park in Mankato — were able to stay dry, protected by a new permanent steel arbor.
The five covered structures — four for general seating and one for the sound system and announcers — can seat about 500 people on the pow wow grounds.
Dave Brave Heart, the pow wow chairperson, said most pow wow grounds typically include an arbor and bleachers centered around a circle where the dancers and drummers perform.
"We were able to get the arbor installed here in September," Brave Heart said. "They did it in quick order and did a fantastic job. We have a good foundation and a solid structure."
Brave Heart said the pow wow committee discussed the idea a couple of years ago and came up with a proposal and a budget. The construction and installation was just over $200,000. Private donors, along with the City of Mankato, the Mankato Area Foundation, the Shakopee Mdewakanton Sioux Community and the Prairie Island Sioux Community all chipped in to fund the project.
The structures were completed about a week ago and took over a couple of weeks to build and install.
"It was a time crunch, but the company that built it knew that," Brave Heart said. "They had a good crew here and did it like clockwork."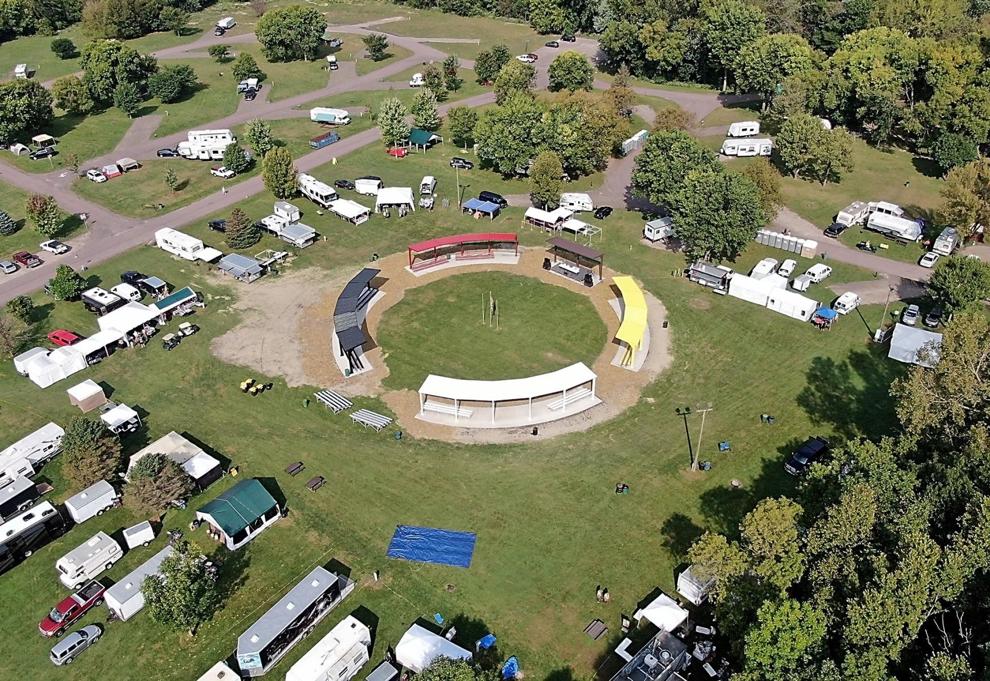 Organizers have a wish list of additions they hope to raise money for next year, when a formal dedication ceremony will take place that includes leveling out the ground with the structures, creating a dedication sign recognizing the donors and different entities that helped fund the arbor and coming up with a formal name for the arbor.
Pow wow Vice Chair Megan Schnitker said they hope to boost the sound system and add electrical wiring for lighting the arbor for next year's pow wow.
"We're going to be talking to a few individuals in town for raising funds for a permanent stage and permanent storage," Schnitker said. "We rent the sound system every year so we're looking for donations to get a permanent sound system and better engineered lighting."
Ginny Walters, of New Ulm, was tabling to raise awareness for the YWCA's racial justice programming. She said the new arbor was a pleasant surprise.
"It's been five years since I've been here," Walters said. "But it looks nice to have it in the middle; I like it."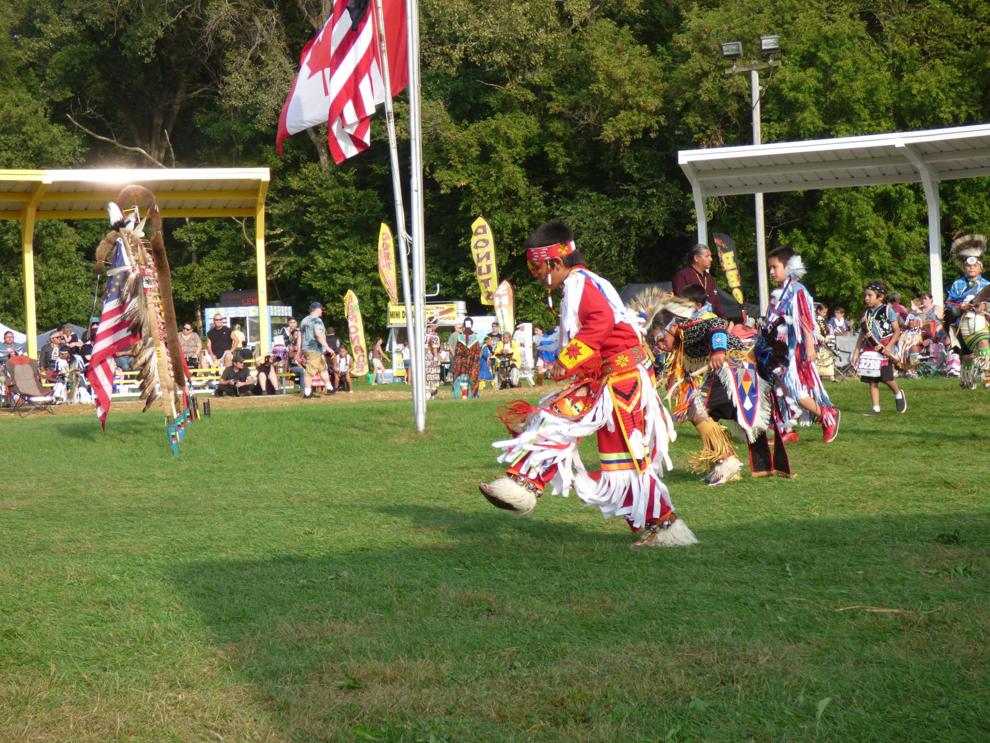 Diane Dobitz, of Mankato, who was working alongside Walters at the YWCA table, said she was happy the City of Mankato helped to fund the project. The City Council approved additional funding towards creating a more stable, concrete foundation.
"I was very grateful to know that the city of Mankato was going to help with that," Dobitz said. "But I also know the people did a great deal of fundraising on the side and helped put the bleachers together, so it was a cooperative effort."
The five sections of the arbor are painted in four colors; yellow, red, black and white. Those colors hold special significance for the Dakota community.
"It represents the four directions and a lot of different things for different tribal communities," Brave Heart said. "It's part of our way of life and our culture, and our traditions and ceremonies. With those specific colors — we make prayers throughout our everyday walk of life."
The Mahkato Wacipi has been an annual event since 1972, and has grown to include about 4,000 visitors, along with hundreds of dancers and about 20 drum groups who travel to Mankato from other areas in Minnesota and states throughout the Midwest.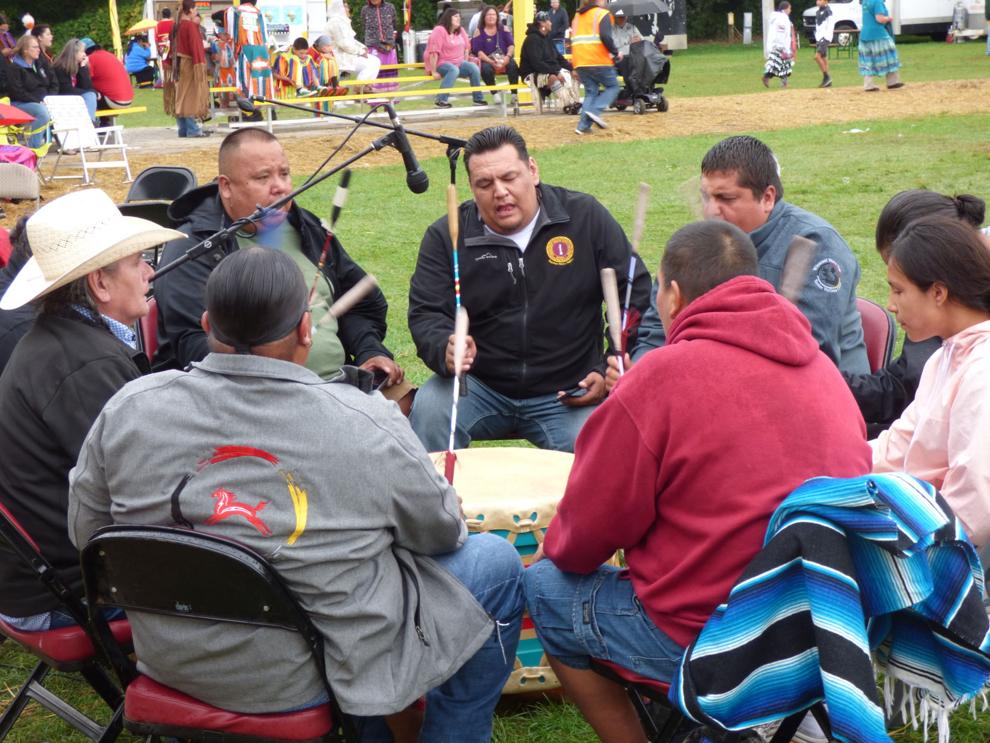 Alice DeYonge, the volunteer and service learning coordinator at the pow wow, said organizers wanted to construct a permanent arbor to honor the Dakota — the first people who settled in the area — and that's exactly the message MSU professor Elizabeth Sandell hopes her students will gain from their service-learning commitment as part of one of her classes.
"I knew there was going to be an arbor, but I didn't understand what that meant until I got here Thursday," Sandell said. "It's telling me that I am on native earth, that they were here before I was and this is a very special place for them."
Braveheart said many of the people he had spoken to this weekend felt a sense that something was different, beyond the actual arbor being there — a feeling of calmness. It's the most recent step towards reconciliation and healing following the largest mass execution in United States history, when 38 Dakota men were executed in Mankato in 1862.
Over a century and a half later, the arbor symbolizes how the pow wow's permanent home is Land of Memories Park — the land of the Dakota.
"This is a historic moment for us," Brave Heart said. "To have that arbor where we can join that circle. That's pretty powerful."