WATERVILLE — Other than fewer trees, there is little evidence of the destruction caused by a tornado that tore through Waterville's family-run Kamp Dels on Sakatah Lake last September. After months of cleaning up debris and repairing the buildings, the family-destination campground and all of its amenities are back up and running.
On September 21, 2018, the storm pulled up 450 trees from their roots, damaged buildings and threw campers and recreational vehicles into the air before crashing down on the ground far from where they once stood. Operations Manager Grant Pope said he and the staff knew the storm was going to be severe, but had no idea what they were in for when they emerged from shelter.
"It came in a big wave," Pope said. "You could feel the house start to shake. We were prepared but never in a million years did we expect the damage that was left behind."
Pope's brother, also an employee, said there were downed trees everywhere; trees on top of buildings and a mangled mess of campers and trailers.
The roof from the main office was gone. But it wasn't until they walked the sprawling campground that night to assess the damage that they realized how widespread the destruction was. Still recovering from the shock of what happened, they began the months-long process of cutting the wood and hauling it away.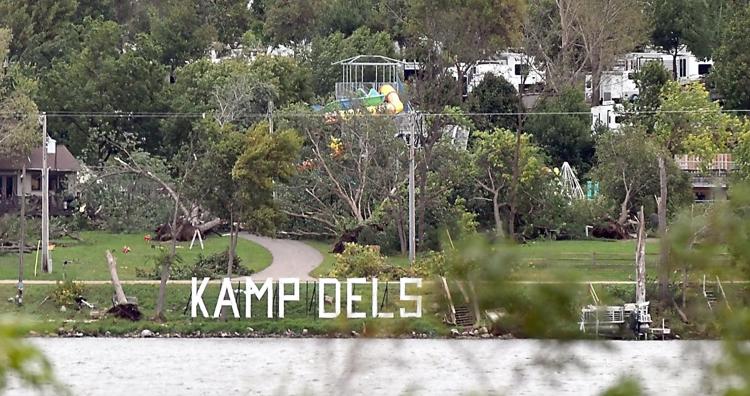 "It seemed for weeks the more you started to uncover everything and pull the trees away from the buildings, the more damage you found," Brandon Pope said. "We were picking up brush for months until the snow."
The uprooted trees left behind 10-foot-deep holes in the ground, damaging the power grid and the water lines. Without any power for the first week, people from the nearby Waterville brought them food and water, a power generator and chainsaws to help cut the wood and haul it out. Even guests and customers lent a helping hand, helping ease some of the burden of the nine full-time staff members, eight of who are family, as they put in 90-hour workweeks throughout the rest of the fall picking up the pieces.
"We were working before the sun came out until the sun came down; nonstop from the day after the storm until the snowfall," Grant Pope said. "All we did was cut trees, chip trees and grind stumps. Even this spring, our main focus was to put trees back in the ground."
While the goal had always been to have the place ready for Memorial Day Weekend, Grant Pope said there were times when the work was so overwhelming they questioned whether they would be able to open in time for the following season. When winter came, all they could do was wait it out.
"There were days that it was like, how is this going to happen? Are we going to be there?" Grant Pope said. "Especially once the snow fell; everything that needed to be done was outside and it was covered with snow and the ground was frozen. That was the hardest part; you're sitting inside and twiddling your thumbs knowing how much is needed to be done and there was nothing we could do."
By spring they resolved that regardless of whether they made the Memorial Day deadline to re-open, they would give it their best shot. When it came to fruition, customers were as surprised as staff.
For the past decade, Duane Kamp of Maple Grove has spent eight weekends every summer here with his family. He said all of the amenities and family friendly atmosphere; the water park, water sports and the petting zoo keep them coming back. They had been camping there just a week before the storm. Luckily, because it was off-season, there were very few people there, and the ones who were had gathered safely in one of six storm shelters on site to ride it out.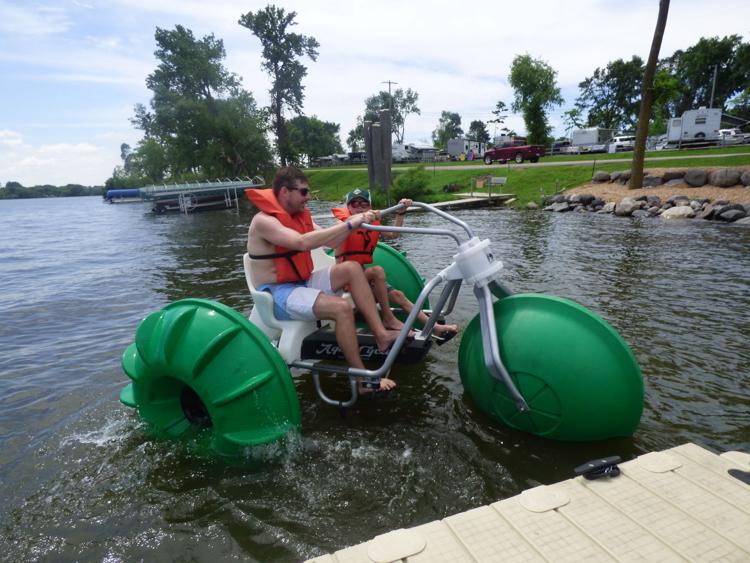 "We came here two weeks after and I was surprised by how much damage there was," Kamp said. "A lot of big stumps all over and trees missing; trailers on top of trailers."
What surprised him even more was the fact that they opened as early as they did, without a trace of what happened, save a little more wind, a bit less shade, and a clear view of the swimming pool that had previously been blocked by a thicket of mature trees.
"I'm glad I saw it then and now to come back in May and see it you would have never known," Kamp said. "It was a fantastic amount of work."
Campers returning here from previous years will notice some differences beside the scenery, including more water sports equipment, live bands and magicians, new docks and more handicap accessibility.
Looking back on the past nine months, Brandon Pope said they were humbled by the community support.
"It was a very warming, touching feeling that these people were willing to help us out," he said. "For what it's worth, next time I can pick up a chainsaw and help somebody else out."