MANKATO — With several days off from work, Sherri Nesseth opted to stay closer to home, visiting Minneopa State Park to avoid the crowds at the larger national parks, which have seen a dramatic surge in visits this year as the pandemic continues to wane.
"The increased activity of the national parks this summer is keeping me close to home and just enjoying the local area, because I figured it would be crazy," said Nesseth, of St. Paul. "I'm doing a staycation for about 10 days, so I thought I would hit up at least one or two state parks."
But she had plenty of company Tuesday driving through the bison range at the park as visitors in cars lined up to see the herd walking down the road right in front of them. With an annual pass on her vehicle, Nesseth is making it a mission to visit state parks beyond the Twin Cities Metro Area to the south and western parts of the state.
With June so far being a scorcher with high humidity, Monday and Tuesday's milder weather led to a spike in visits, said Minneopa Park Supervisor Craig Beckman.
"We have people who come from the Metro Area to spend time down here," Beckman said. "On Monday and Tuesday, when we didn't have the humidity, it was just like Saturday and Sunday. We're seeing more weekday camping use also."
As with 2020, Beckman said visits to Minneopa are on the rise compared to pre-pandemic numbers. Campgrounds are filling up fast — one customer recently called hoping to reserve an electric site for two nights in a row during the week. The earliest they had an opening for consecutive electric sites was September.
"What we've seen is much of the outdoor activities — whether it's fishing, canoeing, kayaking, hiking and camping — people have made a lot of purchases during the pandemic to get outside and do that kind of stuff when that was the only option," Beckman said.
Last year especially, Beckman said he and his staff spoke with campers here who had just bought their trailer or tent for the first time, and they were getting out and using it.
"I think those people are coming back now also — whether they're expanding out to other state parks or whether their returning to Minneopa — there were a lot of people exposed to outdoor activities and camping last year and I think they're continuing that trend," he said.
Carin Mootz, of Le Sueur, had initially suggested she and her daughter visit the Children's Museum of Southern Minnesota, but Tuesday's mild weather seemed like a perfect opportunity to commune with nature.
"I don't know if I saw a picture, but I remember saying, 'We should go to Minneopa and see the waterfall,'" she said. "Apparently we weren't the only ones."
She makes regular visits to Minnesota's state parks; Itasca, Great River Bluffs and Glacial Lakes state parks are some of her favorites. She also has a cabin near Sakatah Lake State Park near Waterville and hikes there regularly. The natural beauty, she said, is what keeps her coming back. It's also a chance for her grandchildren to commune with nature.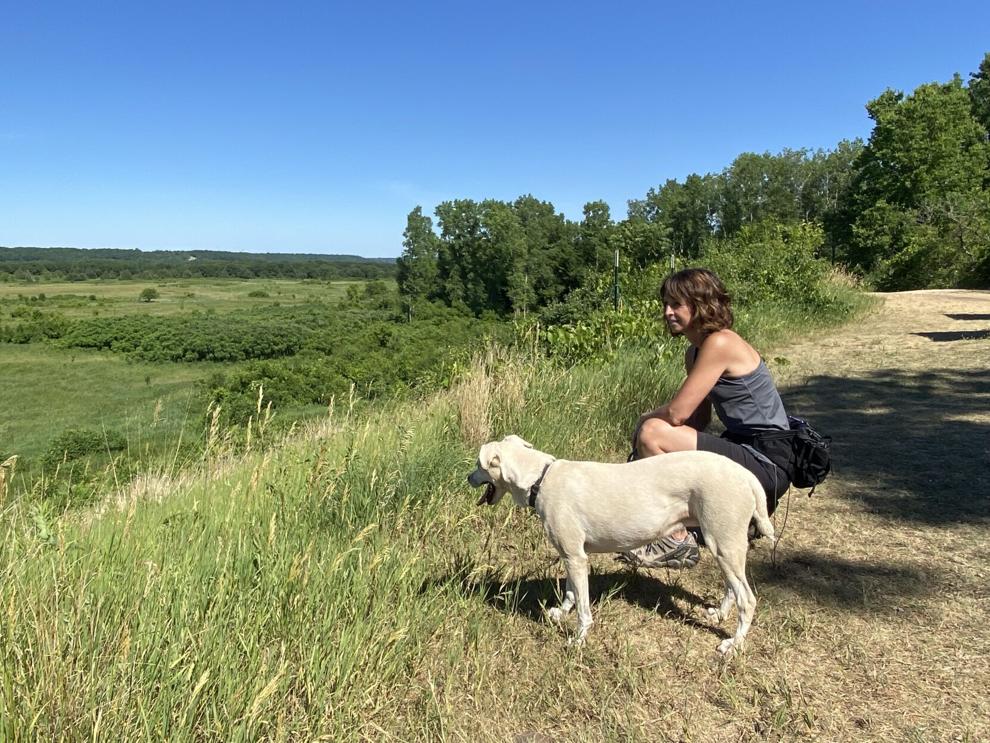 "We've been outside a lot," Mootz said. "I love to let the kids be outside learning about nature. You're out here looking for butterflies, birds and squirrels. It's different than going to the mall or even just a regular park, because then you're focusing on the playground equipment."
Across the state, Minnesota's state parks are reporting a continuing influx of visitors for a second year in a row, and Minneopa, the third oldest in the state, is one of the busiest, routinely in the top five parks for daily permit sales, as well as in the top 10 for annual passes, said Beckman.
But other less visited parks are also reporting more visitors than usual.
While not as busy as last year, Jaime Opsahl, park specialist at Sakatah Lake State Park, said it's still a pretty big increase from their usual numbers, adding that it's been pretty busy mid-week more often now than previous years.
"Just from my interactions, I've seen a lot of people around the Twin Cities coming down more," she said. "Most of them are just saying, 'We're trying to hit all the parks now.' So, I think they've kind of got the taste for the parks last year and are trying to continue with it."
As with Minneopa, campsites are filling up quickly, especially electric sites, she said. Many campers are booking out as far as 120 days — a change from year-in-advance bookings that were allowed until last year by the Minnesota Department of Natural Resources. The department made the policy change, which went into effect last July, in response to the renewed interest in Minnesota's state parks.
"On weekends we're full up for every single site, all 62 of them, and even our group camps," Opsahl said. "At least for electric sites, the weekends are booked out for the full 120 days. There's a couple Saturday nights open, but the electric sites are booked out all the way through August."
Campers and visitors have more options for activities too as state parks bring back equipment rentals and summer educational programming after a yearlong hiatus. Visitors to Sakatah Lake State Park can once again rent canoes and kayaks.
"We get a lot of calls for those and have seen pretty good use on the weekends," Opsahl said. "It's definitely a big draw."
Educational programming has also returned to Minneopa State Park after last year's hiatus. Beckman said the state parks have a calendar of events on their webpage, so visitors can see if that naturalist is having programs on a particular weekend at each park.
He said the unusually dry weather and lack of rain have led some visitors to express concern about water access for the bison at the park. For the past three weeks or so, the herd has been gathering close to the road where two watering holes have dried up. The bison, looking to cool off and keep the insects at bay, routinely roll around in the dust where the water used to be.
"We want to assure people that they have a year-round water source back by our corral that's even heated in the winter, so they always have access to fresh water available to them 24 hours a day out there."
On Thursday, Ben and Amy Busse decided to visit the bison range and check out the historic Seppman Mill overlooking the river valley. The St. James couple said they've been sticking closer to home since the pandemic, and Amy Busse suspects that will continue for some time to come.
"I think behaviors have changed significantly in the past year," she said. "We'll see if things start to trend back, but recreational vehicles and RV sales have just skyrocketed. It's because people aren't willing to travel as much out-of-state or on airlines — it's the safer route to stay local."