NORTH MANKATO — On first glance, the guitars, banjos and other stringed instruments at Ouren Instruments in North Mankato feel like any collection you would see at a typical music store. The difference? Owner Eric Ouren made and refurbished nearly all of them at his home studio in Kasota.
Ouren said his background in sculpture – he taught for years at Bethany Lutheran College – made for a good jumping off point to making instruments. He made his first about 15 years ago.
"I got into it because I wanted to make a fiddle," Ouren said. "It snowballed into making lumberjack instruments. The thing that resembles them the most is a cigar box guitar, using some kind of box and putting a neck and strings on it, whether it's a fiddle, guitar or banjo."
Lumberjack instruments got their name from workers at logging camps in places like Northern Minnesota who would use whatever materials were available to make a banjo or guitar to keep themselves entertained around the fire at night.
After he made a few lumberjack instruments, Ouren gradually started making open-back banjos, which produce a warmer sound as opposed to the sharp, metallic sounds of the bluegrass variety. He also began experimenting with dulcimers and mandolins, and soon enough, he began teaching the practice to his sculpture students at Bethany.
"I ended up having students making tin dulcimers and lumberjack fiddles as part of the sculpture class," he said.
A couple years ago, Ouren was laid off from Bethany due to budget cuts.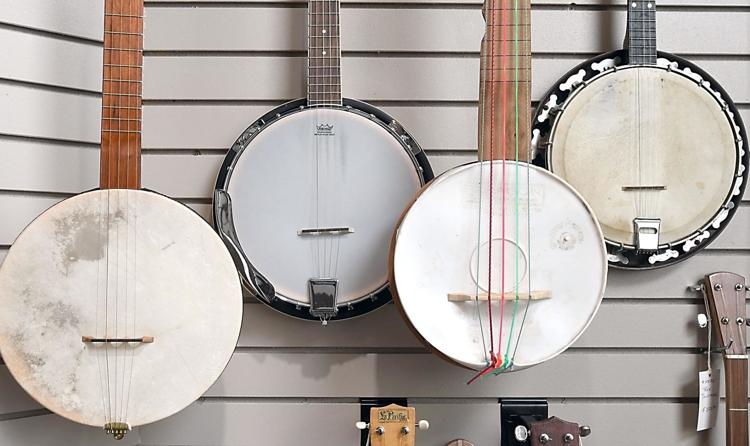 "I thought, 'What do I want to do for the rest of my life?'" he said.
He enrolled in a musical instrument repair and instruction program at Minnesota State College in Red Wing, one of the only a handful of programs like it in the country.
Armed with more in-depth knowledge not only on instrument making, but also repairing instruments, Ouren bought old guitars from thrift stores, antique shops and garage sales to refurbish. He now has a collection of about 100 in various states of repair. 
Ouren said he gravitates to the Chicago-built instruments — brands like Harmony, Stella and Silvertone guitars from the 60s and 70s. His oldest guitar – built 100 years ago – he bought from a couple in St. James.
"So many people grew up learning to play on some of these guitars," Ouren said. "If I can get them working again and into other people's hands, they can make music again for another 50 years."
Since he opened Ouren Instruments in September 2019, he's brought back to life a growing number of guitars and other instruments forgotten in attics and closets that seemingly ran their course.
"He restored a 1950's Czech mandolin I bought that was in rotten shape," said Daryl Hrdlicka, a customer from Westbrook who lived in Mankato for 15 years. "He repaired the neck and replaced the bridge and tail piece – now it's singing again. It's just amazing."
The store has developed a reputation for social gatherings. Ouren held a concert there with local musicians Dick Kimmel and Kelly Coyle in February, and he's hosted regular in-store jam sessions attracting Hrdlicka and other folk instrument enthusiasts from all over southern Minnesota.
"It's been a lot of fun and people really look forward to it," Ouren said. "It's all age and ability levels – we've had 14-year-olds all the way up to people in their 70s."
Along with the mandolin, Hrdlicka said Ouren refurbished his daughter's guitar and a couple other instruments that had become unplayable with age. Hrdlicka said Ouren inspired him to try making his own instruments.
"I love that he's that creative," Hrdlicka said. "I'm working on building my own cigar box guitar and a dulcimer. I've fixed a couple of my instruments, but I'm not as good as he is, so I'm learning from him."
Since Minnesota's stay-at-home order went into effect, Ouren said a lot more people are pulling out their old instruments from the closet and getting proactive about repairing them.
For the time being, he's repairing and selling instruments by appointment, but that hasn't stopped him from continuing to make his own, like the tin banjo with a goatskin head he unveiled on his Facebook page last week.
Whether it's repairs, refurbishing vintage guitars or making his own, Ouren said he loves the reaction when he places one of those instruments into a customer's hands.
"What I enjoy the most is the pleasure that it brings to people who get an instrument placed in their hands," Ouren said. "If I've repaired something they've had and not been able to play for a long time, there's an excitement of playing again. It's the response they have to being able to play that instrument."