Bill Bartz kept it simple at Pleasant Grove Pizza Farm.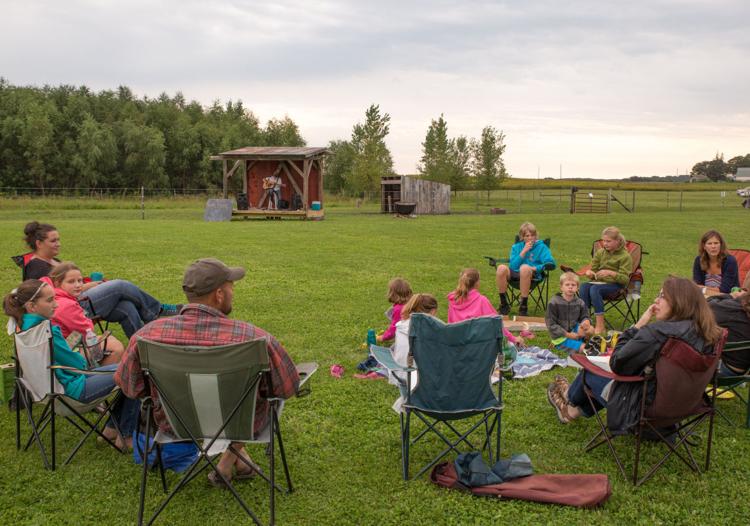 Six varieties of pizza come out of a piping-hot brick oven, are cut and served in a cardboard box. If they want them, customers bring plates, silverware, other food, beverages and a blanket or chair.
Bartz arranges for bands and other entertainment, like a fall festival, and people can sit in a field and listen while children run around and play games.
The pizza farm sits in the midst of land in a conservation program. Looking around, Bartz said, "It's a blank canvas out here."
He's started filling it in with this agritourism venture. Agritourism blends agriculture and tourism in which people can visit producers, see how something is raised or made and sometimes participate in the process.
Agritourism's attraction
For producers, it can be an additional source of revenue or the result of a passion and, for visitors, a step into nature or food production.
"When we're talking about finding things that are unique and authentic in southern Minnesota, we have found that agritourism has a significant interest for those who want to learn about a region," said John Edman, director of Explore Minnesota, the state's tourism marketing agency. "It's more than just looking at farms or at a particular geography. It's discovering things like wineries, vineyards, farmers markets and cheese factories."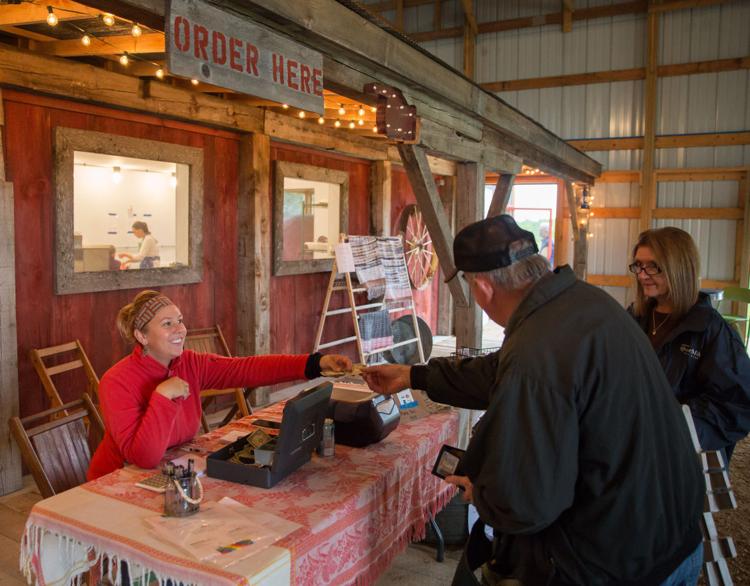 Bartz's agritourism venture began more than a year ago while he weighed what to do with his 55 acres on 160th Street northeast of Waseca. He floated the idea of a wedding venue, but girlfriend Emily Knudsen suggested a pizza farm instead.
Skeptical, he visited A to Z Produce and Bakery, a farm in Stockholm, Wisconsin, that runs a pizza night and uses its own vegetables and meat.
"They're awesome," he said. "They're very hippie, all-natural and source all of their own ingredients."
By the time they left, he said he "fell in love" with the concept. With lots of help from family and friends, Bartz added a lean-to to a pole barn for a brick oven they installed. He developed a dough recipe that cooks crispy and thin in the 600-degree Fahrenheit brick oven. And he perfected his own sauce.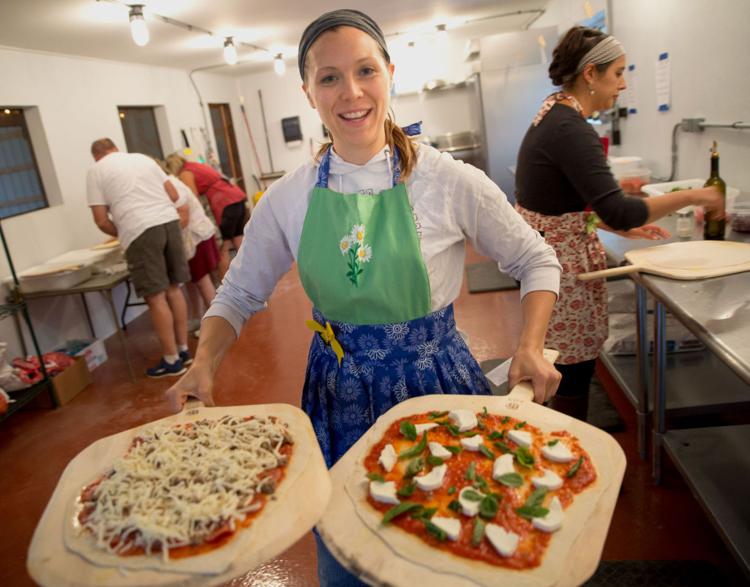 They've started with a small menu, including a seasonal pizza that has ingredients from other local farmers. Next year, Bartz plans to grow his own herbs and collect wild ramps and mushrooms, once he's certified to select safe ones, for a spring pizza. Bartz opened in August on Thursday night and Sundays. It will be open Sunday and Oct. 18 will wrap up its first season. He said he plans to open again in May.
Regional promoters believe agritourism could be the next branding attraction that both aids established businesses and encourages new entrepreneurs, similar to the way the Mankato Marathon has spawned seven other runs and fitness businesses.
"The first step is calling what we have as a tourism asset," said Anna Thill, president of Visit Mankato. "We've talked about marketing packages and tours."
Thill said Greater Mankato Growth wants to incorporate agritourism in its new Ag Business Epicenter project.
The local food and farm-to-table movements have continued to grow, strengthening consumers' interest in how their food is grown and raised. Agritourism attractions can give them a glimpse into agriculture at a time when most Americans are separated from food production and nature, experts said.
Passion for nature
Connecting families with nature is part of Montgomery Orchard's mission. Scott Wardell, who owns and runs the orchard with his wife, Barb, said that the book "Last Child in the Woods" by Richard Louv was an inspiration, as was Scott Wardell's family's hobby farm.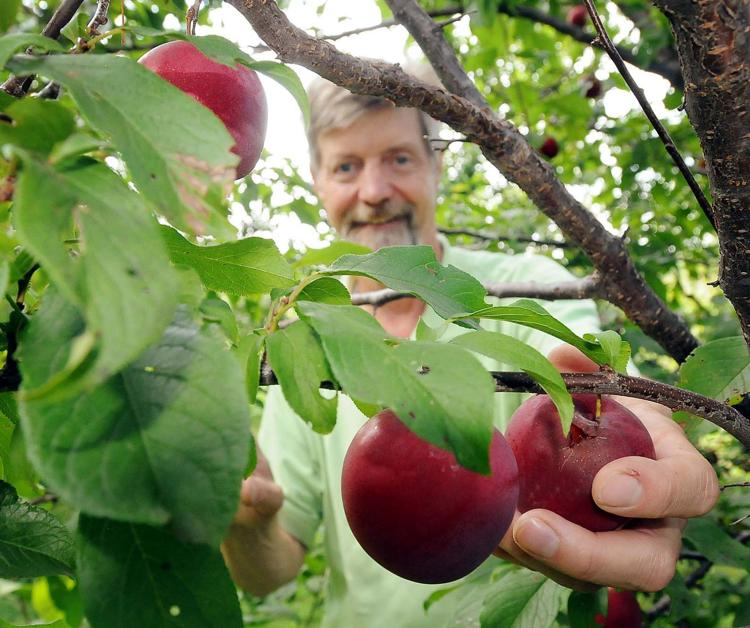 "There's a correlation of obesity and depression with the lack of outdoor play," Wardell said. "If a child shows up at 10 a.m. with the family, before they leave, you can see there's something different. Something's happened there."
The other piece of the orchard's mission is to provide fresh, local produce to consumers, both directly and through schools or grocery stores.
"We produce about three-quarters more apples than we need for visitors," Wardell said. "But we can't do one without the other."
This year, the Wardells opened Cider Haus, where they are selling hard cider under the name Montgomery Harvest made from blemished apples. The cider and the orchard's plum wine add another dimension and attract perhaps a different audience than pick-your-own apples would alone.
The orchard has several activities to broaden the experience, too, including a corn maze with nature trivia and a hayride along a nature trail. Kids roll down a hill by the orchard's retail cabin, families eat picnics at shaded picnic tables or listen to local bands.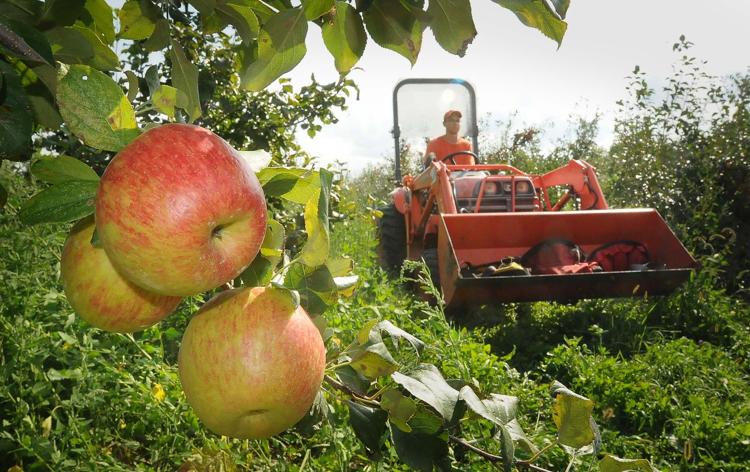 The orchard, on Highway 99 south of Montgomery, has two varieties developed by the University of Minnesota that are hot sellers. Honeycrisp and SweeTango, and its child with Zestar!, have more juice and less fiber than most apples. While the Wardells have no plans to expand, they "have to have some capacity for a new variety" if another excellent variety is developed, Wardell said.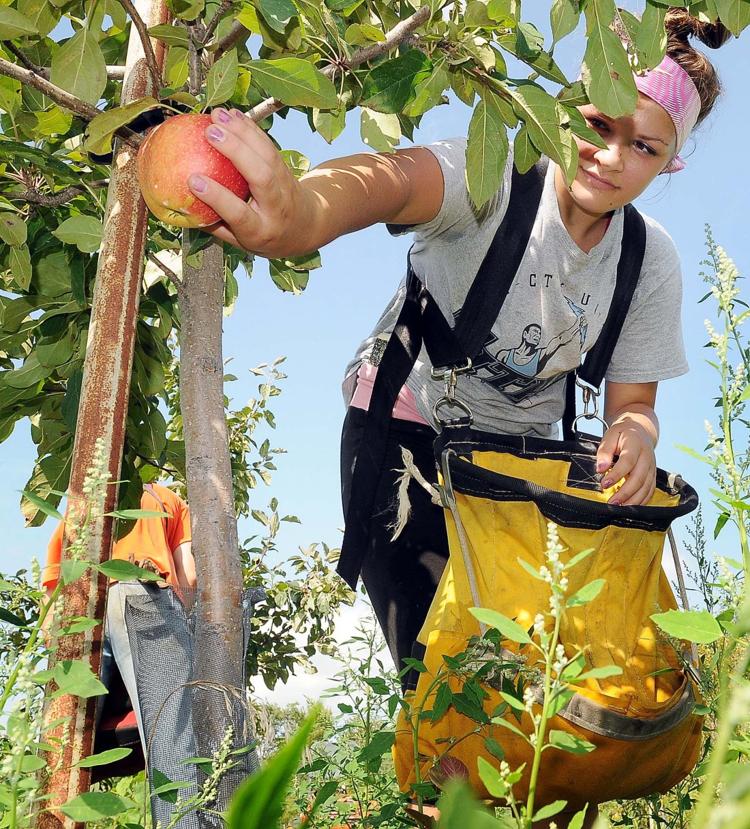 Wardell said running an orchard is not for the faint of heart. The profit margin is low and the labor wraps nearly year-round.
"People romanticize the vision of an apple orchard," Barb Wardell said. "We still love it and it's Scott's passion."
Passion for wine
Next Chapter Winery's Timothy and Therese Tulloch had wanted to make wine since they were engaged in 1983 in Africa. He was a coffee exporter and she, a Minnesota native, was with the Peace Corps in Congo.
"We didn't know you couldn't grow grapes here," he said of returning to Minnesota.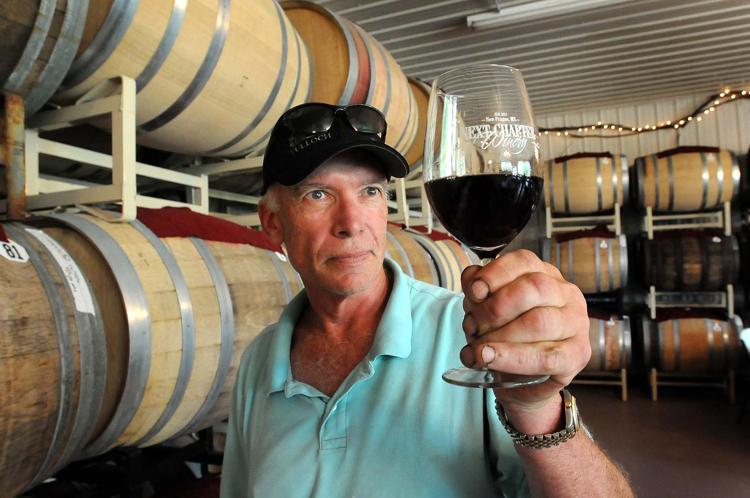 They started a still-thriving specialty coffee business in 1986 and a bookstore and coffee shop called Next Chapter in 1997. One of their coffee blends was blandly called Italian Roast, which Tulloch said they changed to Velvet Hammer and "it flew off the shelf." That influenced the name for their wine, Velvet Vines.
After the University of Minnesota developed cold hardy varieties that survived the climate's winters, Tulloch put his name on a list to reserve vines.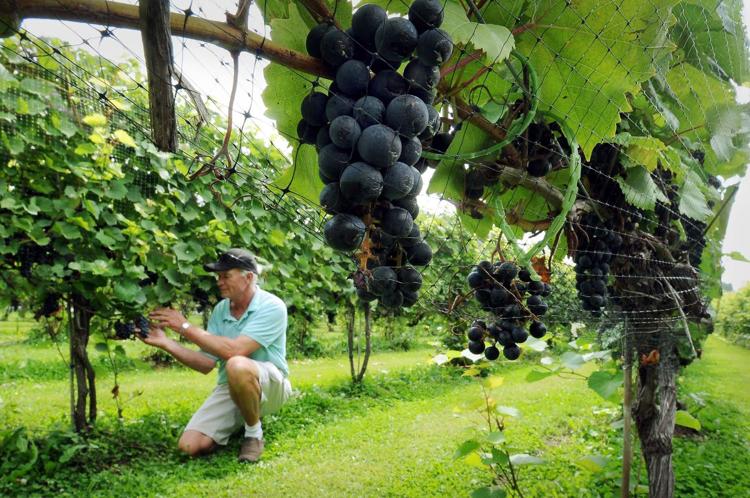 Tulloch planted 3,700 of the new cold hardy grape varieties in 2007. When the first harvest approached, Tulloch said he knew he needed lots of manpower and that's where agritourism came in.
"Our son said, 'Call Groupon and see if they can offer an experience for harvest,'" Tulloch said. "I said, 'Call who?' and then I did and they said they had never done anything like it before."
But they posted 1,200 slots and "it sold out in three hours and drew people from the Cities, Mankato and all over," he said.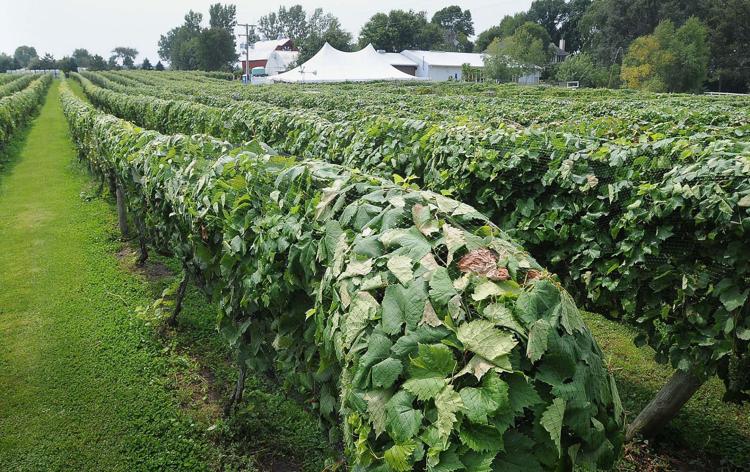 Back then, they sold the grapes and grape juice to other wineries. But the repeat visitors who helped with the harvest wanted to see the finished fruit of their harvest.
"We opened the winery because of the success of agritourism," Tulloch said.
The winery opened in 2014 off of Highway 13 about halfway between Montgomery and New Prague and continues to offer experiences throughout the grape-growing process.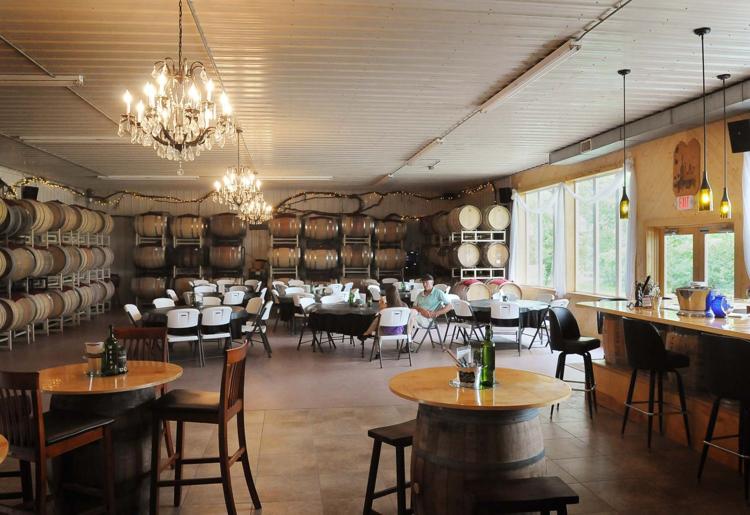 In April and May, visitors prune vines. After the grapes form, Tulloch said he's had takers on tucking leaves away from grapes to expose the fruit to the ripening sun. And in September and October, groups come in to harvest bunches of the small green and red grapes and stomp on them.
"Part of agritourism is parties, corporate events, fundraisers, events that get people to come out of their towns to the farm," Tulloch said. "As your quality of life in terms of basic necessities is fulfilled, people look to experiences to bring enjoyment."
Besides the vine-caring events, Next Chapter hosts many other events. The winery books weddings in a tent right by the winery building and a water feature, with the vines as a backdrop.
"Everyone enjoys going to a wedding ceremony with a glass of wine in their hand," Tulloch said.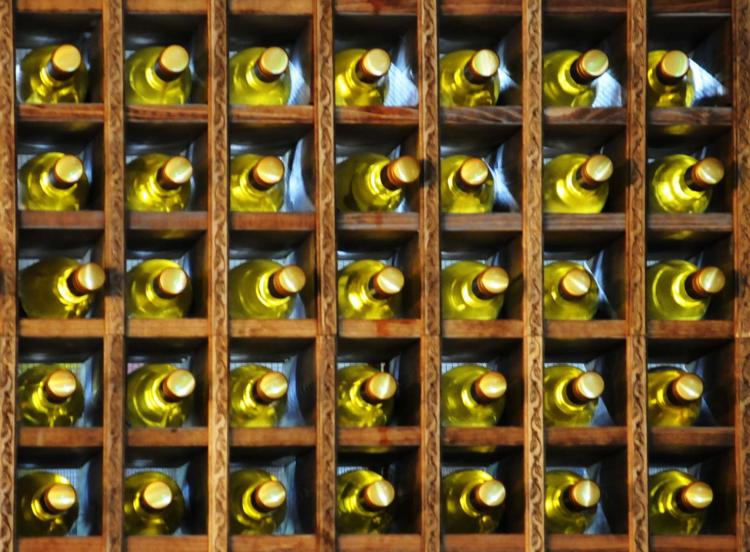 Groups come in for "paint and sip" events. And in winter, the winery hosts barrel dinners, in which 12 barrels of wine are opened to taste the difference between different ages and barrels. Next Chapter's red wines are aged in French oak barrels for two years and acacia — an African wood — barrels for six months, while the whites spend a year in Minnesota oak barrels.
Agritourism efforts
To connect with the public, agritourism businesses and local producers primarily use Minnesota Grown, a publication of the state Department of Agriculture.
Paul Hugunin, who coordinates Minnesota Grown and its 1,000-plus listings, said that the biggest growth in agritourism has been established businesses adding an agritourism element, like farmers markets adding corn mazes and cutouts for pictures to make a trip to the market an agricultural experience.
That's because local producers aren't necessarily competing with grocery stores for families' food budgets, but with movie theaters and amusement parks for entertainment dollars.
"It's difficult to find family activities that are affordable and fun and parents can feel good about doing," he said. "When you go take kids on a tour on a buffalo farm, that's a pretty cool day."
Producers' associations and individual collaborations also help draw people. For example, Minnesota Grape Growers Association produces a wine tasting passport that costs $25 for 10 tastings at participating wineries around the state, including Next Chapter and other Mankato-area wineries.
The Minnesota Farm Winery Association has helped wineries assemble wine trails around the state. Although there isn't one in the Mankato region yet, there is the Minnesota River Wine, Beer and History Trail that connects New Ulm and Mankato attractions.
But for all of these advertising and collaborative efforts, the most important attractive force is word of mouth.
"The people behind the tasting bar are the most important," Tulloch said. "They create an experience around the winery, barrel and vineyard."