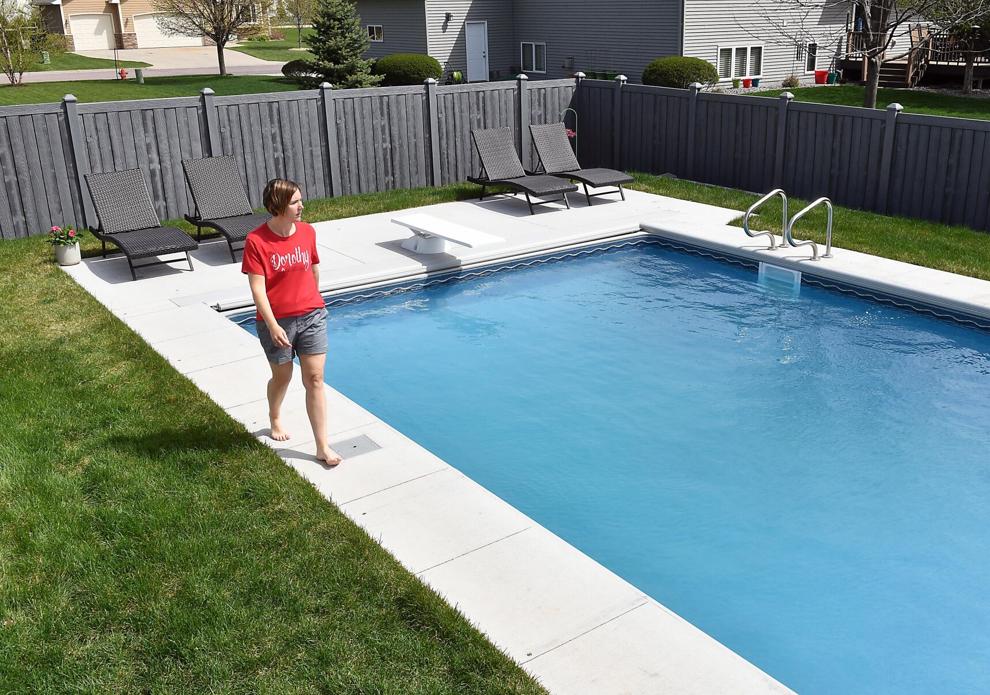 NORTH MANKATO — It's not much of an exaggeration to say that Nicki and Justin Sandmann planned their dream house around their dream pool.
"It's something my husband and I talked about forever," Nicki said. "We have saved for decades waiting to put a pool in."
All of the Sandmanns love to swim, including their two children Brynn and Asher. Some of Nicki's happiest childhood memories are centered on Mother's Day trips to a family cabin and sun-soaked weekends spent paddling in the nearby lake.
When the Sandmanns found the perfect lot and began construction on their new home, they kept their outdoor living preferences in mind. They added a covered back porch and an outdoor bathroom long before the backyard was anything but grass seed. In October of 2019, the same month they closed on their house, they put a deposit on an inground swimming pool.
"It was one of the greatest things we've ever done – we'd do it again in a heartbeat," Nicki said. Once the pool was finished in the early summer of 2020, the Sandmanns spent whole days outside enjoying their new aquatic space. The pool became the de facto hangout for the kids' friends, and the Sandmanns were pleasantly surprised to find how much their family time had increased.
"We have crazy games that we come up with," said Nicki. "We have family races and relays; we try to hide something in the pool and the others have to go find it. We come up with anything possible to keep us all entertained."
To build their inground pool, Nicki and Justin chose Sawatzky Pools, Inc., a North Mankato-based pool and spa contractor founded in 1971. Taber Sawatzky, the manager and son of owner Richard Sawatzky, said that the employees' years of experience have taught them how to best help their customers choose the pool that's right for them, down to the very last detail.
"We like to give people all the information they need to do some research on their own, and we can answer their questions and be that resource," he said.
The first resource that Sawatzky Pools offers is a yard survey. Crew members will visit customers' yards to take measurements and help their clients envision the perfect position for their above ground or inground pool.
"We lay out what size pool will fit in their yard, with the different orientations," Taber said. "We talk a lot about the things that are important to them so that they get the pool they want."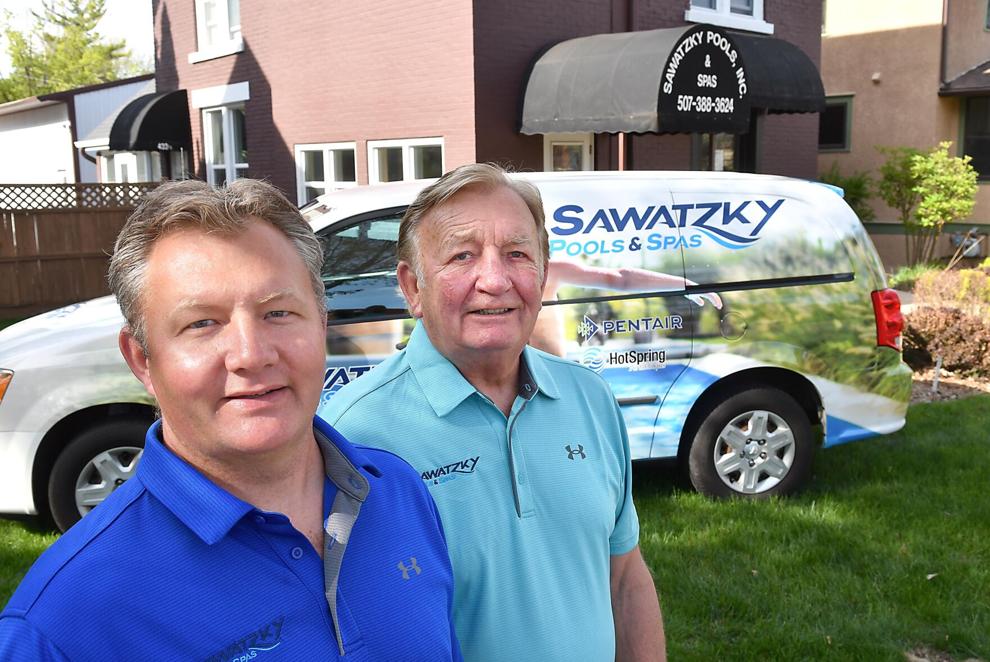 Nicki said that Sawatzky Pools' initial yard survey was very helpful.
"They really helped us work on putting things in correctly and moving (the pool) so that it would be in line with our windows and covered deck," she said. "Richard really has a great eye."
All the details
Once a customer has determined the size and shape of their pool, customization options are almost endless. Sawatzky Pools handles all of the construction details from pouring the concrete to installing fun features like custom lighting. The Sandmanns chose LED lights that can be programmed to change color. For Independence Day in 2020, they set their lights to glow red, white, and blue.
That's not all that Sawatzky Pools can do. During consultations, their designers determine what kind of use their customers want to get from their pool. Do they have young kids or grandkids? Maybe they want a proportionally larger shallow end like the Sandmanns. Are they star swimmers? They might like a diving board in the deep end. Do they want the added shade of a poolside sun deck? What type of aesthetics do they prefer? Do they enjoy luxurious-feeling add-ins that enhance their swimming and sunbathing experience?
"We've done some pools with waterfalls and lit laminar streams," said Taber. "I really enjoy the variety of what we do. (The pools) are all unique in their own way."
A less quirky but still important consideration is the water filtration system. Taber said that Sawatzky Pools' goal is sparkling clean water in each of their customers' pools. They offer a range of options including standard chlorine tablets and hotel pool-style salt systems that generate liquid chlorine.
"It's a lower-maintenance system because the equipment is constantly adding the sanitizer, whereas with the chlorine (tablets) system you have to add the sanitizer," Taber said.
In the past few years, the UV Ozone sanitizing system has become increasingly popular with Sawatzky customers. It combines UV light with ozone gas in an advanced oxidation process, which then kills bacteria in the water.
"We still have to supplement with chlorine, but it takes the load off of the chlorine significantly," said Taber.
From breaking ground to sanitization and maintenance visits, Sawatzky Pools' aim is a finished product that families like the Sandmanns can enjoy for years.
"Every day, we swim all afternoon, we have supper, and then we're right back out there till 8:30 or 9 at night," said Nicki. "We just have good family memories that we're building already."