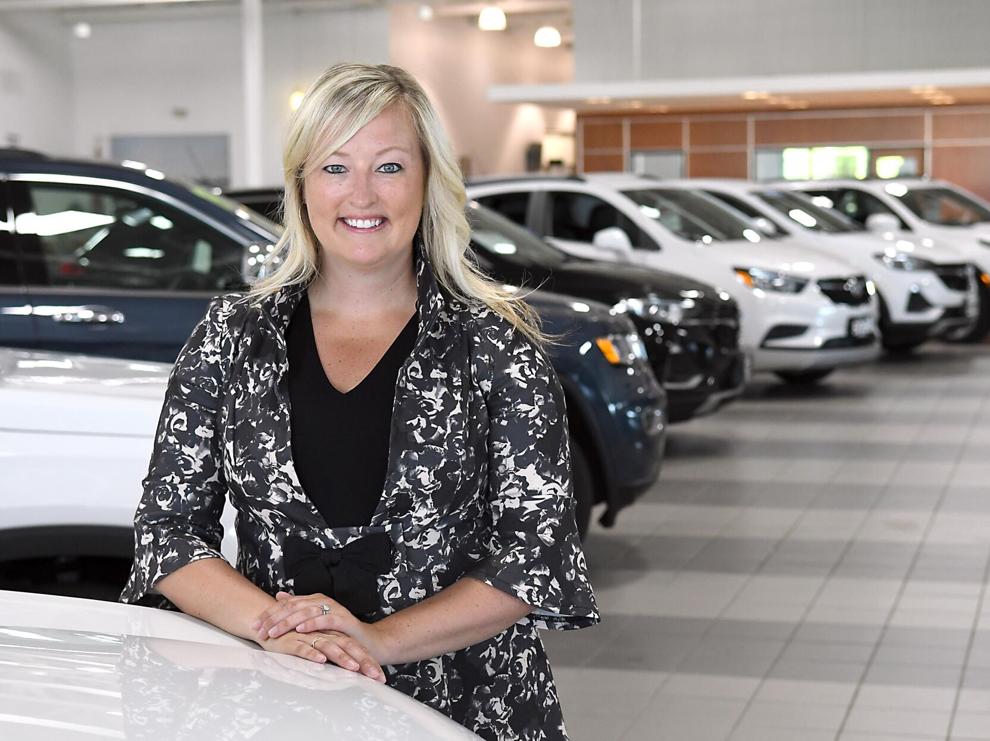 After a tumultuous 2020, local auto dealers have growing optimism, but the domino effect of the pandemic continues to be felt with shortages of inventory and parts, plus slower delivery of vehicles because of a driver shortage.
"March was much, much better than last March," said Melissa Bradley, an owner and general manager of Snell Motors in Mankato.
Indeed, city tax collections show 1,008 vehicles were sold in Mankato in March 2021, compared to 638 last March when the pandemic first hit. The sale of cars, trucks and SUVs fell 8% in Mankato in 2020, but sales grew steadily late last year and into this year.
Ted Evans, general manager of Mankato Ford, said business keeps building but other issues persist.
"Each month has looked better. The only obvious issue now is the lack of new inventory. It just keeps dwindling down and down."
Scott Lambert, president of the Minnesota Automobile Dealers Association, said sales remained down statewide into early this spring.
"It's been down all over. We've been chasing last year's numbers," Lambert said.
"GM was recovering from a strike and then the pandemic hit." But a shortage of vehicles and parts hit all automakers, he said. "All the lines building vehicles blinked on and off."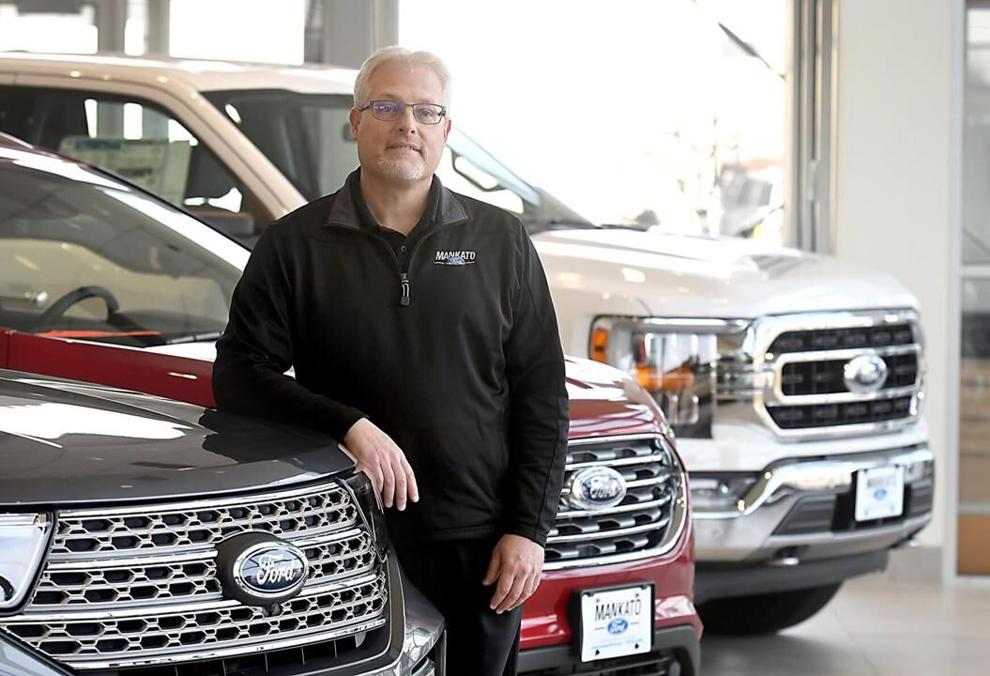 Still, good signs are in sight for the industry nationwide. U.S. auto sales roared in May compared with a year earlier, when the coronavirus pandemic was in full swing, giving every indication Americans are shaking off the global health crisis, according to Automotive News.
Despite inventory problems, several automakers hit monthly sales records in May. For the seven automakers reporting results for May, sales rose 37% from May 2020. In addition, five of those automakers even beat numbers from May 2019 — a sign that demand is back.
Last year's sales slowdown and the current backlog in inventory has also hit the used vehicle market as fewer people have been trading in vehicles for new ones.
Microchip shortage
A worldwide shortage of microchips has slowed the production of everything from kitchen ranges to pickups and SUVs.
Bradley said that while demand is growing for vehicles, their sales are still down about 7% this year compared to last year. "Part of that is we just don't have the inventory. Every model is in short supply. They all take that chip."
While chip makers continue to ramp up production, Evans anticipates the next issue he'll face. "Once we get more microchips, the next thing will be trouble transporting vehicles because there's a shortage of (semi truck) drivers."
While Evans is frustrated he doesn't have the inventory he could sell, he knows everyone selling things with a microchip in them are facing the same problem.
"We're remodeling our kitchen and we ordered new appliances three weeks ago, and the stove we will maybe see in October. It's the same for everyone," Evans said.
"When everything in the world shuts down, it doesn't just fire back up quickly. We just have to be patient," he said.
Bradley said Snell is starting to see a little more inventory come in and she is optimistic the situation is improving. "With our discussions with General Motors, it looks like things should get back-to-normal levels before long."
While they still have some inventory on hand, they have up to 100 vehicles customers have ordered that are either waiting to be delivered or haven't been built yet. "We can tell people pretty close to when they will come in."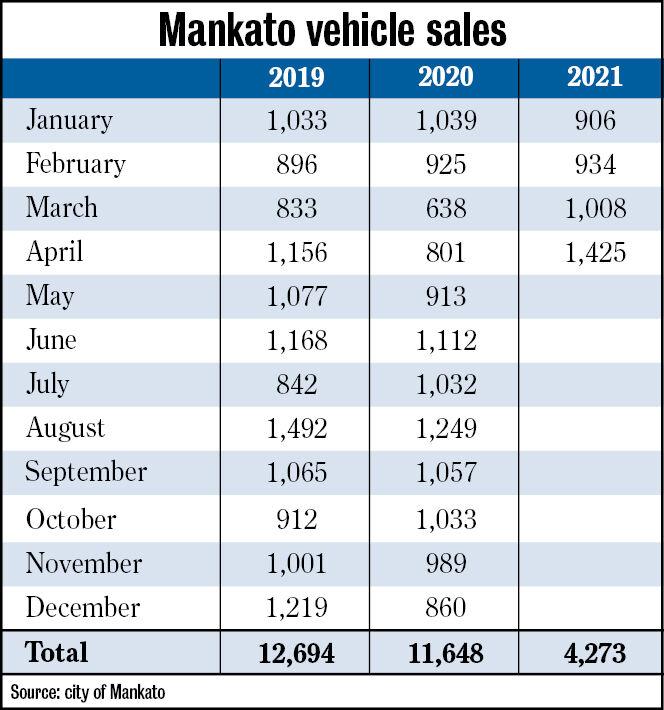 Evans said incentives are being offered to retain customers. "We're doing incentives for ordering out vehicles the way you want it. Ford puts in $500 and we put in $500 to incentivize it."
Pickups, SUVs reign
A trend in consumer interest in recent years continues with pickups and SUVs the most popular while demand for sedans has dried up.
"The GMC Sierra pickups are our biggest sellers and always have been with the ag community we have here," Bradley said.
She said Buick and GMC no longer make any sedans, while Cadillac has a limited number. "It's trucks and SUVs."
Pickups are also big at Ford, and Evans said customers have taken a liking to the Bronco Sport SUV. "It's really taken off. We just sold our last one in stock. The Escape has been great, too"
Bradley said there is also growing interest in electric vehicles and she's waiting for the GM Hummer EV to begin being delivered. "We've been able to take reservations for those but haven't seen the actual model. They say it's going to be revolutionary; they're calling it a super-truck with a 350-mile range before it needs recharging."
Service stayed strong
While vehicle sales suffered, the pandemic had much less effect on service work. Evans said there are still backlogs in getting parts they need. "Parts are backed up, too. It's all kinds of parts. We have quite a long list."
Bradley said their service center and body shop have stayed busy and Snell's car wash has done gang-buster business.
"With this nice weather we've been doing 400 to 500 (washes) a day. The complete detailing, which can take four to five hours, we're booked out about three weeks on those."
Both dealers said one of their big challenges is finding the help they need, something facing all businesses.
"Right now with the car wash, it's just finding help," Bradley said.
"It's tough finding people," Evans said. "It's tough just finding people who want to work. Once they start, some just don't want to work or just leave."
He said he sees the worker shortage all over. "I'm seeing restaurants and bars closed a day a week or something because they don't have help. It's the same everywhere."