While most of the bands invited to perform at the Rock Bend Folk Festival at Minnesota Square Park in St. Peter change every year, the one thing that stays consistent is the growth of this two-day event.
Organizers say attendance has increased every year since its inception 29 years ago. Despite the cooler weather and rainy forecast, they say attendance this year set a record.
"I would say yesterday (Saturday) we had over 7,000," said John Ganey, who is president of the 10-member committee that organizes the annual festival.
Yet he's quick to point out that turnout isn't the only thing that has grown.
"The stature of the musicians has gotten bigger," Ganey said. "It used to be local people beating on their bongos and sitting under the trees and now we have two solid stages — really good sounds."
While the Region Nine area has been the main focus for attracting music fans, Ganey said people routinely come from Rochester, Madison, Milwaukee — even Seattle.
As for the rain expected to fall throughout the day Saturday and Sunday? It never materialized, save for sprinkles here and there.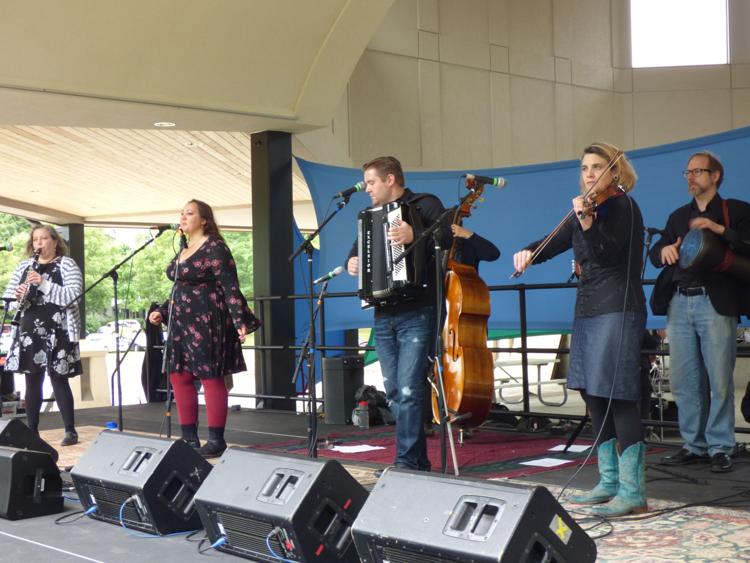 "Yesterday there were more people here than we'd ever experienced before — even with the cool weather," said Mike Lange, who serves on the planning committee and has volunteered at the festival for the past 17 years. "The last band finished and five minutes later it started drizzling."
This year's festival had some familiar faces — locals like Erik Koskinen, Kit Kildahl, and Kaleb Braun Schulz, who closed out the festival as the final performer. City Mouse has played every year since the festival's inception. While most of the musicians were Minnesota based, a few traveled long distances to perform here.
Joe Nolan was one of them, and the Rock Bend Folk Festival was his first gig in Minnesota. The Edmonton, Alberta-based musician kicked off a three week tour of the United States in St. Peter.
"My agent set the tour up, and he's been working with Rock Bend for a while," Nolan said after finishing up a set at Joyce's North Grove Stage Sunday afternoon. "Everyone has been really friendly and amazing. I'm having a good time."
Lange said the committee works with a number of booking agents. For musicians coming from out of state, or even the country, the grant and donation funded festival is able to save money by bringing in musicians who are already passing through the area on tour. But Lange said none of that would be possible without the consistent community support they've received over the past three decades.
"The thing we're most thankful for is how well the community has embraced the idea that seven or eight people had 30 years ago and struggled to have a one day festival," he said. "Now it's grown into this, and a lot of it is because there are so many people that enjoy it and keep coming back."
Steve Schmiel of North Mankato ran into his old neighbors, Dave Gehrke and his son Justin, of New Ulm, whose wife Andrea Lynn finished up a set alongside Nolan as part of a singer/songwriter showcase. This was her second year performing at the festival. They all say that aside from the great music, running into old friends keeps them coming back.
"It's my second or third year coming here," Schmiel said. "It's the whole variety of the music and the crafts. We were here yesterday, too, all day. The folk music is really neat."
But folk music is just one of several musical styles that continue to expand into new territory with each passing year.
Across the park, eastern European Romani band Orkestar Bez Ime drew a large crowd Sunday. The six-piece band out of Minneapolis joined the bill thanks to their bass player's local ties. Elizabeth Draper joined the band a couple years ago. While she resides in the Twin Cities, she went to high school and middle school in Mankato and has performed down here with the Cactus Blossoms.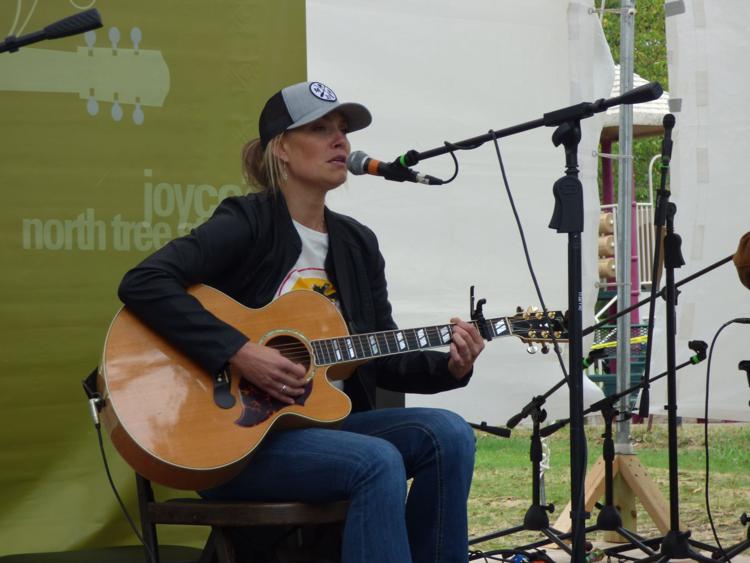 "I got interested in Balkan music after I went on a backpacking trip in Eastern Europe a long time ago," she said. "My friends know people on the board and the committee, so I think I lucked out as far as being able to play here."
Of the dozens of vendors, Kasota based Eric Ouren decided to showcase his refurbished guitars and unique handmade banjos to give momentum to his new business, Ouren Instruments, which is slated to open in North Mankato in a matter of weeks.
"I'm trying to get my name out so people know I can fix your guitar — whatever it takes to get an instrument working again," Ouren said.
Ben and Carrie Pogatshik, of Chaska, have been showcasing their Minnesota-based nature photography every year for almost a decade. They say selling their photos is one factor that keeps them coming back, although Ben Pogatshik said it's a fun environment to be a vendor at. Plus they're big fans of The Divers, a Mankato-based folk-rock band that returned again this year.
"It's definitely worth our time," Ben Pogatshik said. "We always make a few bucks but we love coming here for the music. Tell me to go sit out in the park and listen to awesome music for a couple days and sell pictures — yeah we're going to do that."
Powell said they are looking for younger people to contribute to planning next year's festival, which will be the 30th anniversary. She said the festival is gaining a solid reputation not just regionally, but nationally.
"It's fun to hear the feedback," Powell said. "There's so many people who say this is the most wonderful festival around, I've heard people say even in the United States. Every year it keeps getting bigger."