MANKATO — When Sarah Wooding and husband Jameson Sweiger began acquiring vintage clothing a decade ago, they didn't expect their collection would evolve into a career, with buyers from places such as Japan flying in to visit their Mankato shop 20 times a year to meet a growing demand for American vintage apparel.
"The Japanese have the greatest appreciation for American vintage culture," Sweiger said. "It's mind-blowing that they have better archives of American vintage clothes than Americans."
The couple's collection of 40 bins and hanging racks in their Old Town location has everything from psychedelic dresses from the 1960s and sports apparel from the 1980s to World War II era military clothing and sports memorabilia, all sourced from garage and estate sales and thrift stores.
As with many others in the vintage clothing business, Wooding and Sweiger were both drawn to the subcultures of particular eras. Sweiger, who also sells vintage records, began collecting T-shirts of his favorite punk rock bands when he was in high school, like '90s era Minneapolis bands Code 13 and Dillinger Four.
Wooding remembers picking up used clothing from the '60s and '70s on trips to the thrift store as a teenager growing up in Memphis, Tennessee.
"That's where I started collecting and wearing — I was always interested in bell bottoms and anything mod or psychedelic," she said. "I had big wide polyester bell bottom high-waisted pants and I tried to wear them three times a week to school."
Their wholesale vintage clothing business has become a full-time job for both of them in the past six years, thanks in large part to Instagram, under the handles scatter.brain.vintage and elseware.vintage, which gave them a national and global customer base. The two also sell their vintage apparel at Time Bomb Vintage, a retro store in Minneapolis that sells a variety of antique items.
"There's many different sub-genres for vintage crowds," Sweiger said. "If you say 'vintage,' to one person, it might be Chicago Bulls T-shirts from the '90s. To me, maybe it's a 1940s military item. We've also found things from the 1800s. A lot of sellers have different niches."
Julie Wulfemeyer, of Mankato, said her interest in collecting and later selling vintage clothing also can be traced back to her high school years in the 1990s, when a fascination with the disco era of the 1970s was experiencing a resurgence in popularity. 
"That '70s Show," about teenagers growing up in Wisconsin in the 1970s, was one of the most popular television programs at the time.
"I bought a lot of corduroy bell bottoms, pointed shirts and jackets at the thrift store," Wulfemeyer said. "I was on a tight high schooler's budget."
While in college, a neighbor who lived next door to the house she grew up in donated a large amount of vintage clothing to Wulfemeyer.
"I got this huge mountain from her — most of which I wore — but then I had this excess that I needed to sell off," Wulfemeyer said. "In graduate school I was dead broke, so it turned out to be a perfect opportunity."
When she was on sabbatical from teaching at Minnesota State University a year and a half ago, another family friend had a large amount of clothing from the '70s to donate — on the condition she take it all. She continues to sell that clothing on Etsy.
Wulfemeyer said the popularity of clothing from that era has resurfaced multiple times over the past 30 years. She's since gravitated toward '50s and '60s clothing, which garnered a renewed interest with shows based on that era like "Mad Men" and "The Marvelous Mrs. Maisel."
"Instead of just catching a rerun, you can watch 'Fresh Prince of Bel Air' start to finish, you can watch 'Mary Tyler Moore' start to finish," she said. "As our TV choices from different eras are kind of niche, it makes sense that you would get inspired by the clothing of whatever you're watching."
For Natalie Pierson, owner of Vagabond Village, a Mankato store that sells a plethora of vintage clothing separated by decade, style and color, every era is fascinating and distinctive.
"Every year, it's interesting how the eras pop up in a different way," Pierson said. "No matter how long I hold my stuff for, it comes back to the surface because people want it."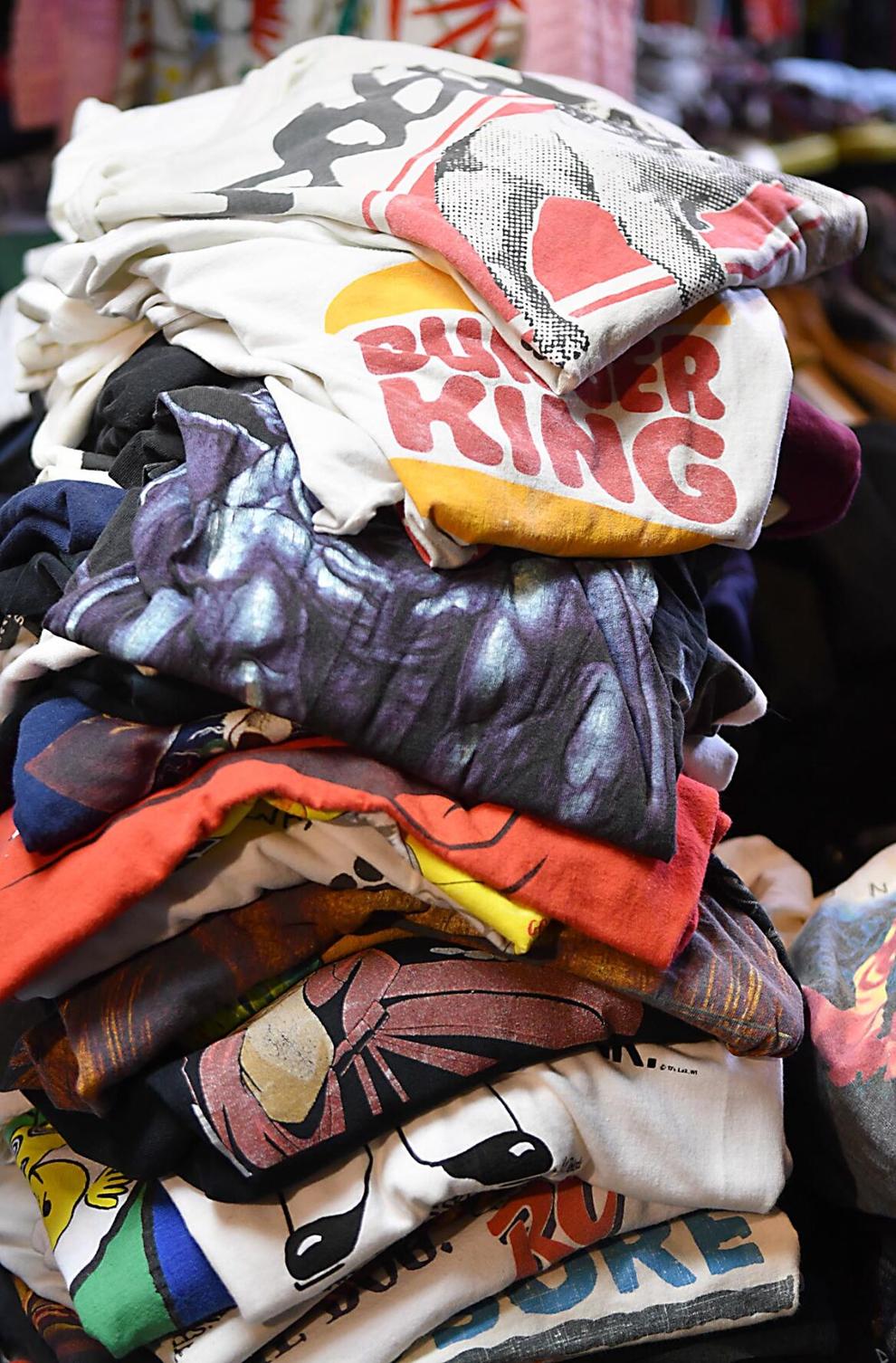 Her favorite aspects of carrying vintage clothing include the stories that bubble to the surface in conversation with customers.
"People will come in and see something that their grandma wore," Pierson said. "Then I get to hear the backstory of what it meant to them, and then I get to tell them about how I found it. I love that intermingling of histories."
Wooding thinks there are a variety of reasons people are drawn to vintage clothing, but the one that stands out the most to her is a yearning for individuality. She suspects the pandemic has enhanced that interest.
"People have been stuck at home and have been getting more creative and expressive," Wooding said. "They're trying new things and mixing and matching eras, trying to be different."
Sweiger said younger people are discovering they can buy a piece of vintage clothing that is more affordable, more unique, environmentally friendly and often made of higher quality fabric in contrast to the mass-produced clothing found at big-box stores.
"Young people are really getting into it," he said. "So, maybe before they would buy their back-to-college clothes at the mall — now they're finding all these small independent shops."
Sweiger and Wooding hope people with a closet full of old clothes think twice before throwing anything away, and to give them a call at 507-351-3722. They are often willing to buy those clothes in bulk.
"Call us before you throw out your clothes," Wooding said.