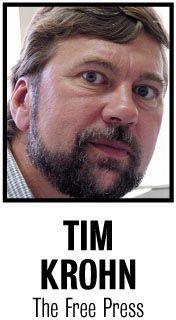 There's a new craft brew pub/restaurant moving in near downtown called LocAle. The husband-wife team doing it look like they have a great plan. They will join Mankato Brewery, which has been open a few years. And Midtown Tavern is retrofitting to operate a brew pub.
Even with three, we'll be underserved by breweries and brew pubs for a city our size. The craft beer craze keeps marching on with cities across the country absorbing them like Starbucks locations.
The Mankato area has a population of 100,000, so we have three breweries per 100,000 people.
Portland, Maine, which is a similar-size city, has 17 microbreweries equating to 25.5 breweries per 100,000 people.
So you can see, we have a long way to go.
The craft brew phenomenon is a welcome trend. People can try something other than a Bud or Coors, it's an economic boon for entrepreneurs and expands the local food and ingredients movement. Having a lot of microbrewers who know what they're doing also saves you from having to drink the swill made by your home-brewing friends.
The craft beer craze hasn't been a great thing for our friends at Schell's in New Ulm. The old, family-owned brewery was long the lone craft brewer before anyone even came up with the name "craft brewer." Schell's, which is the biggest brewery in the state, is a lot bigger than the microbreweries but is a shrimp next to Anheuser-Busch and the other giants.
So on one side Schell's has to battle the onslaught of new craft brews that are vying for liquor store shelf space and taps in bars. On the other side the big breweries Schell's also has to compete against have responded to craft brewing's popularity by keeping their beer prices as low as possible. But Schell's hasn't survived for a century and a half by shying from competition.
There is no end to the flavors, ingredients and brewing methods used by craft brewers. Everything from a gin and tonic style beer to fruit-flavored brews abound. It adds to the variety and fun of sampling new brews.
The beer snobs can talk all they want about seeking a very sessionable ale, detecting tannins in a brew or searching for triple-hopped craft beers, but what really gets people to buy a beer is its name.
The names and artwork that accompany them may be the best part of the craft beer movement.
There is Moose Knuckle Winter Stout, Belligerent Ass Nut Brown Ale, Polygamy Porter, Blind Pig IPA, Yeastus Christ, Snake Venom, Rat Tail Ale, Smooth Hoperator, Amber's Hot Friend, Butt Face Amber Ale, Old Leghumper, Arrogant Bastard and Santa's Butt.
And that isn't even scratching the surface.
Mankato Brewery has some good ones — Leaf Raker Nut Brown Ale, Pumpkin Grinder and Mad Butcher IPA.
There's a beer called Honey Weiss that's pretty good. But every single time I've ever ordered one, the server pronounces it differently, no matter how I pronounce it. And every server corrects me with a different version of their own.
"A Honey Wees?" they'll say, not really as a question but as a passive aggressive correction of me saying "Veece."
But next time if I say "Wees" the waitress says "Honey Vice?" Ask for a Honey Vice and they'll reply "a Honey Wyce?" And so on.
It's an ugly game of beer aficionado one-uppery.
Go online and there are discussion boards about the pronunciation of Honey Weiss, with a wide variety of answers from people who present their authority of the German language.
Well, I can give you the correct pronunciation. It's Honey "Vice."
That's according to none other than Dick Leinenkugel, of Leinenkugel Brewing. He pronounces it that way in the "Leinenkugel's Honey Weiss Beer Education Video." Yes, there really is an education video about a beer.
So now you can order a Honey Weiss with confidence.
Better yet, order a Schell's. They have a variety of styles and great names, like Fort Road Helles and Schell Shocked Grapefruit.
Or go old school and order the original — Schell's Deer Brand.
It tastes good and the waitress won't argue with you about how to pronounce Deer.
Tim Krohn can be contacted at tkrohn@mankatofreepress.com or 344-6383.