ST. PETER — With just a couple of weeks left to go for Minnesota's regular legislative session, Mary Spear — an organizer for the "We Make MN" rally and leaflet distribution Sunday — wants residents in Senate District 19 to make a final push to press local lawmakers to support Gov. Tim Walz's $52.4 billion budget proposal.
"Mainly it's about getting the revenue to fund the programs that we would like to see happen," Spear said.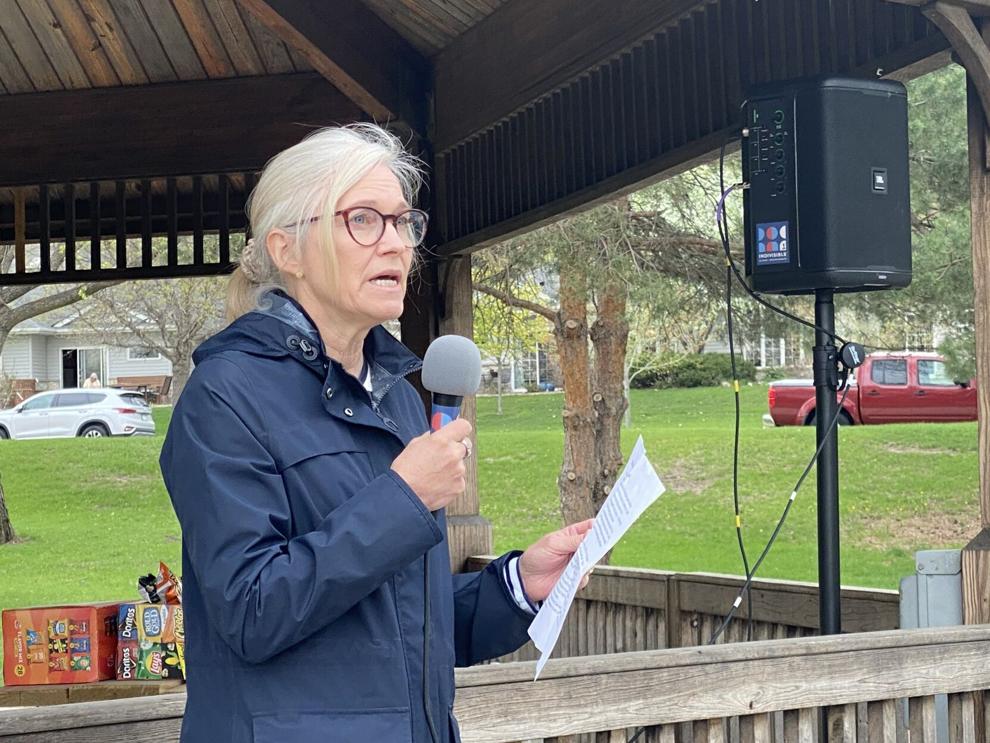 Those attending Sunday's rally at Gorman Park were particularly focused on clean energy, universal child care and paid family leave. That means raising taxes on some of Minnesota's wealthiest — corporations and individuals who make $1 million a year or more — to fund programs aimed at alleviating some of the social and economic struggles brought on by the COVID-19 pandemic.
As she spoke to a group of a couple dozen people, Spear advocated for a statewide program that the proposed budget would help to fund — paid family leave for up to 12 weeks.
"My family owns a business, and we support this legislation," Spear said. "This paid family and medical leave policy would make available to every person paid time to care for themselves or a loved one in the event of a medical emergency, a new child or a death in the family."
She said such legislation would have benefited one of their own employees, who needed to recover following heart surgery. While they were able to cover a month of paid leave for that employee, Spear said a state program funding family leave would offer a fair playing field for small businesses to offer some of the same perks that large companies can more easily afford to cover.
"Large companies can afford to do this, and they do it, but it's a stretch for us," Spear said. "Statewide paid family and medical leave would level the playing field for small businesses by having everyone contribute to the shared fund and spread the cost across all businesses."
Becky Dimock, of North Mankato, a lifetime member of the Missouri Synod Lutheran Church, said her Christian values compelled her to become politically active following the 2016 presidential election. She was disappointed that Christianity was used to advocate for policies that don't represent those values.
"To me, Christianity means loving one another, taking care of our neighbors and the environment and just in general being nice, thoughtful and sharing," she said.
Dimock wants to see an open and honest tax system that prevents people and businesses from hiding their money overseas.
"Just a flat, fair and open tax system so the wealthiest people are actually paying their fair share would go a long way in decreasing the rich/poor gap," she said.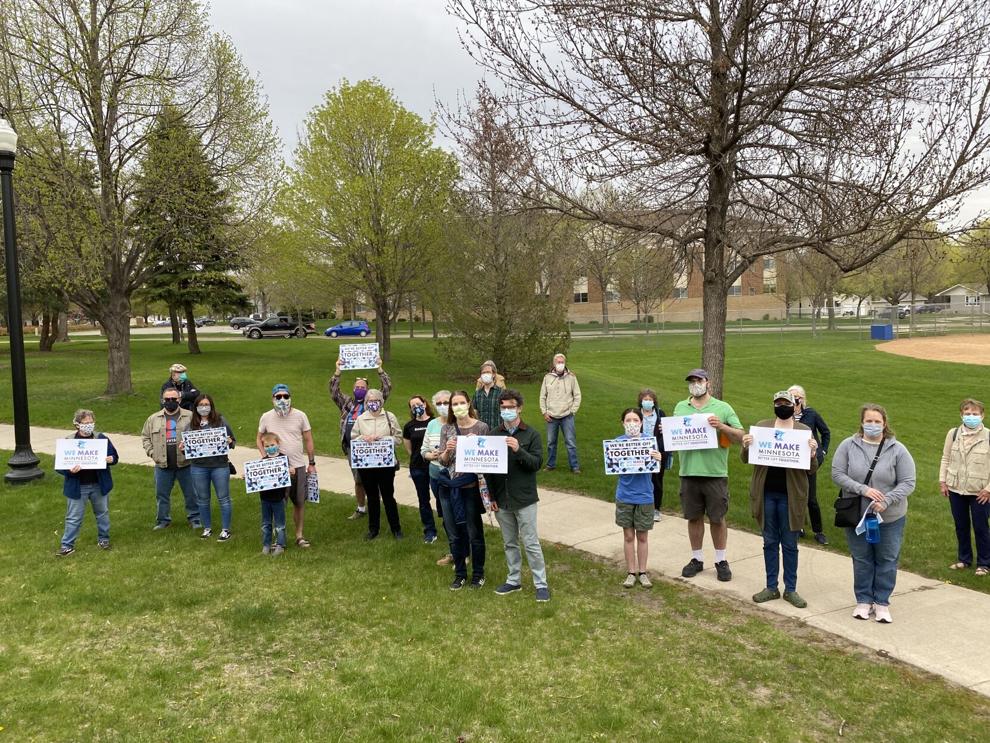 Andy Davis, a pastor at Union Presbyterian Church in St. Peter, wants to see more state lawmakers get behind a clean energy bill that would transition utilities away from fossil fuels to 100% carbon-free energy by the year 2040.
He encouraged constituents to reach out to Sen. Nick Frentz, DFL-North Mankato, and District 19's two representatives, Rep. Luke Frederick, DFL- Mankato, and Rep. Susan Akland, R-St. Peter, to support those bills and the proposed budget, which would go into effect in 2022.
"They need to hear from us," Davis said. "Sen. Nick Frentz and Rep. Luke Frederick from Mankato are behind this budget and we are thankful for their leadership. But we are disappointed that Rep. Akland has not been in support of this increase in revenue for these programs that can extend care to other people. We want to invite her to join us in this effort, but if she isn't going to join us, we need to hold her accountable."
Akland didn't respond to text and voice messages for an invitation to comment.
St. Peter resident Ellen Conover, who worked in the child care field for 35 years until her retirement, said raising taxes for the state's wealthiest residents and businesses could help to support universal child care in Minnesota, an issue she said has been a challenge for young families for decades in terms of cost and quality care.
"Despite research that indicates the early years are the most formative in a child's brain development, child care has suffered with lack of funding," she said. "It's expensive to provide, and young families spend a large amount of their income on child care. If people and corporations making over $20,000 a week are fairly taxed, we can subsidize early childhood programs."
Sunday's rally, co-sponsored by Faith in Minnesota, a statewide nonprofit that advocates for social, economic and racial justice, was one of six held at different Senate districts around southern Minnesota, said organizer Kathryn Lozada.
"This is the first time we've done this here," Lozada said. "It's exciting to be part of a new, good energy and, of course, to partner with Indivisible and the Land Stewardship Action Fund so we can create the democracy we deserve.
Along with the rally in St. Peter, Faith in Minnesota held rallies in the Twin Cities metro area, Northfield and Rochester.
The 2021 regular legislative session began on January 5 and ends on May 17.