Forget the 'Band Geek' stigma — these kids embrace their talent, team
In a room full of tubas and trombones, trumpets and clarinets, timpani drums and flutes, about 75 sleepy high schoolers gather for their first class of the day.
Teacher Craig Kopetzki steps on the band director's platform and casually mentions that jazz band auditions are coming up, that a handful of kids did really well at the recent Gustavus Adolphus College Honor Band, and that the kids in the percussion section need to stop their chattering.
"OK, here we go ..."
He raises his conductor's wand and, with military precision, the members of the Mankato East High School band begin warming up.
Gradually, the notes climb on a musical scale. You can hear the commanding, low hum of the tubas and euphoniums, the dancing chirps of the flutes, clarinets and oboes, the steady beats of snares and vibraphones.
"Let's get those tongues working a little bit," he says. "E-flat, here we go!"
The notes climb again, this time a little quicker. With each scale the volume rises, the intensity increases.
Finally, they're ready to play their first song of the morning. And if you believe the trio of seniors The Free Press spoke with, they'll be doing it as a family.
"We were talking about it at the Gustavus Honor band the other day," says senior flutist Ashley Kennedy. "Mr. Kopetzki was there taking pictures like a proud dad."
Proud, indeed.
When presented with that image, Kopetzki comes off bashful. And he truly seems like a humble guy who just wants his students to do well and have fun. But there's a fine line between allowing them to have fun and pushing them to be better.
That's the line Kopetzki tries to walk. And it appears to be working.
In the beginning of a semester, when music students are given the pieces they'll perform for the next few months, it can demoralizing. Often the music is difficult, and for students who are still learning, encouragement is required.
"That's where you have to mention that it's hard, but that they're going to get through it," he said.
At times, he said, he feels a bit like a coach. But he prefers to view his role another way.
"I feel like I'm a pretty good cheerleader for the kids," he said.
Rachel Clennon couldn't agree more.
She says coming to band is a little like coming home, a home within the high school environment where everyone shares the same goals, everyone has a relationship with music and everyone comes to work hard.
"I just really like making music with all my friends," the bass clarinetist said.
When people are down, she says, the band is usually there to cheer them up. And it's been that way since she came in as a ninth-grader.
She remembers looking up to older band members, seeing how well they handled school and band and sports. She remembers wanting to be a part of that, wanting to some day be the one that people looked up to.
Libby Alders plays oboe now, but she started her band career in sixth grade on the clarinet. She also plays bass clarinet and tenor sax in the school's jazz band.
The future veterinarian says coming to band every morning helps her focus. Also, she's just loves to be here.
"I really like it here," she says. "We're all like a big family."
Clennon says the whole "band geek" thing is a thing of the past. Today, being a part of band is more of a badge of honor than anything else. And with more activities available than ever, band is just one more way to express yourself.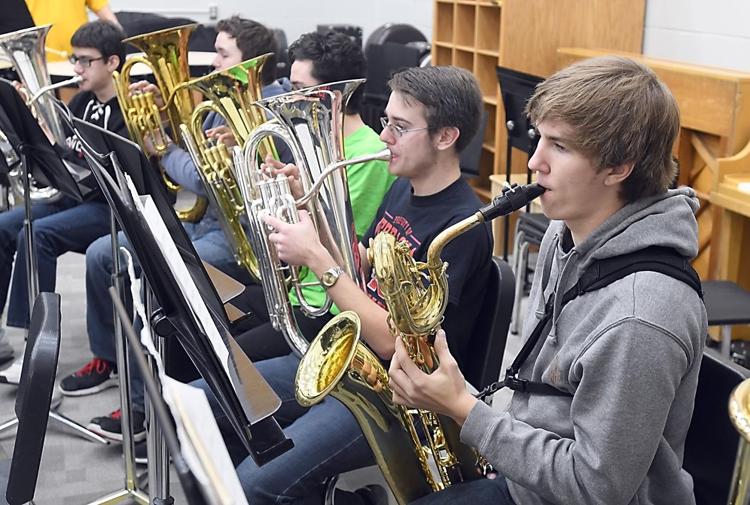 "If I'm going to be labeled, I'd rather it be for something that I love and care about," Clennon said.
Sometimes, it's another kind of label that needs addressing.
Kopetzki says band can be a positive influence in a teenager's life, especially if that teenager is the kind that needs the kind of challenge and structure a band life brings.
"There are some kids who maybe don't belong in here," Kopetzki said. "But some of them really need this. Some of them really need to be here."
For those kids, a family is waiting to welcome them into the fold.