Bethany Lutheran College's "Theater Physics" is a show that is always full of surprises and delights.
This year, however, they've got a special surprise you'll have to attend to experience.
In the past, director Pete Bloedel — founder of "Theater Physics" — has included silly props, students' ideas and his own play writing skills to pull off this show.
He says he'll use all that and more for this year's version.
"One year, I bought every plunger in Mankato," Bloedel said of his penchant for using seemingly random props to pull off ridiculous and hilarious skits, stunts and stories. "This year we bought some props that will be seen a similar way in the show, but I can't reveal what those are. It's a skill-based prop that people had to learn how to use, but I think they're going to be used pretty heavily in the show."
"Theater Physics" is celebrating its 26th year of zany ridiculousness. And while Bloedel agreed to reveal the prop to The Free Press, we were sworn to secrecy. All we can pass along is this cryptic clue given by assistant director Emily Kimball:
"There's going to be a goofy choreographed number using the mystery prop," she said.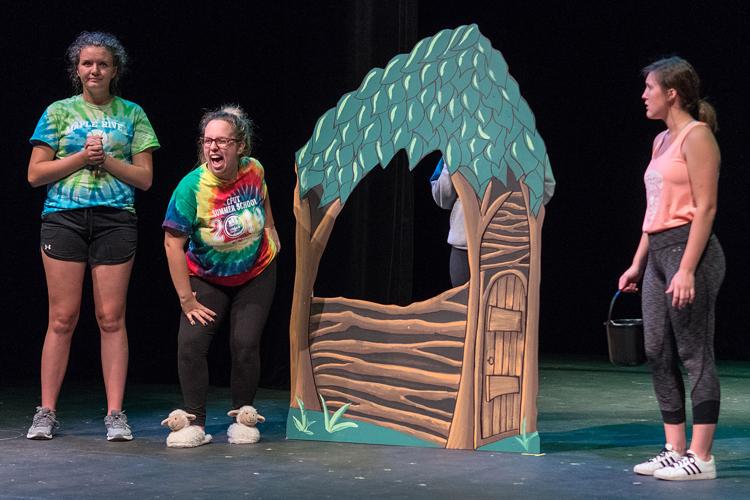 In addition to the new prop, Bloedel and Kimball will be introducing a unique cast this year.
"I've never had a cast that is so women-heavy," Bloedel said. "We decided just regardless of gender that we were going to pick the best people for the show. This year more really talented, funny women were showing up, and that's kind of new for this one."
"Every year it's a different climate," Kimball said. This is one of the things that keeps the show fresh and full of new ideas every year.
Lastly, this year's show will also be a bit different because the scripted part will include something they've never done before with "Theater Physics."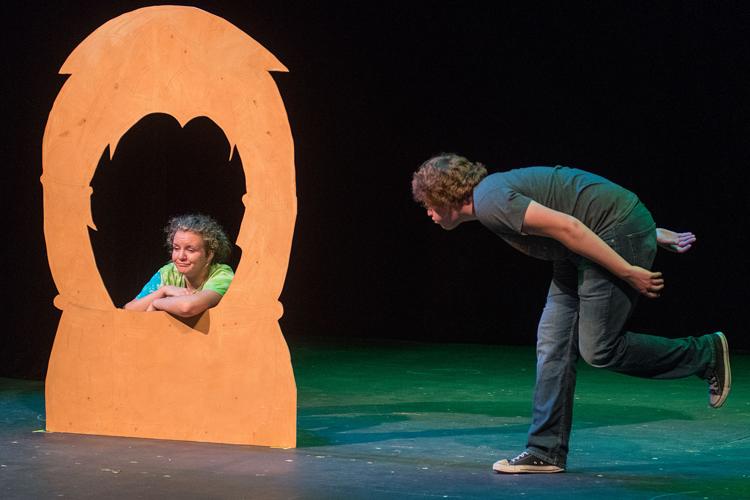 "This year's thing is we're doing 'Little Red Riding Hood' and 'The Three Little Pigs' at the same time," Bloedel said.
This means that there will be two stories occurring at the same time that come together to create a chaotic and silly show.
With all of these different props, changes and ideas, Bloedel is excited to present this show to the community. He said he also believes the show benefits BLC students.
"I actually believe that creativity can be learned. I teach it, actually, in a number of my classes. I feel like there's no better way to teach creativity. It's like an immersion lesson," Bloedel said.
This show helps students become more imaginative and has even impacted Bloedel.
"I'm always forced to try something that is beyond my comfort level," he said.
The show is family-friendly and contains many types of humor.
"It's a lot of physical comedy," Kimball said. "There's a lot of facial expressions and it's just really high energy. It can be loud and in-your-face or subtle and almost sweet."
Bloedel said his goal this year is the same as it is every year: reach more members of the community and have them attend one or more of the crazy performances.
"There's still a lot of people in town who don't know what 'Theater Physics' is and we would love to change that," he said.
As always, the show is free to attend. Bloedel simply encourages those who would like to attend to reserve their seats online and show up 15 minutes early to ensure they get a seat. Donation buckets will be around in case audience members would like to donate to BLC's theater department.
"It's such a unique format of theater," Kimball said. "It's unlike anything I've seen anywhere."