Each year it seems Blues on Belgrade gets a little better, a little beerier, a little bluesier.
This Saturday North Mankato's main drag will shut down once again for Blues on Belgrade, the flagship event for the Business on Belgrade organization that aims to attract people to the wonders of the lower North Mankato business district.
Jen Bobholz, president of Business on Belgrade, says this year will be the best one yet.
"Jake Downs from Nakato did the music lineup, and he pulled a lot of national acts. Really diverse," said Bobholz, owner of the Circle Inn bar. "I think it'll be really good."
Blues on Belgrade began in 2009. Back then it was called the Belgrade Ave Blues and Jazz Festival. It took place behind the Circle Inn and was a humble affair. From there it grew to the fabulous display you see today — lots of orange snow fencing, dozens of craft beers, a half-dozen musical acts and, most importantly, a few thousand people.
Bobholz said the event is a popular one among downtown businesses. In addition to the music on the street Saturday — which this year included the Echoes, Miss Myra & The Moon Shiners, Tas Cru, City Mouse, Rod Hamdallah and Ghost Town Blues Band — they've planned a bar crawl for the night before at Belgrade Avenue taverns.
Downs said he wanted to bring a diverse selection of blues acts to town this year.
"Any one of these band could headline this event," said Downs, who books bands for the Nakato Bar.
Having said that, the actual headliner this year is Ghost Town Blues Band out of Memphis.
"Horns, harmonies and homegrown instruments combined with an energetic and roots rich festival set makes Ghost Town Blues Band one of the must see live bands on the festival scene today," the band's website boasts.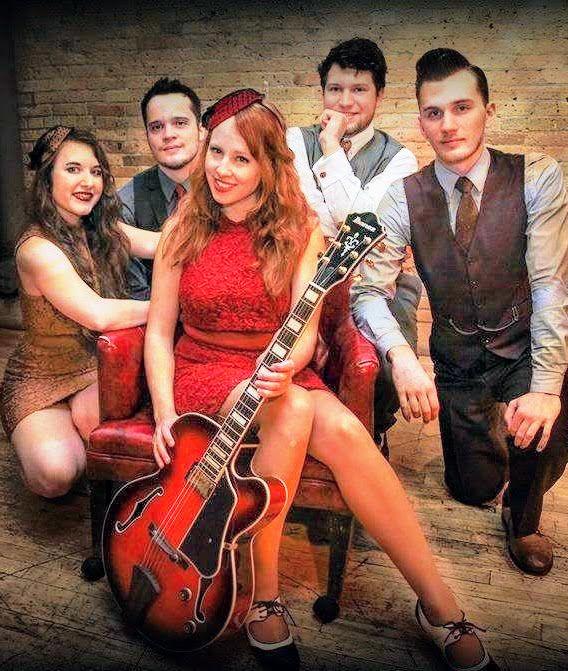 Miss Myra & The Moonshiners' site says of the band, "Miss Myra and The Moonshiners are a formidable 5-piece swing band bringing a fresh female-driven perspective to traditional New Orleans and hot club jazz, playing a broad repertoire of classic tunes from the '20s and '30s and inspired originals. With powerful vocals, a smoking horn section, and sweet rhythm, they are guaranteed to lift spirits and fill the dance floor."
Downs said the lineup is a strong one.
"I was trying to get a group of bands that are all different but all fall under the same genre," he said. "We wanted to switch things up a little bit."
A handful of reasons are behind the ascendance of Blues on Belgrade as one of the preeminent music events in the region.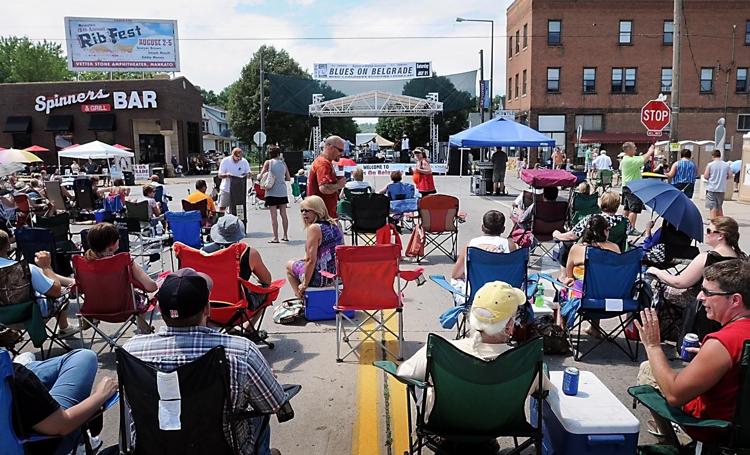 First, it's free. Anyone can come and people are encouraged to bring coolers. Second, it's very well attended. Downs said the attendance estimates he's been working with as he contacts bands to gauge interest in the event is 5,000-6,000.
Downs said he can't vouche for that figure 100 percent, but he's seen the mass of humanity that gathers. He's been working at Blues on Belgrade in one fashion or another for seven years. "By 7 o'clock, from Spinners to the Circle, it's just a sea of people," he said.
And third, the event's success over the years has built upon itself to a point where it is able to shell out more money for better acts.
Bobholz says that, of all the Business on Belgrade events — such as Bells on Belgrade, Bookin' on Belgrade, etc. — this one is the original and runs the smoothest.
"It's kind of one of those events that's gotten to the point where everything kinda falls into place for it," she said.