A trio of environmentally conscious artists will have their works on display at the Carnegie Art Center in Mankato this month.
The works of Rachel James, Josh Winkler and Andrew Judkins will be on display through July 27, and each is unique in style and approach.
In the rotunda, Josh Winkler's playful nature scenes line the walls and columns. But it's the stack of rocks in the middle of the room that grabs your attention.
It looks like Winkler walked down to the Minnesota River and just grabbed a few dozen large rocks that were the right size for the piece. But upon further inspection, it seems they're not rocks at all. They're made of cement that he cleverly formed into the shape of rocks. To trick you (or at least to make you contemplate artifice).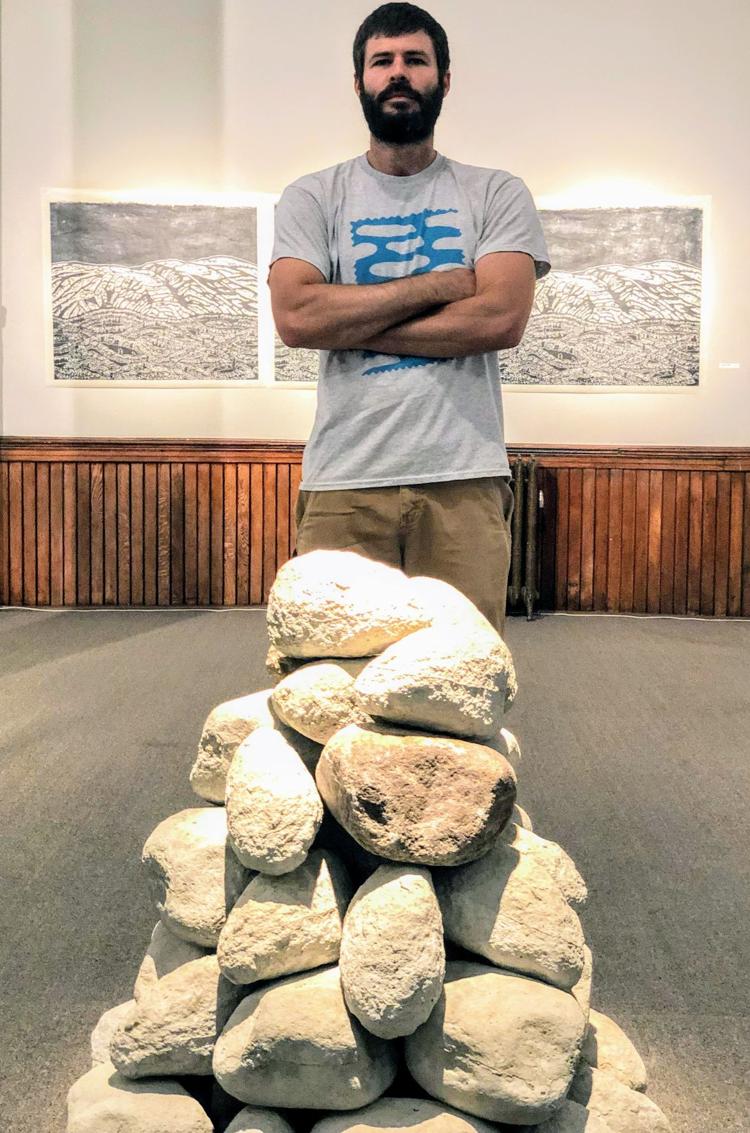 Winkler, who teaches art at Minnesota State University, loves the outdoors and fresh air. But he, like many of us, can't help but notice how "progress" often intrudes on spaces and experiences that are meant to be pure and uninterrupted by technology.
One of his pieces depicts what appears to be an airplane flying through the sky. After a closer look, though, the plane appears reminiscent of a whale — the subtlety betrayed by the craft's proximity to the ocean water. It conjures a breech position, and the pink clouds lend a vulnerability that keeps the piece from being a mere cartoonish portrait of a plane in flight.
Another Winkler piece is far less subtle. Evergreens shoot like rockets through space, a harsh commentary on climate change, pollution and humanity's relative indifference to the fact that some of nature's most beautiful gems are going — literally, in Winkler's painting — up in smoke.
"Thematically," Winkler says, "I'm usually thinking about deep conversations in natural world. … Places aren't as wild as they used to be."
The title of his show is "Horizon." He says he wanted people to think of the concept of a horizon because of how important it is in centering ourselves.
"Not seeing the horizon makes you feel less important," he said. "Makes you feel less significant."
Next door in the Fireplace Gallery, Rachel James' collection is quite different.
The centerpiece is an installation built on mylar. Flower, mushrooms, asparagus (I think) grow wild and random on a shiny sheet of timelessness. It's a puzzle of a piece, and hard to look away from.
"I was thinking about seasonal changes," she said.
Above the fireplace is one of her best pieces. A slain wolf is shown with flowers blooming from its gut. More flowers surround it. Some have skeletal faces. There are snakes in the grass and pop cans in the river. In fact, it's one of those paintings where, if you came back to it 10 times, you'd find something new every time.
James says she's heavily influenced by fantasy. And nowhere is that more apparent than in her piece, Green Man. A giant-like figure made out of vegetation, it seems, he's perched on a pair of mossy clumps. He's also wearing hiking shoes, bright red shorts and carrying a backpack, a commentary perhaps on how nothing is untouched by man's "progress."
Andrew Judkins' stunning landscape work is hanging in the Cook Gallery.
In his artist statement he said: "We are born into landscape, we live out our lives within it and we die and become part of the land. It's who we are and the stage upon which we live out our existence. We ignore this at great peril. Landscape is also a way of reminding us that we are part of a universe of nature and life on this planet, part of a large intricate web. The web was here before us and we should have the utmost respect for the land, plants, animals and basic resources such as water."