Sitting in the back room of The 410 Project where her brainchild was created, Dana Sikkila is looking back at the last four Project Bike tours as she prepares for the fifth … and final tour.
"It's kind of bittersweet," Sikkila said of the final trek, which begins next week in Grand Marais. "It's kind of one of those things like, 'OK, it needs to kind of come to a close.' Just for myself to kind of focus on other things. And knowing that it was going to be the final year, we can kind of create this narrative, like an ending — or end caps — for the project."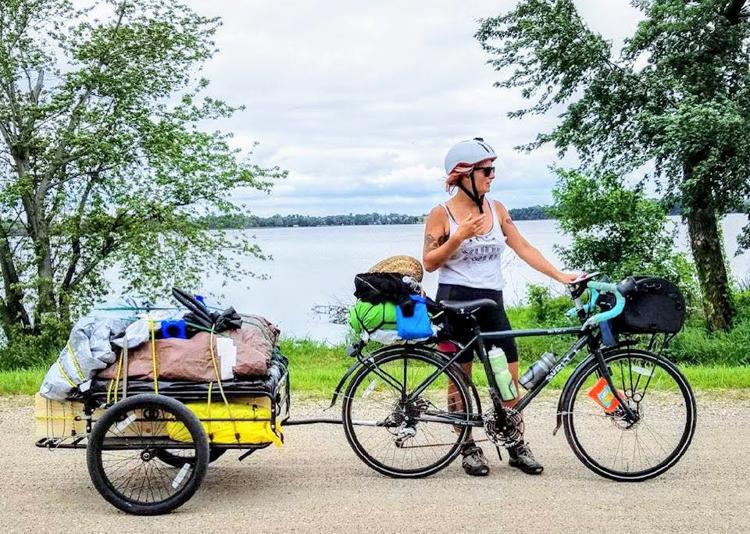 Sikkila, the artistic director of The 410 Project, had the vision of travelling through the state of Minnesota, collecting art along the way and hauling it all back to Mankato on a trailer attached to her bicycle (that trailer weighed 200 pounds last year.) The artwork is then exhibited at The 410 Project.
This year's Project Bike features 10 artists including a boat maker in Grand Marais, a quilt maker, a print maker, a costume designer and more. The two-week tour begins Tuesday.
The tour gave Sikkila the opportunity to meet with different artists in Minnesota, giving them a platform to speak about their art — some of whom had never had the opportunity to share their process before.
After this final tour, Sikkila will have biked more than 2,500 miles in the name of Project Bike. The ambitious project had humble beginnings, but flourished exponentially. Sikkila recalls that, during project's inaugural run, she had to scramble to find artists to be a part of it. This year, she had 60 applicants.
The first year, she said, was somewhat nerve wracking.
At the time she wondered if people would understand the idea or even support the project.
(By the way, support has come in from all over; earlier this year, Sen. Amy Klobachar sent Sikkila a letter of support on the project.)
"Then I did it that first year, and people were super present online following the project," she said. "And when we had our reception (at The 410 Project) that first year, we had about 80 people. You know, people are actually supporting this project and the idea and mission of it. … Last year, we had over 200 people here."
The mission, although seemingly simple, is actually complex, Sikkila said. And with its following, community members from all around the state understand the authenticity within the mission; a commitment to advocating for the arts from all sorts of backgrounds.
"The purpose is to highlight and showcase and advocate for artists and creative people all over the state, not just here in Mankato," she said. "We need to be learning and engaging with people that we're not familiar with. That's how we grow as human beings."
With this being the farewell tour, Sikkila had decided that instead of a 30-40 minute long film that had been done in previous years, she was going to aim for a full-length film to be shown in October.
And while Sikkila treks the 600-mile tour, she'll be coordinating with the MSP Airport to have a display of Project Bike next year at the airport documenting its five-year run.
The display will include her bike and trailer along with the art that has been exhibited over the years.
As for Sikkila, though it may be bittersweet, she's confident in ending the narrative on Project Bike.
"I'm happy for the opportunity of these five years. I think it's a one of a kind thing," she said. "I'm happy and sad that it is ending, but I'm really happy about — with this ending — where new things can be developed."