Masked and mic'd up with a cooler set in the middle and a few shared beers, SoMN podcast records its weekly show at Bolton & Menk's studio in downtown Mankato. Doing what?
Well, having conversations Matt Brozik and Wade Abed II would have had anyway. The idea is to highlight community members to just tell their stories.
The podcast debuted its first show in early January, featuring Marissa Brostrom, owner of Graif Clothing.
Plain and simple, the experience was fun, Brostrom said.
"It was nice to just chat with real, genuine people," she said.
The talk was an organic conversation, she said, where she could tell any listener her experience as a business owner during the pandemic. Like many other businesses, Graif has struggled in its own way. And Brostrom was able to tell her side of this unprecedented time in a raw, yet welcoming and safe space, manner.
The subject was easily discussed because the hosts, Brozik and Abed, made it accessible.
"They were really easy to talk to; they're two good guys doing it," Brostrom said.
Brozik, owner of Matthew B. Brozik Private Wealth Management, had been speaking with his wife, Lisa, about feeling off for a while. In his profession, Brozik, along with Abed, executive vice president and corporate counsel for Profinium, had been accustomed to traveling, giving nearly 50 presentations during the first quarter of the year since 2012.
The two met around 2012 and began to work together giving estate planning seminars.
"That's a lot of drive time going to Iowa and going back and forth a few times, you get to know someone," Brozik said. During these seminars, there'd be plenty of socializing, networking and a few happy hours. All pre-COVID, of course.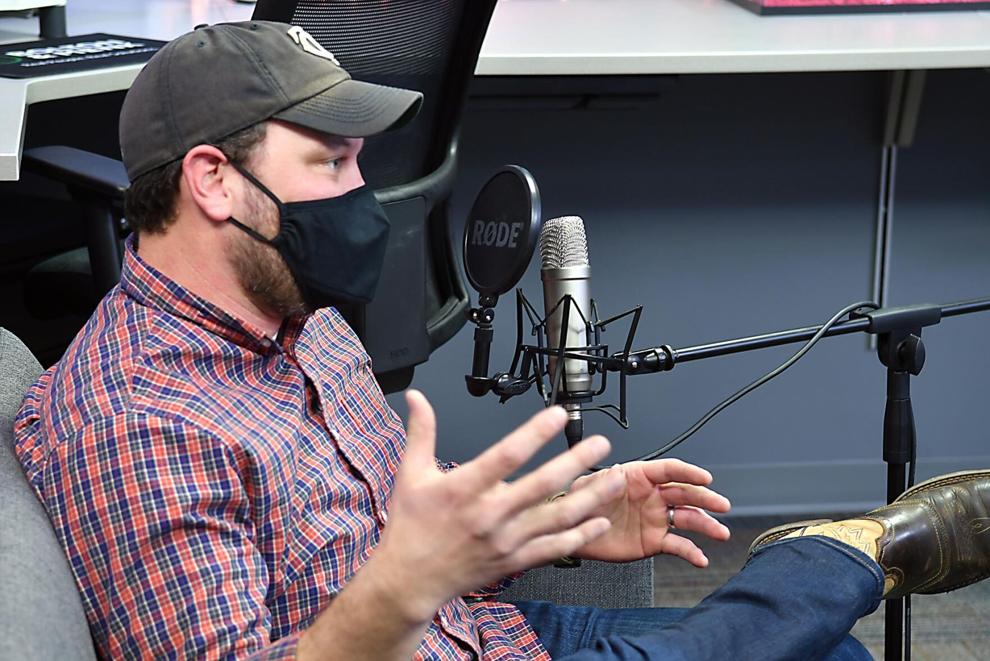 Since COVID struck, most of the socializing has come to a halt. And as he spoke with his wife in late 2020, he thought there was something missing — though he wasn't sure what.
"Everyone is fine, there's no reason I should be complaining," Brozik said.
Then it finally hit him.
"I'm just not seeing people like I used to — not connecting with people."
What better way to connect with others than just talking in one of the most popular and ever-growing industries than a podcast?
With the idea in mind, Brozik called up Abed, initially to be a guest. Abed, however, was captivated by the idea and suggested he be co-host.
"I was like, 'OK, that sounds like a great idea,'" Abed said.
The conversation began on the podcast's theme — the pair wanted to showcase the untold stories in this area, southern Minnesota.
The podcast allowed some sense of normalcy for the co-hosts, too — providing a safe and open space to speak with community members liberally about dealing with the pandemic, being a restaurant owner or in real estate. The podcast — as its tagline suggests — offers the chance to have the conversations that would have taken place anyway at a pub or social gathering.
"(The podcast) has allowed me to do what I love to do — interact with people, ask questions and learn about them," Brozik said. "It's human interaction, face to face, not Zoom."
Beyond showcasing individuals such as transplants to Mankato such as Brent Christopherson, or The Landing in Madison Lake's owner, Shelly Sabatka, the show has filled in the void for Brozik.
"It's allowed me, in a safe way, to be able to (have intrapersonal interaction) when it was something I had done for eight to nine months," Brozik said.
And southern Minnesota has plenty of unique and interesting stories to offer — the only criteria to make it onto the podcast.
Nancy Zallek, president and CEO of the Mankato Area Foundation, appeared Thursday and gave the creators of SoMN credit for the work they're doing that they "clearly enjoy doing." During the pandemic, there hasn't been much good news.
"It's very upbeat, and having something to listen to that's upbeat and pointing some of the good things that are happening, we all kind of need that right now," Zallek said. "They're trying to do that — they're trying to highlight really cool things happening in our community."
Besides, Abed and Brozik ask great questions about the guest's background. It's not just about the face of an organization or business, it's the person behind it.
"They're very interested in you, in the person, and they ask really good, interesting questions," Zallek said. "It's very comfortable."
That's a natural extension of the pair, especially Brozik, who said he is naturally curious.
"I'm a very inquisitive person — the who, what and why — I find that very interesting," Brozik said.
Plus, southern Minnesota has lots of depth to mine.
"We have a unique microculture for folks to talk about southern Minnesota and really about it," Abed said. The podcast covers a part of the country that some might consider "flyover country," but Brozik and Abed believe those stories need to be told.
"There are some great stories that get told here, and we don't care if it's flyover country; our stories still need advocates and they still need a narrative," Abed said. "I think most of the country thinks we're crazy. We drive on frozen lakes, but we have some great food and music in Northern America and it's unknown — it's what makes so much of our culture."
Currently SoMN has nine episodes (new ones air every Thursday). However, they have guest scheduleds out until April.
The pair crave not only to speak and connect with others, but share their stories that may not have been told otherwise.
"They have given a lot to the community — just hearing them tell their stories is really fun," Brozik said.
Brozik looks forward to what will be his favorite episode — one without masks. But for now, he anticipates the appearance of each guest to have the conversation they would eventually have anyway.