Next Saturday will be a good day for beer.
Before heading off to Bier on Belgrade in North Mankato, go to the Mankato Brewery for the Mankato Beer Run 5K and .05K. Yes, you read that right, .05K — that's 54 yards.
"I'm personally a runner, but a very slow runner and I wanted to create an event that I would be comfortable in," Sam Kassel, 414 Events co-owner, said. "It's really great for those that are doing it for the first time, too, so we wanted to create a fun environment."
Based out of Milwaukee, 414 Events brings its beer run to Mankato for the first time. The five-year-old company was created by Kassel and husband, Alex Ogden. Between the two, they have 15 years of nonprofit experience.
"We wanted to start our own business that'll allow us to do community events, just like what we did for nonprofit," Kassel said. "We wanted to give back to communities — with all of our events there's a food drive to a local pantry."
One of the easiest ways to give back to the community is by hosting a food drive because almost everyone has canned goods lying around. The event also brings light to hunger — a widespread issue in communities year long, not just around the holidays.
The Mankato Beer Run will be partnering up with ECHO food shelf, who will be present at the event collecting nonperishable food. Typically, the goal is to get at least a pound of food per participant.
At other events more than 1,500 people participate which translates to around 1,500 pounds of food. Right now, 414 Events hopes to get at least 500 pounds of food for Mankato.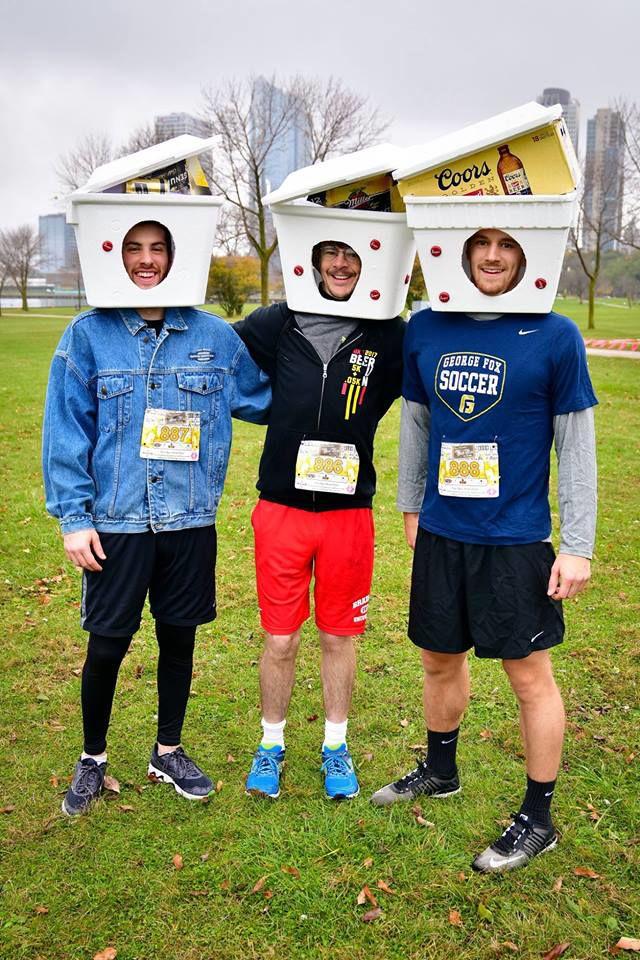 "I think that, most importantly, it brings awareness of pantries," Kassel said. "It's not only canned goods, it could be fresh produce from the garden and healthier opportunities and it's also increasing awareness of volunteers that they need. It's important for people to get involved, not just for Thanksgiving."
Online donations for ECHO food shelf are also accepted at 414events.com/mankatobeerrun at the time of registration or separately, in case you don't want to partake in the race.
Participants who bring three food items to the race will also be entered in a raffle for a prize, which is yet to be determined. However, the tickets are limitless, so bring as much possible.
In addition to the awareness of local food shelves, 414 Events wants to bring the community together, and what better way than beer?
"Beer is something that people socialize over," Kassel said. "This event just gets you moving, and you'll find an event that works for you and feel comfortable at, and excited to do."
Which is partially why there's a .05K for people who still want to be apart of the race, but don't necessarily want to do the whole 5K.
"About 20 percent of people participate in the .05K and sometimes they dress up in crazy costumes," Kassel said. "Some will run really fast, others will walk — it's really just all kinds of people that are doing this one."
Plus, participants in both races get some pretty sweet swag items, including a Beer Run hooded sweatshirt, beer can glass, a free post-race craft beer or root beer and a beer card for free beer at various Mankato and North Mankato establishments through March 1.
And if neither race speaks to you, the Beer Run is still looking for volunteers to cheer on runners/walkers. Volunteers will also receive a free t-shirt, a beer can cup and a beer card.
There are still about 100 slots open for both races, either $50 for the 5K or $45 for the .05K. Make sure to use the coupon code FREEPRESS to get $5 off.