You're probably used to seeing them at first from a distance, a mass of uniformed humanity rounding a corner a few blocks away, or coming down a hill in a picturesque small southern Minnesota town.
You hear the thump of drums, metallic blare of trumpets. Colorful flags flow through the air like birds in flight. And the marchers — in neat, steady rows — make you stop and stare. How can you not?
Then quickly, as the band approaches — a drum major's whistle blows, horns rise and snare drums rumble and rattle, and the Mankato Area 77 Lancers do what they do best: put on a street show under the sunshine of a summer parade.
That show might start in front of you but it will end a block away. It's the nature of parade marching bands — a nod to their military roots. They march and move down the street, the prepared routine ending a block away from where it began. That's how it always goes … except for this Saturday night.
The Lancers 2019 season will end Saturday with the group's annual Final Concert in Bresnan Arena at Minnesota State University (there is also one last parade to catch: North Mankato's Fun Days parade). And in what has become a Lancer tradition, Saturday night will have them transform a routine they've done hundreds of times on parade routes into one that can start and end in, well, a very short distance.
"What we're working on right now is trying to condense our street show to fit it into a gym," said Michael Thursby, director of the Mankato Area 77 Lancers.
Sounds like a tall order. Well, it is and it isn't. For a group that just a few months ago started this routine from scratch, very little seems impossible.
In fact, this phenomenon is what draws young people to this organization in the first place.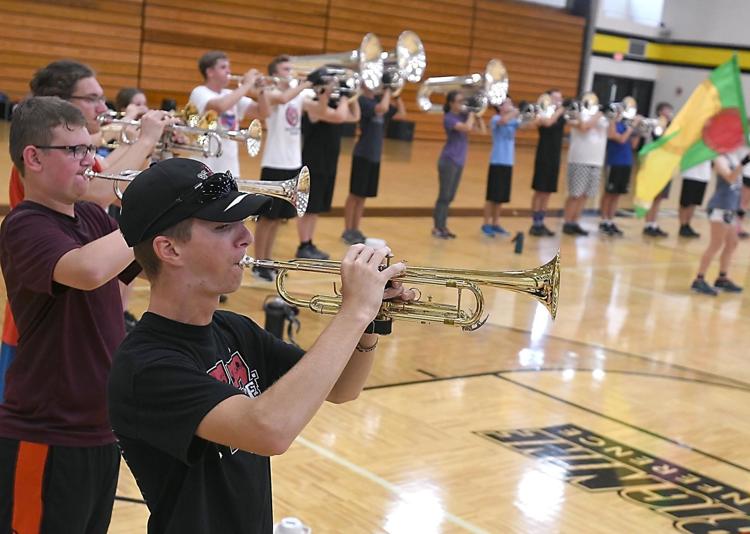 Keely Schuck is the senior drum major this year. The first time she saw them was when she was five years old and her mom took her to an event called Pie in the Park (where both the Lancers and the Mankato Community Band perform).
"When you see the Lancers," she said, "it stops you in you in your tracks."
From that moment on, Keely says she was captivated by the Lancers. And when she had the chance to join the Lancer cadets — a feeder program for kids who aren't old enough to join the Lancers — she signed up.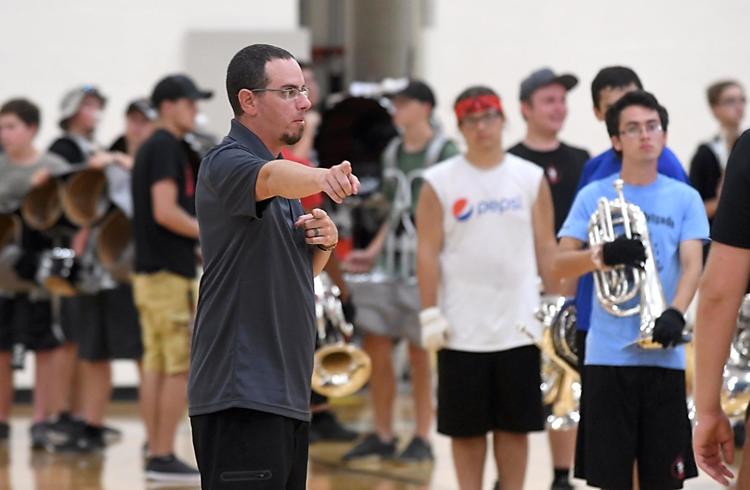 Five years ago she spent her first summer in the Lancers' clarinet section. It was difficult at first, but she said it's been nothing but positive ever since.
"My first year was, I think for everyone, kind of magical," she said. "I look back on it really fondly."
The seasons, she said, have all had their own personality. During her rookie year, she said, the show was called "Joy." It featured songs from Disney's Epcot Center and evoked powerful and positive emotions. Last year's show was called "Magnificent 77" and had a western theme. During one memorable part, marchers took on cowboy personas, snarling and striking menacing poses. This year, the theme is "The Race," and the Lancers' uniforms and props are reminiscent of a day at a NASCAR race.
"This year, with it being a race, with it being a car theme, there wasn't really an emotion typically associated with that," she said. "But I think we kind of found it, the drive inside of us, the push, and as a band we've really been able to dig into that."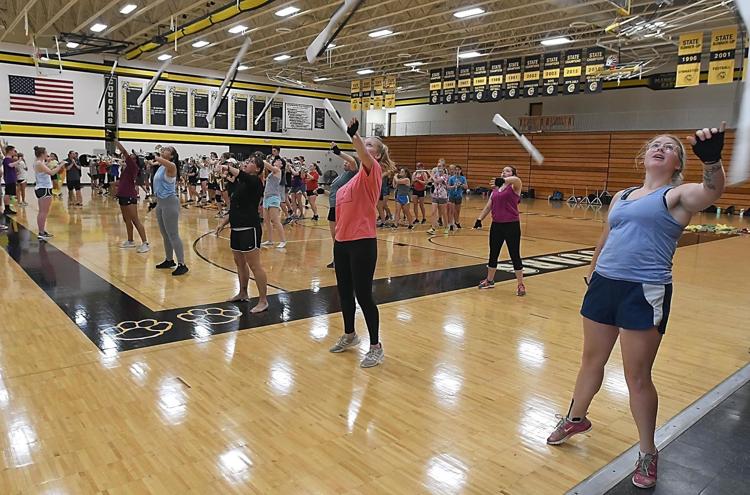 Few people have been a Lancer as long as Erin Olson. Because she had an older sibling in the band, she could have started a year earlier than most. But because the band was short handed, they allowed a few kids to start two years early. This is her seventh and final season.
She remembers attending parades when her older sister was a Lancer, and wanting some day to be in the band's color guard.
Making friends, she said, has been the best part of being a Lancer. And while performing in highly competitive parades is nice — such as the biggest competitive parade in Alexandria — Erin prefers the ones closer to home.
"I enjoy (the Lake Crystal parade) the most and Fun Days, because you're performing for your community," she said.
Inevitably, rivalries crop up among the most competitive marching bands, and the Lancers certainly fall in that category. Over the years they've sparred in the streets with Park Center, Waconia, the 728 Cadets and Henry Sibley.
But while some feel the need to prevail over their foes, Olson says she sees it a bit differently.
"Some people think 728 and Waconia or anyone really who is winning (are our rivals). But I don't know. I've talked to them all before when I've had the chance and they're all really nice people," she said. "I feel like you should be competing against yourself and being the best you can be rather than competing against other bands."
Thursby says this season, his second as director, has been an "awesome" one.
"It really has been. It's been fast — we designed it to be fast," he said. "Going to Texas was awesome. It was a different experience for the students seeing a different culture than they're used to.
"New students, new parents, a different experience," he said. "It's a fun organization to be around and that's why i love teaching it."