Thinking back on it now, he thinks this may have been the moment he realized it was time.
He'd been hiking at Isle Royale National Park on Lake Superior for two days, lugging a 45-pound backpack through stands of towering pines, around rocky cliffs and down dusty trails.
It was summer and the park was beautiful — perfect for a weekend getaway with the boys.
But after many hours of hiking, Al Behrends was tired.
With his hiking boots on the shore, Behrends stepped into the cool waters of Lake Desor and stood calf deep, arms crossed, gazing at the sun as it dissolved into the horizon.
And then, like something out of a John Ford film, Behrends had a deep thought in that fatigued, setting-sun moment. He realized as he stared across the waters that, while he's loved every year he's spent at Gustavus Adolphus College making sure student recitals and wind orchestra trips to Europe go off without a hitch, the time had come for him to be done.
The long hike was over.
The sun was setting on his career.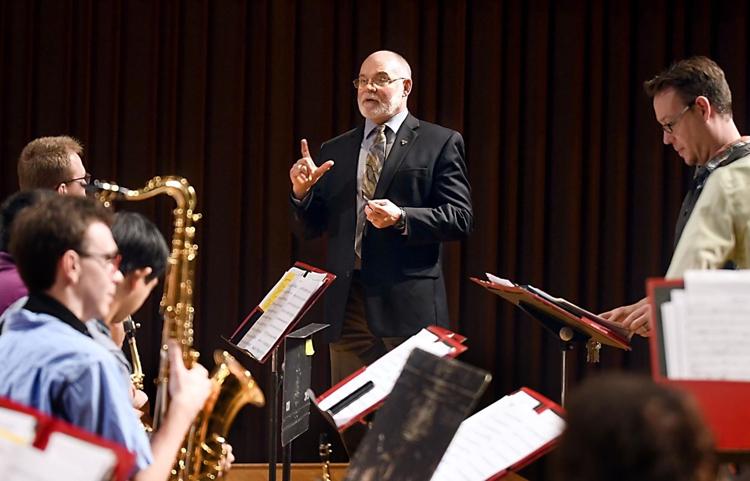 In a few days, Behrends will leave the Gustavus campus for the last time as director of fine arts programs and communications. He's become a well-known and universally adored presence at the St. Peter liberal arts college, the kind of guy who, when he's standing in line at the campus' Courtyard Cafe, students casually approach and request letters of recommendation (and of course he graciously and gladly agrees), and who can point across the student union at any given time and spot a gifted trombonist, percussionist or actress, and tell you exactly what ensemble they're in, what role they played in a recent theater production, or what concert they've got coming up.
"Once you get to know the students,"Behrends said, "it's hard not to be supportive."
Here's something else that's hard: imagining Gustavus without Behrends. It might even be harder, though, to imagine Behrends without Gustavus. It's been in his blood — and on his mind — since he was too young to vote.
Moo!
Behrends grew up with early-morning chores on a dairy farm near Clarissa, Minn., where carrying milk cans around the barn two hours before school starts was just a fact of life.
The Behrends farm was small: 35 milking cows, 60-70 animals in total. And they were high-quality cows, too. The milk these animals produced had a high butterfat content, upwards of 4 percent, which created high demand from dairy companies.
The animals were fed with grains grown on the farm. But it was a challenge. The Clarissa soil — with lake country to the north and plains to the south — was a sandy mix that tested the family's farming acumen.
"It was a tough place to be a farmer," Behrends said.
It was on that farm where Behrends, who was one of six children to rise early and get the work done before heading off to school, learned his rural Minnesota work ethic. It's also where his father taught him by example that, on a team, everyone works together and helps each other.
Behrends didn't do well in a the dusty confines of a grain silo; it irritated his skin. So instead of forcing his son to endure miserable skin rashes, Behrends' father, who was afraid of heights, worked out an arrangement with him: He'd handle internal silo duties if Al would handle the assembling of the intake pipes on the silo's roof.
"Our parents did everything," he said.
One thing they didn't do, however, was encourage any of their kids to take over the family farm — none of them did. But the memories from that farm, and the lessons taught, remain.
Life wasn't all farming, of course. Behrends eventually made it to school after handling daily chores. And one of the teachers at Clarissa High School that had the biggest impact on him was English and French teacher Millie Gilbertson.
"She encouraged me to come (to Gustavus)," Behrends said. "She used the word community, she loved the fact that there was a church in the middle of campus, her daughter went here … She just thought it was a good place for someone like me."
And so, with a mountain of student loans (the family was not wealthy), Al Behrends began the chapter in his life that would define him.
Once a Gustie …
Behrends majored in history and held several jobs on campus, including as an academic assistant in the history department, and as a tour guide for the admissions department. He also interned with admissions, pulling together statistics to help the college better analyze its recruits.
Upon graduation, he began his professional career with Gustavus with a four-year stint working with alumni, followed by five years with admissions.
Then, a job opened up in the fine arts department, one that seemed to fit his passion for music and skills as an administrator. He took that job in 1986 and never looked back.
Gustavus Adolphus College is known for a lot of things. Perhaps one of the best is its fine arts programs. Every year dozens of students receive scholarships to perform in one of the ensembles, whether it's band, orchestra or choir. Those ensembles perform throughout the academic year and embark upon tours that take them throughout the country and abroad. Theater productions routinely sell out while taking risks and pushing boundaries.
Behrends works with all those students — as well as the Hillstrom Museum of Art — to make sure the college's reputation for offering fine arts students a stellar experience remains intact.
Students, it seems, definitely noticed.
"I've heard many, including my son, tell about how great it was to have Al running things on the various tours of the College's musical ensembles," said Don Myers, director of the Hillstrom. "I don't remember hearing about such a fond series of goodbyes done for others — things like the Gustavus Wind Ensemble surprising him by serenading him with Paul Simon's 'You Can Call Me Al,' or at the recent GWO concert when they all surprised him during the concert by singing a Swedish song of congratulations they had learned with help from a Swedish speaker."
Though Behrends may have been a campus presence for several decades, Myers says he never "acted his age."
"It's odd to think of him as having that much history with the College," Myers said. "He is still so full of energy that he seems like a much younger person than he is. I think he'll be a very tough act to follow."
For Behrends, the work wasn't just a paycheck. He was present many hours that, honestly, he really didn't need to be. But he wanted to be.
"I have always been really hands-on with this job. And part of me just likes to be here," He said. "And that will be part of the challenge (of leaving). I won't have to be here."
His work ethic and commitment to the college were an example to others, even his superiors.
Tim Kennedy, Gustavus's vice president for marketing and communications, said Behrends was a walking and shining example of what the college calls its Five Core Values: excellence, community, justice, service and faith.
Kennedy said the quality of Behrends' work among his peers has been lauded, and he is known nationally for the impact he's had on the college's fine arts students and programs. He believes in the power of the campus as a community (if you need proof, walk with Behrends through the Courtyard Cafe and count the number of people he knows and smiles at.)
He's often encouraging students to vote, have their voices heard and participate in service work intended to round out their college experience and improve the campus climate. And, Kennedy says, Behrends is a man of faith; he's one of the only people alive to have been to every Christmas in Christ Chapel event.
"For me, he is Mr. Gustavus," Kennedy said, "the person who has been the epitome of those core values. They talk about (Gustavus' marketing slogan) 'Make Your Life Count ; that's Al Behrends."
After that Isle Royale epiphany, Behrends had a date in mind for retirement: Jan. 1. Seemed like a logical date. So he put in his notice.
Kennedy jokingly asked him to reconsider and remain in his position for, well, forever.
All jokes aside, though, Kennedy asked Behrends to stick around for a few more months. Had he followed through on the Jan. 1 date, it would have meant the college wouldn't have Behrends around during the peak season for music tours and concerts. Kennedy implored him to stay.
"Of course he selflessly said 'Absolutely I will,'" Kennedy recalled. "People can be replaced, and they will. But the way he has done this job, and all the people he knows and all the people in his brain — thinking about replacing that is pretty intimidating."
Dusk ...
Standing in line at the Courtyard Cafe, Behrends tells a friend it'd be his pleasure to cover the cost of a cup of coffee when student Emma Myhre, a whirling dervish of a young woman, whips her head around to see Behrends. A smile wide as a canyon appears on her face when she recognizes him.
They immediately discuss the production of "Sweeney Todd" that just wrapped up in the college's theater department. Myhre was a member of the cast.
"Were you there?" she asks.
"I sure was," Behrends replies. "I was sitting behind Henry."
"Oh my god, no way!"
She's thrilled Behrends was there to see a show they'd worked so hard on, a show for which they'd rehearsed for hours.
And of course Behrends was there. It'd be impossible for him not to be. Over the course of a 40-year career, Behrends has attended nearly 90 events each year, most of which he doesn't have to be at.
Nowhere in his job description does it say he has to be there, after hours, attending student recitals and theater productions (or talking to students about it at coffee shops.) But this is who he is.
There's a Midwestern saying along the lines of, "You can take the boy out of the farm, but you can't take the farm out of the boy." It rings true for Behrends, as does a tweaking of that phrase: You can take the boy out of Gustavus, but in this case, you'll never be able to take Gustavus out of the boy.