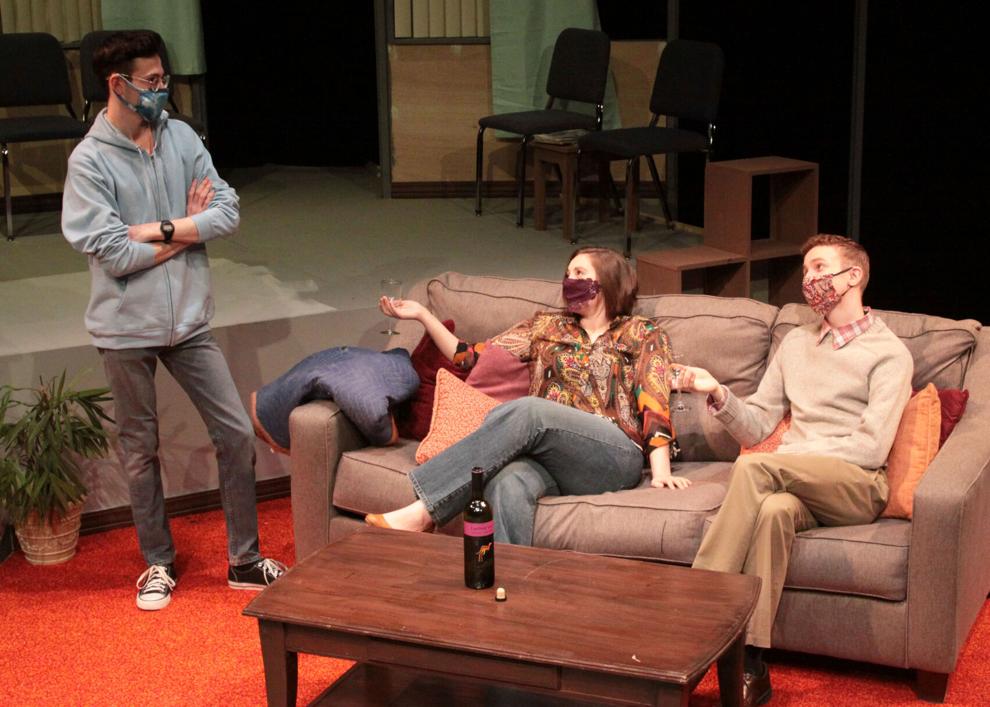 MANKATO — No need to wait for autumn leaves.
"Next Fall" takes place this spring — in fact, it's happening tonight and through Sunday in the Andreas Theatre at Minnesota State University's Earley Center for the Performing Arts.
With gay men as its two lead characters, the play explores relationships and exposes tricky family dynamics in a manner universally understood.
"I really like this play," said Nevaeh Braucks, the show's production stage manager and a sophomore theater generalist from the St. Cloud area.
"It has a good mix of humor combined with deeper themes of personal loss and being closeted, and the script is very accessible because it's written in almost a sitcom-esque way."
With Elton John and his husband, David Furnish, as producers, "Next Fall" premiered on Broadway in 2010. Playwright Geoffrey Nauffts incorporated elements from his own life as a gay atheist man with a loving Christian partner in a pre-gay marriage world, although the bulk of the play is fiction.
"The character of Adam (the elder partner) is autobiographical for Nauffts, while the role of Luke is based on Nauffts' husband," said Eric E. Parrish, a Master of Fine Arts directing candidate in his MSU directorial debut.
"There is a turning point when Luke, who isn't out to his family, is in a car accident," Parrish said.
"Adam and Luke were together for five years, but Luke's family knows nothing about Adam. 'Next Fall' addresses how we as humans manage to be in a relationship with one another."
Portraying Adam is MSU senior Nick Finken, a musical theater major from Apple Valley who is a veteran of MSU productions.
"This isn't the oldest character I've had to play, but Adam has been through a lot — and it's a lot that I haven't personally experienced," Finken said.
"But Eric (Parrish) did go through some of these things earlier in his life and he was really helpful in coaching me about the real gravity of the issues, such as being in a gay relationship with one set of parents not knowing about it and how it feels that your partner won't tell them."
Parrish clarifies that the period in which "Next Fall" was conceived and premiered preceded societal changes that have since made living somewhat easier for gay couples.
"This was written before gay marriage was legalized," said Parrish, who is a gay man in a committed relationship.
"While 'Next Fall' is still current, certain pieces of history have changed enough that some references in it place it clearly in that pre-gay marriage world."
COVID-19 protocols presented new challenges to Parrish, his cast of six and crew members.
"The cast is supposed to be expressing intimacy during moments of grief and emotional struggle, and without being able to rely on hugs or shoulder touches, a lot of creativity is required," Braucks said.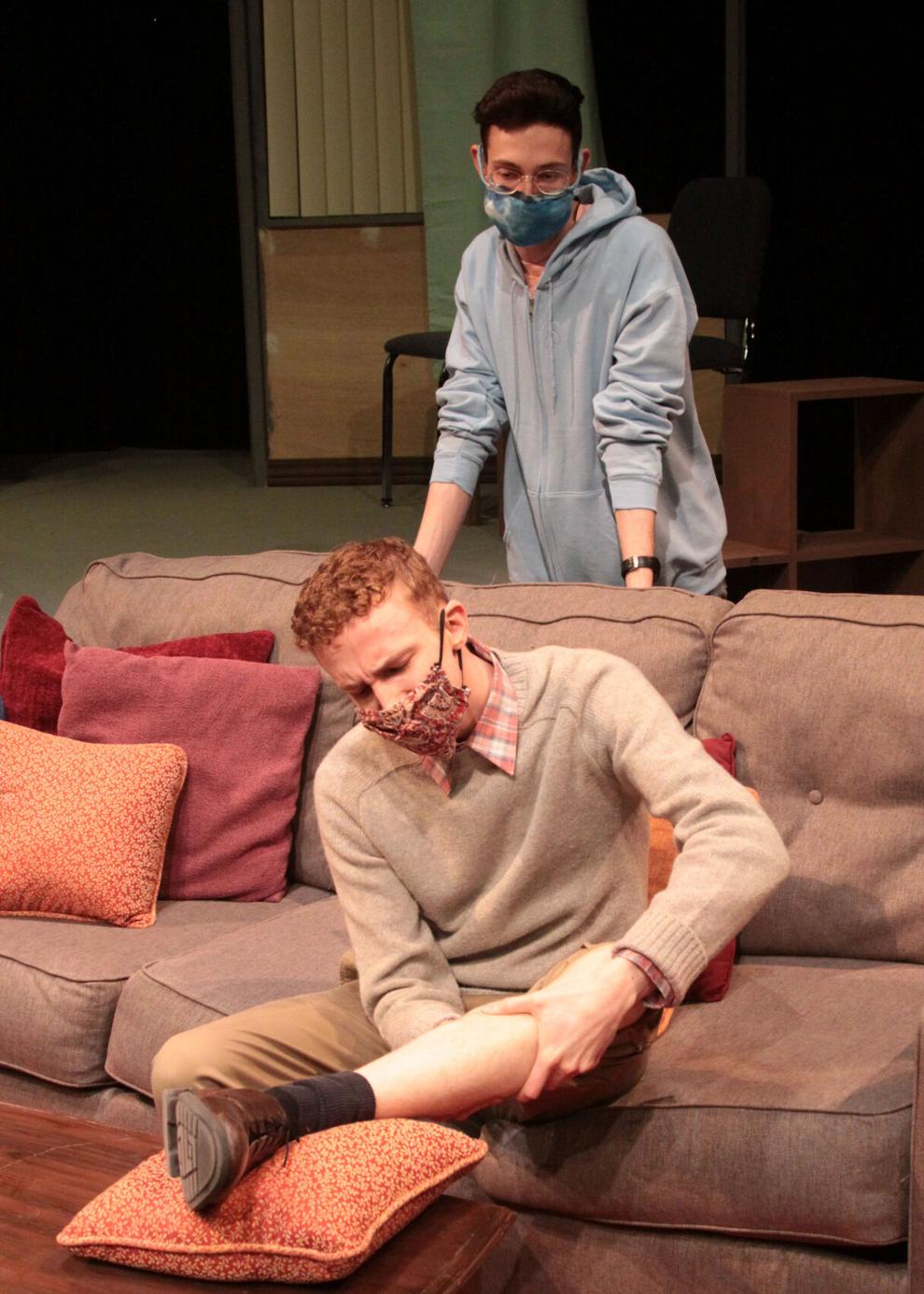 Said Parrish, "How do you tell a love story without touching? It's been interesting to dig deeper into how I, as a director, help actors convey a sense of intimacy without any physical contact — using only body language and eye contact.
"It's been fun and frustrating simultaneously. Just last week we found some details that really made it click for everyone, and that was exciting."
Finken illustrates how he and his fellow actors are getting the job done.
"Instead of holding hands, we place them on a pillow laid between us," he said.
"And because we're wearing masks, there's been a lot of effort to try to bring out all the emotions using only the upper part of our faces."
Nevertheless, adhering to health and safety protocols didn't prove the greatest test for Finken.
"The most difficult thing is that the play is naturalistic, so we're trying to portray these emotions as accurately as possible and not gloss them up for the audience," he said.
"There are some very raw moments right next to very lighthearted ones, and bringing those emotions out in sequence is very challenging."
For Parrish, employing his skills and experience as an older student offered opportunities.
"This cast — and all of the set, lighting and sound designers are also students — has made it a rewarding collaboration process," Parrish said.
"Everyone is represented, in that there are different aspects of gender identity, sexuality, religious and non-religious experiences among the cast and crew. I was adamant about us having conversations about being seen, represented and feeling safe with the topics we were discussing; I really wanted their input and perspective."
Braucks and Finken say Parrish succeeded.
"Eric has been really nice to work with," Braucks said. "My ultimate career goal is to be a director, and he does a good job of balancing his pre-planning with input from his acting and creative team.
"I want to follow that example because it's most conducive to a completed and well-integrated show."
Said Finken, who has appreciated the variety and quantity of performing opportunities the MSU theater program has offered him over the past four years: "I've really enjoyed working with Eric. He's very personable, and when he gives you a note at the end of rehearsal, he finds the words to describe it so it makes sense to you, and that's really helpful."
Despite the COVID-19 safety limitations, Parrish is confident audiences will appreciate "Next Fall" and will relate to its messages no matter their personal backgrounds.
"We have put together a show that I'm very pleased with," Parrish said.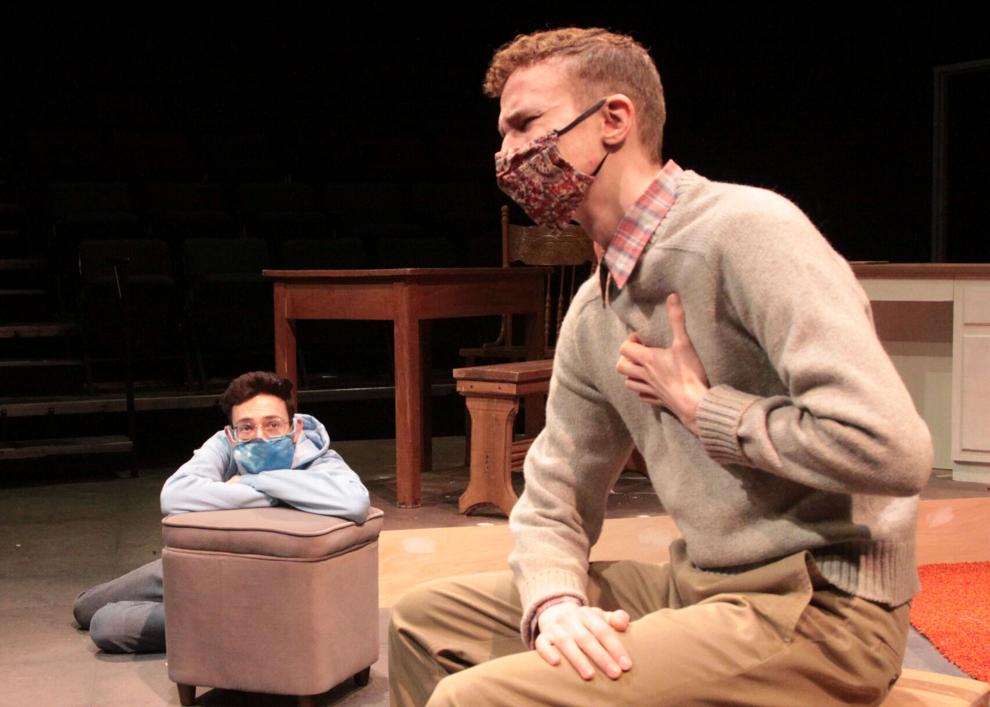 "Like real life, this play doesn't resolve a certain way, as much as you might want it to, but instead forces the conversation to continue about the best way to move forward."
Said Braucks, "This feels like a story about people who just happen to be gay. It's a fantastic representation of the LGBTQ community, but it's a story almost anyone can relate to."